5 Heart-Healthy Foods & 30+ Recipes to Make with Them
February 29, 2020
February is all about love and what better way to show some to yourself than by enjoying heart-healthy foods and recipes!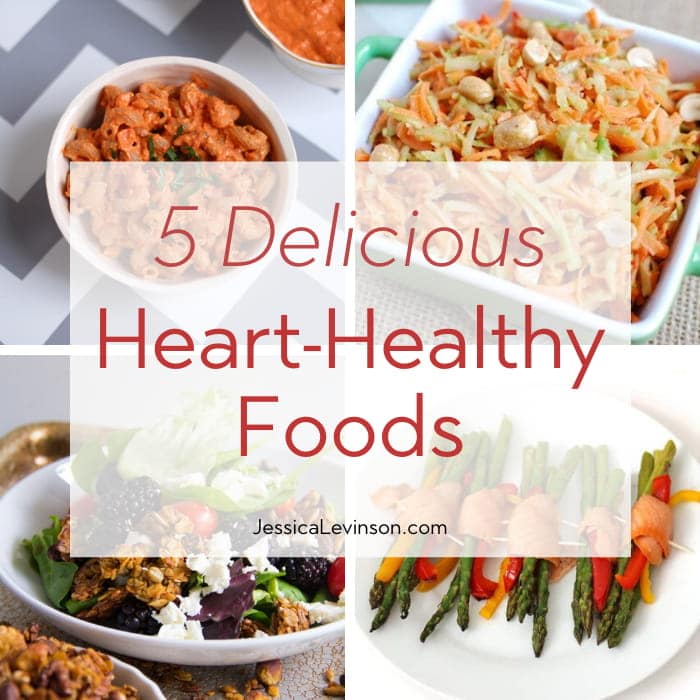 *Originally published February 2015. Updated February 2020*
Heart disease and stroke are two of the leading causes of death in the United States. According to the Centers for Disease Control (CDC), Americans suffer 1.5 million heart attacks every year. That's why the Million Hearts initiative was started in 2011, with the goal of preventing 1 million heart attacks and strokes by 2017. Here are 5 heart-healthy foods you can add to your diet.
Oatmeal
Fiber-rich oatmeal is one of the best foods you can eat to keep your heart healthy. Soluble fiber in oatmeal can lower LDL "bad" cholesterol, thereby improving blood cholesterol levels and decreasing your risk of heart disease.
Oatmeal is most popular for breakfast, but there are numerous ways you can incorporate oats into your diet. Here are some recipes to try:
Salmon
Fatty fish like salmon are packed with omega-3s fatty acids, a healthy type of unsaturated fat that may reduce inflammation throughout the body, thereby reducing damage to your blood vessels and preventing heart disease.
Try these nutritious and delicious salmon recipes:
Broccoli
This mighty green vegetable contains high levels of fiber (both soluble and insoluble) and vitamin C. Plus, it's a good source of lutein and sulforaphane, the latter of which is an anti-inflammatory antioxidant that can help keep blood vessels strong. Broccoli also plays a role in heart health by helping to lower cholesterol levels thanks to its fiber content.
Simply roast cauliflower with some olive oil or try one of these broccoli recipes:
Photo Credit: savoryspin.com
Red Bell Peppers
Sweet and crunchy bell peppers are excellent sources of vitamins A and C, antioxidants that fight off free radicals and protect our hearts. They also contain potassium, which can help lower blood pressure, and fiber, folic acid, and vitamin B6, which can help reduce the risk of heart attack and stroke.
Enjoy colorful bell peppers sliced and dipped in yogurt- or bean-based dips or use these recipes for some new ways to cook with peppers:
5. Asparagus
Asparagus is a very good source of fiber, folate, and the antioxidants vitamins A, C, E and K, all of which can help keep the heart ticking It's also a rich source of glutathione, a detoxifying compound that helps break down carcinogens and free radicals. A low calorie vegetable (about 20 calories in 5 spears), asparagus is delicious roasted, pureed into soup, and added to salads. Come spring you'll see asparagus everywhere. Try one of these recipes:
What foods do you eat to protect your heart?
Do you have any favorite recipes with these heart-healthy foods?
Share with me in the comments!