Mediterranean Sheet Pan Salmon with Zucchini, Corn, and Tomatoes
September 21, 2017
Mediterranean Sheet Pan Salmon is quick and easy to make and clean up. A perfect weeknight dinner for busy families.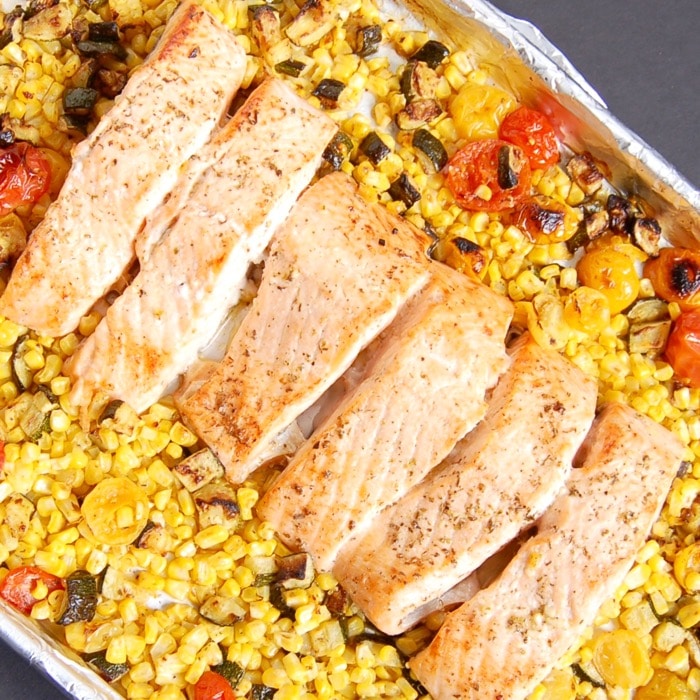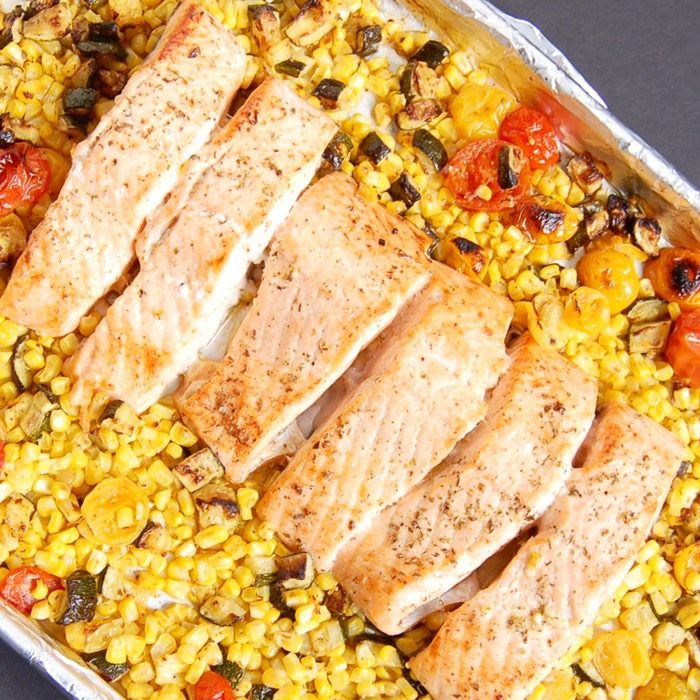 Have you noticed the popularity of sheet pan meals? I see them all the time on Pinterest, Instagram, and on fellow food blogger websites. In theory they make a lot of sense – they're all in one meals, easy to clean up, and relatively quick to make. Those are definitely all traits of a recipe and meal that I want on my table during the busy school week. I'm sure you're nodding your head right now in agreement.
But here's the reality. I cook a lot of stuff on sheet pans, but I rarely put everything together on one sheet pan. If you saw my recipe for Crispy Baked Sweet Potato Fries, which are made on a sheet pan, you may recall that one of my tips for successful crispy baked fries is not to overcrowd the pan. That's really the key to perfectly roasted veggies no matter what vegetable you're cooking.
And when it comes to meats, the more stuff on a pan or in a baking dish, the longer the cooking time because food needs space around it for the heat to get through. So generally speaking, I use one sheet pan for veggies and one for my protein of choice (meat, chicken, tofu). Does that still count as a sheet pan meal?
If so, then I make a sheet pan dinner almost every night (and I was #ontrend before sheet pan meals were trendy)! But if not, then this Mediterranean Sheet Pan Salmon is the first sheet pan recipe you'll find here at Small Bites by Jessica and it's perfect for The Recipe ReDux September theme!
Sheet Pan Meals
We love throwing ingredients together on a sheet pan and roasting for a simple sheet pan dinner. They make busy weeknights a bit more manageable. (And clean-up isn't bad either!) Show us your healthy take on a sheet pan meal.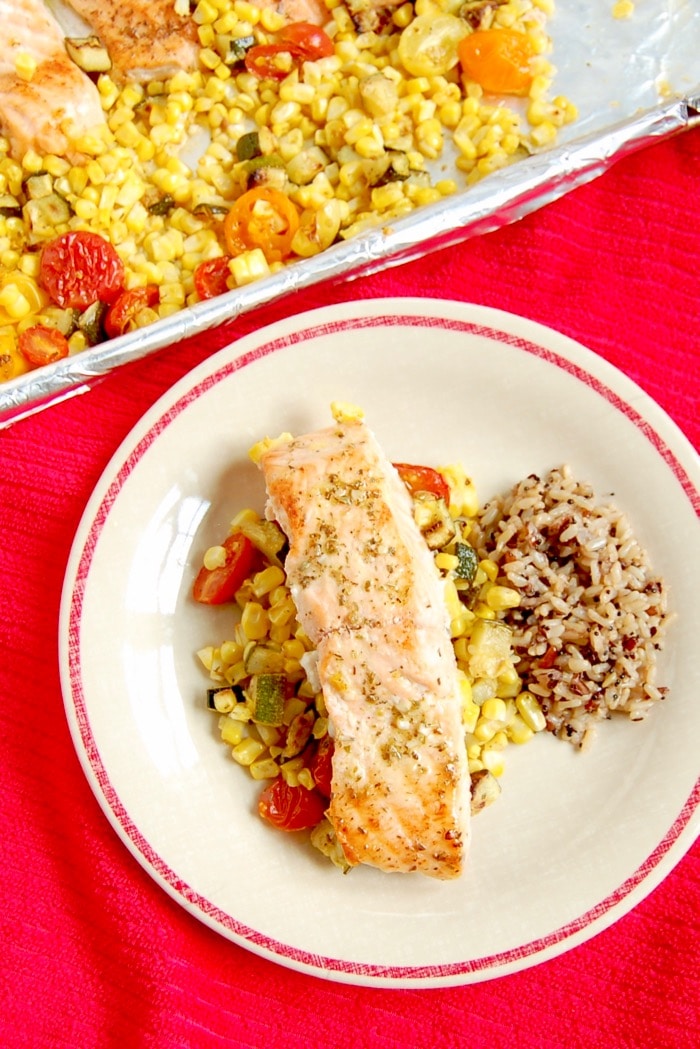 Ingredients & Preparation
This Mediterranean Sheet Pan Salmon is one of the easiest meals on this site. It's also super healthy and nutrient-rich, while still packed with flavor.
I'm trying to get the most out of the end of summer produce, so I decided to roast zucchini, corn, and tomatoes, which ended up almost like a ratatouille. Since I like my roasted zucchini browned and a little crisp on the outside, I started by roasting the zucchini by itself for 15 minutes before adding the corn, tomatoes, and salmon fillets and cooking another 10 minutes. I turned on the broiler for a few minutes at the very end to add a little extra color and slightly caramelize the salmon and veggies.
I served the salmon and veggies with a side of Seeds of Change's Ready-to-Heat Quinoa and Brown Rice, which made for a very simple side dish that perfectly balanced the plate.
What really gives this dish its Mediterranean flavor is the marinade I use on the vegetables and salmon. It's a very basic sauce made of olive oil, lemon juice, oregano, garlic, and salt and pepper.
The combination of vegetables in this recipe are relatively quick-cooking, unlike other vegetables like cauliflower, sweet potatoes, and Brussels sprouts, which take longer to cook through. But don't let that dissuade you from trying something else.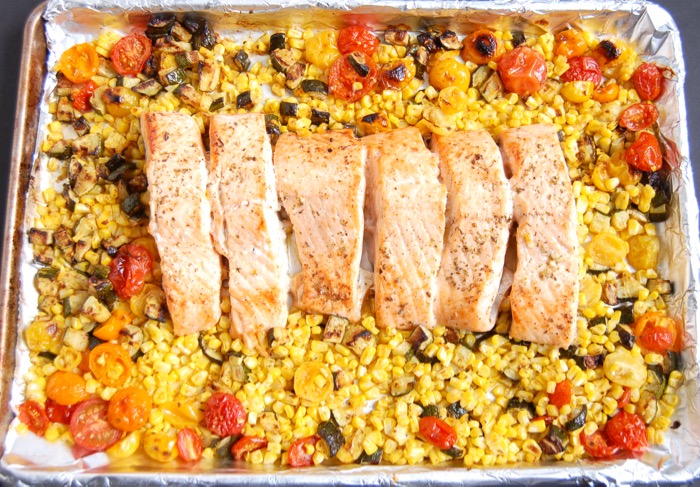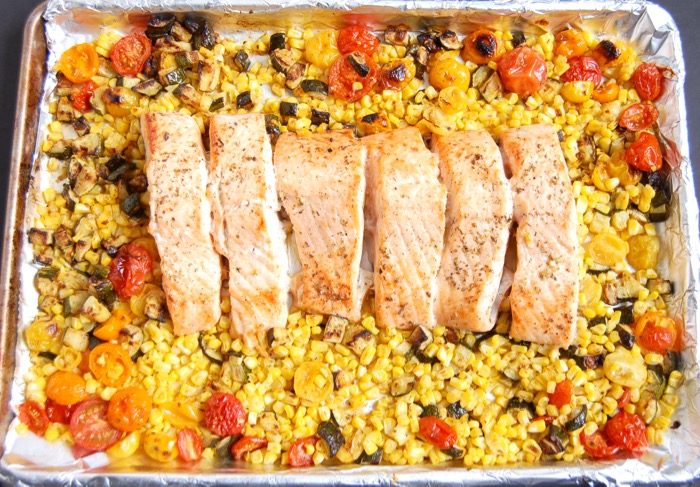 The best thing about this recipe (and most sheet pan meals for that matter), is that they can easily be adapted depending on what protein and vegetables you're in the mood for. You can swap chicken or steak for the salmon, or choose a different fish like tilapia if salmon isn't your favorite.
If you're vegetarian or looking for a meatless Monday meal, roast some crispy baked tofu. As we get further into the fall season I am sure I will be making this Mediterranean Sheet Pan Salmon with a variety of different veggies and experimenting with more proteins as well.
My girls seem to devour salmon every time I make it, so I made two pounds, which was plenty of fish for the four of us. Luckily I had some leftovers, which I sent for school lunch the next day. Something to keep in mind when planning your menu for the week!
One note about the salmon: usually I keep the skin on the bottom of the salmon fillets, but for a sheet pan meal it's best to have the skin removed before cooking so that you can transfer the whole meal to a plate without having to worry about the skin getting mixed in with the veggies. I did not have the skin removed when I made this recipe, and it was totally fine, but especially if you are presenting this dish for company it will look nicer without.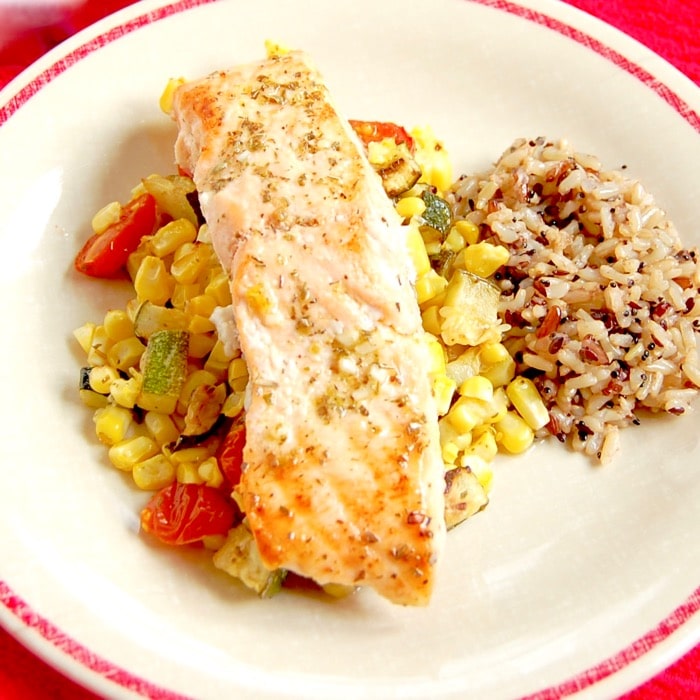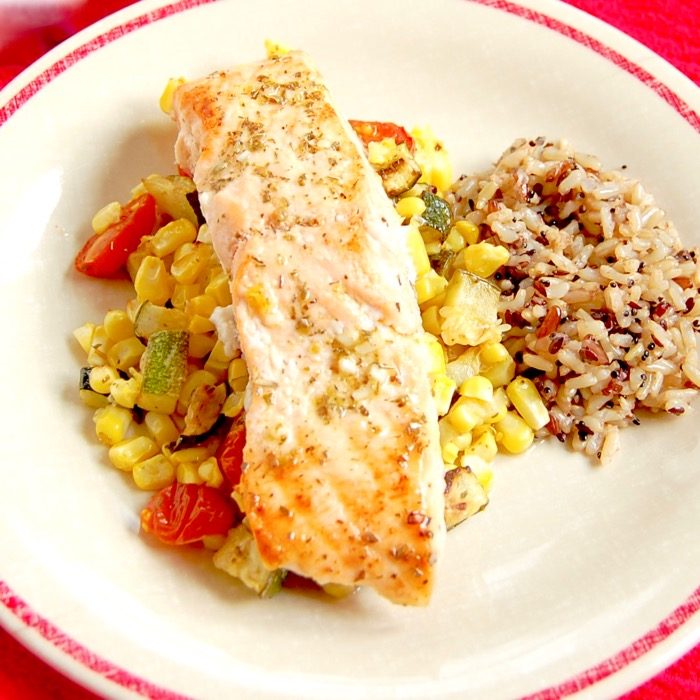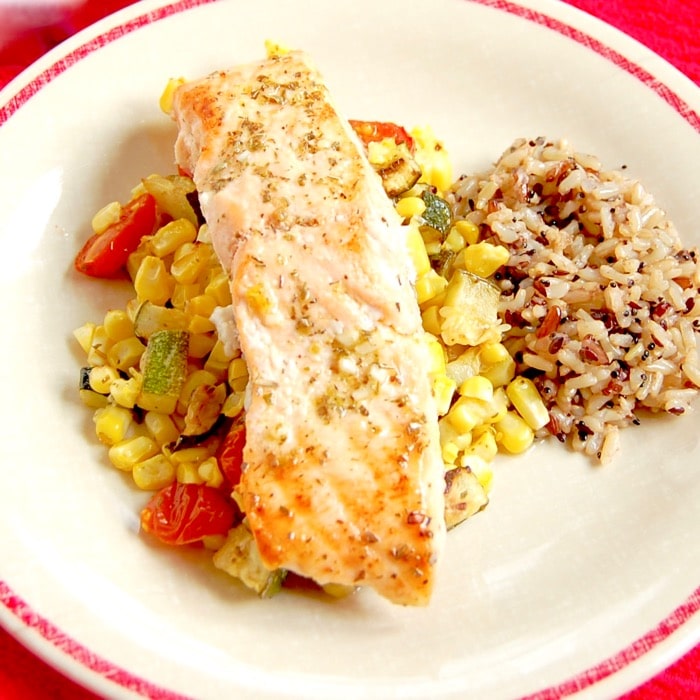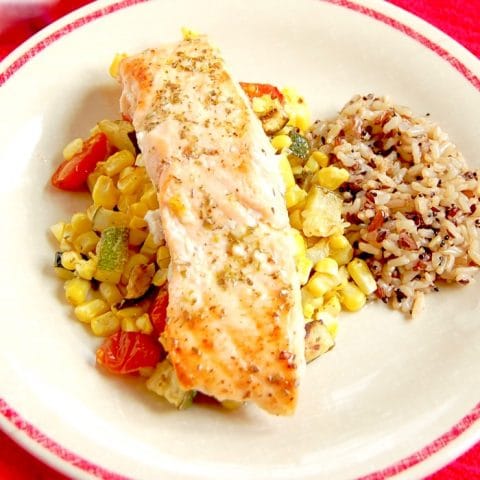 Mediterranean Sheet Pan Salmon with Zucchini, Corn, and Tomatoes
Zucchini, corn, and tomatoes are tossed with a lemon oregano sauce and roasted with salmon for a quick and easy all-in-one sheet pan meal. Easily adaptable depending on your family's preferences - chicken, steak, and tofu and a variety of different vegetables would all work well.
Ingredients
Cooking spray
1/3 cup olive oil
2 tablespoons lemon juice
2 teaspoons dried oregano
2 teaspoons minced garlic
1/2 teaspoon Kosher salt
Freshly ground black pepper, to taste
3 cups chopped zucchini (~1 pound)
2-3 cups corn (from ~3 large ears if using fresh)
2 cups halved heirloom cherry tomatoes
2 pounds salmon fillet, cut into 6 pieces (preferably with skin removed)
Instructions
Preheat oven to roast at 400 degrees F. Line baking sheet with foil and coat with cooking spray.
In a small bowl, whisk together olive oil, lemon juice, oregano, garlic, salt, and pepper, to taste.
Toss zucchini with 2 tablespoons lemon oregano sauce and spread on prepared baking sheet. Roast 15 minutes.
Toss 2 tablespoons of lemon oregano sauce with corn and tomatoes. Remove the pan from the oven and add corn and tomatoes to zucchini. Toss and push vegetables to the sides leaving space for the salmon filets. Place salmon fillets in middle of sheet pan and brush each piece with sauce.
Return the baking sheet to the oven and roast 10 minutes. Remove from oven to stir vegetables and turn on the broiler. Return baking sheet to oven and broil for 3 minutes until salmon is brown on top. Serve drizzled with remaining lemon oregano sauce.
Recommended Products
As an Amazon Associate and member of other affiliate programs, I earn from qualifying purchases.
Nutrition Information:
Yield:

6
Amount Per Serving:
Calories:

589
Total Fat:

33g
Saturated Fat:

6g
Trans Fat:

0g
Unsaturated Fat:

25g
Cholesterol:

95mg
Sodium:

277mg
Carbohydrates:

37g
Fiber:

6g
Sugar:

10g
Protein:

40g
Nutrition information was calculated by Nutritionix. It may not be 100% accurate.
Are you a fan of sheet pan meals?
Share with me in the comments below if you make this Mediterranean Sheet Pan Salmon and if you'd like to see more sheet pan meals in the future!