Summer Chicken Kebabs with Herb Sauce
July 18, 2015
Veggie and protein-packed, these chicken kebabs with herb sauce are the perfect summer dinner on the grill!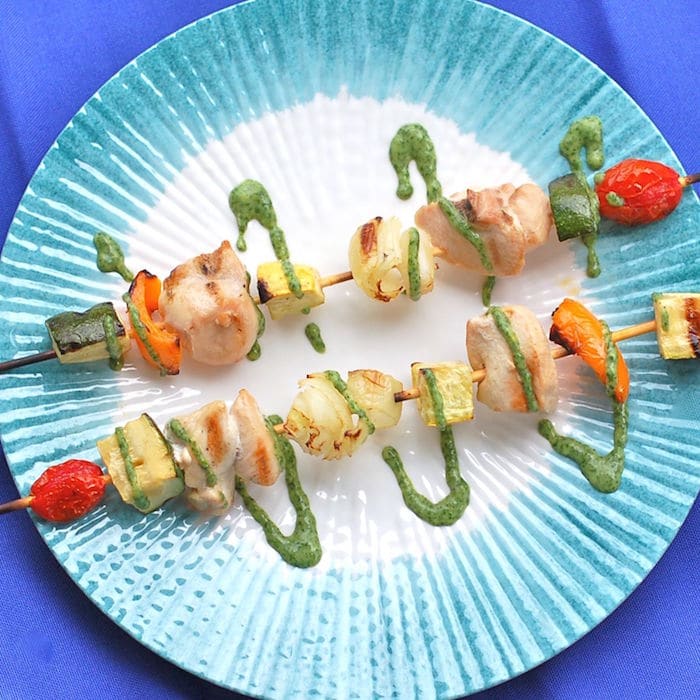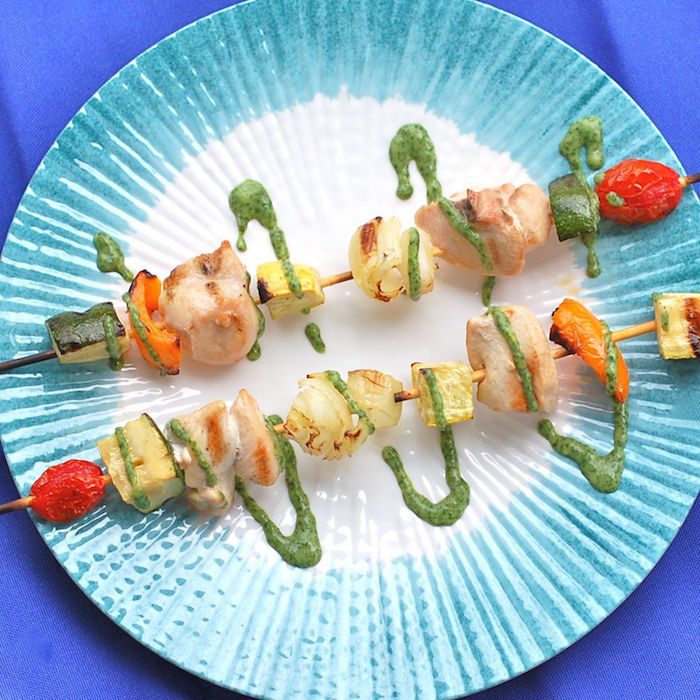 I was compensated for writing the original article and developing the recipe found in the July 2015 issue of Today's Dietitian. I was not compensated for sharing the column or magazine with readers on my blog. All opinions are my own.  
One of my favorite things about summer is the plethora of fresh fruit and vegetables. Everyone talks about zucchini, corn, nectarines, cherries, and heirloom tomatoes, but who can forget the herbs? Most often those fragrant, flavorful little leaves are the showstoppers to an otherwise bland dish.
Mint, cilantro, basil, thyme, rosemary — those are just a few of my favorites and you'll see I use them often in my recipes. While they are available all year long, they reach their peak during the summer. One of these days I'm going to grow an herb garden, but in the meantime, I'll stick to what's at the farmers market and local supermarket. Or maybe I'll snag some of my neighbor's fresh basil ;-).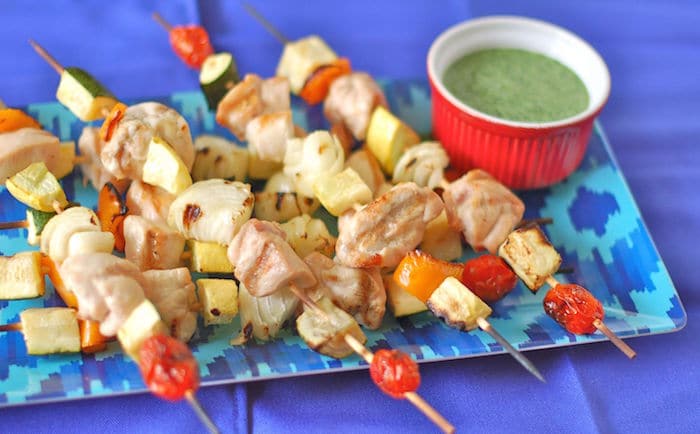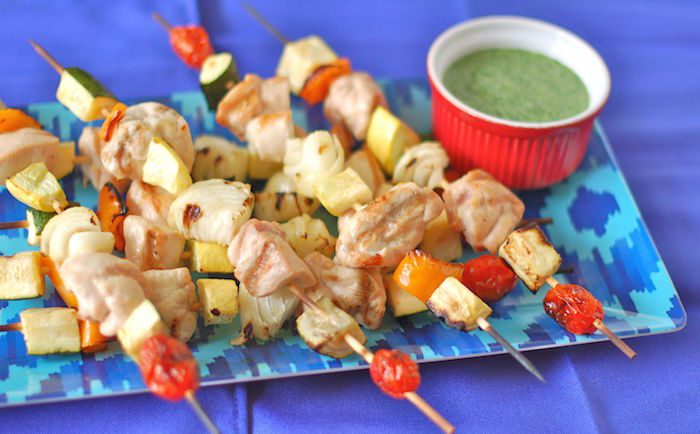 In case you didn't see the July issue of Today's Dietitian Magazine, my Culinary Corner column is all about fresh herbs and includes this nutritious and delicious recipe for Summer Chicken Kebabs with Herb Sauce. I used mint and cilantro in this sauce, but if you prefer other herbs feel free to make substitutions. Also, since I keep a Kosher home, I made the herb sauce using dairy-free coconut yogurt, which makes this recipe great for people who have a dairy allergy or intolerance as well. However, feel free to use non-fat or low-fat plain yogurt if dairy is more your thing!
Be sure to check out the full article to find out more about how to use my favorite herbs, and of course the rest of the excellent articles in this month's issue. And don't miss my Asparagus Mint Salad from the May issue and Caprese Pasta Salad from June's Today's Dietitian's Magazine!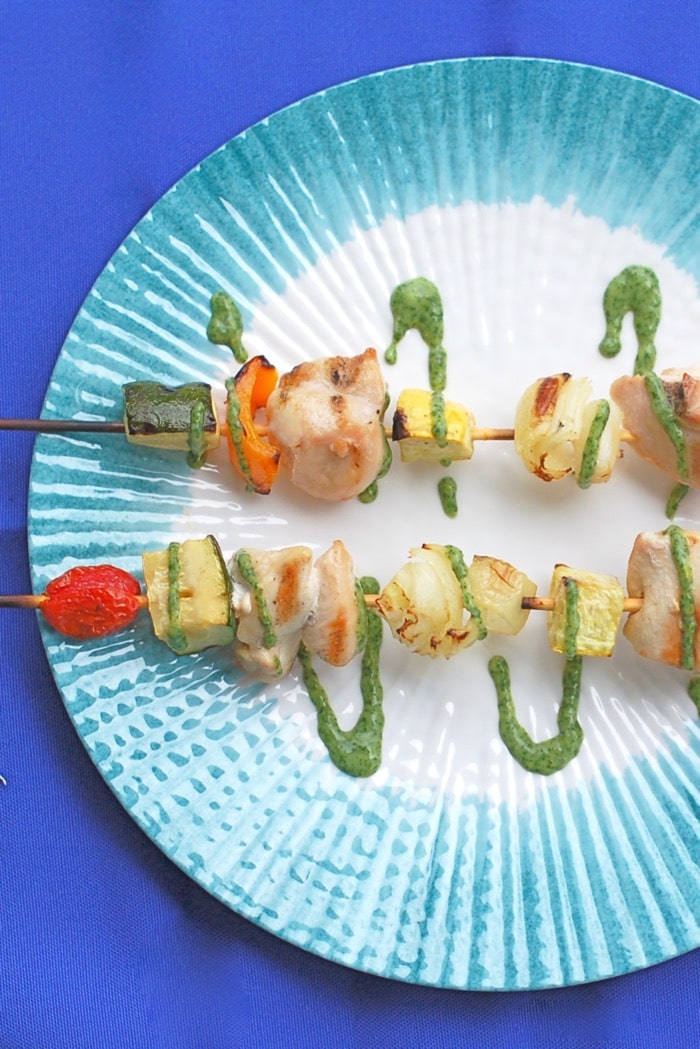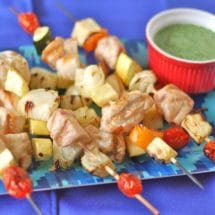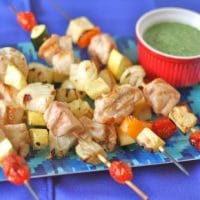 Summer Chicken Kebabs with Herb Sauce
Fresh cilantro and mint come together in a cool yogurt-based sauce perfect for hot-off-the-grill chicken kebabs. Add zucchini, tomatoes, bell peppers, onions, or any other vegetable of choice to chicken kebabs with herb sauce.
Ingredients
Kebabs:
2 pounds skinless chicken cutlets,, cut into 32 pieces
16 grape tomatoes
1 large yellow onion,, cut into 16 wedges
1 large zucchini,, quartered lengthwise and cut into 32 pieces
1 small yellow summer squash,, quartered lengthwise and cut into 16 pieces
1 medium orange bell pepper,, cut into 16 chunks
1-2 tablespoons olive oil
Herb Sauce [makes ¾ cup total, need about 1 tbsp per serving]
1/2 cup mint
1 cup cilantro
1 1/2 teaspoons freshly grated ginger
2 teaspoons minced garlic
1 teaspoon lemon zest
1 1/2 tablespoons fresh lemon juice
4 ounces low-fat dairy-free yogurt, (or low-fat plain yogurt)
1/4 teaspoon Kosher salt
Freshly ground pepper,, to taste
Instructions
Preheat grill at 450-500 degrees.
Soak 16 wooden skewers in water for 10 to 20 minutes. Thread each skewer with 2 pieces chicken, 1 tomato, 1 onion wedge, 2 pieces of zucchini, 1 piece of yellow squash, and 1 piece of pepper, alternating vegetables and chicken. Brush vegetables and chicken with olive oil and place on grill. Cook 5-6 minutes; turn over and cook another 6-7 minutes until chicken is cooked through.
To make herb sauce, add all sauce ingredients in food processor or blender and blend until smooth. Serve kebabs with herb sauce for dipping or drizzled on top.
Nutrition Information:
Yield:

8
Serving Size:

8 Servings
Amount Per Serving:
Calories:

185

What's your favorite herb?
Share with me in the comments below!