Quick and Easy Creamy Roasted Red Pepper Tomato Pasta
March 22, 2016
Get a nutrient-rich, flavor-packed dinner on the table in less than an hour with this Creamy Roasted Red Pepper Tomato Pasta. Your family will thank you (and ask for more)!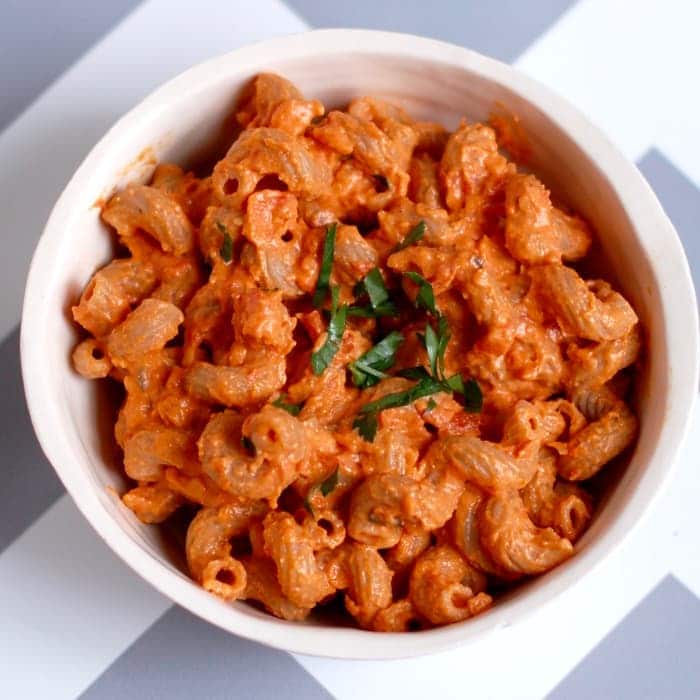 This page contains affiliate links. See below for full disclosure statement.
One of my goals with my weekly menu plans is to inspire people to make home cooked meals on a regular basis, give them ideas of what to make, and empower them to actually do it by showing them it's not so difficult.
It always helps when the meals I can put on the menus are quick (take less than an hour, preferably 30-45 minutes), easy (don't require advanced knife skills and techniques), and don't contain a laundry list of ingredients (ideal are recipes with 10 ingredients or less). I don't always succeed at this task, but I make a valiant effort every week – I mean it's not like I want to spend hours in the kitchen during the week any more than you do!
Lucky for you (and me!), this Creamy Roasted Red Pepper Tomato Pasta recipe fits the bill:
It's ready in 30 minutes (less if you cut out a step or two – see the recipe below for more info)
It's made with a bunch of pantry staples, so there's not that much prep involved.
The prep you do doesn't require advanced cooking skills
It calls for 5 to 7 ingredients (again, depending on whether you follow the recipe to a T
Recipe Inspiration
This pasta dish is a recipe I have been making since 2011 with some modifications along the way. I actually shared a version of this recipe on the blog back when I first made it (and took some not so great food pics!).
The recipe was originally inspired and adapted from one of (fellow dietitian) Ellie Krieger's recipes that I found in her first cookbook, The Food You Crave. Over the years the recipe has evolved to what it is today – a combination of roasted red peppers and sun-dried tomatoes, ricotta cheese in place of feta, and the addition of chickpeas for an added protein and fiber boost.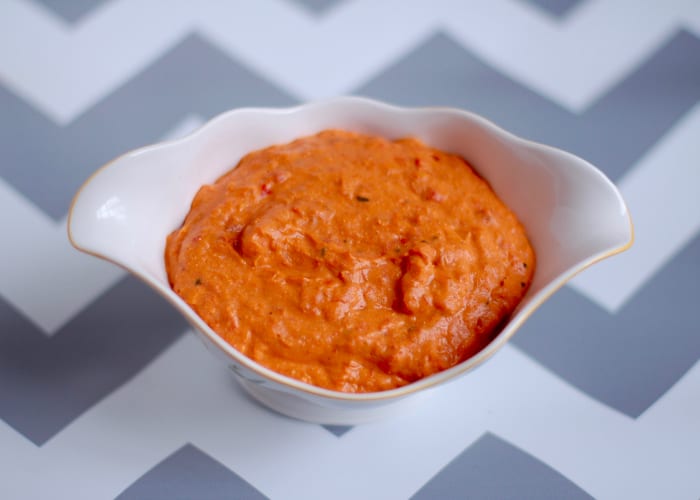 How to Make Creamy Roasted Red Pepper Tomato Pasta Sauce
To make the sauce, I sauté onions, garlic, sun-dried tomatoes, jarred roasted peppers, and freshly chopped rosemary. I then add the sautéed mixture to a food processor or blender along with chickpeas and part-skim ricotta cheese.
Since I use sun-dried tomatoes packed in oil, I don't need to add any oil to the pan when cooking the veggies. However, if you use dried tomatoes not in oil, you will want to heat oil in the pan and then sauté the onions and garlic before adding the sun-dried tomatoes and peppers.
Time Saving Tip
Remember earlier when I said this recipe will take less than 30 minutes if you leave out a step or two? Here's what I'm talking about.
If you only have about 15 minutes to get dinner on the table, skip sautéing the onions and garlic, and go straight to the blender with the sun-dried tomatoes, roasted peppers, rosemary, chickpeas, and ricotta.
Personally, I love the flavor boost from the aromatics (onions and garlic cooked in a bit of oil), but if you are really pressed for time, the red pepper tomato pasta sauce will still come out delicious, and you'll have one less pan to wash!
If you really can't bear to leave out the garlic, you can add garlic paste or some garlic powder to the blender.
Recipe Notes
A few other notes about this recipe to make your life easier.
On a gluten-free diet? Sub chickpea pasta or any other gluten-free pasta of your choice for the whole wheat pasta. I love how this comes out when I have used Banza chickpea pasta in the past.
Forgot to pick up ricotta at the store, but have cottage cheese on hand? You have the perfect substitute – pureed cottage cheese has the same consistency as ricotta. No one will know the difference.
I usually mix the sauce with the pasta directly in the pasta pot and served it straight from there. But, if you want to serve this to company or make it a little cheesier, you can also transfer the coated pasta to an oil-coated casserole dish, top with some low-fat shredded mozzarella cheese, and bake for 10-15 minutes at 350 degrees F. You may want to turn on the broiler for a couple of minutes at the end to brown the cheese a little. Mmmmm…
Last but not least, if you want to add some spice, I recommend adding some red pepper chili flakes to the sauce. Or if you're serving to kids and adults, sprinkle some of the spice on the adult portions only.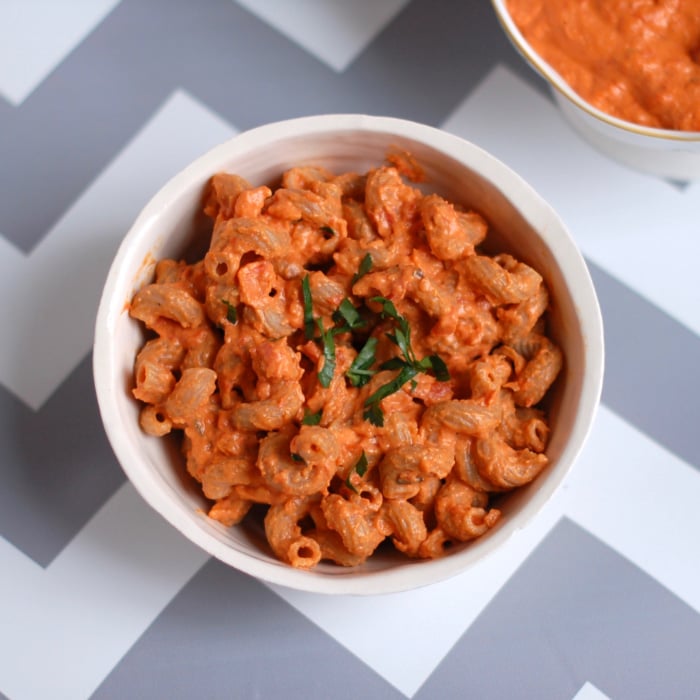 A Recipe the Family Will Love
I have a feeling you'll like this Roasted Red Pepper Tomato Pasta and so will everyone and anyone you serve it to, including your kids if you have any. How do I know? Well, for one thing my kids, husband, and I devoured it. Luckily there were some leftovers because the next morning at breakfast one of my daughters asked if there was any left for lunch!
Second, I posted a teaser of this creamy roasted red pepper tomato pasta on Instagram last week and received lots of likes and comments with people guessing what it was. (Some good guesses, including vodka sauce. It sort of looks like that, doesn't it?!)
If you love vodka sauce, this is also going to be a winner – my hubby can attest to that. And score for it being so much better for you!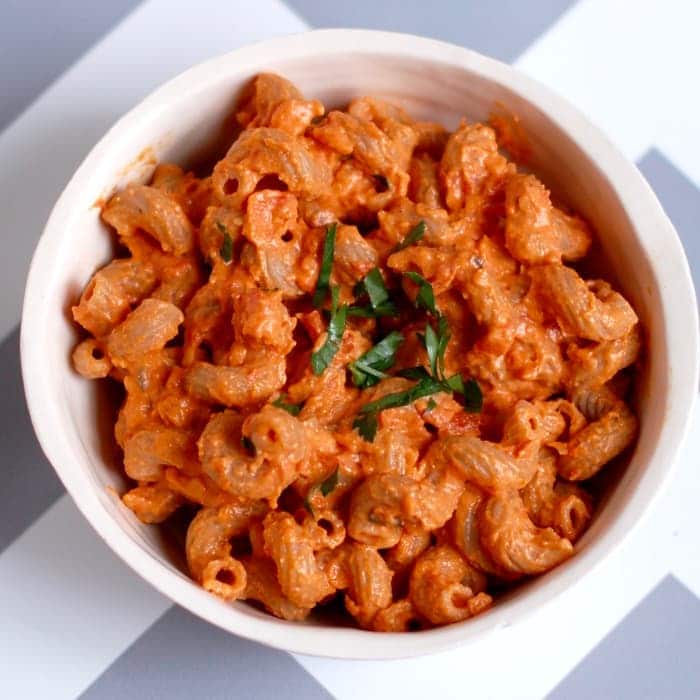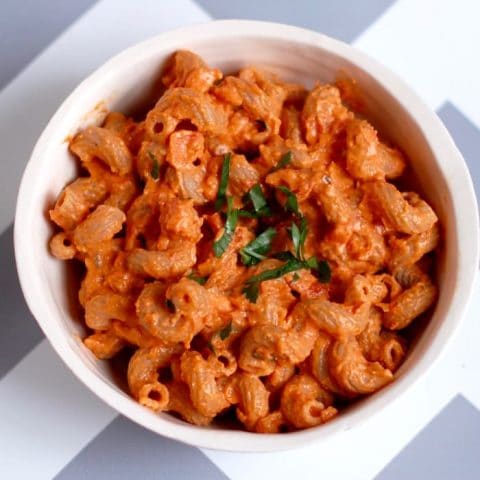 Quick and Easy Creamy Roasted Red Pepper Tomato Pasta
Sweet roasted red peppers and savory sun-dried tomatoes are the base of this creamy sauce that perfectly coats your favorite pasta. Ricotta cheese and chickpeas add a boost of calcium, protein, and fiber, making this a satiating meal that's quick and easy for those busy weeknights.
Vegetarian, Nut-Free, Egg-Free, Gluten-Free-Friendly
Ingredients
1 pound whole wheat pasta
1/2 cup chopped sun-dried tomatoes in oil
1/2 cup chopped yellow onion
1 tablespoon minced garlic (~1 large clove)
12 ounce jar roasted red peppers, drained, rinsed, and roughly chopped
1 teaspoon fresh chopped rosemary (or 1/3 teaspoon dried rosemary) (optional)
1/2 cup no-salt added chickpeas, drained and rinsed
1 cup part-skim ricotta cheese (substitute low-fat cottage cheese)
1/2 teaspoon Kosher salt
Freshly ground pepper
Instructions
Cook pasta according to package directions until al dente. Drain pasta, reserving about 1/2 cup of pasta water.
While pasta is cooking, heat a small skillet over medium-high heat. Add sun-dried tomatoes with their oil to the pan and stir for about 2 minutes. Add the onions and sauté 2 to 3 minutes until translucent. Add garlic and stir 30 seconds until fragrant. Add roasted peppers and stir together for 2 minutes more. Add chopped rosemary (if using) and stir another 30 seconds. Remove from heat. (Skip this step if pressed for time.)
Transfer pepper tomato mixture to the bowl of a food processor, add chickpeas and ricotta cheese and puree until mostly smooth. (There may be a few chunks of pepper and tomato.)
Drizzle a bit of olive oil in bottom of pasta pot and return drained pasta to pot over a low flame; toss to coat with oil. Toss pasta with sauce, adding reserved pasta water if necessary to thin out the sauce. Serve hot.
Notes
Skip step two if short on time. Instead, add the ingredients, minus the onions and garlic, directly into the blender.
Recommended Products
As an Amazon Associate and member of other affiliate programs, I earn from qualifying purchases.
Nutrition Information:
Yield:

6
Amount Per Serving:
Calories:

441
Total Fat:

8g
Saturated Fat:

2g
Trans Fat:

0g
Cholesterol:

13mg
Sodium:

408mg
Carbohydrates:

75g
Fiber:

10g
Sugar:

7g
Protein:

18g
Nutrition information was calculated by Nutritionix. It may not be 100% accurate.
Do you have a favorite quick and easy weeknight dinner recipe?
Share with me in the comments below.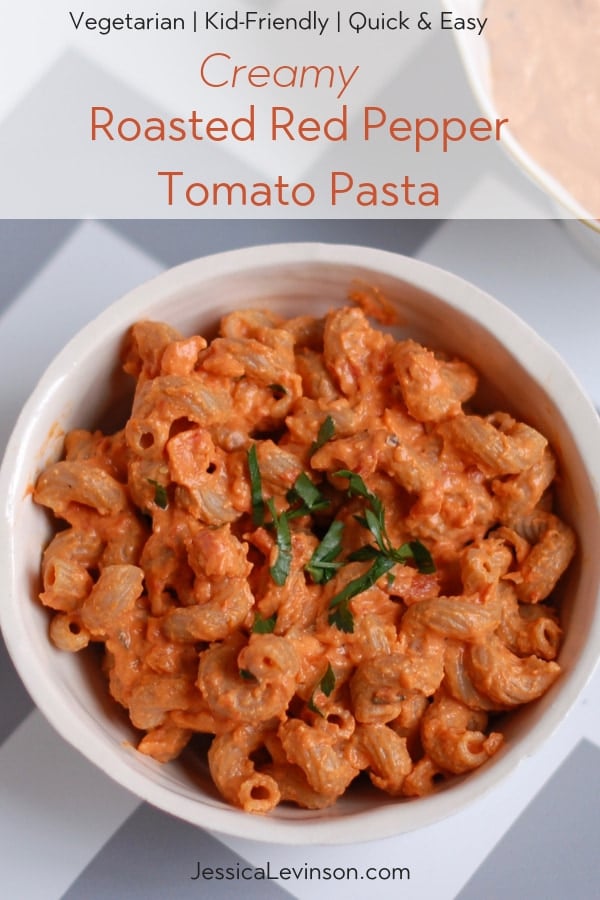 Disclosure: This page contains an Amazon Affiliate link. If you purchase a product through this link, your cost will be the same but I will receive a small commission to help offset the costs of running my blog. Thanks for your support!