Asian-Style Turkey Meatloaf with Honey-Soy Glaze
February 7, 2018
A twist on classic meatloaf, this Asian-style turkey meatloaf is loaded with vegetables, herbs and spices, and topped with a sweet and spicy glaze.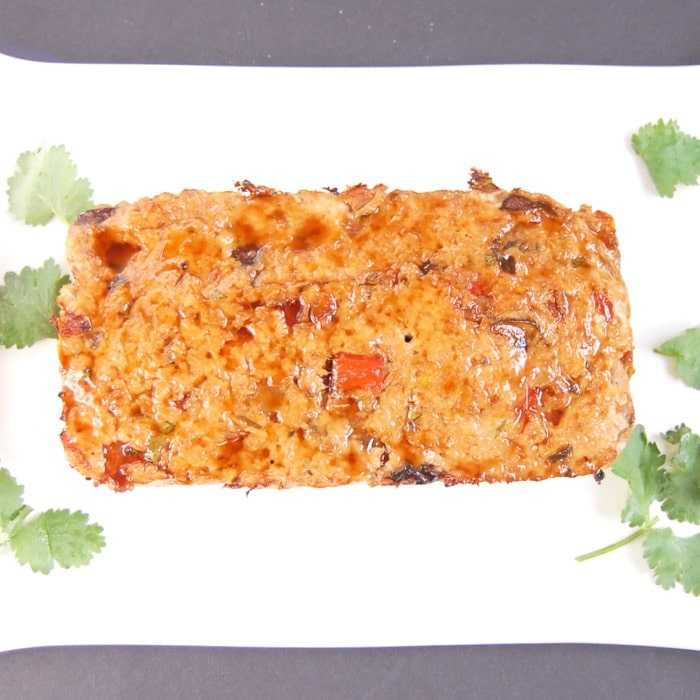 This page contains affiliate links. See below for full disclosure statement.
I don't know about you, but meatloaf isn't a dish I usually get excited about. Apparently my mother used to make it when she and my dad were first married, but I have no recollection of it ever being served in my house growing up. In fact, images of kids sticking their forks into crumbly meat with grimaces on their faces are what come to mind for me when I hear "meatloaf."
I assume I'm not alone in thinking of meatloaf as a notorious family dinner that was especially popular during the Depression. But it was so popular for a good reason: meatloaf is great way to make your meat go further and feed more people. And this reasoning is still relevant today considering the amount of food waste we have in the US. (DYK? Up to 40% of food is wasted.)
So a few years ago I decided to try my hand at my own version of this ever-popular 1950s dish, and that's how this Asian-Style Turkey Meatloaf came about – no grimacing faces at the table when served!
Ingredients & Preparation
My Asian-Style Turkey Meatloaf is not your traditional meatloaf recipe. The base is lean ground turkey breast, and unlike most meatloaves, this one has no breadcrumbs, eggs, or dairy (making it gluten-free, dairy-free, and egg-free, but most definitely not flavor-free). Oh, and you won't find any ketchup in it either.
What it does have is tons of vegetables, including scallions (green onions), mushrooms, bell peppers, and water chestnuts. It's also packed with Asian flavor from garlic, cilantro, soy sauce, ginger, rice vinegar, and sriracha.
Meatloaf is probably considered one of the quick and easy weekday meals for most people, so I do have to warn you that this Asian-Style Turkey Meatloaf takes a little more time than you may expect. That said, if you can get some meal prep done in advance, most of the time will be spent hands-off while it's cooking in the oven. Plus, this is a great make-ahead and freezer-friendly recipe – I often make two loaves at a time so there's an extra one in the freezer for a busy week (or for another family when a friend has a new baby or someone is sick).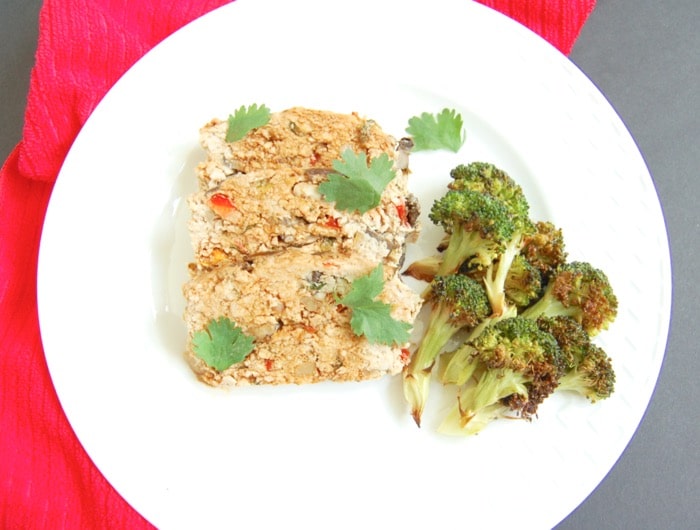 Unlike most meatloaf recipes, which call for shaping the meat mixture into a loaf on a baking sheet, I choose to start the cooking process for this meatloaf in a loaf pan. I find the end result is more uniform and easier to serve. Once the meat is set and mostly cooked, I do transfer the loaf to a lined baking sheet to finish cooking. This is an important step you don't want to leave out because it allows whatever moisture is trapped in the pan to evaporate.
The honey-soy glaze brushed on top of the meatloaf is similar to the one used in my Ginger Miso Turkey Burgers. The only difference is the addition of sriracha, which can be left out if your family doesn't like spice. The glaze adds a sweet and spicy flavor and is delicious drizzled on top of the sliced meatloaf for serving. You may want to double the recipe for the glaze to make sure you have enough, especially if you like sauce as much as my family does!
Make It Your Own
Over the years I have tweaked the recipe and made improvements, which is why it was time to share the recipe anew (I originally posted this back in 2014!). In addition to being a good way to use up ingredients you have on hand, this Asian-Style Turkey Meatloaf is a great way to get kids to eat their vegetables, a problem many moms and dads face (myself included). Plus, it's a meal that can be changed up based on family preferences.
Don't like the veggies I include? Choose your own.
Kids don't like spice? Leave it out or make two batches of the honey-soy glaze, one with sriracha and one without.
Prefer chicken to turkey? Use ground chicken breast.
Kids still have a grimace on their face when you serve this dish? Be sure to serve it with a side they love. Some of my kids' favorites are Crispy Baked Sweet Potato Fries, Miso-Roasted Root Vegetables, and Roasted Garlicky Green Beans.
I'm not going to lie and tell you meatloaf – even this flavor-packed Asian-Style Turkey Mealoaf – is a beautiful recipe to look at. To be honest, it was really hard to photograph, especially when sliced. But it truly is a delicious recipe that my whole family loves and I hope yours will too.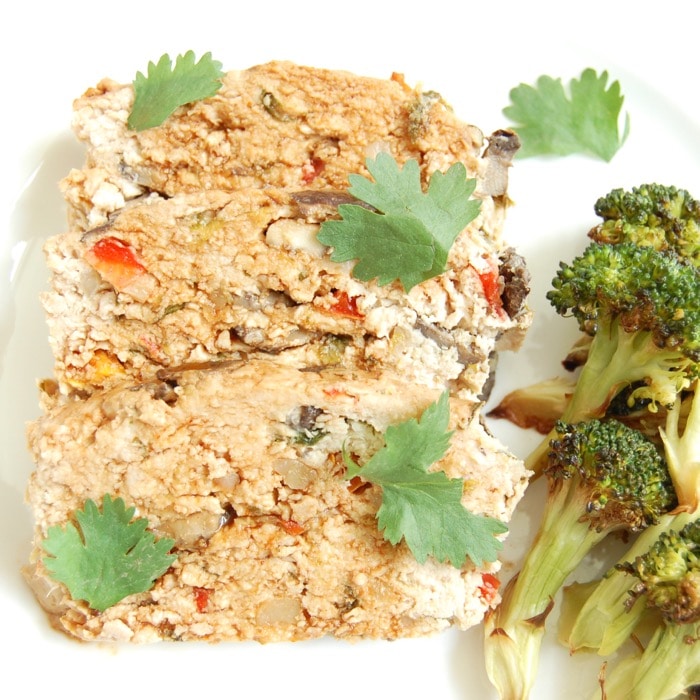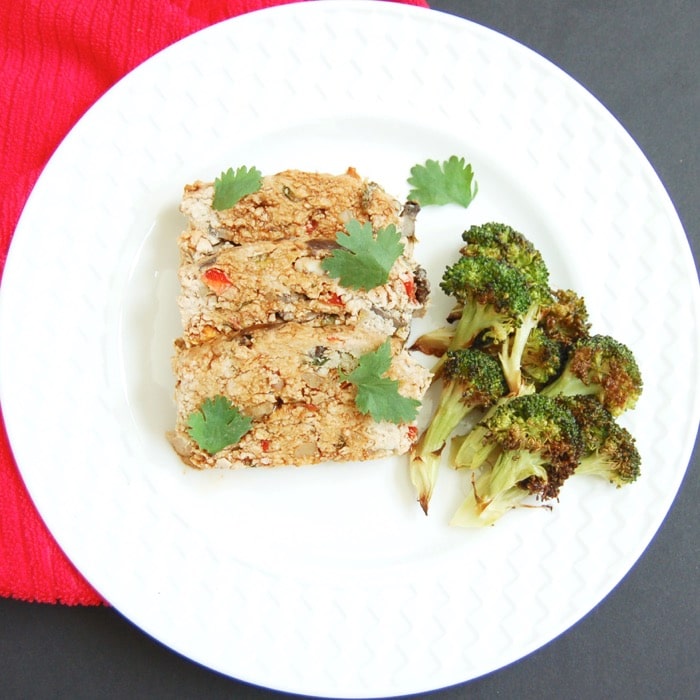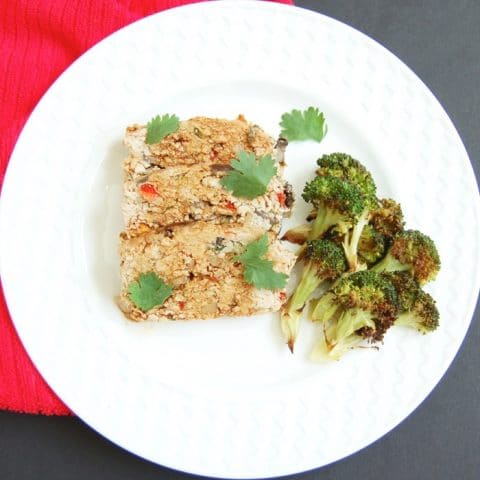 Asian-Style Turkey Meatloaf
Cook Time:
1 hour
45 minutes
A twist on classic meatloaf, this Asian-Style Turkey Meatloaf has crunchy water chestnuts, umami mushrooms, and loads of flavor from herbs and spices like cilantro, ginger, and sriracha. Modifiable to your family's preferences, this recipe is also freezer friendly and can be made ahead.
Ingredients
For the glaze:
1/4 cup rice vinegar
3 tablespoons low-sodium soy sauce, (or gluten-free soy sauce)
2 tablespoons honey
1 teaspoon sriracha
For the meatloaf:
2 teaspoons olive oil
1/2 cup chopped scallions
1/2 cup chopped red bell pepper
5 ounces sliced mushrooms
1/2 cup chopped drained water chestnuts
1 tablespoon freshly grated ginger
1 1/2 teaspoons minced garlic, (~3 medium cloves)
1 1/2 pounds ground turkey breast
1/4 cup freshly chopped cilantro
3 tablespoons low-sodium soy sauce, (or gluten-free soy sauce)
1 teaspoon sesame oil
Instructions
To Make Glaze: Combine rice vinegar, soy sauce, honey, and sriracha in a small saucepan and bring to a boil. Immediately reduce heat to simmer sauce for 2 to 3 minutes until sauce coats the back of a spoon. Turn off heat and set aside.
Preheat oven to bake at 375 degrees F. Line a 5x10-inch loaf pan with parchment paper and set aside.
Heat olive oil in a large sauté pan over medium-high. When oil is hot, add onions and peppers and sauté 1 to 2 minutes. Add mushrooms and sauté another 5 to 7 minutes. Add water chestnuts, ginger, and garlic and sauté 1 minute more. Remove pan from heat and set vegetables aside.
In a large bowl, combine the turkey, cilantro, soy sauce, sesame oil, and sautéed vegetables. Transfer meatloaf mixture into the loaf pan.
Brush prepared glaze over top of meatloaf. Bake for 1 hour and 15 minutes, brushing top of loaf with glaze once or twice.
Transfer loaf to lined baking sheet and bake another 15 minutes, until thermometer registers 165 F. Let rest about 5 minutes before slicing. Serve with extra honey-soy glaze drizzled on top.
Notes
If you want extra sauce for serving, double the glaze recipe.
Are you a fan of meatloaf?
Share with me in the comments below!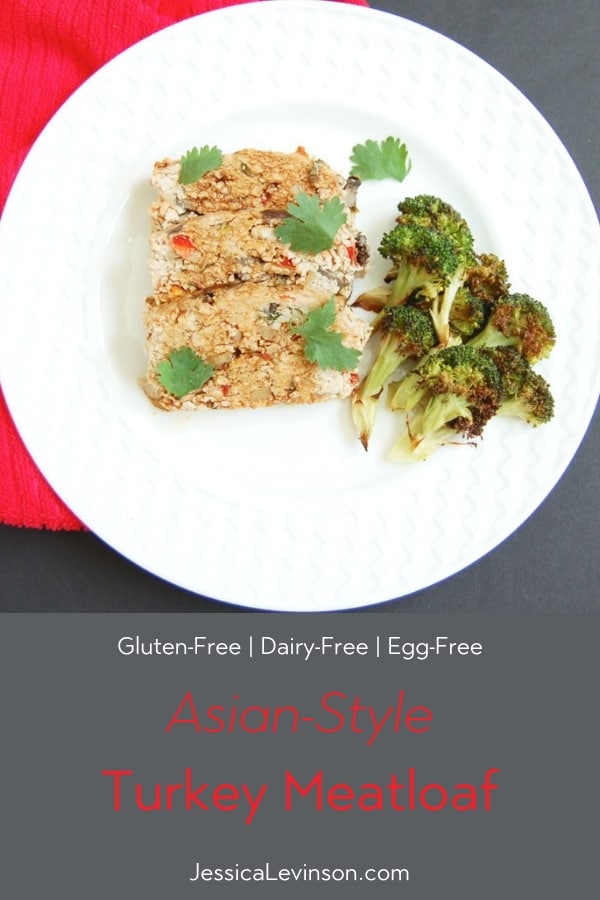 Disclosure: This page contains affiliate links. If you purchase products through these link, your cost will be the same but I will receive a small commission to help with operating costs of this blog. As always, all thoughts and opinions are my own and I only recommend products I truly believe in.