Mushroom Asparagus Pesto Frittata
July 7, 2016
Savor the flavors of spring and summer with this Mushroom Asparagus Pesto Frittata. Perfect for a quick and easy weeknight dinner or a relaxing weekend brunch.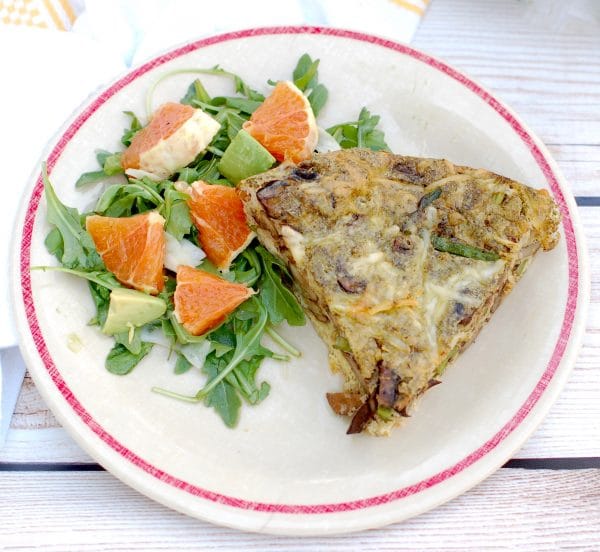 Asparagus season is pretty much over, but you may still find a few good bunches of spears in the supermarket. If you do, I have a great weeknight or weekend brunch recipe for you to make.
This Mushroom Asparagus Pesto Frittata is light enough for the hot summer days we're having, yet it's also full of flavor thanks to those umami-rich mushrooms and Parmesan cheese.
Pesto Goes Beyond Pasta
A few years back, I made a tomato-basil pesto frittata, which was inspired by a recipe in Everyday Food (a magazine that, sadly, no longer exists). Clearly that recipe needs a photo update (don't judge how delicious it is by the horrible pics!), but I remember thinking pesto mixed into frittata is super delicious.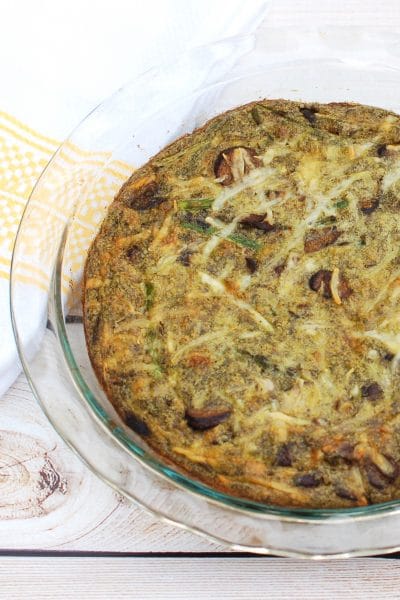 So when I had an open container of store-bought pesto at I didn't want to go to waste (have you heard about the #EndFoodWaste campaign?!), I thought I have to make another pesto frittata. With asparagus season almost over, I decided to make this asparagus pesto frittata, and of course I needed to add mushrooms, because what egg dish is complete without them?!
While I used the Trader Joe's prepared pesto, if you're overflowing with basil from your garden or your local CSA, feel free to make your own. You can also make your own pesto using any other leafy green you may have on hand like arugula or spinach. You can check out my Mushroom Onion Pesto Pizza and my Farinata with Tomato, Mozzarella, and Pesto Drizzle for some homemade pesto inspiration (if you're looking for a nut-free version, go for the former).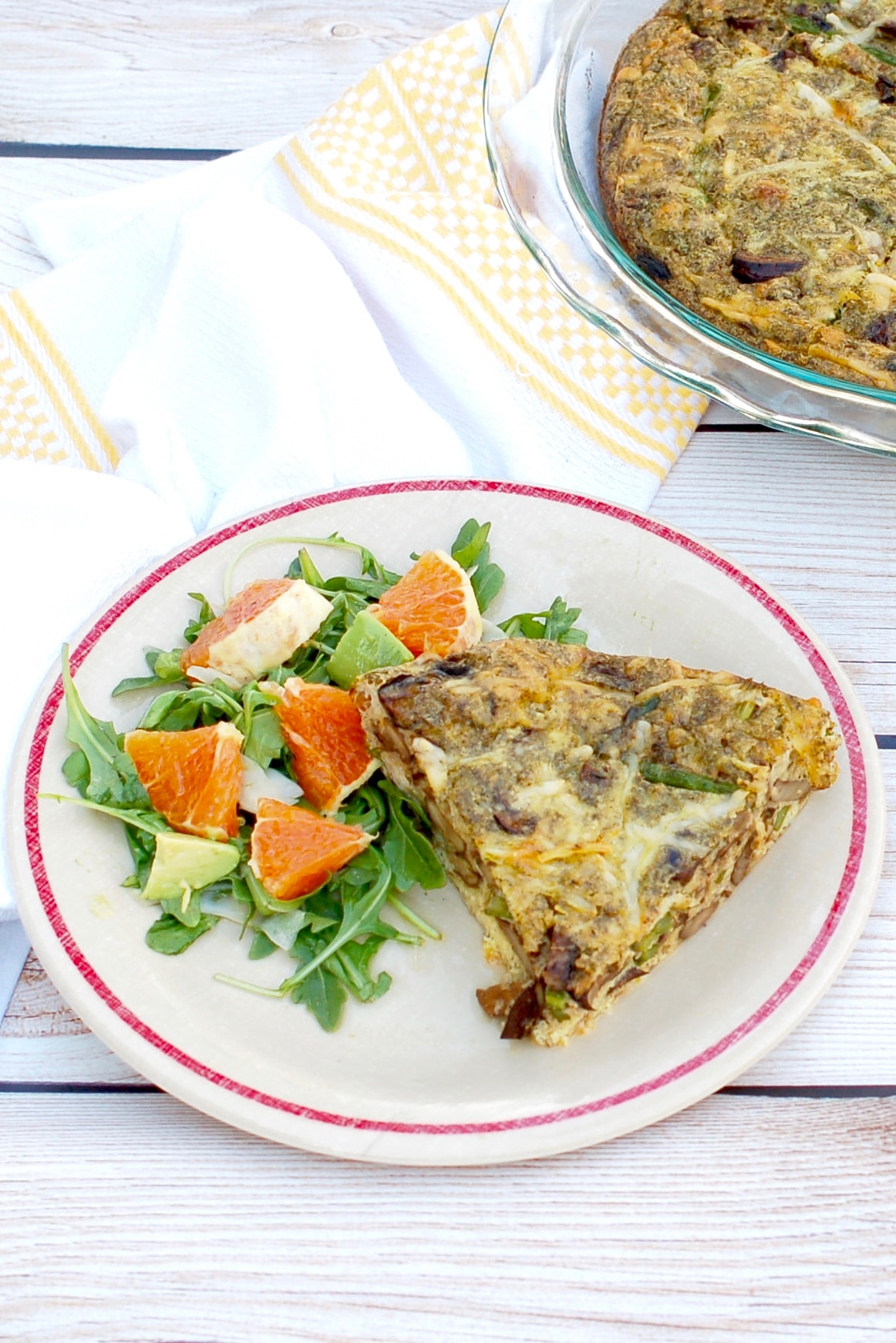 Flavor-Packed Frittatas
When it comes to making frittatas, I do have a few flavor-boosting tricks up my sleeve. Be sure to check out my previous Baked Mushroom Leek Frittata to find out what they are. Once you've done that, it's time to get to this recipe!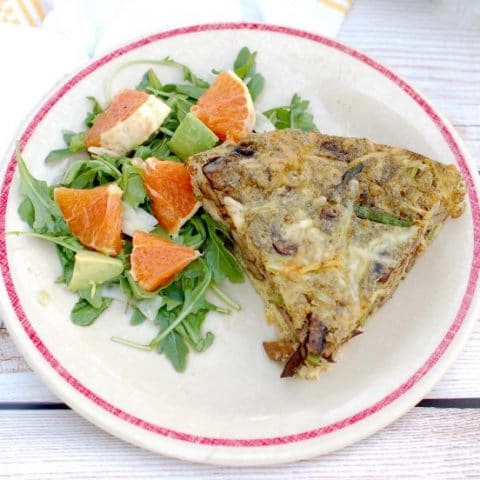 Mushroom Asparagus Pesto Frittata
Savor the flavors of spring and summer with this Mushroom Asparagus Pesto Frittata. Perfect for a quick and easy weeknight dinner or a relaxing weekend brunch.
Vegetarian, Gluten-Free, Kosher
Ingredients
2 teaspoons olive oil
1 small yellow onion, sliced into half moons
10 ounces sliced baby bella mushrooms
5 ounces asparagus, cut into 1 1/2" pieces
1/2 teaspoon Kosher salt, divided
Freshly ground pepper
8 eggs
2 tablespoons half and half
1/4 cup pesto
3/4 cup Parmesan cheese, divided
Instructions
Preheat oven to 375 degrees F. Spray 9-inch pie dish with cooking spray and set aside.
Heat olive oil in a large skillet over medium-high heat. Add onions and sauté 3 minutes, until starting to brown. Add mushrooms and sauté 6 to 7 minutes until softened and most of the water has evaporated. Add 1 to 2 tablespoons water to deglaze the pan.
Add asparagus and sauté stirring continuously, 2 to 3 minutes until bright green and slightly tender. (Thicker asparagus may need to be cooked longer and pan may need to be deglazed again.) Add 1/4 teaspoon salt and pepper to taste. Remove from heat.
In a medium bowl, whisk together eggs and half and half. Stir in pesto, remaining ¼ tsp salt, and pepper, to taste.
Sprinkle 1/2 cup of shredded Parmesan in bottom of pie dish and top with vegetable mixture spread in an even layer. Pour egg and pesto mixture on top and sprinkle with remaining ¼ cup cheese.
Bake frittata for 30 minutes until top is puffed and golden brown.
Notes
You can use evaporated skim milk or low-fat milk in place of half & half if preferred.
Recommended Products
As an Amazon Associate and member of other affiliate programs, I earn from qualifying purchases.
Nutrition Information:
Yield:

6
Serving Size:

1/6th slice
Amount Per Serving:
Calories:

245
Total Fat:

17g
Saturated Fat:

6g
Trans Fat:

0g
Unsaturated Fat:

10g
Cholesterol:

263mg
Sodium:

557mg
Carbohydrates:

8g
Fiber:

2g
Sugar:

2g
Protein:

15g
Nutrition information was calculated by Nutritionix. It may not be 100% accurate.

Are you still finding asparagus at the market?
If so, what are you making with it?
Share with me in the comments section below!