Chicken Vegetable Udon Soup
December 21, 2013
Long noodles signify longevity in Asian countries. Try this Chicken Vegetable Udon Soup to bring in the New Year with this delicious new challenge.

As you're getting ready for the end of 2013, you may be thinking about what lies ahead for you in the coming year. Some people have a custom of wearing red on New Year's Eve to bring them good luck in the New Year. Other people give gifts on Near Year's Day to bring good fertility or prosperity to friends and loved ones. And as we take time to reflect on the previous year, we often make resolutions for bettering ourselves in the year to come.
One tradition I wasn't familiar with was the concept of "good luck foods," the theme of this month's Recipe ReDux. When I read that our challenge was to prepare a recipe using good luck foods like black eyed peas and greens, I did a search for New Year's Good Luck Foods. Little did I know there was a whole long list of them, including cornbread, lentils, and eating 12 grapes at midnight. The food I knew I wanted to use was long noodles.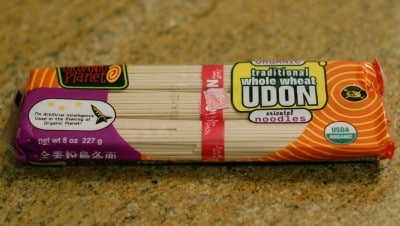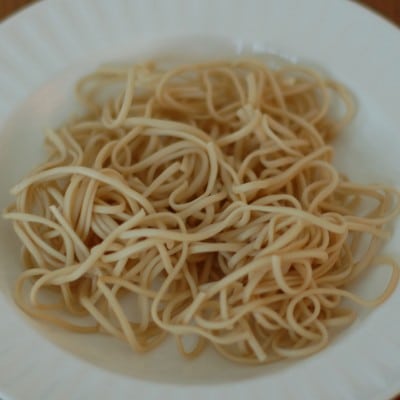 According to one article I read, long noodles signify longevity in Asian countries. I have been meaning to share my recipe for udon soup for quite some time, and this was the perfect chance to remake it and share it will all my readers and fellow Recipe ReDuxers!
Here's to a wonderful end to 2013, and a fabulous beginning to 2014!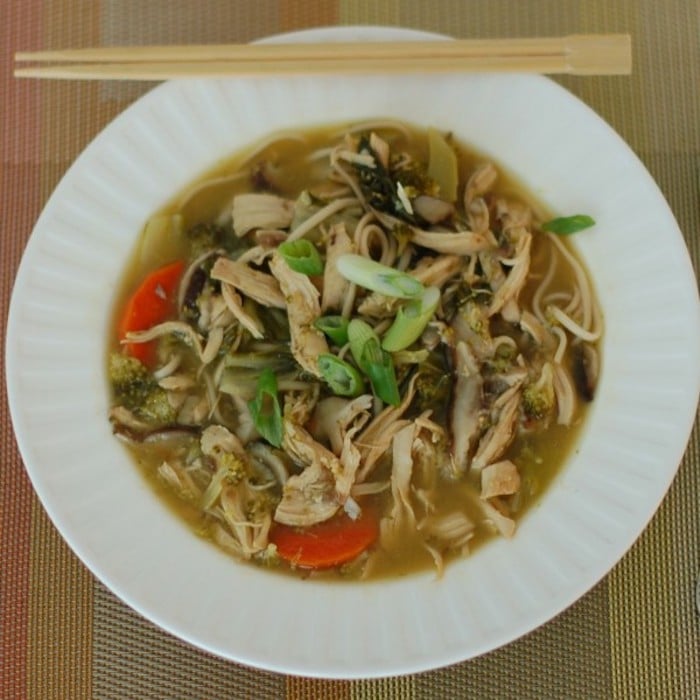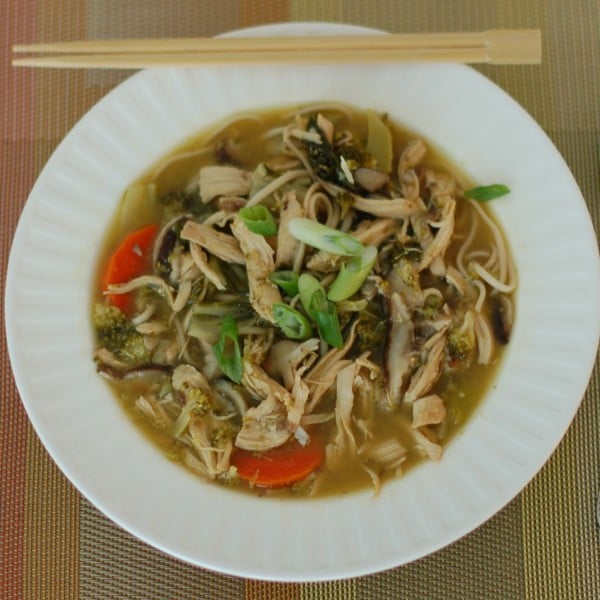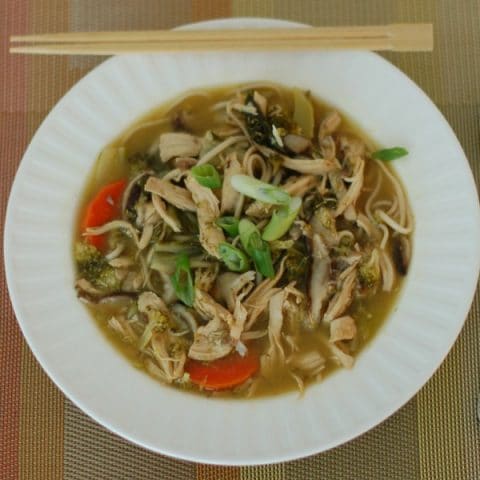 Chicken Vegetable Udon Soup
Total Time:
1 hour
5 minutes
Thick Japanese whole grain noodles, lots of vegetables, and umami-rich broth make this a nutritious, delicious, and satisfying meal.
Ingredients
2 pounds boneless, skinless chicken breast
12 cups low-sodium chicken broth
10 1/4-inch slices peeled fresh ginger
5 garlic cloves, crushed
2 green onions, cut into 2-inch pieces
¼ teaspoon ground allspice
8 ounces dried whole wheat udon noodles
2 tablespoons canola oil
1 cup chopped carrots
3 cups chopped broccoli florets
10 ounces 2 packages fresh sliced shiitake mushrooms
2 teaspoons minced peeled fresh ginger
1 garlic clove, minced
1/4 cup mirin
1/4 cup dry white wine
1 head bok choy, chopped
1 tablespoon low-sodium soy sauce
1 tablespoon honey
1/4 teaspoon kosher salt, or more to taste
Freshly ground pepper, to taste
1/4 cup diagonally cut green onions
Instructions
Combine chicken, broth, sliced ginger, crushed garlic, green onions, and allspice in a large stock pot. Bring to a boil. Cover, reduce heat, and simmer 20 minutes. Remove from heat and let stand 10 minutes. Remove chicken and set aside. Strain stock over a bowl; discard solids.
Using your hands or a fork, shred chicken and set aside.
Cook udon noodles according to package directions, omitting salt and fat. Drain and rinse with cold water.
Heat large stockpot over medium-high heat. Add oil and swirl to coat. When hot, add carrots and broccoli and sauté 3 minutes. Add mushrooms and sauté another 2 minutes. Add minced ginger and garlic; sauté for 1 minute. Add mirin and wine, and cook for 4 minutes, scraping pan to loosen browned bits. Add reserved stock to pot; bring to a boil, and reduce heat to medium-low. Add bok choy, shredded chicken, soy sauce, honey, and salt; simmer for 2 to 5 minutes, until chicken is thoroughly heated and bok choy is wilted. Season with fresh pepper and more salt if needed.
To serve, place about 1 cup (3-4 ounces) cooked udon noodles in a bowl. Add about 2 cups of soup, chicken, and vegetables to the bowl. Sprinkle each serving with 1 tablespoon green onions.
What will you eat this New Year's for good luck?
Let me know in the comments!