Pumpkin Spice Baked Oatmeal with Pecans & Raisins
October 4, 2017
Forget about the PSL! A piece of this pumpkin spice baked oatmeal with pecans and raisins is all you need to start the morning this fall!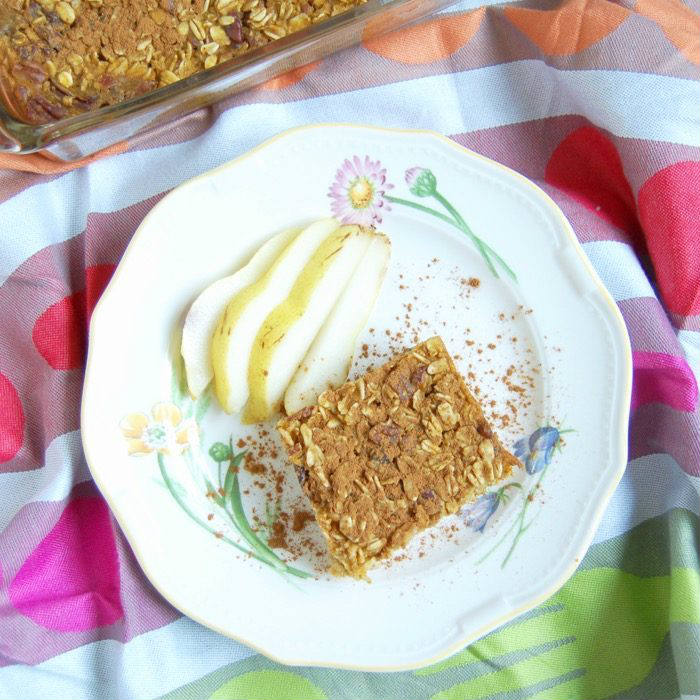 It's October and that means all things pumpkin are here! Pumpkin picking, pumpkin bread, pumpkin pancakes, and of course the infamous PSL (not up on the lingo? That's the Pumpkin Spice Latte I'm talking about). You can even find pumpkin used in more savory combinations like Ravioli with Pumpkin Spice Yogurt Sauce, pumpkin cornbread, and pumpkin chili. Clearly there is no shortage of pumpkin recipes for you to enjoy this fall season.
But that doesn't mean I won't add another one to your list! Trust me when I tell you this Pumpkin Spice Baked Oatmeal is a recipe not to be missed. It has all the characteristics of a go-to meal in my house:
Quick prep
Minimal hands-on time
Uses few dishes, which means less clean up
My kids love it

Ingredients & Preparation
I'm sure it's no surprise to you that oatmeal is one of my favorite foods. I enjoy it for breakfast or dinner, savory or sweet. What I love about baked oatmeal is that I can make it in advance and keep it in the refrigerator for multiple breakfasts throughout the week.
It also freezes really well, which is good for adults and kids who like something different for breakfast every day. Just cut the baked oatmeal into individual pieces and wrap in aluminum foil for easy grab and defrost breakfasts.
Over the summer I made my fair share of baked oatmeals with berries and stone fruit, but as soon as the weather started to change I had this pumpkin spice baked oatmeal in mind.
Baked oatmeal is one of those recipes that's built on a formula. No matter what mix ins you prefer, the base is the same: oats, baking powder, table salt, milk, vanilla, and maple syrup. Then it's up to you to decide what spices and fruit you want to include.
Canned pumpkin (100% pure pumpkin, not pumpkin pie filling) is the star of the show in this pumpkin spice baked oatmeal, but you definitely don't want to skip the other ingredients I add. First, a trio of spices – cinnamon, cloves, and nutmeg. Sometimes I throw in some ground ginger too – depends on my mood. Next, chopped pecans provide some crunch and are the perfect nut for the fall. Last, raisins add a bit of sweetness in every bite.
I like to top my baked oatmeal with low-fat plain yogurt, cinnamon, and a drizzle more of maple syrup.
This weekend when you're planning your menu and making your meal prep list, don't forget to include this pumpkin spice baked oatmeal – it will save you time and ensure your family has a nutritious and delicious breakfast all week long!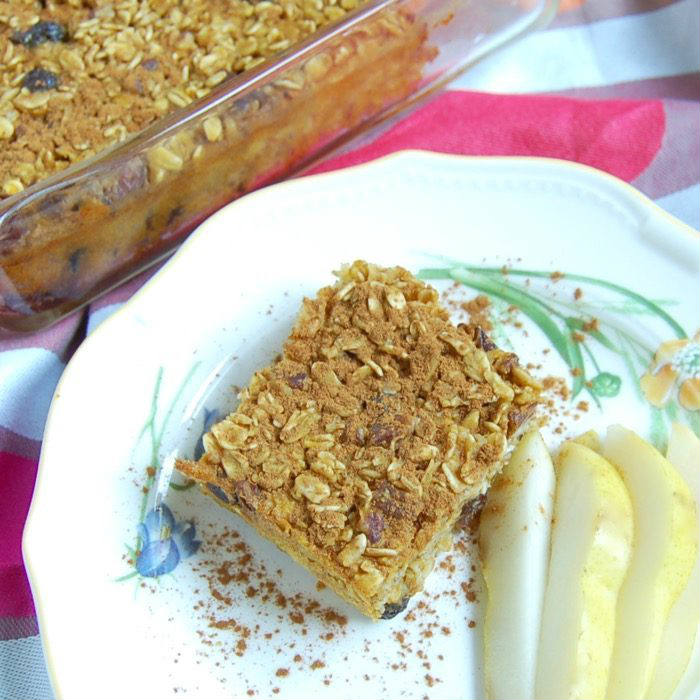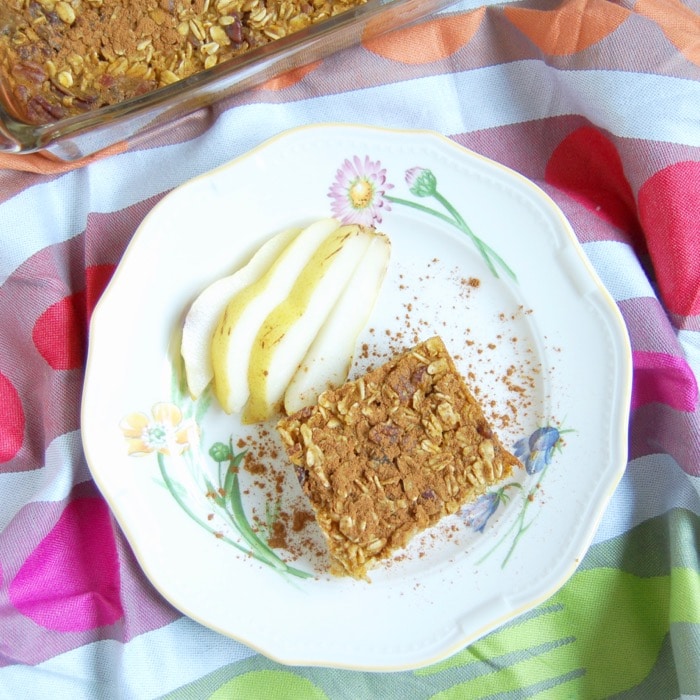 Pumpkin Spice Baked Oatmeal with Pecans & Raisins
100% pure pumpkin, cinnamon, cloves, and nutmeg are mixed with oats and milk and baked in the oven in this make-ahead breakfast. Pecans add crunch and raisins and maple syrup add sweetness, providing a balance of flavors and textures. An easily modifiable recipe based on taste preferences.
Ingredients
3 cups oats, (old fashioned or quick oats both work)
1 1/2 teaspoons baking powder
1 teaspoon ground cinnamon,, plus more for topping
1/2 teaspoon ground nutmeg
1/4 teaspoon ground cloves
1/4 teaspoon table salt
2 cups nonfat milk, (or milk of choice)
3/4 cup canned 100% pure pumpkin
2 tablespoons maple syrup,, plus more for topping
1 teaspoon vanilla extract
1/2 cup black raisins
1/2 cup chopped raw pecans
Nonfat plain or Greek yogurt, (optional)
Instructions
Preheat oven to 350 degrees F. Coat an 8x8 baking dish with cooking spray and set aside.
In a large bowl, mix oats, baking powder, cinnamon, nutmeg, cloves, and salt.
Add milk, pumpkin, syrup, and vanilla and stir well to combine. Fold in raisins and pecans.
Pour oatmeal mixture into prepared baking dish and bake for 25 to 30 minutes until completely set.
Serve topped with additional cinnamon, yogurt, and/or maple syrup, if desired.
Notes
Make vegan by using dairy-free milk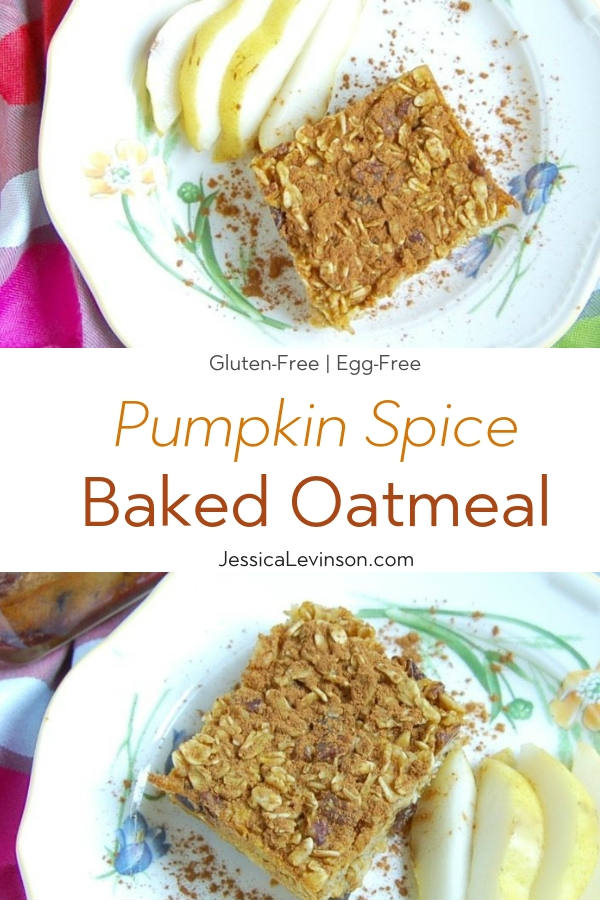 Are you loving all things pumpkin this fall?
Share your favorite pumpkin recipes with me in the comments below!