Summer Shakshuka
June 11, 2015
Take this classic Israeli breakfast for a summer spin with summer squash, zucchini, and corn. Serve Summer Shakshuka for any meal of the day with a hunk of bread for dipping.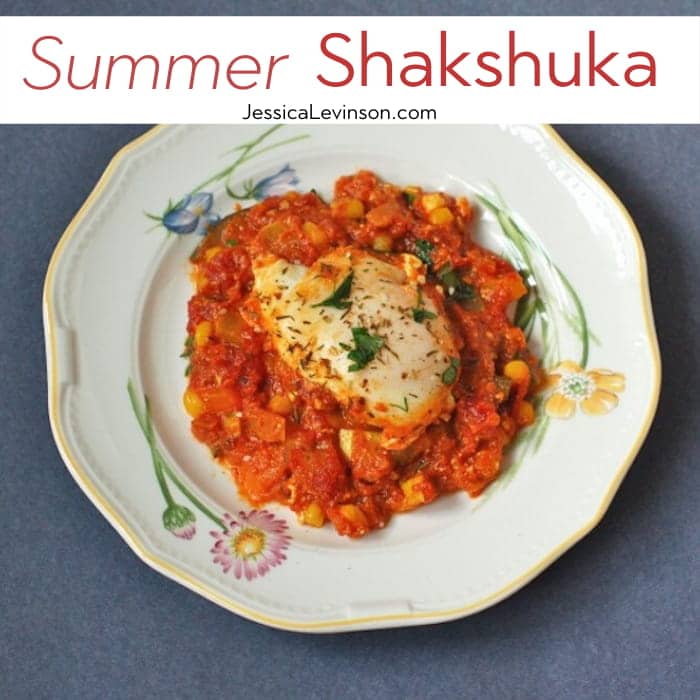 I received coupons for free samples of Davidson's Safest Choice Eggs mentioned in this post. By posting this recipe I am entering a recipe contest and am eligible to win prizes associated with the contest. I was not compensated for my time.
Eggs again? That's what my 3 year old daughter said to me the other day. Between egg muffins for breakfast a couple of times a week, egg in a hole (or Rocky Mountain toast as my husband calls it) every so often on the weekends, and a frittata for lunch or dinner at least once a week, she's a little burnt out from eggs.
I get it – I mean variety is the spice of life, right?! But the thing is, eggs are so quick and easy to make and they're full of nutrients that are important for everyone, especially kids (check out my Truth About Eggs post for more on the nutrition facts). Not to mention how many different things you can do with eggs – even when you simply #PutAnEggOnIt a dish can be taken to a whole new level.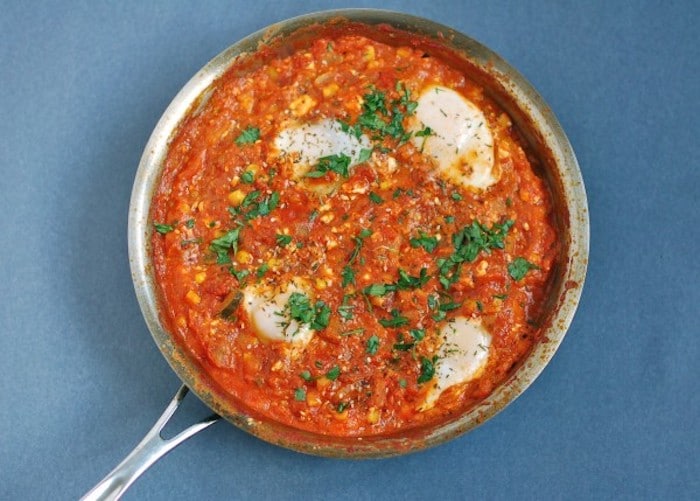 The Ingredients & Preparation
As I mentioned the other day, poached and sunny side up eggs are my favorite ways to enjoy eggs, so I had to make another recipe using Davidson's Safest Choice Eggs to add to the Recipe ReDux sponsored contest, and that's where this Summer Shakshuka comes in.
In case you didn't catch on to what's special about Davidson's Safe Eggs in the previous post, let me tell you again. Davidson's Safe Eggs go through an all-natural pasteurization process using a gentle warm water bath. The end result: eggs that are free of the risk of salmonella with the same great taste and nutrition as non-pasteurized eggs. It's just a little piece of comfort when you're making runny eggs or recipes with eggs that don't get cooked (e.g. hollandaise sauce, Caesar dressing, raw cookie dough).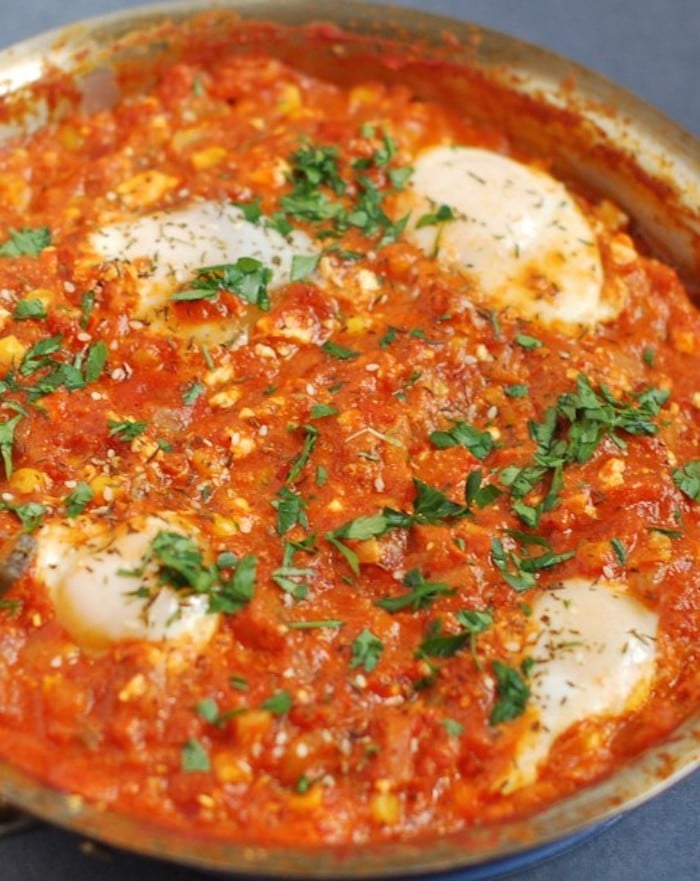 One of my favorite recipes with undercooked eggs is Shakshuka. I shared a shakshuka recipe with you (and some info on what this fun-sounding recipe is) back in 2013, but it was time to make it again, this time changing up the ingredients to go along with the season. Plus, I needed some fresh pictures with my improved photography skills.
The original recipe included fennel and Swiss chard and felt a little heavier and more appropriate for the winter. Now that summer is finally here, I decided to shake things up (no pun intended! Shakshuka comes from the hebrew word "to shake") by using summer squash, zucchini, and corn. What's great about this recipe is how easily you can modify it based on what veggies you have in your fridge and freezer and what your family's preferences are. Also, while I add feta cheese to my shakshuka, if you're looking for a dairy-free meal you can easily leave it out.
Serve this summer shakshuka with a side salad and a hunk of bread for dipping. You won't be disappointed you're having eggs again for dinner!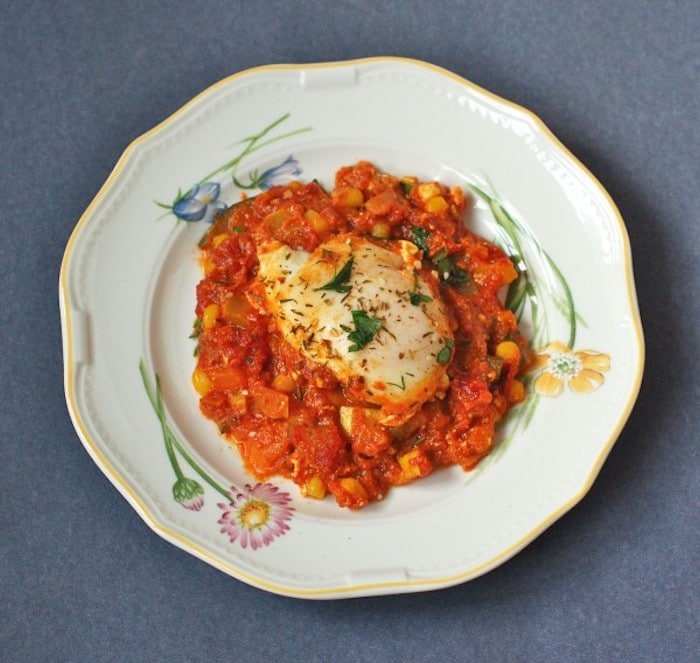 The Summer Shakshuka Recipe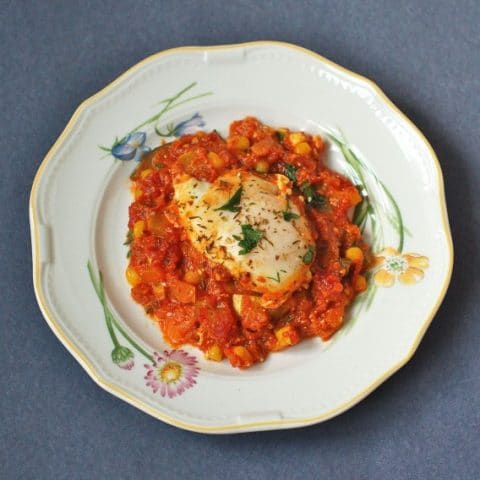 Summer Shakshuka
This summery twist on the classic Israeli breakfast recipe is an easy one-skillet dish of sautéed bell peppers, summer squash, corn, onions, and garlic in a Mediterranean-spiced tomato sauce with poached eggs and feta cheese. Serve it for any meal of the day with a hunk of bread for dipping.
Ingredients
2 tablespoons olive oil
1 cup diced yellow onion
1 serrano or jalapeno pepper, seeded and minced
1 cup diced yellow bell pepper
1 cup diced green zucchini
1 cup diced yellow summer squash
2 large garlic cloves, minced (~1 heaping tablespoon)
1 teaspoon ground cumin
1/2 teaspoon turmeric
1 teaspoon sweet paprika
26-28 ounces diced tomatoes
2 tablespoons tomato paste
2 teaspoons honey
1 teaspoon cider vinegar
1 cup corn, frozen, fresh, or canned
1/2 teaspoon Kosher salt
Freshly ground pepper
3/4 cup crumbled feta cheese
4 large Davidsons Safest Choice Pasteurized Eggs
Chopped parsley, for garnish (optional)
Za'atar, for garnish (optional)
Instructions
Heat olive oil over medium-high heat in a large skillet (straight sided skillet is preferable). Add onions; saute 2 minutes. Add serrano pepper and bell peppers; saute 4 minutes. Add zucchini and summer squash; saute 5 minutes. Add garlic, cumin, turmeric, and paprika; stir until fragrant, about 1 minute.
Reduce heat to medium and add diced tomatoes, tomato paste, honey, cider vinegar, and corn; stir in salt and pepper. Simmer about 10-12 minutes until the sauce has thickened and reduced somewhat.
Turn off the heat and press the crumbled feta into the tomato sauce. With the back of a spoon, make 4 indentations in the sauce. Crack eggs one at a time into a small bowl and pour into each of the four indentations. Carefully drag a spatula gently through the egg whites, being sure not to disturb the yolks. Simmer over low heat for about 5 minutes, gently stirring the sauce and basting the eggs with the sauce. Cover and cook another 3-5 minutes for runny eggs. Cook longer for more well-done eggs.
Serve with a sprinkling of parsley and za'atar if desired.
Notes
There is enough sauce for more than 4 servings. Add more eggs if desired.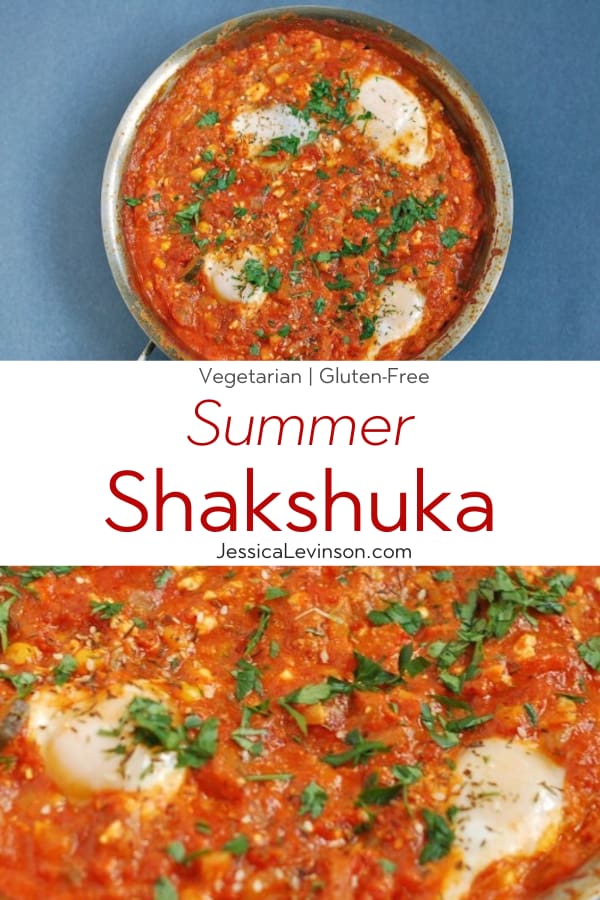 Have you ever tried shakshuka?
Let me know in the comments!