Fusilli with Fava Beans, Roasted Asparagus, Ricotta, & Mint {Recipe}
May 20, 2013
Asparagus, fava beans, and mint are tossed together in a light, lemony ricotta sauce for a spring pasta dish that's worth working for!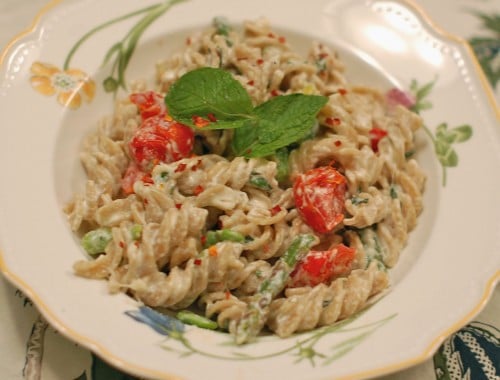 Fava beans are a great spring vegetable that you'll see on restaurant menus this time of year, but many people don't even consider making them at home and until now I was one of them. But then I saw these beautiful, bright green beans at the supermarket and decided it was time I went through the process of preparing them to use in a Nutritioulicious spring pasta recipe.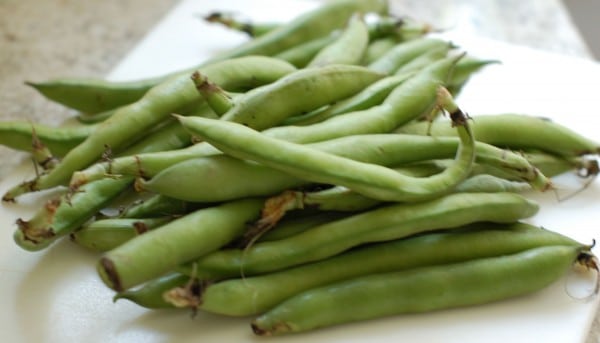 As I recently wrote in my Wee Westchester spring produce post, fava beans are flat beans that are found inside a tough outer pod, which provides a lot of cushioning for these delicate beans.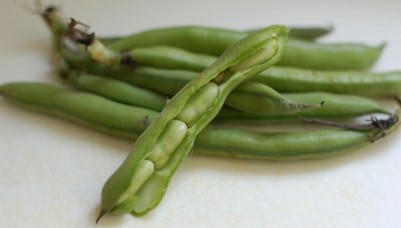 To prepare them, you have to remove the fava beans from their outer shell, blanch them, and then remove the skins of the beans before you can actually eat them – yes, it is a multi-step, tedious process, but well worth it!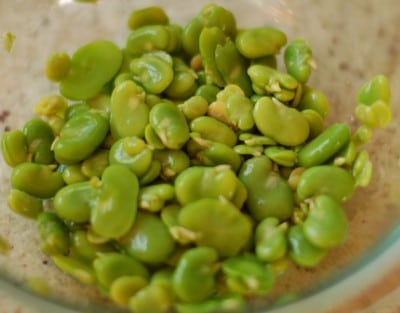 Nutritionally, fava beans are an excellent source of fiber and folate and a good source of magnesium, potassium, and the B vitamin thiamine.
This pasta dish is brimming with flavors of spring from the fava beans and asparagus. The cherry tomatoes add a pop of color, the ricotta is light, and the mint adds a great zing to complete the dish. Enjoy with a refreshing glass of crisp white wine and enjoy a beautiful spring evening!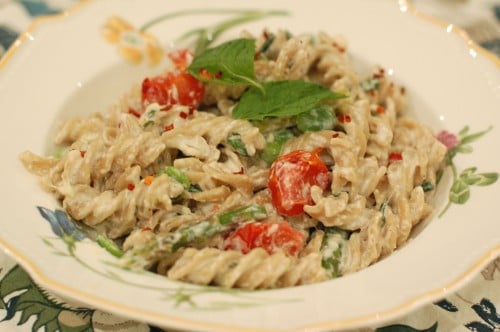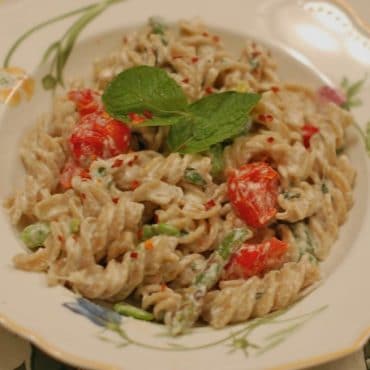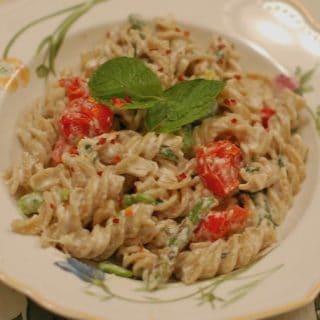 Fusilli with Fava Beans, Roasted Asparagus, Ricotta, & Mint
A pasta dish made for spring with asparagus, fava beans, and mint all tossed together in a light, lemony ricotta sauce.
Ingredients
1 cup asparagus cut into 1-inch pieces
1 cup whole cherry tomatoes
2 teaspoons olive oil, divided
1 1/2 pounds unshelled fava beans (about 1 cup shelled)
1 pound whole wheat fusilli pasta
3/4 teaspoon kosher salt, divided
Freshly ground pepper
One 15-ounce container part-skim ricotta
1 cup grated Parmesan cheese
1/2 cup coarsely chopped fresh mint
1 tablespoon lemon juice
Red pepper flakes, optional
Mint springs for garnish, optional
Instructions
Preheat oven to 400 degrees F. Toss asparagus and cherry tomatoes with 1 teaspoon olive oil, spread on baking sheet, and roast for about 10 minutes until tomatoes are blistering.
Meanwhile, bring a small pot of water to boil and prepare a bowl of ice water. Remove fava beans from pods and cook in boiling water for 1 minute. Remove the beans with a slotted spoon and plunge in the bowl of ice water. Drain. Remove the tough outer skins from beans; discard skins and set beans aside.
Cook pasta according to package directions (do not add salt). Drain pasta, reserving 1/2 cup pasta water. Place pasta in a large bowl; add remaining teaspoon of oil, 1/2 teaspoon salt, and pepper. Toss well.
In a medium bowl, combine the ricotta cheese, Parmesan cheese, chopped mint, lemon juice, remaining 1/4 teaspoon salt, and pepper. Slowly add reserved pasta water to thin the cheese mixture to desired consistency for sauce.
Add roasted tomatoes and asparagus, fava beans, and cheese mixture to pasta; toss to combine.
Serve garnished with mint sprigs and red pepper flakes, if desired.
Recommended Products
As an Amazon Associate and member of other affiliate programs, I earn from qualifying purchases.
Have you cooked with fava beans?
What are your favorite spring vegetables?