Quick & Easy Tuna Edamame Salad with Red Wine Vinaigrette
April 6, 2017
Ready in less than 10 minutes, this Easy Tuna Edamame Salad is a healthy, delicious, and balanced lunch for the kids' lunchbox or on top of a bed of greens.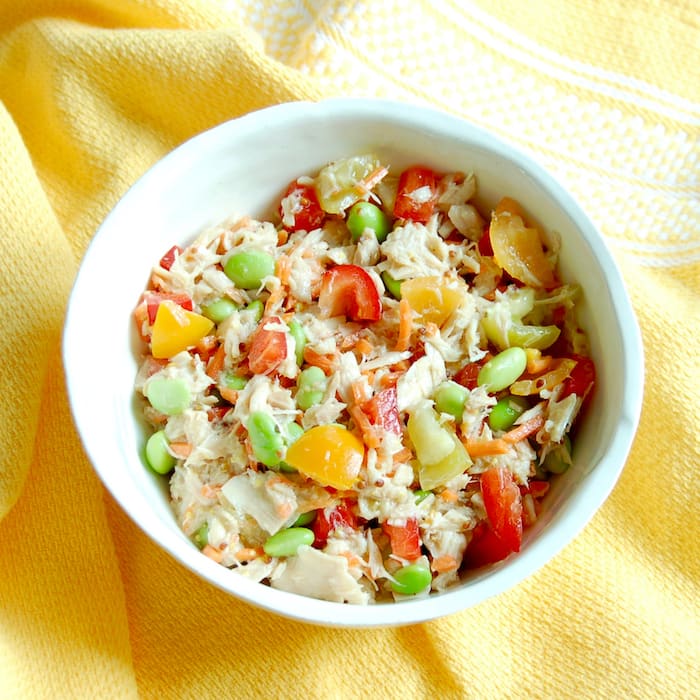 Hmmm…what should I pack the kids for lunch today? That's a question I am sure many parents ask themselves every day of the week. It's certainly one I am faced with, although usually it plagues me over the weekend when I am putting together my Menu Plan Monday for the week.
Back in August before the school year began, I provided you with a variety of quick, easy, and healthy school lunch ideas, and I try to share my girls' lunchboxes on Instagram and Facebook so you can see the reality of our lunch packing lives. But you're likely looking for more ways to keep those lunchboxes exciting for the kids and it always helps to have an actual recipe to follow.
That's why I recently shared my Lentil Chickpea Vegetable Salad with Feta – one of my girls' favorite lunches – and today I have this quick and easy tuna edamame salad for you. I'll also be posting my quinoa with beets and goat cheese recipe soon – that's another lunch salad that gets requested pretty often.
The Versatility of Tuna
Canned fish isn't everyone's "thing," but here's why I strongly recommend having a few cans on hand in the pantry at all times. Canned tuna fish is versatile. Classically mashed with mayonnaise and stuffed between two slices of bread, tuna goes way beyond the deli sandwich now.
You can boost the flavor and nutrition of that classic sandwich by mashing tuna with hummus instead of mayo as I do in my Mayo-Free Tuna Hummus Salad Sandwich, or you can mix it with lemon juice, crunchy apples, and sweet dried cranberries to make this Apple Cranberry Tuna Salad.
You can pop open a jar of Italian tuna packed in olive oil and serve it right over a bed of greens and other veggies of choice or add it to pasta for a twist on the classic Nicoise Salad. Have a little more time on your hands? Turn a can of tuna into tuna burgers or bake a classic tuna noodle casserole!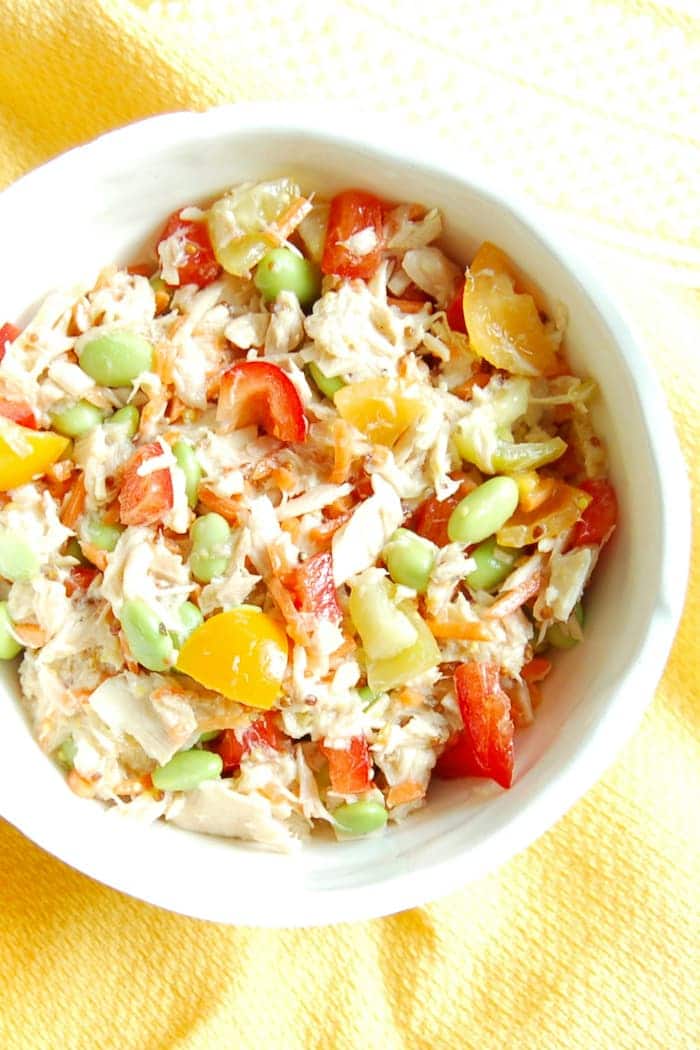 And then there's this easy tuna edamame salad, which is a quick, healthy, and delicious salad to pack in the kids lunchbox. Plus it's a great way to get those veggies in, ensuring a balanced lunch that's also packed with flavor and nutrition.
Ingredients & Preparation
I can't take full credit for coming up with the tuna edamame combo myself. This recipe is adapted from a recipe I ripped out of a booklet I received from the United Soybean Board years ago. I saved it with a bunch of other dog-eared recipes in a folder and one day came across it as I was looking for something new to make the girls for lunch. They were probably about two at the time, so I made a few modifications to make it more kid-friendly and it's still one of my go-to lunches to pack them today!
The main ingredients in this easy tuna edamame salad are a can of tuna packed in water, shredded carrots, edamame soybeans, bell pepper, and tomatoes. The original recipe also called for red onion and golden raisins, but my girls aren't big on the bite of red onion and I'm not crazy about raisins getting stuck in their teeth when we can't brush shortly after, so I left those two ingredients out.
I like whisking together my own homemade salad dressings, which only takes an extra minute or two and are composed of pantry staples I always have on hand, so I opt for that over the bottled dressing in the original recipe.
Most of the ingredients in this salad I get at Trader Joe's, including shelled, ready-to-eat edamame, shredded carrots, which I chop into smaller pieces, bell pepper, and colorful heirloom tomatoes. If you can't find the ready-to-eat edamame, you can easily use frozen shelled edamame and just microwave it for a couple of minutes to defrost it. I make the girls' lunch the night before, so even if the frozen edamame isn't completely defrosted at night, it's ready to eat by the morning and certainly by lunchtime.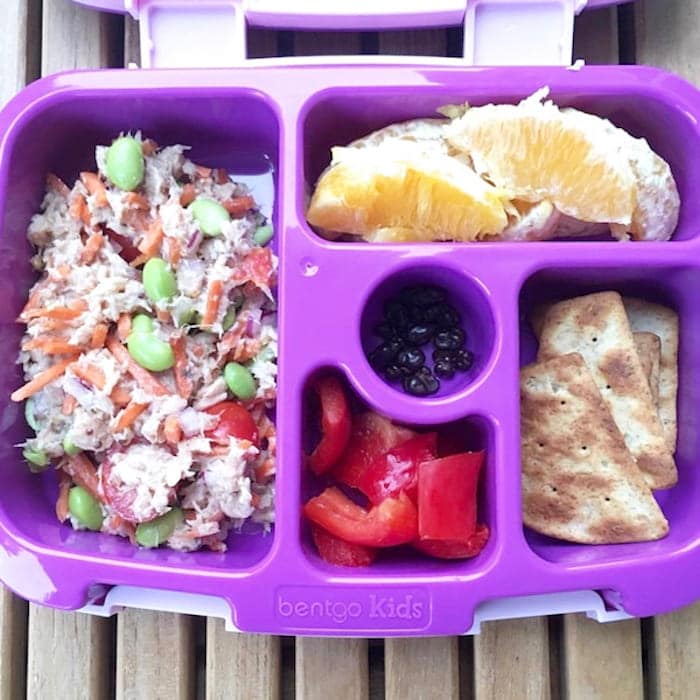 This easy edamame salad takes no more than 10 minutes to put together and I always have enough for my own lunch the next day too. For the girls, I pack it with some whole grain crackers, fruit, and maybe some extra veggies and/or a treat depending on what else is on the menu for the day and week.
If your kids aren't into canned tuna, you can try making this with canned salmon instead – it's a great way to encourage kids to eat more fish, a food group most of us don't get enough of.
Ready to give it a try on your kids? Here's the recipe!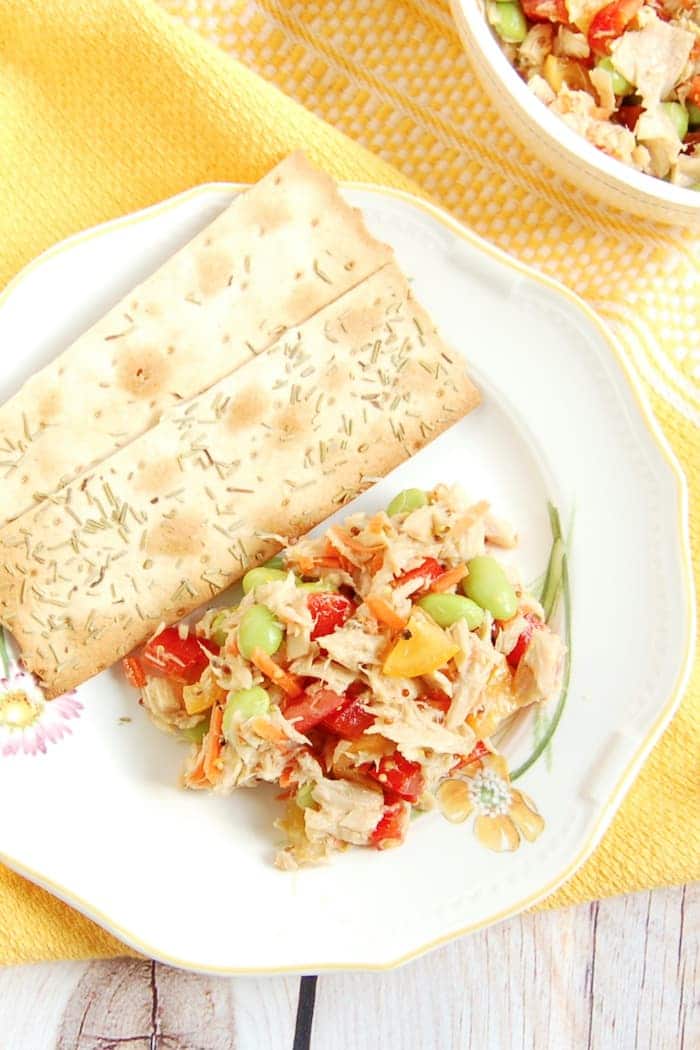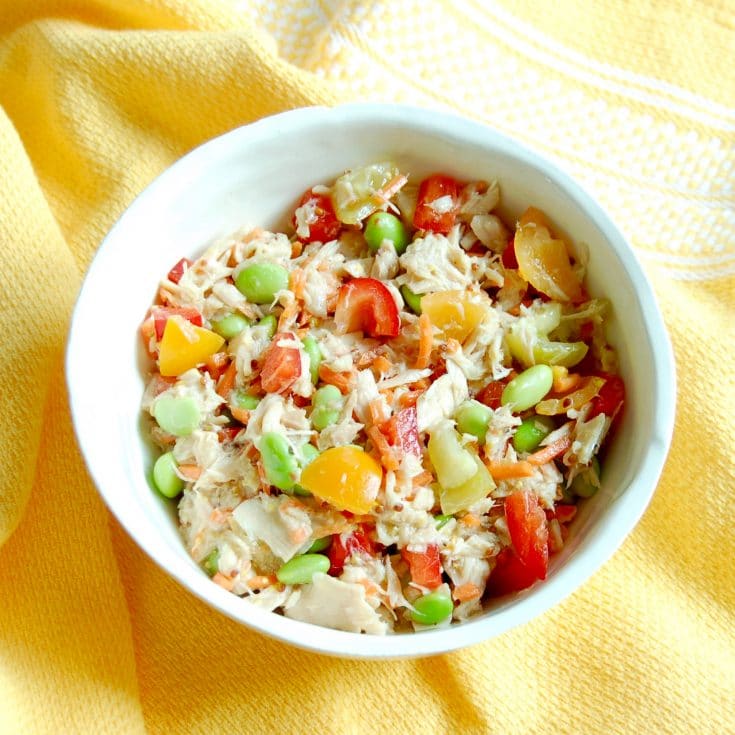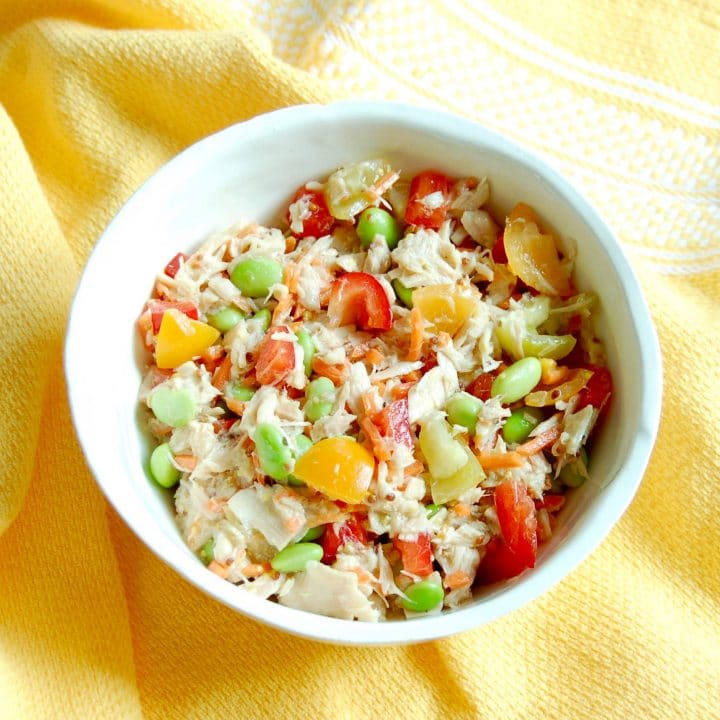 Quick & Easy Tuna Edamame Salad with Red Wine Vinaigrette
Yield:
2 cups/svg (serves 2-3 people)
Quick and Easy Tuna Edamame Salad is a healthy, delicious, and balanced lunch the whole family can enjoy. Ready in less than ten minutes, it's perfect for the kids' lunchboxes or over a bed of greens for adults.
Ingredients
For the Dressing:
2 tablespoons olive oil
1 tablespoon red wine vinegar
2 teaspoons whole grain Dijon mustard
1/8 teaspoon Kosher salt
Freshly ground black pepper, to taste
For the Tuna Salad:
One 5-ounce can albacore tuna,, packed in water, drained and flaked
1/4 cup chopped shredded carrots
1/4 cup shelled ready-to-eat edamame soybeans, (or cooked from frozen)
1/4 cup diced red bell pepper
1/4 cup diced cherry tomatoes, (multi-colored if possible)
Instructions
In a small mixing bowl, whisk together the dressing ingredients and set aside.
In a medium mixing bowl, combine the tuna salad ingredients (tuna through tomatoes).
Pour dressing over tuna edamame salad and toss to combine.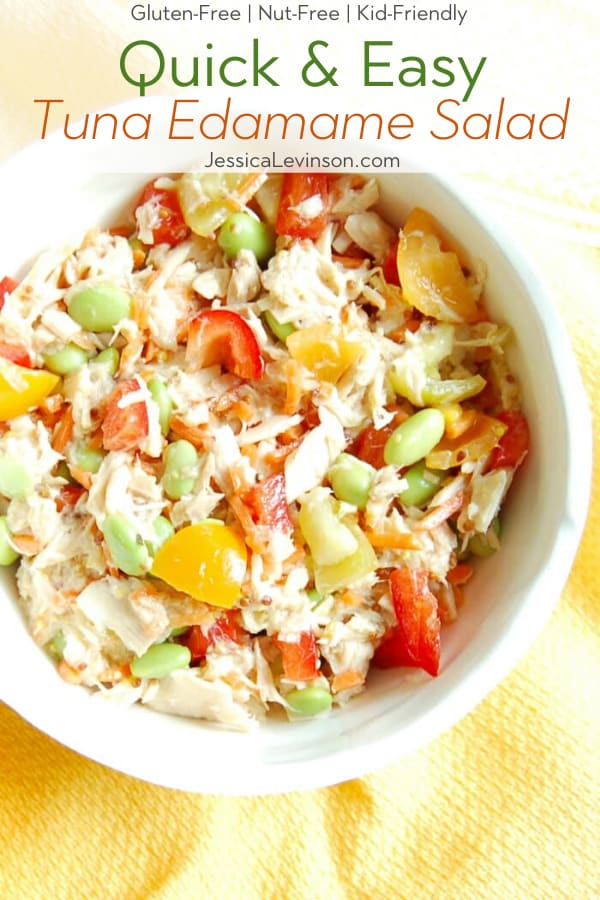 Do you keep canned tuna in the pantry?
Do you think your kids would like this easy tuna edamame salad?
Share with me in the comments section below!