Sun-Dried Tomato, Spinach, and Goat Cheese Baked Oatmeal
October 2, 2018
Bring oats to the lunch or dinner table with this savory baked oatmeal filled with sun-dried tomatoes, baby spinach, and creamy goat cheese.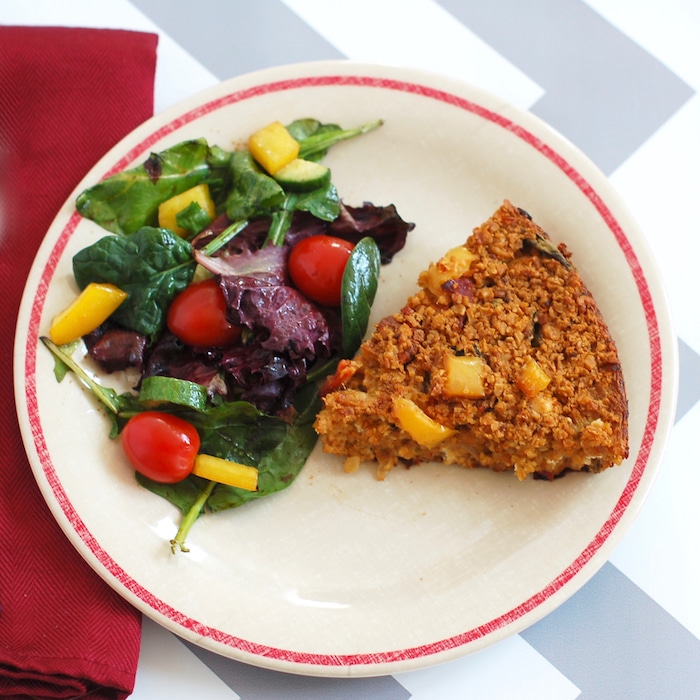 I was compensated for writing the original article, "Oatmeal For Dinner," and developing the recipe found in the February 2016 issue of Today's Dietitian. I was not compensated for sharing the column or magazine with readers on my blog. All opinions are my own.
Oatmeal is one of my favorite breakfasts during winter months (although I've been known to have it in the summer too!). The most basic way I make my oatmeal on a regular basis is by combining 1/2 cup quick 1-minute oats with 1 cup skim milk, and microwaving at 70% power for 1 1/2 to 2 minutes, stirring halfway through. I switch up the toppings depending on the season and my mood – pears, apples, and oranges in the winter, berries in the summer; a swirl of peanut butter or raw chopped pecans. Sometimes I even make my oatmeal with kefir, which gives it a tangy end product, or cottage cheese, which leads to a more savory and gooey bowl of oats.
Versatile Oats
Overnight oats are all the rage these days, and while I like them, my go-to for oatmeal is a hot bowl (although I do like prepping breakfast the night before!). Baked oatmeal, on the other hand, I can get behind all the time. These Ricotta Berry Oatmeal Cups are a huge hit in my house, especially for school snacks and as a really easy grab-and-go breakfast option on those busy mornings we're rushing out the door.
I'll also make a sweet version of baked oatmeal in a pie or casserole dish on weekend mornings as a change of pace from pancakes or French toast, or I'll make one for the school/work week when I'm doing Sunday meal prep. My Pumpkin Spice Baked Oatmeal is a hit in the fall!
Another trend that's been showing up lately is savory oatmeal bowls. These work for breakfast, especially if you don't have a sweet tooth, but I actually like making them for lunch or dinner.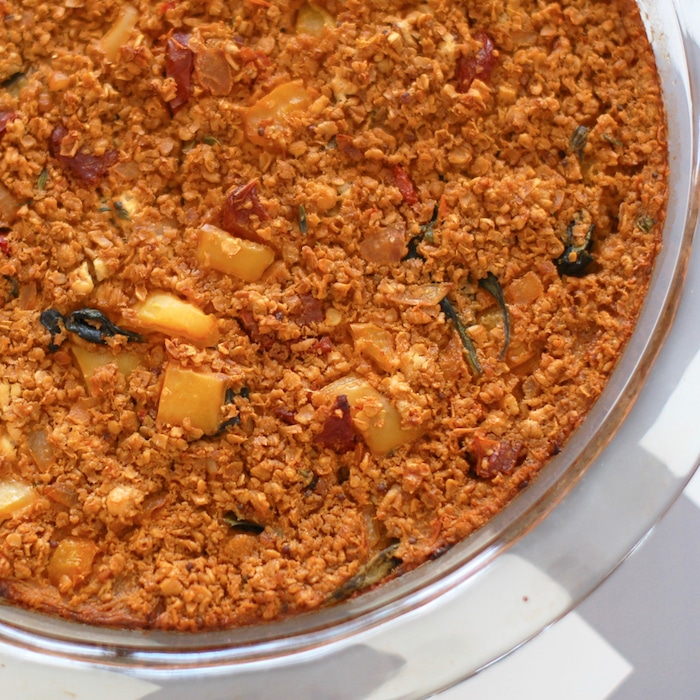 Savory Baked Oatmeal
Years ago I combined the two trends – baked oatmeal and savory oats – for an article and recipe I shared in Today's Dietitian Magazine in honor of February's Heart Health Month. I chose to write about oats since they are an extremely heart-healthy food thanks to their fiber content. There are many more health benefits to oats, including anti-inflammatory and anti-cancer properties as well as gut health benefits, all of which you can read about in my article.
To showcase the culinary side of oats I decided to make a savory baked oatmeal dish. My girls thought it was so funny we were having oats for dinner! As I wrote in the article:
My kids were bewildered when I told them we'd be having oats for dinner—but why not? Breakfast for dinner is quite popular and fun for families, and oatmeal should be no exception, especially given all its health benefits.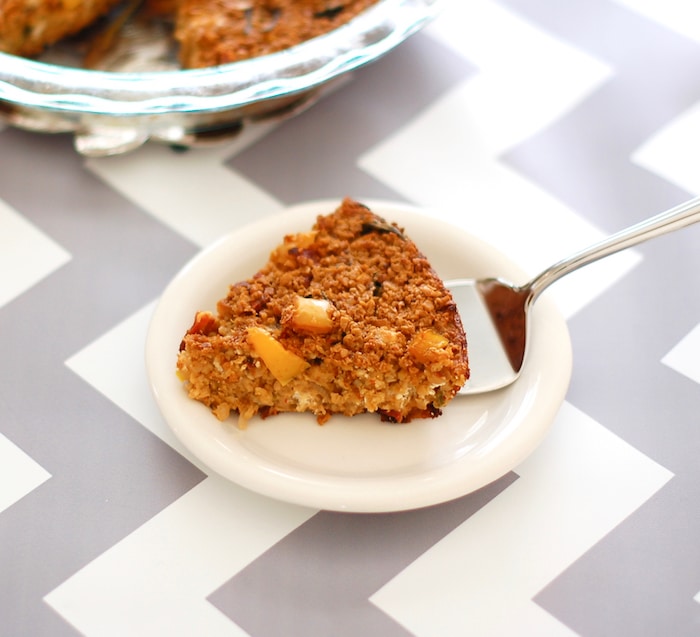 The savory baked oatmeal (which I have also called an oatmeal frittata) was such a hit that over the years it became one of my go-to weeknight recipes. It's quick and easy to prep, doesn't take too long to cook, and can be completely modified depending on your preferences. While my recipe below involves sautéing the veggies before adding them to the oat mixture, you can easily skip this step and fold the veggies in raw – don't worry, they'll cook in the oven. This will save you about 8 to 10 minutes and the extra cleanup of the sauté pan.
The versatility of savory baked oatmeal, like with egg frittatas and casseroles, is one of the best parts – you can keep it interesting by varying the add-ins based on what you have on hand in the house, what's in season, and what your family likes. While this particular recipe calls for sun-dried tomatoes, spinach, and goat cheese, a spring version with asparagus, leeks, and parmesan cheese would be delicious. In the winter you could add sweet potatoes and black beans. The possibilities are endless!
In addition to the versatility of this dish, my favorite thing about baked oatmeal is the golden brown crispy top that's formed. You certainly don't get that from a regular bowl of oats!
I hope you enjoy this recipe and give savory oatmeal a try, whether in a bowl or as a baked variation I am sure you will enjoy the twist on a classic breakfast meal!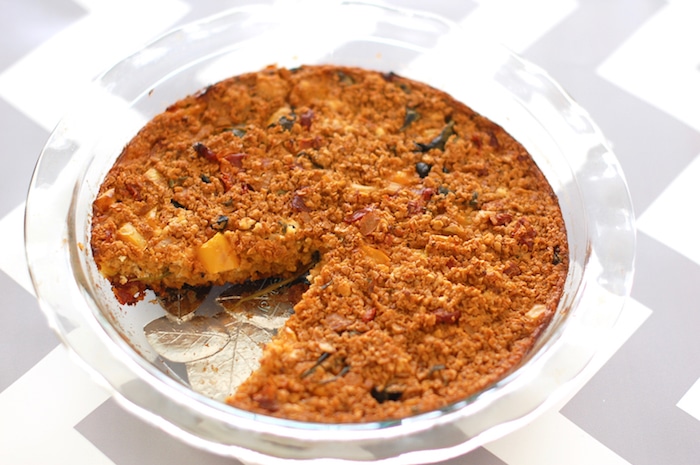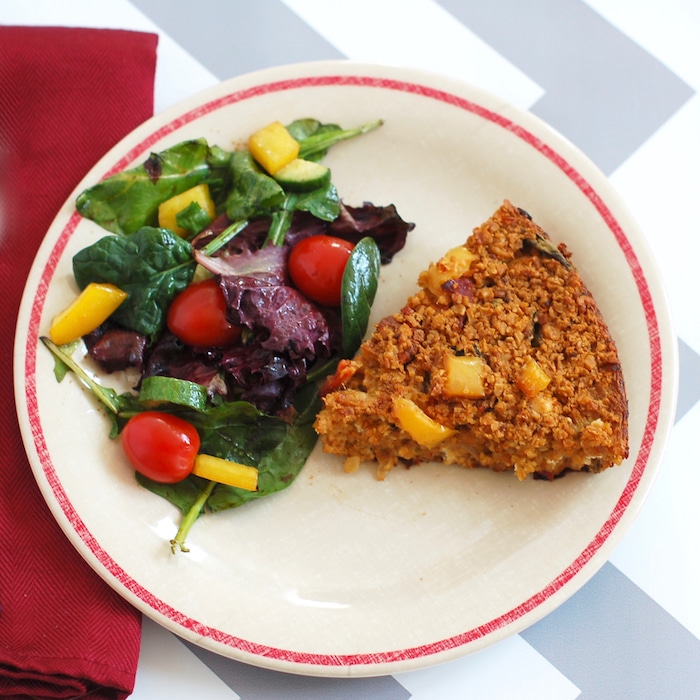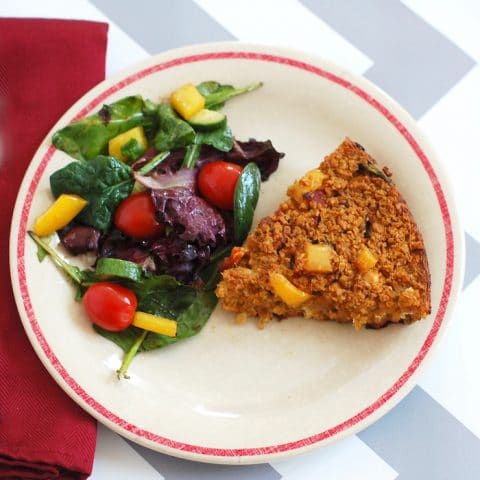 Sun-Dried Tomato, Spinach, and Goat Cheese Baked Oatmeal
Heart-healthy oats are combined with sun-dried tomatoes, baby spinach, thyme, and creamy goat cheese in this gluten-free vegetarian savory baked oatmeal. Serve with a side salad for lunch or dinner.
Ingredients
Cooking spray
1/2 cup chopped sun-dried tomatoes in oil
1/2 cup chopped onions
2 cloves garlic,, minced
1/2 cup chopped bell peppers
1 cup chopped baby spinach
1 teaspoon whole-grain Dijon mustard
1 tablespoon fresh thyme
2 cups old fashioned or quick cooking oats, (gluten free if necessary)
2 cups low-sodium vegetable broth, or water
1 large egg
1 teaspoon baking powder
1 1/4 teaspoon kosher salt
Freshly ground pepper,, to taste
1/2 cup crumbled goat cheese
Instructions
Preheat oven to 375° F. Spray pie dish with cooking spray and set aside.
Heat a large sauté pan over medium heat. Add sun-dried tomatoes and heat until oil is released. Add onions and garlic and sauté for 2 minutes. Add peppers and cook until tender, 2 to 3 minutes.
Add baby spinach, mustard, and thyme to the pan. Cook until spinach is wilted, about 3 minutes.
In a large bowl, combine oats with broth or water, egg, and baking powder. Season with salt and pepper, to taste. Fold in cooked vegetables and cheese.
Transfer oat, vegetable, and cheese mixture to prepared pie dish.
Bake for 40 minutes until top is golden-brown.
Nutrition Information:
Yield:

8
Serving Size:

8 Servings
Amount Per Serving:
Calories:

196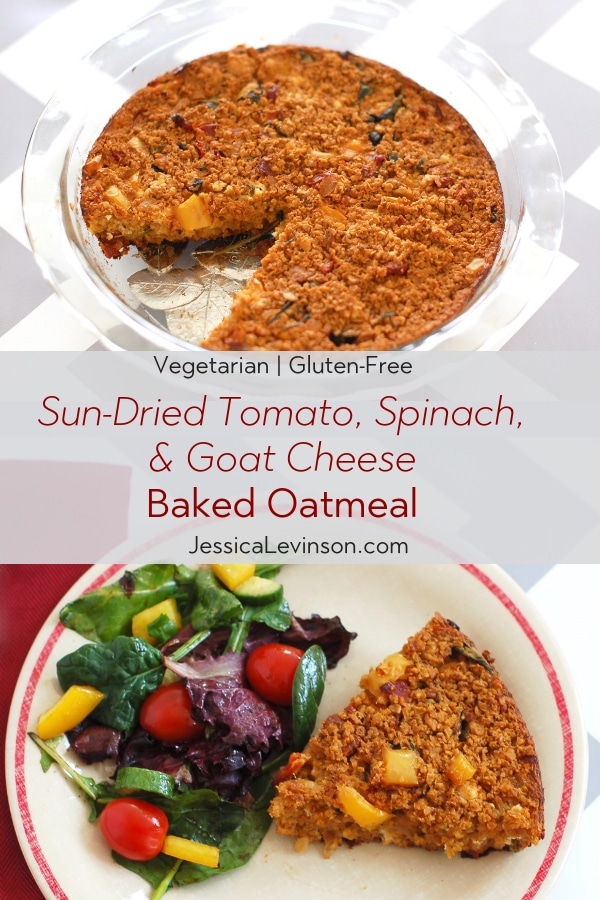 Have you tried savory oats?
What ingredients would you include in your savory baked oatmeal?
Share with me in the comments below!