Salmon Waldorf Salad with Citrus Yogurt Vinaigrette
December 22, 2015
This Salmon Waldorf Salad is brimming with nutritious and delicious ingredients including fennel, beets, and apples, all tossed with a citrus yogurt vinaigrette. Enjoy for a satiating, heart-healthy lunch or dinner!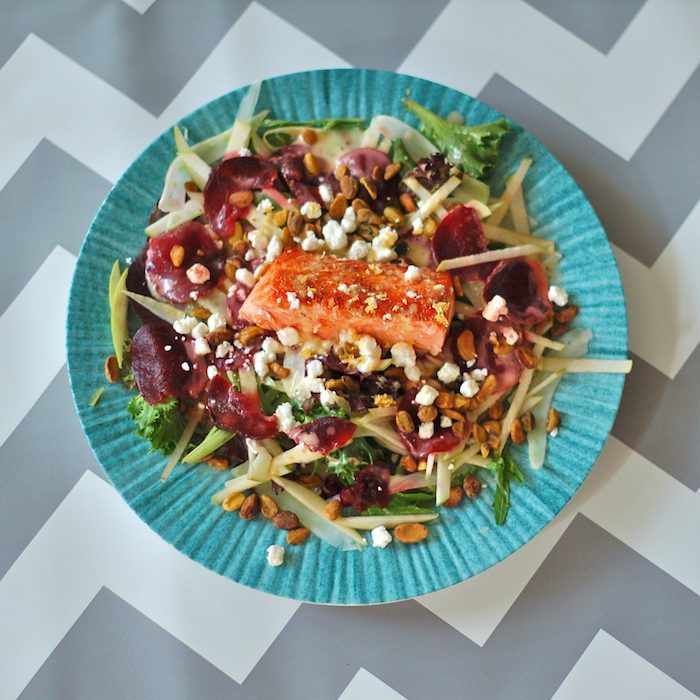 This page also contains affiliate links. See below for full disclosure statement.
Guess what time it is?! Recipe ReDux time!
It's hard to believe that The Recipe ReDux has been around for four and a half years and I have been a participant from the very beginning. I look forward to the 21st and 22nd of every month (ReDux posting dates) to see what recipes my colleagues and fellow healthy bloggers share. Because the monthly theme is usually a specific topic (like National Nut Day, for which I shared Apple Peanut Butter Pancakes, or Fresh From the Garden, when I shared my Greek Zucchini Pie), there's often some overlap in recipe concepts and ingredients that are used, but this month's theme has me super excited to see what everyone was cooking.
Grab a Book & Cook
It's the end of the year and we're taking a moment to reflect – The Recipe ReDux has been around for 54 months! To celebrate, we're playing a little party game this month: Grab your nearest cookbook and ReDux the recipe on page 54 or 154. We can't wait to see the books you're cooking from these days.
You may recognize this theme from last December, when I shared my Moroccan Spiced Lamb Burgers, but it was such a popular theme the ReDux founders (Deanna, Serena, and Regan) decided to bring it back. I can't wait to see what cookbooks everyone's cooking from and the recipes they chose to ReDux.
I have many cookbooks on my kitchen bookshelf, but I honestly don't cook from them very often. I love looking through them for inspiration and an occasional new recipe to try (just like I do with recipes I find on Pinterest), but for the most part I come up with my menu plan based on the ingredients I have on hand, what's in season, and what I'm working on for recipe development for a client or to share on the blog.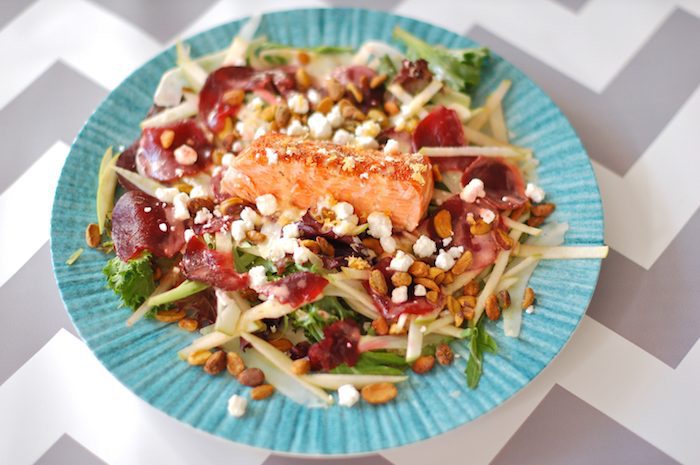 My First Waldorf Salad
For this ReDux I looked at pages 54 and 154 in a handful of cookbooks I had on my shelf, but I didn't find anything that intrigued me to ReDux (not to mention that many of my cookbooks are on the healthier side, so there's not that much to improve on from a nutritional standpoint).
In the end, like last year, I ended up choosing a recipe from the Food & Wine Annual Cookbook 2010, which is one of my favorite cookbooks (although I think it's time I get a more updated copy, lol!). Page 54 landed me in the salad chapter, which at first thought doesn't seem like the best section from which to ReDux a recipe. But I found the perfect recipe staring right at me – Waldorf Chicken Salad.
Believe it or not, I don't think I have ever had a Waldorf salad – it just never really appealed to me. I'm not big on mayonnaise-based salads, I never ate chicken salad growing up because we kept kosher and didn't eat non-kosher meat out of the house, the combination of dairy and meat was also a problem for kosher reasons, and celery isn't my most favorite vegetable, especially raw in salads.
All that said, I know Waldorf salads are super popular among the ladies-who-lunch crowd, so when I saw this recipe I had to make a version that I would enjoy – and one that could be served to ladies who lunch. End result: this Salmon Waldorf Salad. Success!
Ingredients & Preparation
The main changes I made to the original recipe for this Salmon Waldorf Salad included using salmon instead of chicken, which not only allowed me to keep the cheese as part of the salad, but also added a hefty dose of heart-healthy omega 3s. I also bulked up the salad with seasonal vegetables including beets and fennel, and kept the dressing creamy but on the lighter side by using a combination of low-fat yogurt and grapefruit juice. I also swapped walnuts for pistachios in this version.
Trust me when I tell you this is a salad you will want to eat on repeat. It has so many flavors and textures and something for everyone. Whether you enjoy it for a heartier lunch or a lighter dinner, I hope you give it a try soon!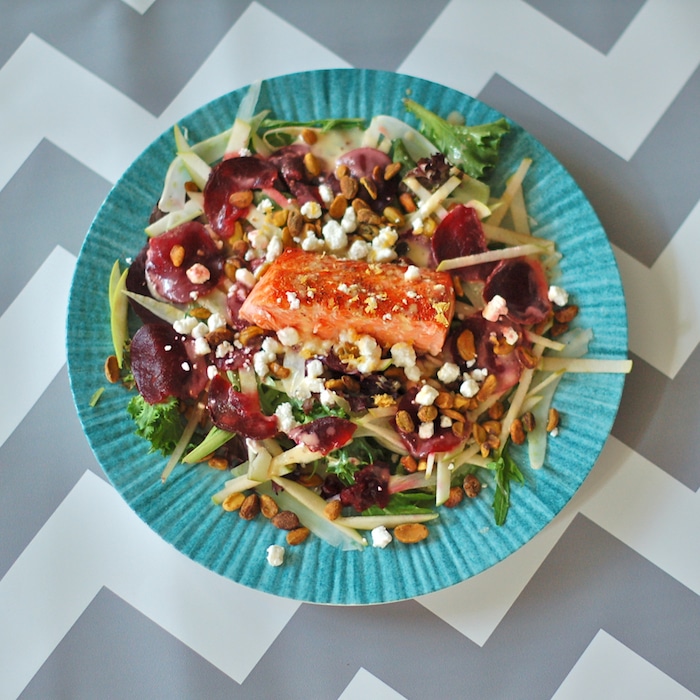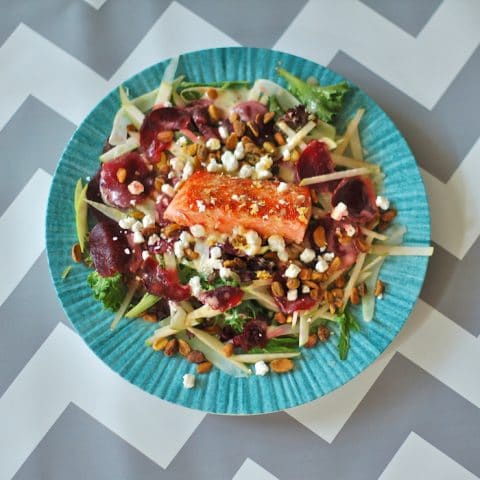 Salmon Waldorf Salad with Citrus Yogurt Vinaigrette
Mixed greens, ruby red beets, crisp fennel and green apple, crunchy pistachios, creamy goat cheese, and heart-healthy salmon are tossed with a citrus yogurt vinaigrette in this twist on the classic Waldorf salad.
Ingredients
For the dressing:
3 tablespoons low-fat plain yogurt
2 tablespoons grapefruit juice (freshly squeezed preferred)
1 teaspoon minced garlic
1 teaspoon grainy Dijon mustard
1 teaspoon lemon zest, plus more for garnish
2 teaspoons lemon juice
1/4 cup olive oil
1/4 teaspoon Kosher salt
Fresh ground pepper, to taste
For the salad:
1 pound salmon fillet
1/8 teaspoon Kosher salt
Freshly ground pepper
1/2 cup shelled unsalted pistachios
5 ounces mixed greens
1 cup thinly sliced fennel
1 cup thinly julienned green apples
1/2 cup thinly sliced cooked beets
1/2 cup crumbled goat cheese
Instructions
To make the dressing, combine yogurt, grapefruit juice, garlic, mustard, lemon zest, and lemon juice in a small food processor or blender. Blend until combined. Add 1/4 cup oil and blend again until emulsified. Season with salt and pepper and set aside.
Preheat broiler at 450 degrees F. Place salmon fillet on a foil-lined baking sheet and sprinkle with 1/8 teaspoon salt and pepper to taste. Broil 15 minutes until cooked through.
While salmon is cooking, toast pistachios in a dry skillet or toaster oven, about 4 minutes.
To assemble the salad, divide greens, fennel, apples, beets, and goat cheese among 4 plates. Top with 1/4 of the broiled salmon and 2 to 3 tablespoons dressing. Garnish with additional lemon zest if desired.
Notes
This recipe is for 4 entree salads, but it can also be served as a side salad or appetizer for more people.
Recipe adapted from Waldorf Chicken Salad on page 54 of Food & Wine Annual Cookbook 2010
Recommended Products
As an Amazon Associate and member of other affiliate programs, I earn from qualifying purchases.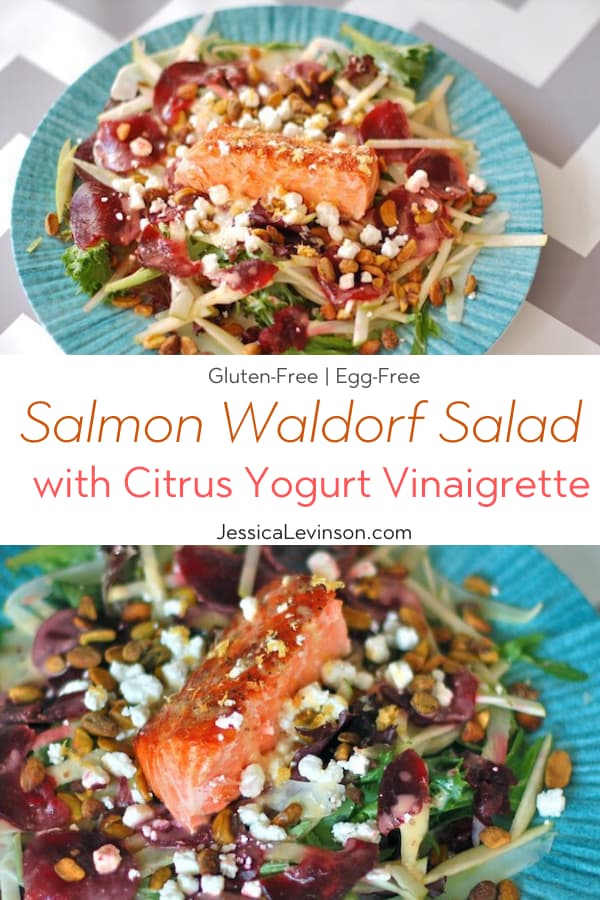 Have you ever had a salmon waldorf salad?
Share with me in the comments below!
Disclosure: This page contains affiliate links. If you purchase products through these links, your cost will be the same but I will receive a small commission to help with operating costs of this blog. As always, all thoughts and opinions are my own and I only recommend products I truly believe in.