Ricotta Berry Oatmeal Cups
February 27, 2019
Start the morning with these Ricotta Berry Oatmeal Cups, a nutritious and delicious breakfast the whole family will enjoy even when rushing out the door!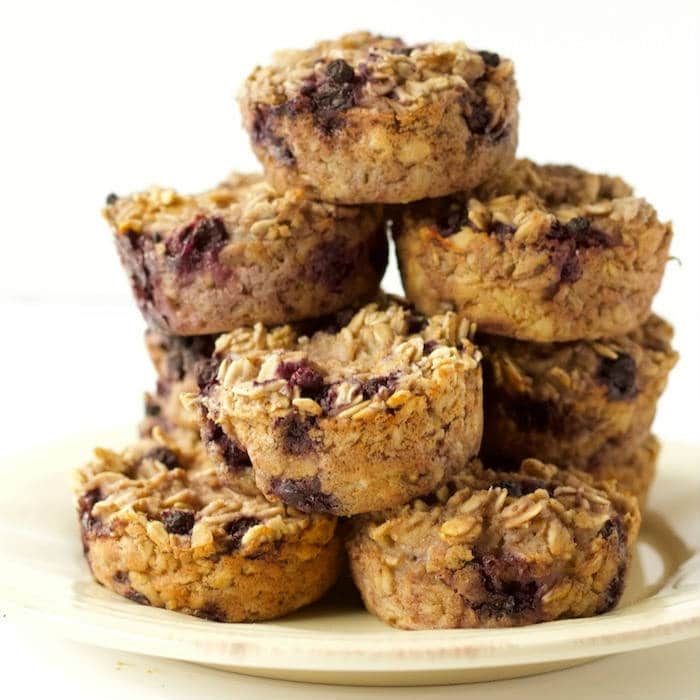 Breakfast is one of my favorite meals of the day. Yours too? How perfect that you're visiting my site and reading this recipe post right now!
I won't go into all the benefits of breakfast with you here since I've shared that with you before, and I've given you lots of breakfast ideas in the past, including these Quick & Easy Balanced Breakfasts and these other breakfast recipes, so today we'll just get straight to my new breakfast recipe.
Back in 2011 when I developed recipes for my 1st cookbook, We Can Cook: Introduce Your Child to the Joy of Cooking with 75 Simple Recipes and Activities, one of my favorite recipes in the bunch was my Cheesy Egg Muffins. I've since modified the Easy Veggie Egg Muffins recipe, but it's still one I make often so there's always a batch in the freezer for those busy mornings I'm rushing out the door with the kids.
I've come to realize over the years that anything that can be made in a muffin tin, be batch baked, freezes well, and is full of nutrition is a necessity for a quick and easy breakfast that can start the day for everyone in the family. That's why these ricotta berry oatmeal cups had to be added to my recipe library.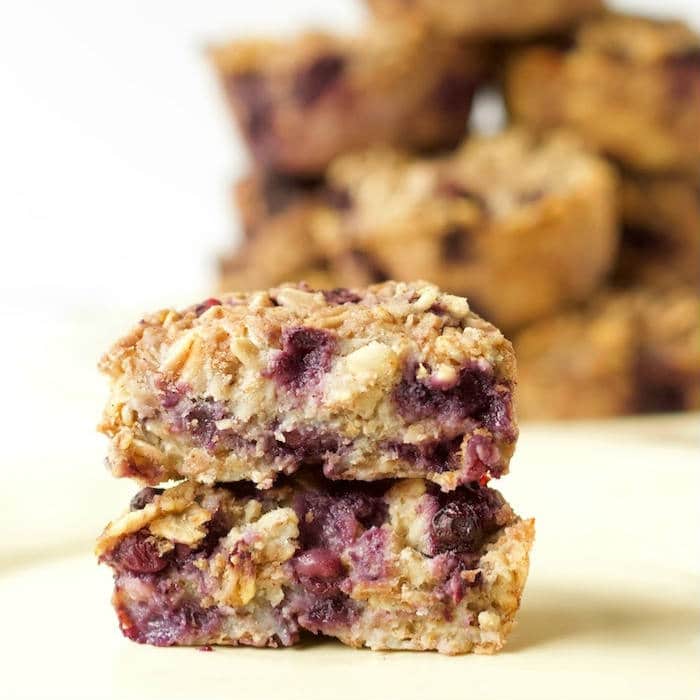 How to Make Ricotta Berry Oatmeal Cups
These Ricotta Berry Oatmeal Cups are made with whole grains, low-fat dairy, antioxidant-rich wild blueberries, warming spices, and a touch of added sweetness from maple syrup. Plus they're egg-free and gluten-free!
(Truth be told, they were supposed to have eggs but I forgot to add them and only realized as soon as I put them in the oven. Whoops! They came out great regardless! If you want to add a little more protein, and don't need them to be egg-free, you can substitute 1/2 cup of the milk for 2 large eggs.)
And in case you missed the video above, these oatmeal cups are super easy to make too!
Reasons to Love These Oatmeal Cups
What makes these oatmeal cups or muffins (call them what you wish!) such a great breakfast choice is that they're a good source of fiber, protein, and calcium, which means they'll fill you and your kids up and keep you satiated throughout the morning.
Added bonus: unlike most muffins and many morning baked goods, these ricotta berry oatmeal cups are not too sweet. In fact, if you have a big sweet tooth, you may want to add a little more syrup or sprinkle brown sugar on top.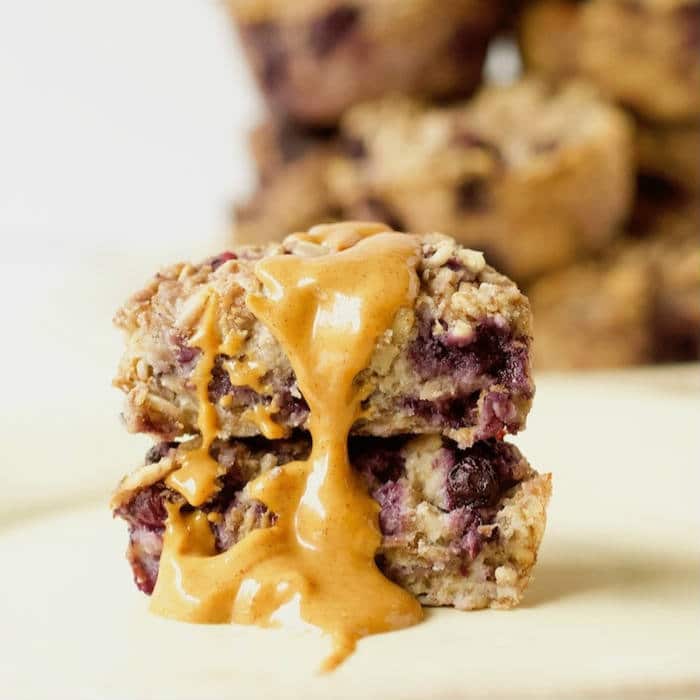 Oh, and before I forget, I want to share another reason to love this recipe – you can use it as a formula and swap in your favorite add-ins. Prefer strawberries or dried fruit? Go for it. Not a fan of nutmeg? Leave it out. Don't have ricotta on hand? Use low-fat Greek yogurt, puree cottage cheese, or skip the dairy altogether for a dairy-free version.
No matter your flavor preferences, I have no doubt you'll love these oatmeal cups as a change of pace from your usual morning bowl of oatmeal. So go ahead, whip up a batch, store a few in the fridge for tomorrow's breakfast, and stick the rest in the freezer for those often rushed mornings!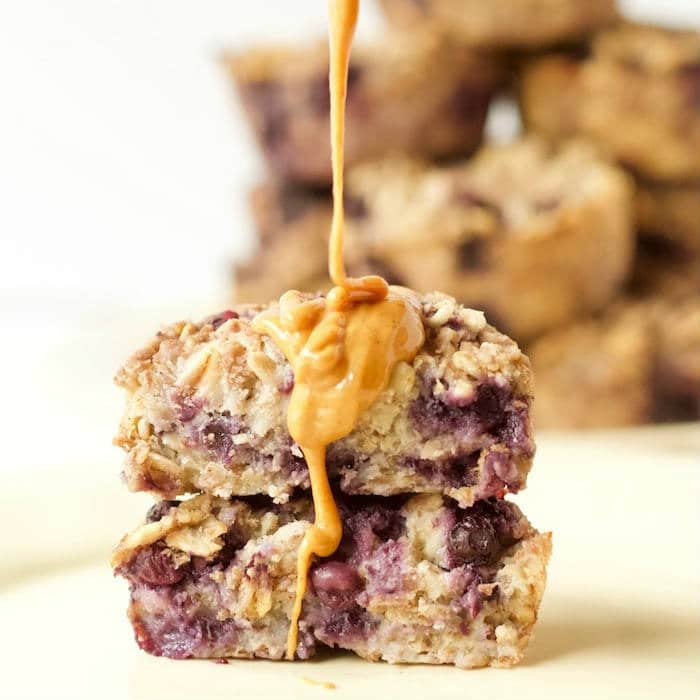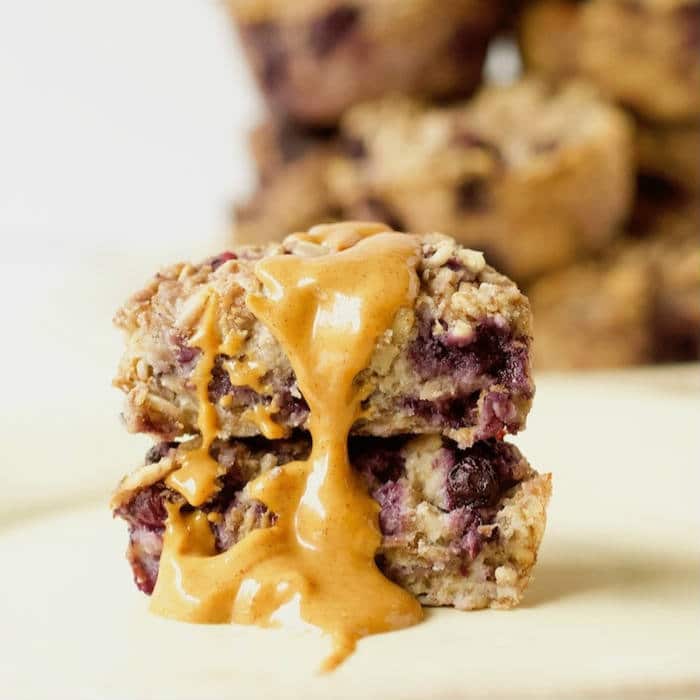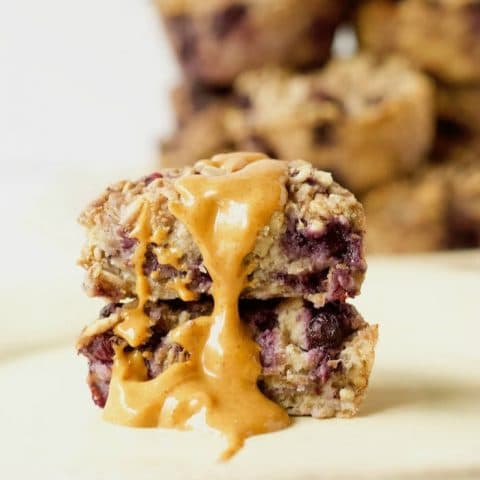 Ricotta Berry Oatmeal Cups
Whole grain oatmeal cups are studded with wild blueberries and full of low-fat dairy and warming spices. A good source of protein, fiber, and calcium, making them the perfect way to start the day!
Ingredients
3 cups quick cooking oats
1 teaspoon ground cinnamon
1/2 teaspoon ground nutmeg
1/4 teaspoon table salt
1 1/2 teaspoons baking powder
2 cups nonfat or low-fat milk
1/2 cup part-skim ricotta cheese
2 tablespoons maple syrup
1 cup frozen wild blueberries, (or other berries of choice)
Instructions
Preheat oven to bake at 350 degrees F. Spray a 12-cup muffin pan with cooking spray or line with paper muffin liners.
Combine the oats, cinnamon, nutmeg, salt, baking powder, and milk in a large mixing bowl. Add the ricotta cheese and maple syrup and stir well to combine. Gently fold in the blueberries.
Using a ladle or small measuring cup, divide the oatmeal mixture among the muffin cups. Bake for 30-35 minutes until a toothpick comes out clean. Let cool in the pan for a few minutes before running a knife around the edge of the muffins to remove and let cool completely on a cooling rack.
Store in an airtight container in the refrigerator or freezer.
Notes
Serving suggestion: Serve oatmeal cups with a side of fruit and spread with your favorite nut butter or topped with a dollop of yogurt.
Nutrition Information:
Yield:

12
Serving Size:

1 muffin
Amount Per Serving:
Calories:

125
Total Fat:

3g
Saturated Fat:

1g
Trans Fat:

0g
Unsaturated Fat:

1g
Cholesterol:

5mg
Sodium:

135mg
Carbohydrates:

21g
Fiber:

3g
Sugar:

4g
Protein:

5g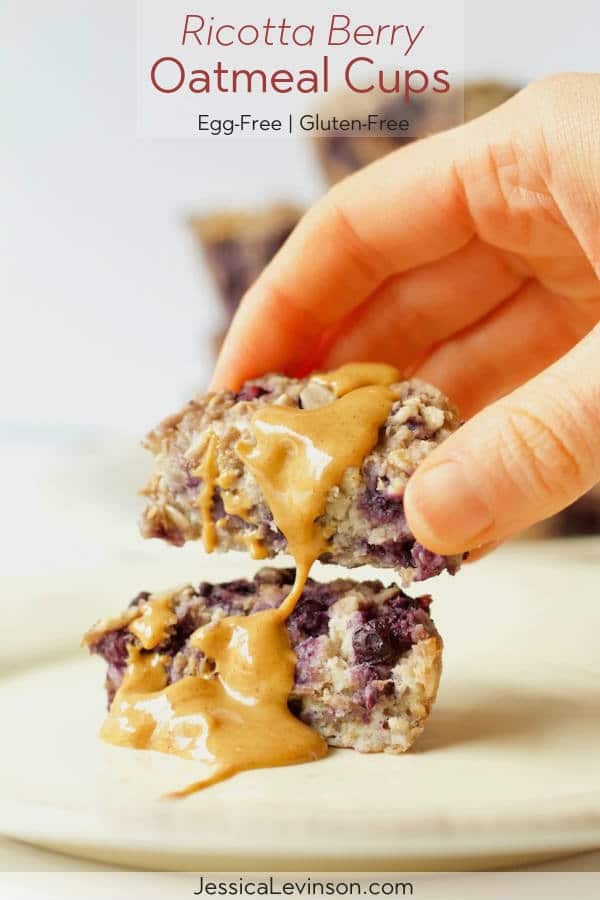 What would you add to these oatmeal cups?
Share with me in the comments below!