Fresh Salmon Ceviche with Cucumbers and Radishes
July 14, 2015
Tender salmon is paired with crunchy cucumbers and radishes in a zesty citrus marinade to make a ceviche that is easy to prepare and looks gourmet!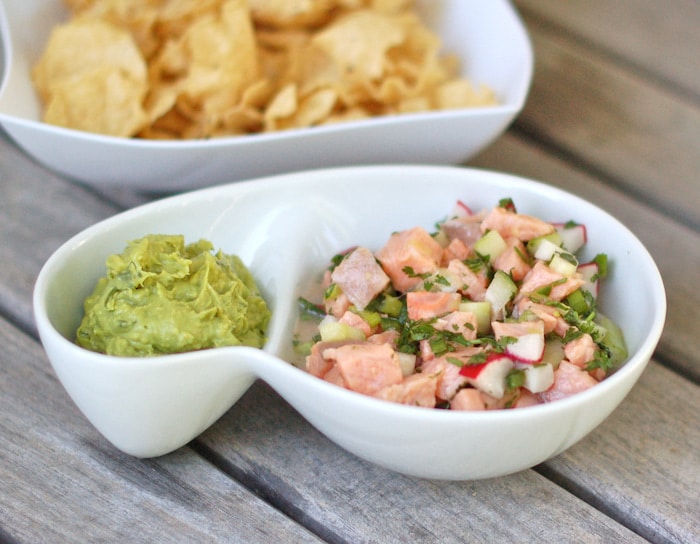 One of my favorite appetizers at Spanish restaurants is ceviche. I love the combination of zesty citrus flavors and fresh fish, along with the usual spicy kick from a hot pepper that's cooled down with cilantro. There are many variations of ceviche and the add-ons are what make the dish the most interesting to me – I've had ceviche made with watermelon, some made with corn and tomatoes, and numerous other combinations that I don't even remember!
I know some people are turned off by raw fish, but the great thing about ceviche is that the fish is basically cooked by the time you're eating it. It's actually pretty cool to see how the citrus marinade "cooks" the raw fish by breaking down its protein fibers. Make it yourself at home and you'll really be amazed!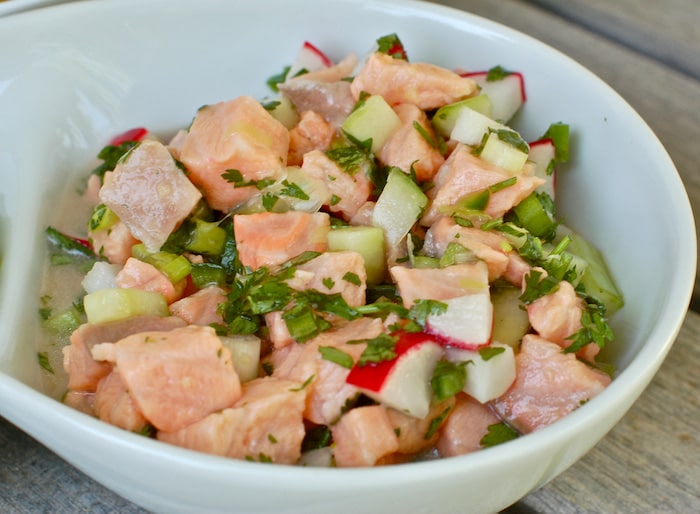 Making Ceviche at Home
Before you start thinking ceviche is too gourmet for a home cook, let me set the record straight. Ceviche is probably one of the easiest, quickest dishes you will ever prepare and serve. The most involved part of the whole dish is chopping the ingredients, juicing the citrus (or you can skip this part and buy bottled lemon or lime juice), and cutting the fish. Other than that, you mix it all together and let it marinate in the refrigerator. Toss it a few times to make sure all the fish is coated and "cooked" evenly and you're done.
Serving Ceviche
Serve ceviche with chips at a gathering, as an appetizer for a sit-down meal, or over a bed of arugula for lunch or dinner. It's especially refreshing on a hot day, which makes it a perfect appetizer for a summer barbecue, which is how I served this salmon ceviche mixed with crunchy radishes and cucumbers earlier this summer.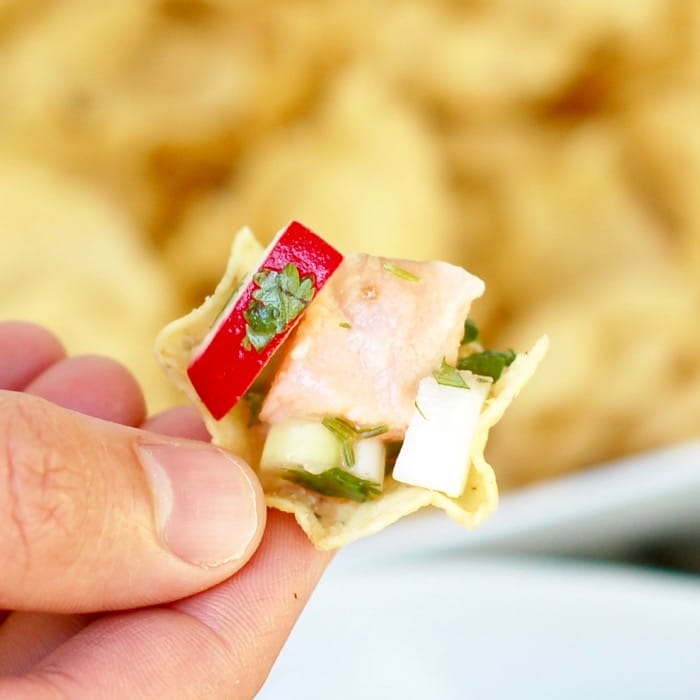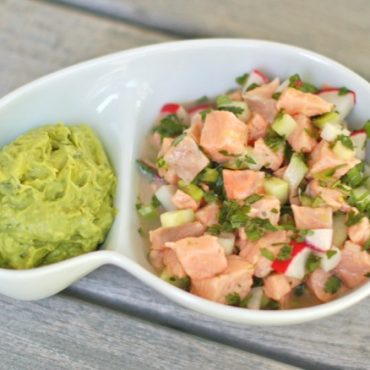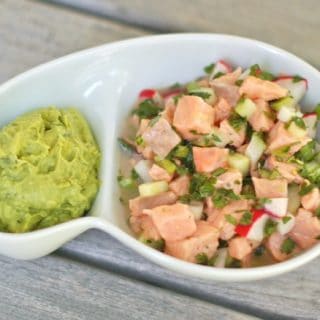 Fresh Salmon Ceviche with Cucumbers and Radishes
Tender omega-3 rich fish, crunchy vegetables, and a zesty citrus marinade are combined in this easy, recipe-style Salmon Ceviche with Cucumbers and Radishes.
Ingredients
1 pound salmon,, skin removed, cut into 1/2 inch pieces
1 cup seeded and diced English cucumber
1 cup diced radish
1 cup chopped scallions
1 serrano chili,, seeded and minced (add seeds based on desired level of spiciness)
1/4 cup lime juice
1/2 cup lemon juice
1/4 cup unseasoned rice vinegar
1 teaspoon freshly grated ginger
1 teaspoon Kosher salt
1 cup chopped cilantro
Instructions
In a large glass bowl, combine the salmon, cucumber, radish, scallions, and chili pepper.
In a measuring cup or small mixing bowl, whisk together the lime juice, lemon juice, rice vinegar, ginger, and salt. Pour over fish mixture and toss well, making sure all the fish is covered with the juices. Cover with saran wrap and marinate in the refrigerator for at least 30 minutes, tossing occasionally. Mix in the cilantro right before serving and serve chilled.
Notes
For best quality, marinate no longer than 2 hours before serving. Leftovers can be saved for a day or two after it's made, but the fish will break down the longer it sits.
I recommend wearing gloves when seeding and mincing hot peppers and avoid contact with skin.
Have you ever made ceviche at home?
What's your favorite ceviche pairing?
Share with me in the comments below!