Three-Bean Vegetarian Chili
January 12, 2016
This gluten-free and dairy-free three-bean vegetarian chili will warm you up and nourish you from the inside out throughout the cold days of winter!

When the temps are in the 30s or below, soups, stews, and chilis are what I crave and this Three-Bean Vegetarian chili is one of my favorite winter recipes to cook up for my family. It's also a great meal to make for gatherings with friends, especially when you have a crowd together watching weekend football.
Reasons to Love Chili
There are so many reasons I love this three-bean vegetarian chili – let me just name a few:
The more you reheat it, the better it gets. This works great for me since I love leftovers!
It's chock-full of good-for-you stuff: vitamin C-rich vegetables like peppers and tomatoes, protein- and fiber-rich beans, and antioxidant-rich herbs and spices.
Most of the ingredients are pantry and freezer staples – beans, broth, crushed and diced tomatoes, and dried herbs and spices.
It's a one-pot meal that you can make ahead and is super freezer friendly. Need I say more?!
It's a meal the whole family can – and will – enjoy!
It can be make mealtime fun and interactive.
Making Chili Fun for Kids
This last point about chili making mealtime fun and interactive is especially important when you have kids who are more selective about what they put on their plate. I love setting up a chili bar with all the fixings so that everyone can make his or her own bowl. Here are some ideas of what you can set out:
Guacamole
Plain Greek yogurt (a higher protein and lower fat alternative to sour cream)
Tortilla chips
Cornbread
Shredded cheese
Ground beef or vegetarian protein crumbles (like these from Beyond Meat, Gardein, and Morningstar Farms)
Extra chili powder or sriracha (especially for the adults who like it hot!)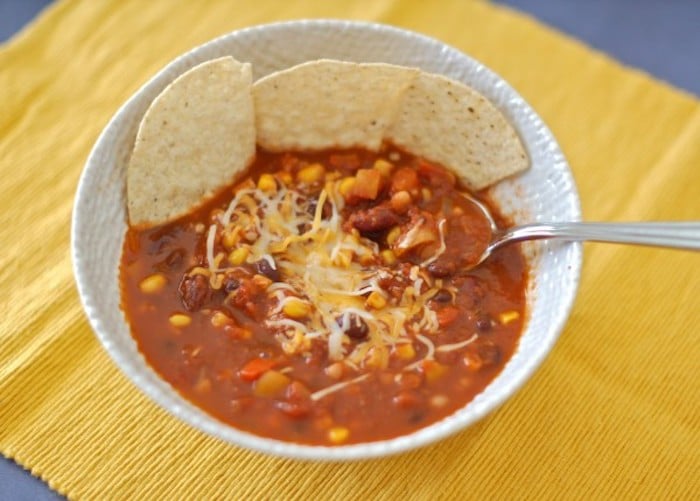 Ingredients & Preparation
As I mentioned above under the reasons I love chili, this three-bean vegetarian chili is packed with so much nutrition and flavor. Multi-colored bell peppers, onions, garlic, crushed tomatoes, corn, herbs and spices, and of course all those beans provide vitamin C, lycopene, fiber, and plant-based protein. This is definitely a satiating dish you can feel good about eating, even if you go back for seconds!
You may be surprised by some of the ingredients I add to my chili. Apple cider vinegar and maple syrup are not found in every chili recipe out there, but I love the added tang and sweetness these two ingredients provide.
There is some hands-on prep involved, but it's not a crazy amount, and once you get the veggies sautéed it's really just a matter of adding the rest of the ingredients and having patience for the chili to be done cooking. A great thing about chili is you can't overcook it. So set it on a medium-low flame and keep it simmering while you go off to set up the chili bar, put together a few other appetizers for football watching, and maybe even get in some of the game (or some wine if you're like me and football watching is more about the food than the sport!).
While the cook time in the recipe below is 30 minutes covered and 30 to 45 minutes uncovered, keep in mind that these times can vary depending on how high your flame is, how much liquid comes out of your vegetables, and personal preferences for thickness of chili. Sometimes I have to cook mine longer to get a thicker consistency. I also occasionally use my immersion blender to blend some of ingredients in the pot, which adds to the thickness.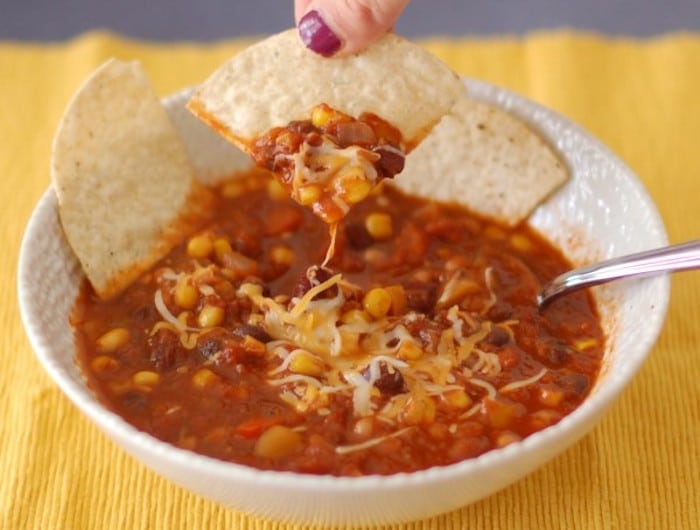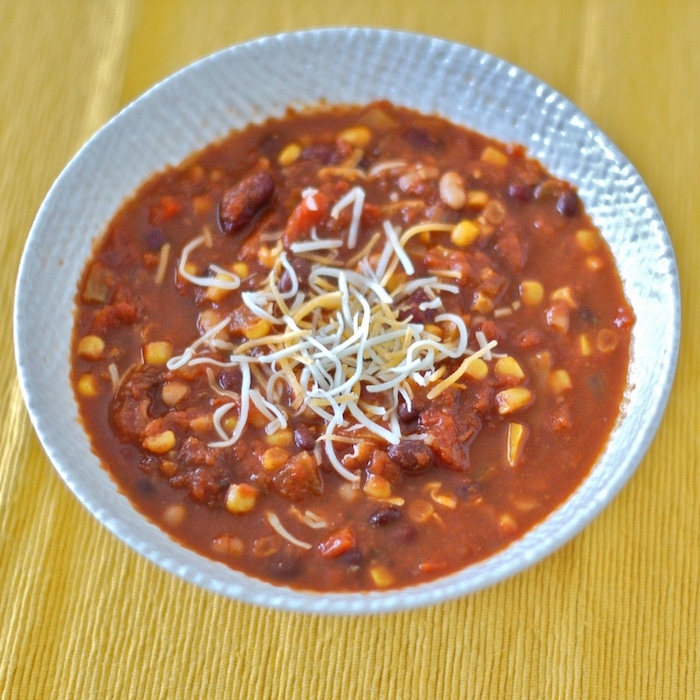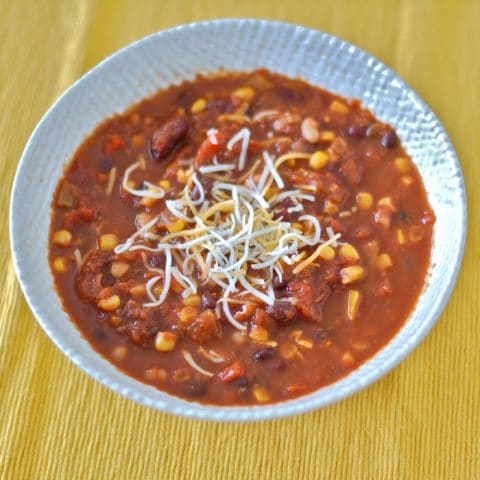 Three Bean Vegetarian Chili
Total Time:
1 hour
15 minutes
This gluten-free and dairy-free Three-Bean Vegetarian Chili is filled with protein- and fiber-rich beans, vitamin C-rich vegetables, and antioxidant-rich herbs and spices. It will warm you up and nourish you throughout the cold days of winter.
Vegan, Gluten-Free, Nut-Free, Kosher
Ingredients
1 tablespoon olive oil
1 tablespoon minced garlic (~3-4 cloves)
1 cup chopped yellow onions
3 cups seeded and diced bell peppers (use variety of colors if available)
1 tablespoon seeded and diced jalapeno pepper (add some seeds for spice if desired)
1 tablespoon ground cumin
2 tablespoons chili powder
1/4 teaspoon cayenne pepper
1 teaspoon dried oregano
26-28 ounces crushed tomatoes (preferably no-salt added)
26-28 ounces chopped or diced tomatoes (preferably no-salt added)
3 cups low-sodium vegetable broth
3 cups water
1 15-ounce can no-salt added kidney beans, drained and rinsed
1 15-ounce can can no-salt added navy beans, drained and rinsed
1 15-ounce can can no-salt added black beans, drained and rinsed
2 cups fresh or frozen corn kernels
2 teaspoons apple cider vinegar
1 tablespoon maple syrup
1/2 teaspoon Kosher salt
Freshly ground black pepper to taste
For Serving: Shredded cheese, guacamole, corn tortilla chips (optional)
Instructions
Heat the oil in a large soup pot over medium-high heat. Add the garlic, onion, and peppers and sauté until softened, about 3 to 4 minutes. Add the cumin, chili powder, cayenne, and oregano and cook, stirring, for 30 seconds to 1 minute.
Stir in the crushed tomatoes, chopped tomatoes, broth, and water and bring to a boil. Reduce heat to medium-low, cover, and cook, stirring from time to time, for 30 minutes.
Stir in the beans, corn, apple cider vinegar, and maple syrup, and continue cooking uncovered for 30 to 45 minutes more until the chili is nicely thickened. Season with salt and pepper and serve with toppings of your choice.
Recommended Products
As an Amazon Associate and member of other affiliate programs, I earn from qualifying purchases.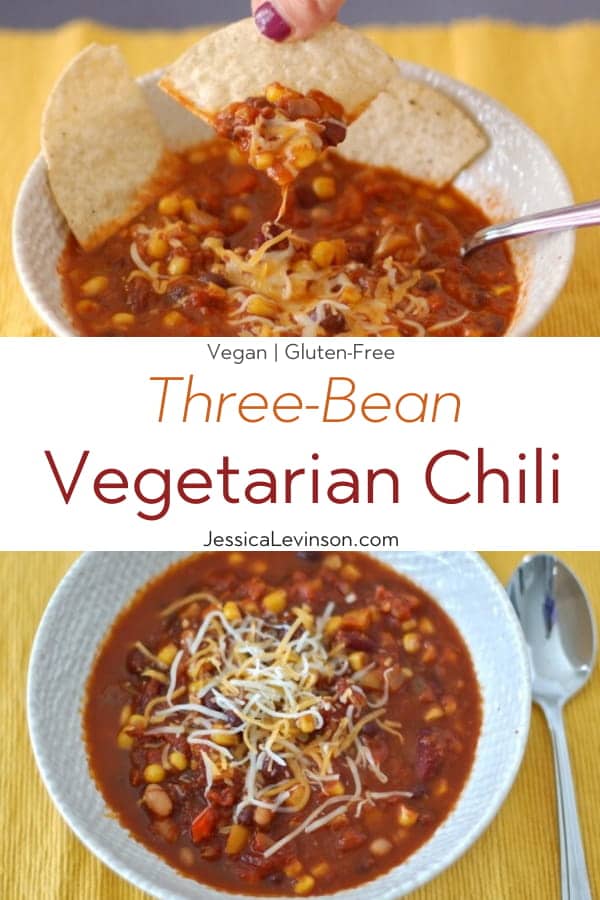 Do you love chili during the cold winter months?
Share with me in the comments below