Mediterranean Hummus Flatbread {Recipe ReDux}
October 14, 2015
Bring the flavors of the Mediterranean to the next tailgate party with this Mediterranean Hummus Flatbread brimming with flavor and nutrition.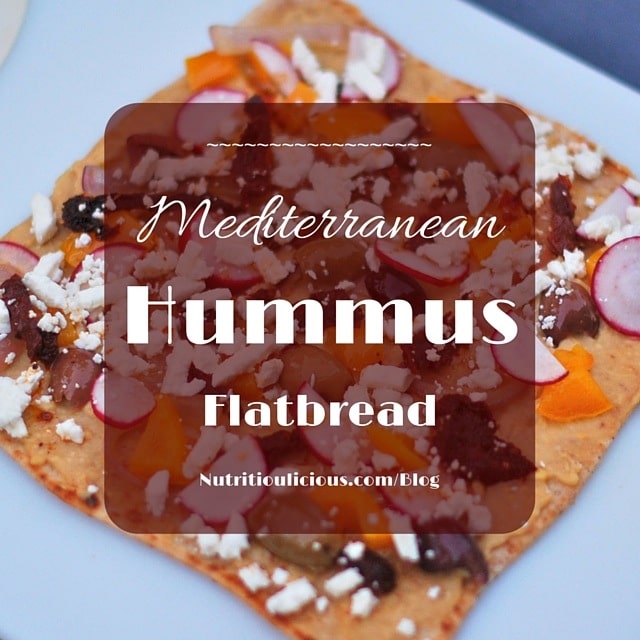 By posting this recipe I am entering a recipe contest sponsored by Sabra Dipping Co. LLC, and am eligible to win prizes associated with the contest. I received coupons for free product used in testing this recipe. I was not compensated for my time.
For as long as I can remember, hummus has been in the refrigerator of any home I have lived in. My memories of hummus in my parents' house when I was growing up are mainly of my brother dipping chunks of challah in the creamy smooth dip. In college, it was one of the few perishable foods I kept in the mini fridge in my dorm room. Now in my own home, I keep at least one container in the fridge at all times (and there's usually a spare in my basement refrigerator) to be used as a sandwich spread or (more commonly) as the dip of choice with baby carrots when my kids and husband are too ravenous to wait for dinner.
Oh, and I should mention that my hummus of choice is Sabra. So it's no surprise that when I found out the Sabra Dipping Company was teaming up with The Recipe ReDux for a tailgating recipe challenge, I was beyond excited and started brainstorming all the ways I was going to use Sabra Hummus to make some nutritious and delicious tailgate party recipes.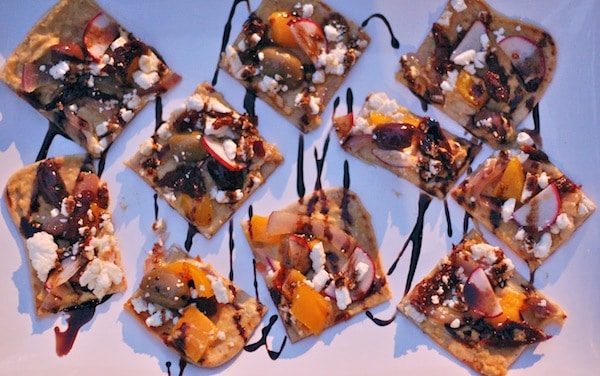 Even if you're not a crazed fan of football (which I am not), if you love food,you can get on board with any football-centric party. Tailgates and Super Bowl shindigs are filled with delicious little bites, even if not always the most nutritious.
With Sabra as the Official Dips Sponsor of the NFL you can pump up the nutrition in those game day bites. Just two heaping spoonfuls of hummus a day will fulfill your bean recommendation for the week. How so? The Dietary Guidelines recommend on average 1 1/2 cups of beans per week as part of an overall healthy diet and two heaping spoonfuls of hummus (about 2 ounces) counts as approximately 1/4 cup of beans. You can learn more about the nutritional benefits of hummus on Sabra's Health & Wellness page.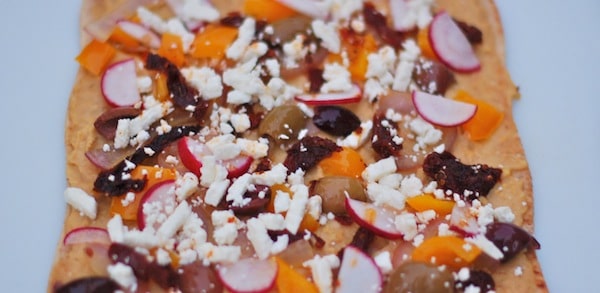 You could easily put out a tub of hummus and call it a day, but why not make something a little more fun and filling, like this Mediterranean Hummus Flatbread. It's super easy to make and requires very little prep. It can even double as a halftime activity if everyone wants to make his own!
So head into the kitchen and whip this up in time for the game, and don't worry – I won't tell anyone if you lick a few extra spoonfuls of hummus while you're at it!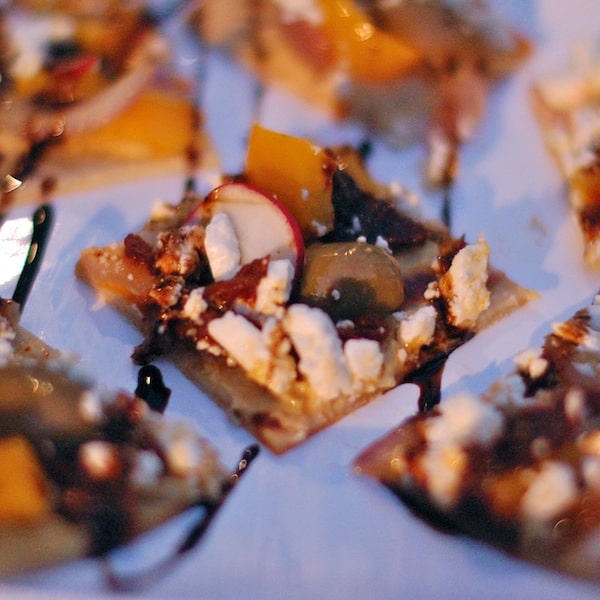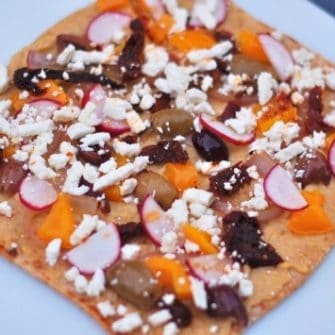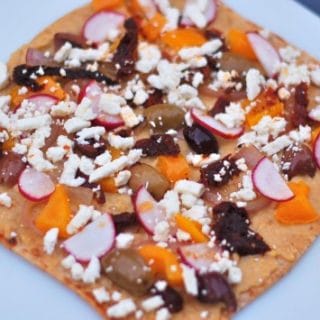 Mediterranean Hummus Flatbread
Whole wheat flatbreads topped with the flavors of the Mediterranean make fun finger-food for a party or a quick and easy dinner at home.
Ingredients
1 medium red onion thinly sliced into half moons
1 medium yellow bell pepper, diced
1/2 cup sun-dried tomatoes in oil
3-4 whole wheat lavash flatbreads, depends how big the lavash are
6-8 tablespoons Sabra Roasted Garlic Hummus, ~2 Tbsp per lavash
3/4 cup sliced radishes
1/4 cup halved Kalamata olives
1 cup crumbled feta cheese
Aged balsamic vinegar, optional
Za'atar, optional
Instructions
Preheat oven to 375 degrees F. Line a baking sheet with aluminum foil or parchment paper and set aside.
Heat olive oil over medium heat in a small saute pan. Saute onion about 5 minutes until translucent. Add peppers to the pan and saute about 7 minutes more until vegetables are tender. Transfer to a bowl and set aside.
Add sun-dried tomatoes to the pan and saute about 2 to 3 minutes until heated and oil is released. Using a pair of tongs, transfer sun-dried tomatoes to a small bowl. Pour the oil into a separate small dish and set aside. (This step is not necessary, but the oil from the sun-dried tomatoes is so flavorful. I highly recommend it!)
For each lavash, bake lavash 3 minutes per side. Remove from oven and spread 2 heaping tablespoons of Sabra Roasted Garlic Hummus on top. Top with sauteed onions and peppers, sun-dried tomatoes, radishes, olives, and feta. Drizzle with some of the reserved oil from the tomatoes. Bake for 8 minutes until flatbread is crisped and cheese has begun to melt.
To serve, drizzle with aged balsamic vinegar and sprinkle za'atar on top. Slice into 9 to 12 pieces (depending on size of lavash) and serve warm.
What's your favorite way to eat #TwoSpoons of hummus?
[inlinkz_linkup id=562523 mode=1]