Mediterranean Hummus Flatbread
April 18, 2023
Bring the flavors of the Mediterranean to your next dinner party with this Mediterranean Hummus Flatbread brimming with flavor and nutrition.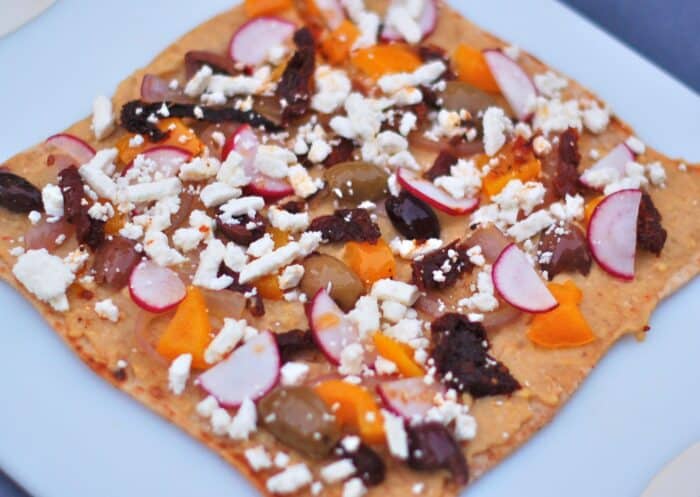 For as long as I can remember, hummus has been in the refrigerator of any home I have lived in. My memories of hummus in my parents' house when I was growing up are mainly of my brother dipping chunks of challah in the creamy smooth dip. In college, it was one of the few perishable foods I kept in the mini fridge in my dorm room. Now in my own home, I keep at least one container in the fridge at all times (and there's usually a spare in my basement refrigerator) to be used as a sandwich spread or (more commonly) as the dip of choice with baby carrots when my kids and husband are too ravenous to wait for dinner.
While it's certainly easy to serve hummus with some fresh veggies and pita chips for dipping as a pre-dinner hors d'oeuvres when I have company for dinner, sometimes I like to do something a little more creative. That's where this Mediterranean Hummus Flatbread comes in. It's super easy to make, requires very little prep, and can easily be modified based on personal preferences for toppings.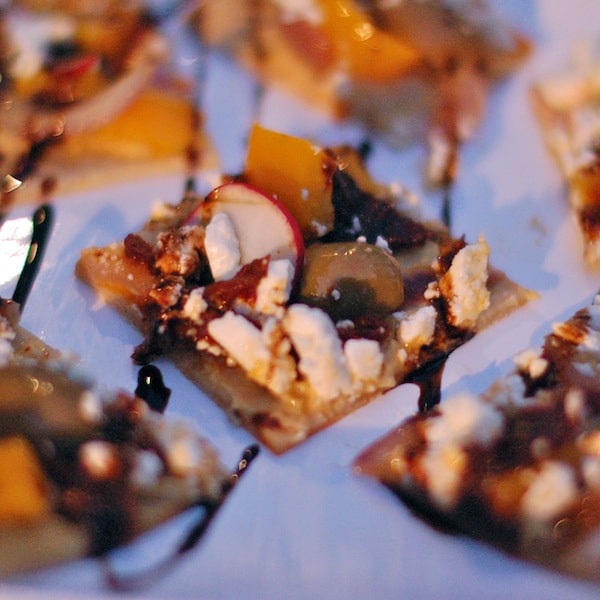 Looking for other creative ways to use hummus? Try my Lemon Hummus Endive Boats or Mayo-Free Tuna Hummus Sandwich!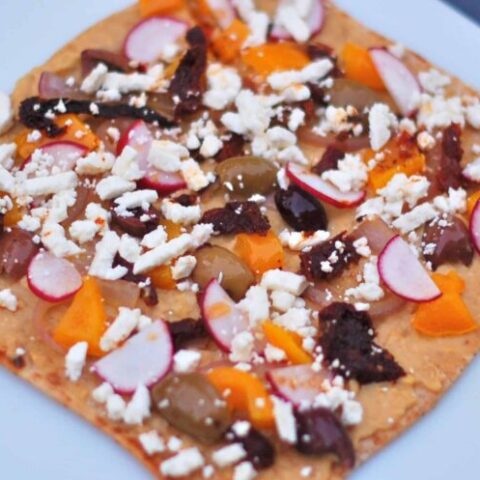 Mediterranean Hummus Flatbread
Whole wheat flatbreads topped with the flavors of the Mediterranean make fun finger-food for a party or a quick and easy dinner at home.
Ingredients
1 medium red onion, thinly sliced into half moons
1 medium yellow bell pepper, diced
1/2 cup sun-dried tomatoes in oil
3 to 4 whole wheat lavash flatbreads
6 to 8 tablespoons hummus, divided ( ~2 Tbsp per lavash)
3/4 cup sliced radishes
1/4 cup halved Kalamata olives
1 cup crumbled feta cheese
For Serving:
Aged balsamic vinegar
Za'atar
Instructions
Preheat oven to 375 degrees F. Line a baking sheet with aluminum foil or parchment paper and set aside.
Heat olive oil over medium heat in a small saute pan. Saute onion about 5 minutes until translucent. Add peppers to the pan and saute about 7 minutes more until vegetables are tender. Transfer to a bowl and set aside.
Add sun-dried tomatoes to the pan and saute about 2 to 3 minutes until heated and oil is released. Using a pair of tongs, transfer sun-dried tomatoes to a small bowl. Pour the oil into a separate small dish and set aside. (This step is not necessary, but the oil from the sun-dried tomatoes is so flavorful. I highly recommend it!)
For each lavash, bake lavash 3 minutes per side. Remove from oven and spread 2 heaping tablespoons of hummus on top. Top with sauteed onions and peppers, sun-dried tomatoes, radishes, and olives, and feta. Drizzle with some of the reserved oil from the tomatoes. Bake for 8 minutes until flatbread is crisped and cheese has begun to melt.
To serve, drizzle with aged balsamic vinegar and sprinkle za'atar on top. Slice into 9 to 12 pieces (depending on size of lavash) and serve warm.
Notes
For vegan diets, eliminate feta cheese
Recommended Products
As an Amazon Associate and member of other affiliate programs, I earn from qualifying purchases.
Nutrition Information:
Yield:

10
Serving Size:

10 to 12
Amount Per Serving:
Calories:

389
Total Fat:

8g
Saturated Fat:

3g
Trans Fat:

0g
Unsaturated Fat:

4g
Cholesterol:

13mg
Sodium:

333mg
Carbohydrates:

68g
Fiber:

11g
Sugar:

2g
Protein:

17g
Nutrition information was calculated by Nutritionix. It may not be 100% accurate.