Roasted Broccoli Radish Salad with Lemon Mint Vinaigrette
June 17, 2015
Whip up this Roasted Broccoli Radish Salad with Lemon Mint Vinaigrette for a quick and easy side dish for your next barbecue or any weeknight meal.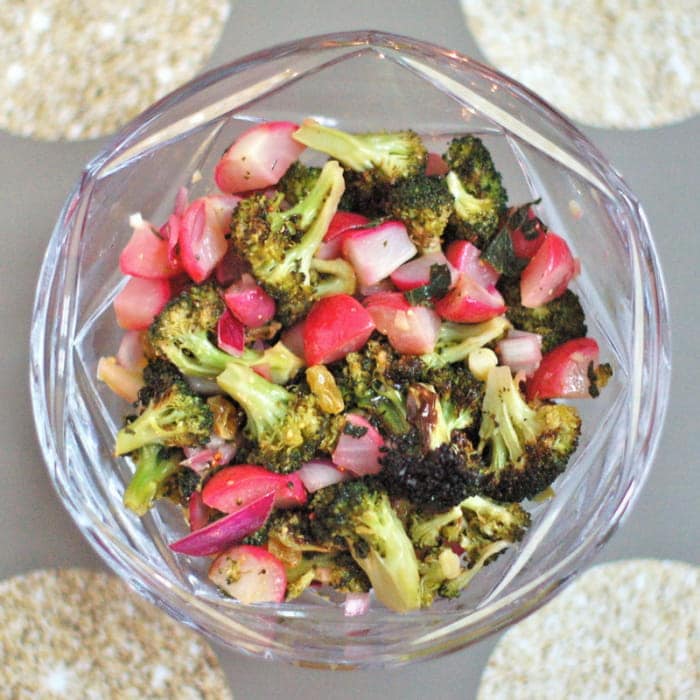 I have a really quick and easy side dish for you today. I don't quite remember what led to me making this roasted broccoli radish salad recipe, but broccoli salads seem to be popular lately – at least I've seen a lot of them on Instagram and Pinterest. Many use raw broccoli, which isn't really my thing. If anything I would need to at least blanch the broccoli to make it a little more visually palatable with the vibrant green color and to add some crunch to the florets.
My favorite way to make broccoli is roasted, so for this recipe I decided to lightly roast the broccoli and some radishes. Tossed with red onion, golden raisins, and a light dressing with a bit of zing from mint and lemon juice, this is a perfect side dish for your next summer barbecue or any weeknight meal. I paired it with a fillet of fish, but could easily see it next to eggs, chicken, or some grilled steak.
Oh, and since it's National Eat Your Vegetables Day, today is the day to try this recipe or another veggie-full dish. Hope you enjoy it!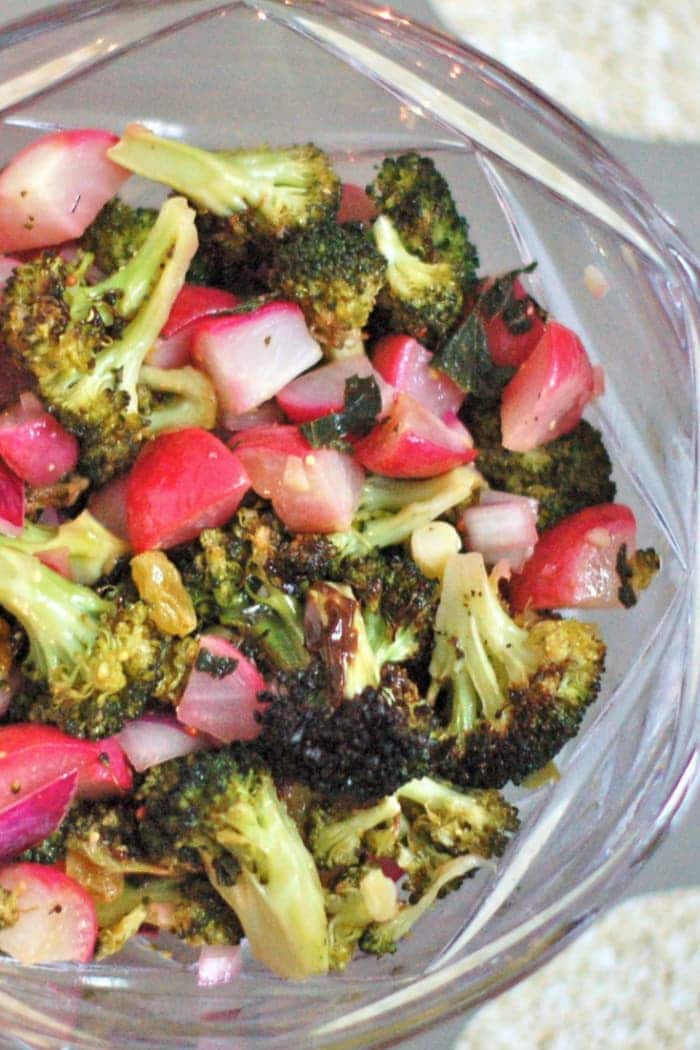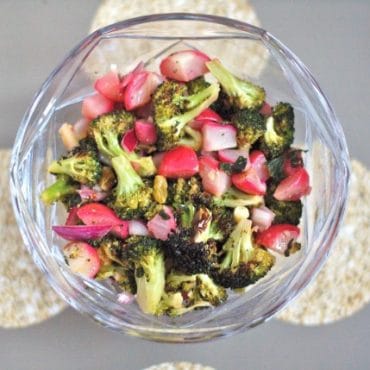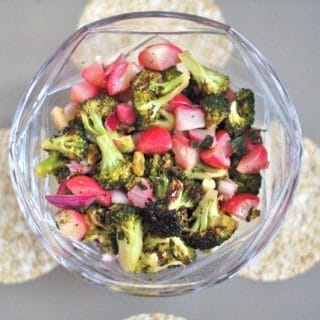 Roasted Broccoli Radish Salad with Lemon Mint Vinaigrette
Roasted broccoli and radishes are tossed with raisins, red onions, and a light lemon mint vinaigrette in this quick and easy weeknight side dish.
Vegan, Gluten-Free, Nut-Free, Kosher
Ingredients
For the Salad:
3 cups broccoli florets
1 1/2 cups radishes cut into 1/8ths
1 tablespoon olive oil
1/4 cup golden raisins
1/2 cup chopped red onion
For the Dressing:
1 tablespoon lemon juice
1 tablespoon unseasoned rice vinegar
1 garlic clove, minced
1/2 teaspoon Dijon mustard
2 tablespoons olive oil
1 tablespoon chopped mint
1/4 teaspoon Kosher salt
Freshly ground pepper
Instructions
Preheat oven to 400 degrees F. Toss broccoli and radishes with olive oil and spread on a foil-lined baking sheet. Roast for 10-15 minutes until broccoli is lightly browned and crisp and the radishes are tender.
While the vegetables are roasting, cover raisins in hot water to rehydrate.
To make salad dressing, whisk together lemon juice, rice vinegar, minced garlic, mustard, and olive oil. Stir in chopped mint.
In a large bowl, toss roasted broccoli and radishes, red onion, plumped raisins, and dressing. Season with salt and pepper. Serve hot or room temperature.
Recommended Products
As an Amazon Associate and member of other affiliate programs, I earn from qualifying purchases.
Nutrition Information:
Yield:

6
Amount Per Serving:
Calories:

107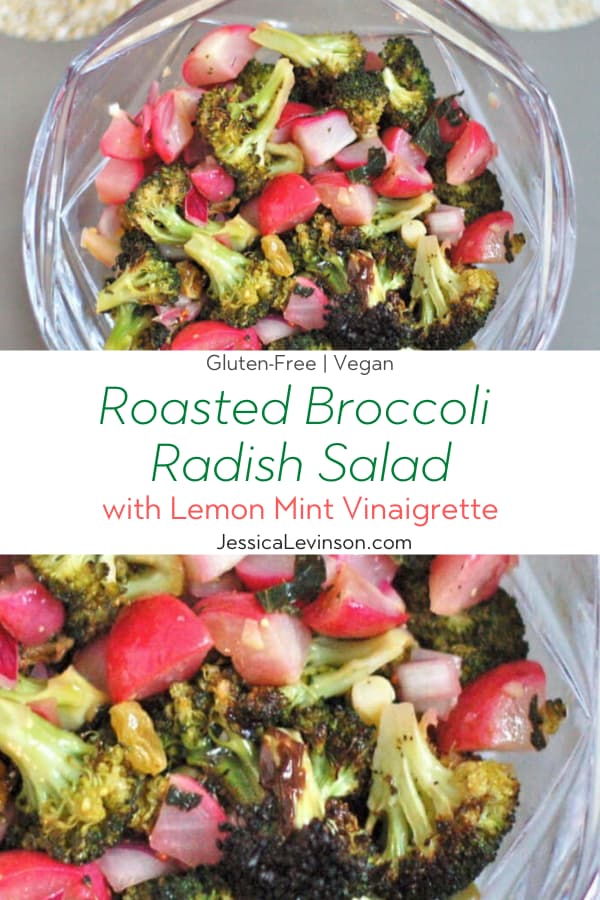 How do you like your broccoli? Raw or cooked?
What's your favorite vegetable?
Share with me in the comments below!