Asparagus Mint Salad with Lemon Vinaigrette
May 14, 2015
Get in the spirit of spring and wake up your taste buds with this Asparagus Mint Salad!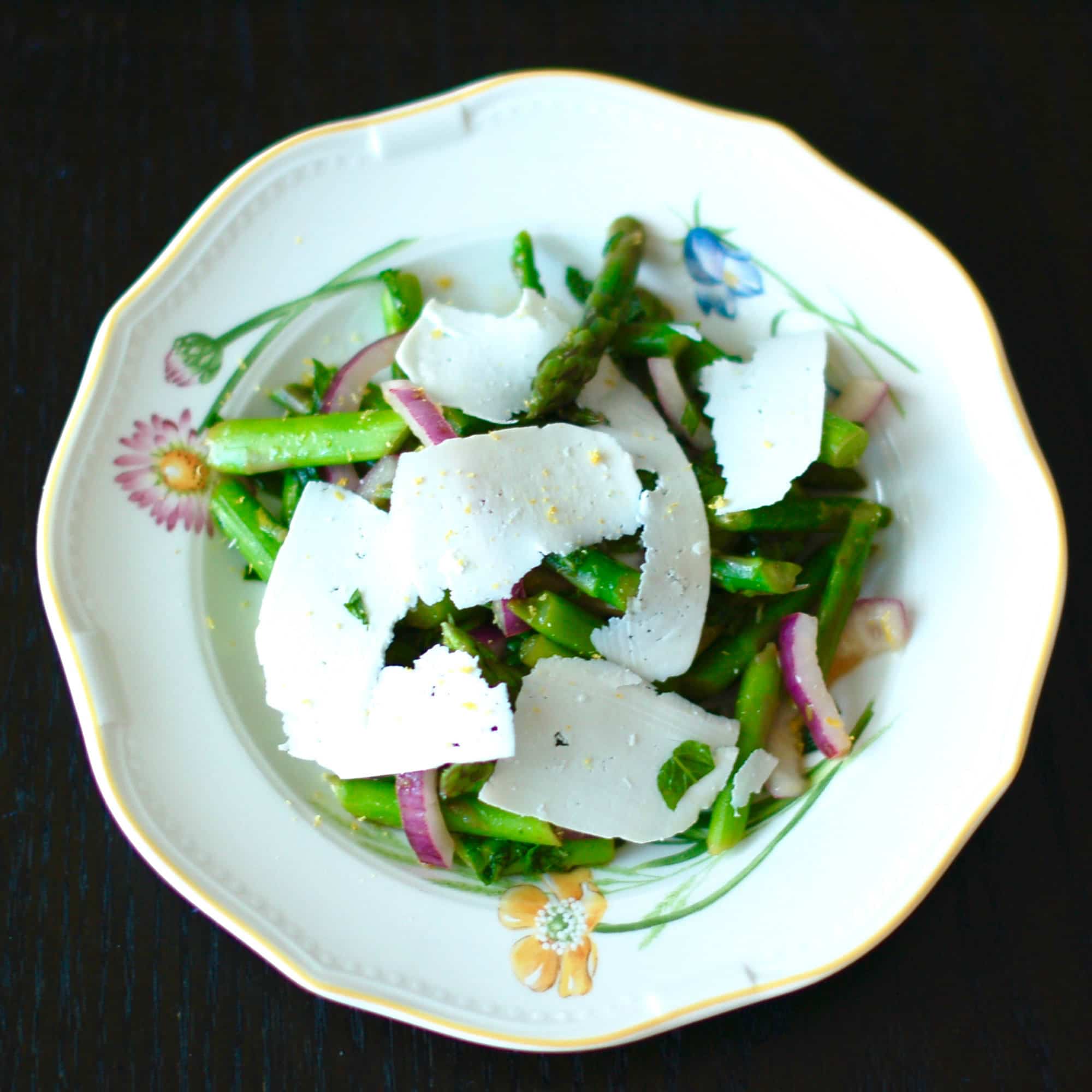 I was compensated for writing the original article and developing the recipe found in the May 2015 issue of Today's Dietitian. I was not compensated for sharing the column or magazine with readers on my blog. All opinions are my own.
I'm so excited to share that I am now a contributing writer for Today's Dietitian! Starting with the May 2015 issue, you will find my articles and recipes in the Culinary Corner column, which appears at the end of every issue. You can find my first article and this Asparagus Mint Salad recipe in the May 2015 issue of Today's Dietitian, but here's a sneak peek!
"As a child, vegetables weren't my preferred food. Other than peas and carrots, corn, and tomatoes in the form of tomato sauce, it would be sheer luck if a vegetable landed on my plate. Fast-forward a couple of decades, and not only do I like almost all vegetables, but my 3-year-old twin daughters do, too. While most vegetables are available all year round, one of the things we love the most in my family is eating with the seasons."
You can read the rest of my column at Today's Dietitian, where you'll also find the Asparagus Mint Recipe featured below.
Ingredients & Preparation
Asparagus is one of the most nutritious and delicious spring vegetables. Like other flowers that bloom in the spring, asparagus, which is a perennial plant in the lily family, pops out of the ground as the cold temperatures dissipate and the ground warms up for spring. Nutritionally, asparagus is a good to excellent source of folic acid, vitamins A and C, potassium, and the antioxidant glutathione. It's also a source of prebiotics.
Growing up, I remember my mom steaming asparagus in a shallow pan of water on the stovetop until they were bright green. She would then sprinkle them with Kosher salt and always sneak a spear or two for herself before she served them to the table. The vibrant color and first bite of the asparagus tip are what I remember most. Mmmm…there's nothing like it!
These days, my preferred method of cooking asparagus is the same as almost every other vegetable – roasting. Whenever I serve asparagus as a side dish, I roast it for five to eight minutes until it's golden brown with a crisp tender bite.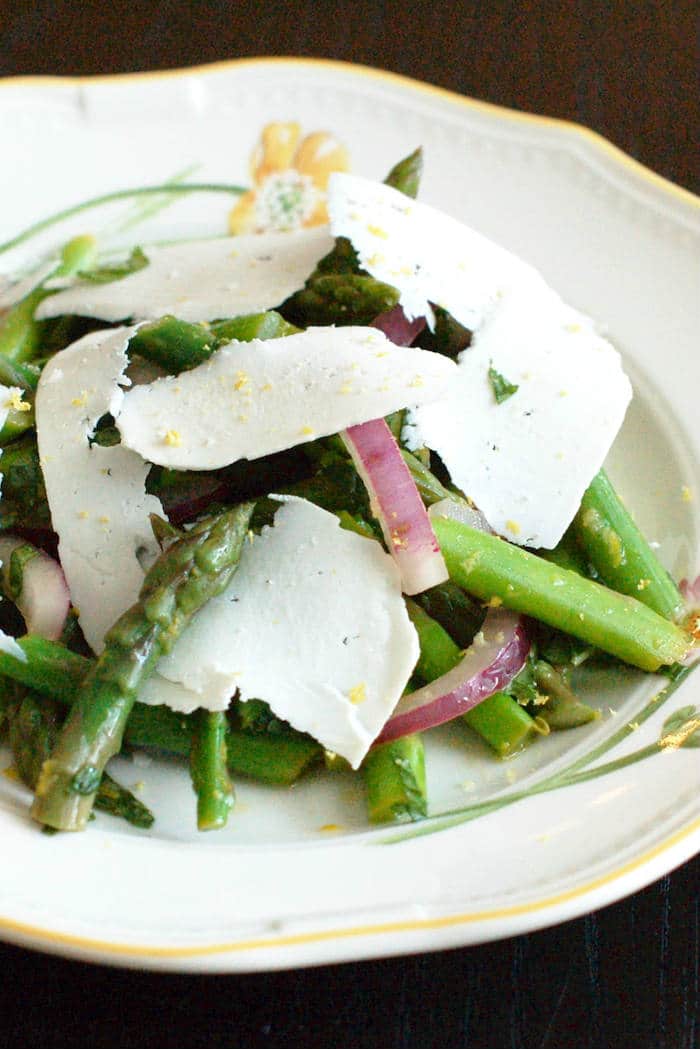 Over the years, I've experimented with asparagus in a variety of ways: blanched and added to crudités platters; incorporated into quiches and frittatas; grilled on skewers for veggie kebabs; and tossed into pasta dishes. While asparagus often is relegated to the side of the plate, there's no reason it can't take center stage as it does in this Asparagus Mint Salad.
The asparagus in this salad is cooked ever so slightly using the method of blanching. If you're not familiar, blanching involves dropping the food into a pot of boiling water for about a minute (more or less depending on the food), followed by dunking it in an ice bath to stop the cooking process. I love blanching green vegetables like asparagus and broccoli because it brings out their bright green color and flavor while maintaining their crunchy bite.
Crisp and slightly sweet red onions, refreshing mint, bright lemon zest, and salty ricotta salata are added to the blanched asparagus and tossed in and bright and zesty lemon vinaigrette. Ricotta salata is an aged version of fresh ricotta that has a firm texture. If you can't find it in your supermarket you can use feta cheese in its place.
This recipe will certainly get you in the spirit of spring and wake up your taste buds for the new season!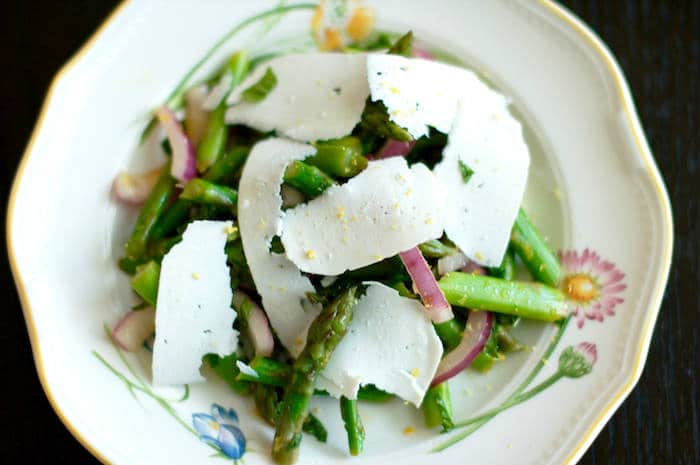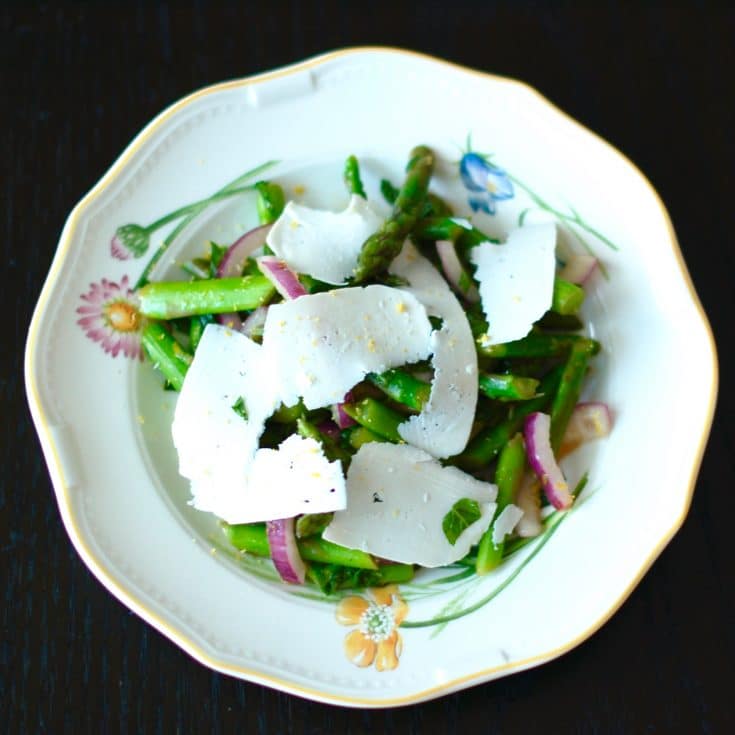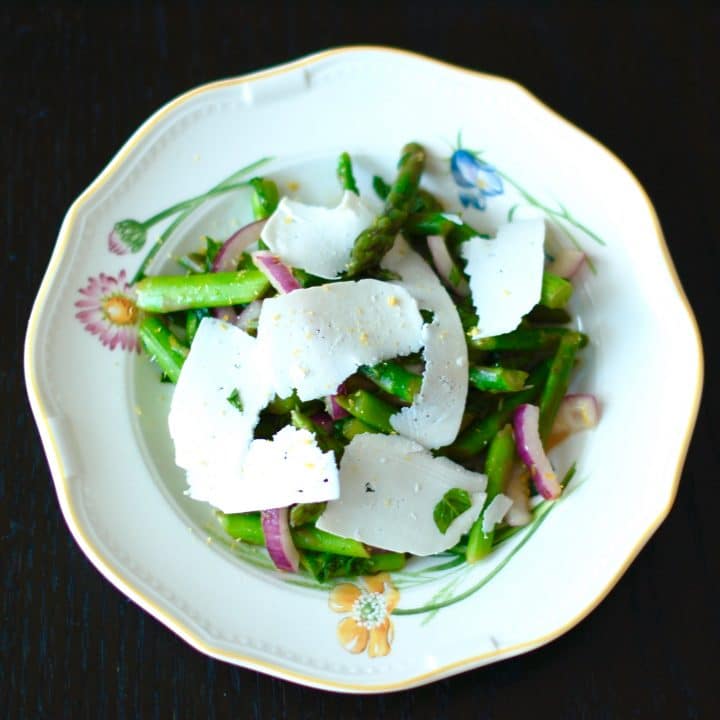 Asparagus Mint Salad with Lemon Vinaigrette
Earthy asparagus is tossed with crisp red onions, refreshing mint, zesty lemon, and salty ricotta salata cheese in this Asparagus Mint Salad that will get you in the spirit of spring and wake up your taste buds.
Vegetarian, Gluten-Free, Nut-Free, Kosher
Ingredients
For the Lemon Vinaigrette:
1 teaspoon lemon zest
3 tablespoons fresh lemon juice
1 1/2 tablespoons sherry vinegar
1 teaspoon honey
2 tablespoons extra-virgin olive oil
1/2 teaspoon Kosher salt
Freshly ground pepper
For the Salad:
1 pound asparagus spears
1/2 red onion, sliced into thin half moons
1/2 cup thinly sliced mint strips
1 ounce ricotta salata, shaved with a vegetable peeler (Ricotta salata is an aged version of fresh ricotta and has a firm texture)
Instructions
In a small bowl or liquid measuring cup, whisk together vinaigrette ingredients and set aside.
Snap off woody ends of asparagus spears, and cut on bias into 1-inch pieces.
Blanch the asparagus: Bring a medium pot of water to boil; add asparagus and cook for 1 minute until bright green.
Drain and run asparagus under cold water or shock in a bowl of ice water. Dry off asparagus and place in a medium salad bowl.
Add sliced onion and mint to asparagus in bowl and toss with lemon vinaigrette.
Serve salad with shaved ricotta salata on top.
Notes
Recipe reprinted with permission from Today's Dietitian magazine.
Recommended Products
As an Amazon Associate and member of other affiliate programs, I earn from qualifying purchases.
Nutrition Information:
Yield:

4
Serving Size:

1/4th salad
Amount Per Serving:
Calories:

156
Total Fat:

9g
Saturated Fat:

2g
Cholesterol:

6mg
Sodium:

371mg
Carbohydrates:

18g
Fiber:

5g
Sugar:

8g
Protein:

5g
Is asparagus a spring favorite of yours?
What's your favorite asparagus recipe?
Share with me in the comments section below!