Roasted Chicken with Artichokes, Peppers, and Sun-Dried Tomatoes
March 2, 2017
Roasted Chicken with Artichokes, Peppers, and Sun-Dried Tomatoes pairs classic Italian flavors in this one-pan meal the whole family will love!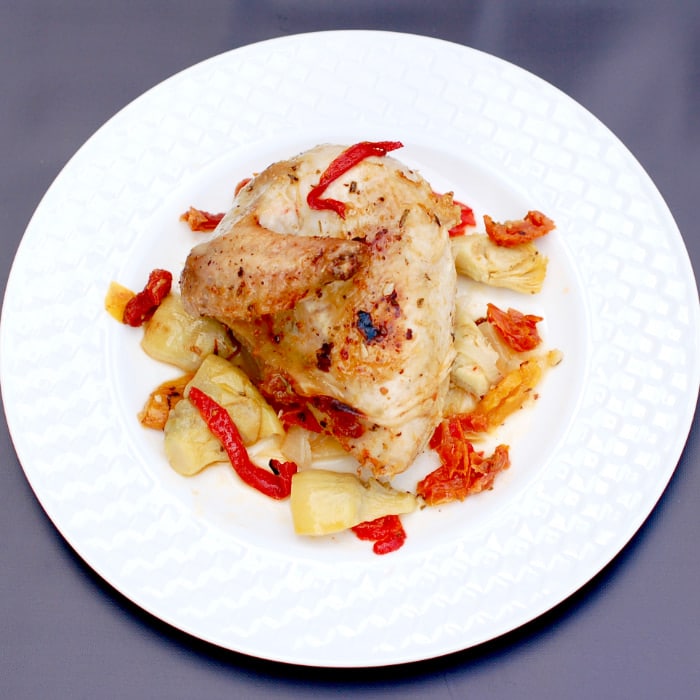 One-pan meals are all the rage these days and for good reason – they're easy to put together and require less cleanup. I'm a fan, especially for that second reason! (Who else is tired of doing dishes at the end of a long day?!)
This recipe for Roasted Chicken with Artichokes, Peppers, and Sun-Dried Tomatoes has been one of my go-to chicken recipes for longer than one-pan recipes have been on-trend, but it was time to give it some new life (and new pics) and bring this easy, family-friendly, and delicious recipe to your attention.
It takes under an hour to prep and cook from start to finish, which is perfect when you're rushing to get dinner on the table for the whole family. But it certainly looks elegant enough to serve at an adult dinner party or cook up for date night if your kids are sleeping at grandma and grandpa's for the night!
Classic Mediterranean Flavors
The trio of artichokes, roasted peppers, and sun-dried tomatoes is a classic Italian and Mediterranean flavor pairing, one I have certainly seen on restaurant menus, which is why I have used them all in this chicken dish. The use of these three ingredients is also one of the reasons this chicken dish can be made relatively quickly and easily – they're all staples I keep in my pantry.
I'm so excited that spring is coming soon, which means artichoke season is almost here! While I love fresh artichokes, especially the fun of making a whole artichoke and savoring the meat of each leaf when I make Artichokes Vinaigrette, getting to the heart of the veggie (literally and figuratively) can take time and work. So if I want to cook with those artichoke hearts, you can bet I'm going to take the easy route and buy just the hearts.
Personally, I like to use canned artichoke hearts because I can keep a few cans in my pantry and they're canned in water, so I can season them the way I want when adding them to a dish. As with all canned vegetables, the sodium content is higher than fresh or frozen veggies, so I always make sure to drain the artichokes and rinse them in cold water to remove as much sodium as possible.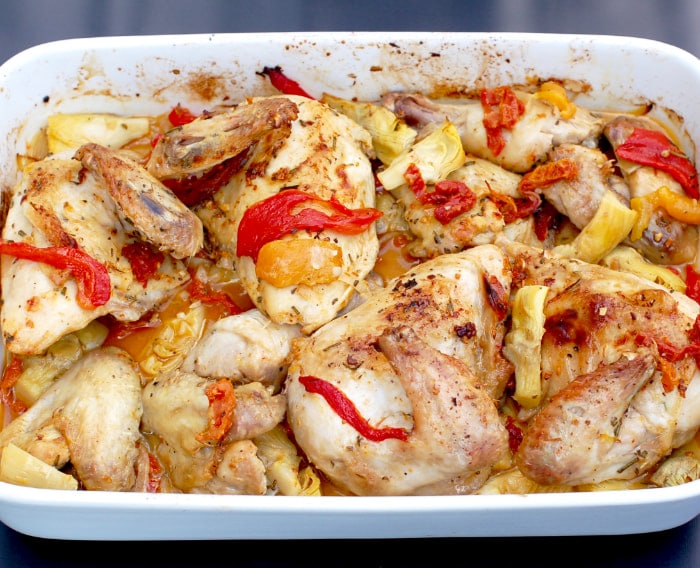 Roasted peppers are also a pantry staple in my house. I buy them jarred in water and rinse them to remove the extra sodium like I do with the artichokes. Many jarred roasted peppers are packed in oil, so be mindful of that when buying them. Lately I've been getting the Trader Joe's jarred roasted red peppers, which are a combination of red and yellow peppers. I love the color they add to this dish!
Lastly, sun-dried tomatoes are one of the most flavor-packed veggies I use in my cooking. You'll find them in my savory baked oatmeal, my quick and easy creamy pasta, and I often add them to my Easy Veggie Egg Muffins. As opposed to the peppers and artichokes, I do buy the sun-dried tomatoes packed in oil because they are much easier to find and so so flavorful. The key is that I use the oil from the sun-dried tomatoes in the cooking process and don't add additional oil unless absolutely necessary.
Easy One Pan Chicken Recipe
To make this Roasted chicken with Artichokes, Peppers, and Sun-Dried Tomatoes, you coat chicken breasts with garlic, freshly chopped rosemary, lemon zest, and sun-dried tomatoes with their oil. I like to use bone-in chicken breasts with their skin on for a juicier end product, but since I remove the skin before we eat, be sure to get all those flavor-rich ingredients under the skin too.
The seasoned chicken gets put on top of a bed of thinly sliced onions in a large baking dish with the sliced peppers and artichoke hearts around it. You then pour a combination of lemon juice and white wine or low-sodium broth around the chicken and vegetables. I use broth when making this for the family since this dish doesn't cook long enough for the alcohol to burn off, but if you're making this for adults only I highly recommend going the wine route!
Bake the chicken for about 40 minutes, basting it occasionally, and you're done! One of the reasons this Roasted Chicken with Artichokes, Peppers, and Sun-Dried Tomatoes really works well to make in one-pan and so quickly is that the vegetables are already cooked, so they don't require longer cooking time like many other veggies do.
Are you ready to try this easy, peasy recipe?!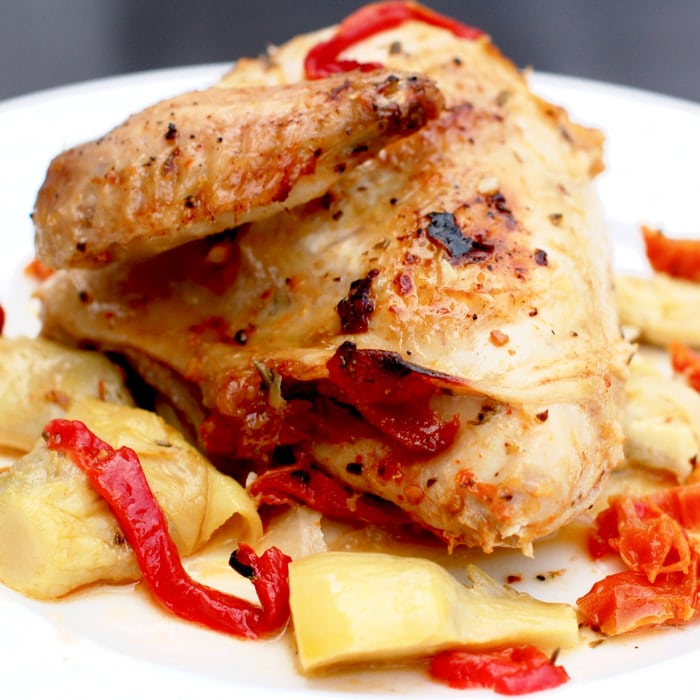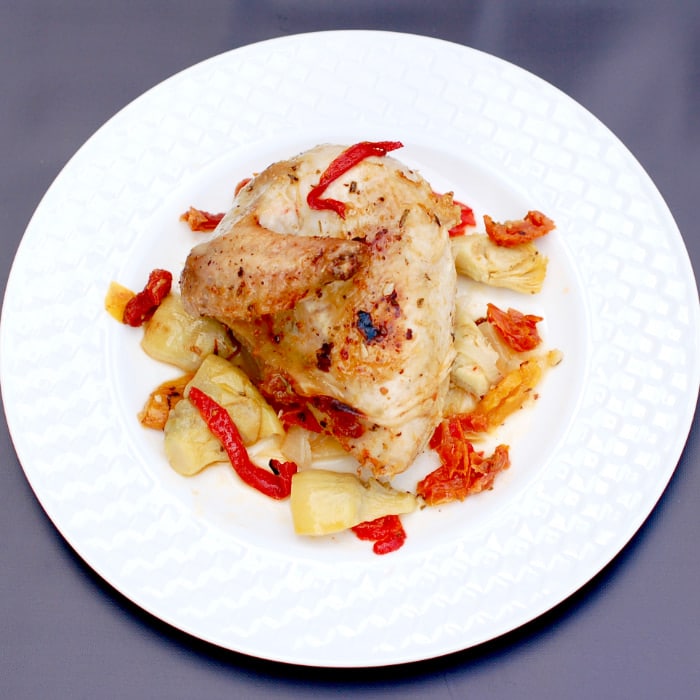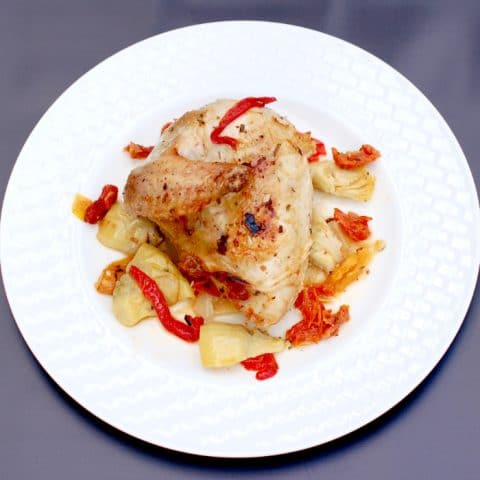 Roasted Chicken with Artichokes, Peppers, and Sun-Dried Tomatoes
Classic Italian flavors, including artichokes, sun-dried tomatoes, and roasted peppers, are paired with moist and juicy chicken breasts in this easy one-pan meal the whole family will love!
Ingredients
Cooking spray
1 medium onion,, sliced into half moons
4 bone-in chicken breasts, (with skin on; about 2 pounds)
2 cloves garlic,, minced
1 tablespoon chopped fresh rosemary
1 tablespoon lemon zest
1 cup chopped sun-dried tomatoes,, packed in olive oil
2 roasted peppers,, jarred in water, drained, rinsed, and sliced thin
One 14-ounce can quartered artichokes packed in water,, drained and rinsed
1/3 cup low-sodium chicken broth , or dry white wine
3 tablespoons lemon juice, (~1 lemon)
Freshly ground pepper,, to taste
Instructions
Preheat oven to 400 degrees F. Spray a large baking dish (about 9x11) with cooking spray. Spread sliced onions on the bottom of the baking dish and place chicken breasts on top.
Using your hands, massage the garlic, rosemary, lemon zest, and sun-dried tomatoes with oil on the chicken breasts, making sure to coat under the skin as well. Use additional olive oil as needed to make sure the chicken is well coated and moist. Spread peppers and artichoke hearts around the chicken.
Whisk together the broth (or wine) and lemon juice and pour around the chicken and vegetables. Season with freshly ground pepper, to taste.
Roast chicken for about 20 minutes, until skin is browned and crisp. Baste chicken and return to oven until chicken is cooked through, about 20 minutes longer.
Notes
I do not add salt to this recipe because of the sodium in the canned and jarred ingredients.
What's your favorite one-pan meal?
Share with me in the comments below!