Chocolate Baked Oatmeal with Berries & Almond Milk
December 28, 2018
Start the morning on a delicious and healthy note with this Chocolate Baked Oatmeal with Berries and Almond Milk – an easy make-ahead and freezer-friendly breakfast for the family.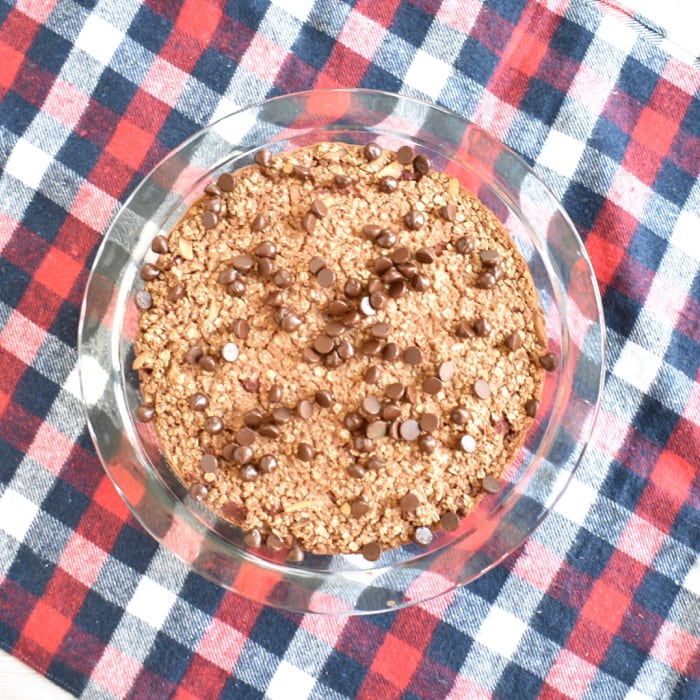 This post was sponsored by Blue Diamond Almond Breeze. I only work with brands and organizations that I believe in and as always all opinions are my own.
As we inch our way closer to the New Year, I know that everyone's minds are slowly switching from indulging in holiday treats to New Year's resolutions. Year after year I say the same thing about resolutions – if they're not practical changes, they won't last. So if you're thinking that come January 1st you're saying sayonara to carbs or you're giving up chocolate for the next six months, you still have a few more days to reconsider those drastic moves.
While you're contemplating that decision, let me share with you this Chocolate Baked Oatmeal recipe. It has carbs and chocolate, but it also helps you achieve two of the practical changes I advocate for time and again – meal planning and eating breakfast daily.
This isn't the first baked oatmeal I've shared with you on my site. You may recall my Pumpkin Spice Baked Oatmeal or my Ricotta Berry Oatmeal Cups, both of which I tout as being great make-ahead and freezer friendly breakfasts that are great for rushed mornings. This chocolate Baked Oatmeal serves the same purpose, but with an extra dose of fun thanks to delicious chocolate chips on top.
Chocolate for Breakfast
Now, you may be thinking that chocolate doesn't belong at breakfast. Maybe brunch, but not breakfast. I won't sit here and tell you I completely disagree – even though as a kid I switched off between Cocoa Puffs, Cocoa Pebbles, and Cocoa Krispies every few weeks for breakfast. And yes, I am now a registered dietitian – the irony! Back to the point – I don't consider chocolate a typical breakfast food, but when I tell you that this Chocolate Baked Oatmeal with Berries and Almond Milk is actually a healthy breakfast choice you will see why I'm sharing it with you today.
The chocolate in this breakfast dish comes from two sources. The first is Almond Breeze Refrigerated Unsweetened Chocolate Almondmilk and the second is dark chocolate chips. The amount of added sugar coming from these two ingredients is pretty minimal, which is why I'm A-Ok with this baked oatmeal for breakfast. And why it's a great breakfast to wake up to on New Year's Day.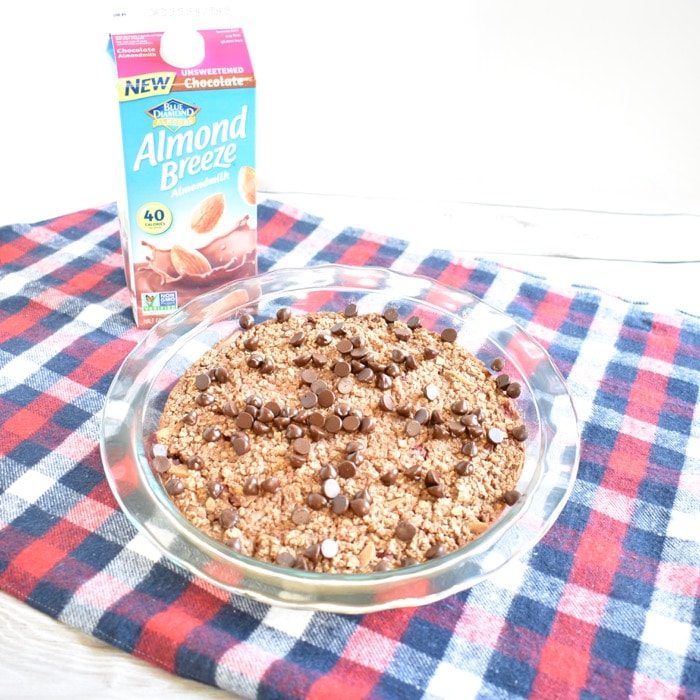 While my family isn't dairy-free, I know so many people these days who need to eliminate dairy due to intolerances and allergies. So when I found out that Almond Breeze came out with a refrigerated version of their Unsweetened Chocolate Almondmilk, I knew I wanted to use it to make a dairy-free version of my baked oatmeal.
Almond Breeze Almondmilk is extremely versatile – we've already used it in our coffee, for smoothies, and of course to drink alongside this Chocolate Baked Oatmeal. Nutritionally it's low in calories, a great source of calcium and vitamins D and E, and has no added sugar. Definitely a great choice for my dairy-free friends.
Baked Oatmeal for Breakfast or Brunch
The basic formula for making my baked oatmeal is pretty simple. Mix together oatmeal, spices, baking powder, milk, sweetener, and fruit, pour the mixture into a baking dish, and bake until set. See? Easy, peasy! Occasionally there are some other ingredients, but the basic recipe provides you with a breakfast that's a good to excellent source of bone-building calcium and satiating protein, fiber, and healthy fat.
Now do you understand why I don't want you to give up carbs, chocolate, or any other food in the New Year?!
My philosophy to enjoy everything in moderation truly works, especially when it comes to the kids. I can't even begin to tell you how excited my girls were when they found out they were having chocolate for breakfast! They gave this Chocolate Baked Oatmeal with Berries and Almond Milk 10 thumbs up, lol. They may have been most interested in the chocolate chips scattered on top, but the end result was that they took in many other nutrients along with them. I consider that a win.
Turn baked oatmeal from a quick, get-out-the door weekday breakfast to a relaxed brunch option on the weekends by serving a piece with a side of eggs for a protein boost and some additional fresh fruit. Depending on your taste preferences you may be inclined to top the baked oatmeal with maple syrup or a sprinkling of powdered sugar, which is absolutely ok. Just be sure to take that into account for your added sugars for the day.
Ready to surprise your family with chocolate for breakfast? Here's the recipe!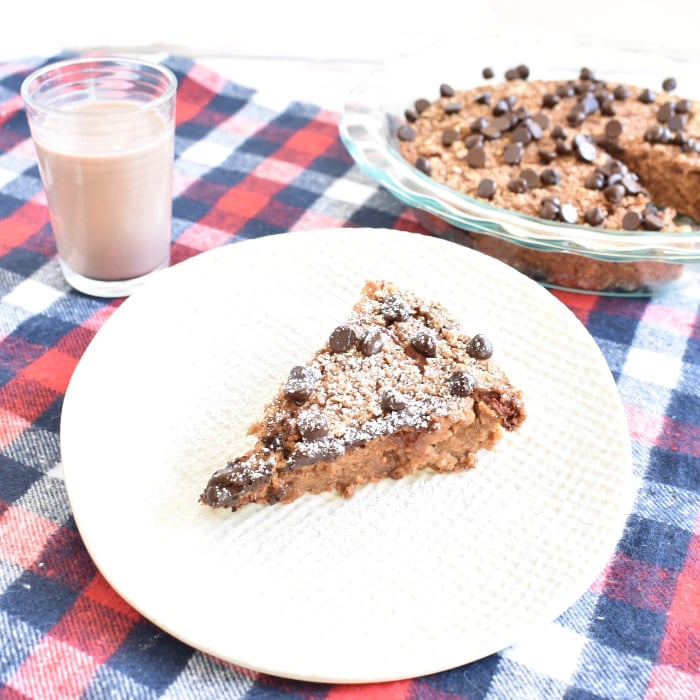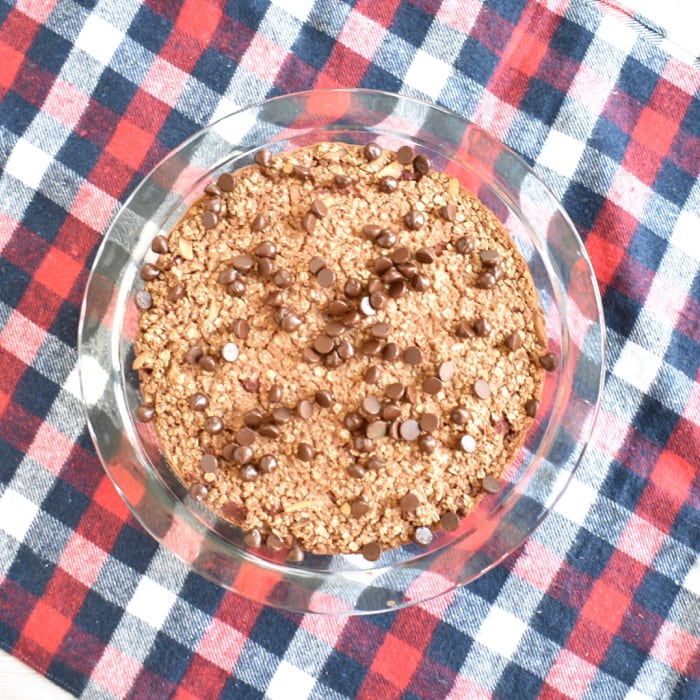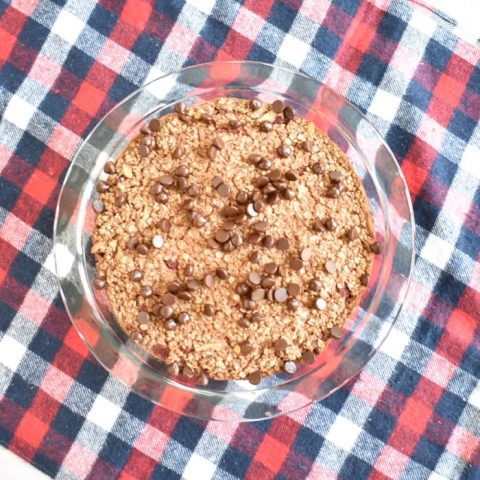 Chocolate Baked Oatmeal with Berries and Almond Milk
Chocolate baked oatmeal with berries and almond milk is an easy and delicious make-ahead and freezer-friendly breakfast for the family. Substitute fresh or frozen berries of your choice and top with maple syrup or powdered sugar for a bit of added sweetness. 
Gluten-Free, Vegan, Kosher
Ingredients
Cooking spray
1/4 cup slivered almonds
3 cups oats (old fashioned or quick oats both work)
2 teaspoons ground cinnamon
1 1/2 teaspoons baking powder
1/4 teaspoon table salt
2 cups Almond Breeze Refrigerated Unsweetened Chocolate Almondmilk
1/2 cup unsweetened applesauce
1/4 cup pure maple syrup (plus more for serving, if desired)
1 teaspoon pure vanilla extract
1/2 cup chopped strawberries (fresh or frozen)
1/4 cup dairy-free dark chocolate chips
Powdered sugar, for serving (optional)
Instructions
Preheat oven to 350 degrees F. Coat a round pie dish (9-10 inch) with cooking spray and set aside.
Toast almonds by heating them in a dry skillet over medium heat, stirring occasionally, until lightly browned and fragrant, 4 to 5 minutes. Alternatively, toast almonds in a toaster oven on medium toast setting for 3 to 4 minutes.
In a large bowl, mix oats, cinnamon, baking powder, and salt.
Add Almond Breeze Refrigerated Unsweetened Chocolate Almondmilk, applesauce, syrup, and vanilla to the bowl and stir well to combine. Fold in strawberries and toasted almonds.
Pour oatmeal mixture into prepared baking dish and bake for 30 to 35 minutes until completely set. Scatter chocolate chips on top and bake 5 minutes longer.
Remove baked oatmeal from the oven and allow to cool for 5 minutes before slicing. Serve topped with powdered sugar or maple syrup, if desired.
Notes
Nutrition Facts (per 1/9th of the baked oatmeal):
200 calories, 7 g total fat, 1.5 g saturated fat, 33 g carbohydrate, 5 g dietary fiber, 11 g sugar (8 g added sugar), 5 g protein, 190 mg sodium, 20% calcium, 15% vitamin C, 2% vitamin A, 20% iron
Recommended Products
As an Amazon Associate and member of other affiliate programs, I earn from qualifying purchases.
Nutrition Information:
Yield:

9
Serving Size:

1/9th of baked oatmeal
Amount Per Serving:
Calories:

200
Total Fat:

7g
Saturated Fat:

1.5g
Sodium:

190mg
Carbohydrates:

33g
Fiber:

5g
Sugar:

11 (8 g added)g
Protein:

5g
Will this Chocolate Baked Oatmeal with Berries and Almond Milk be part of your New Year's resolutions?
Share with me in the comments below!