The Ultimate Healthy Summer Barbecue Guide
May 30, 2018
Enjoy cookouts without sacrificing fun or flavor with this ultimate healthy summer barbecue guide including recipes, cooking tips, and more!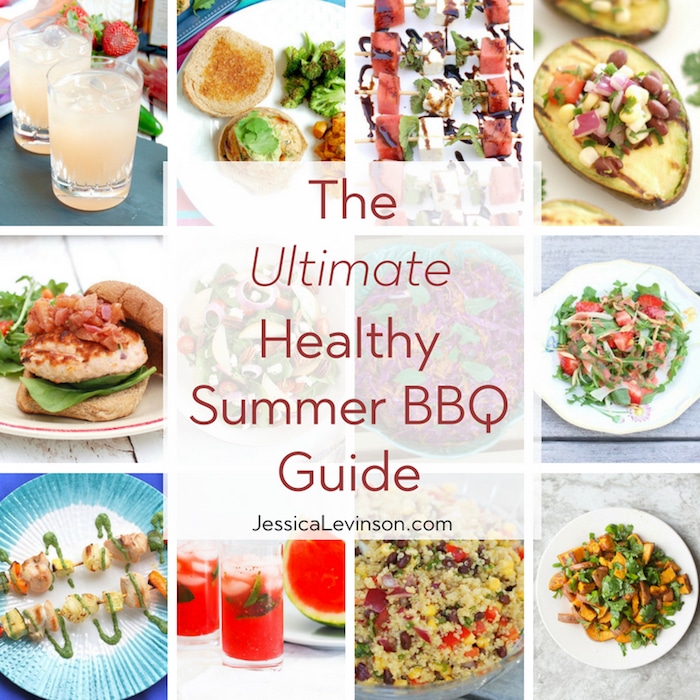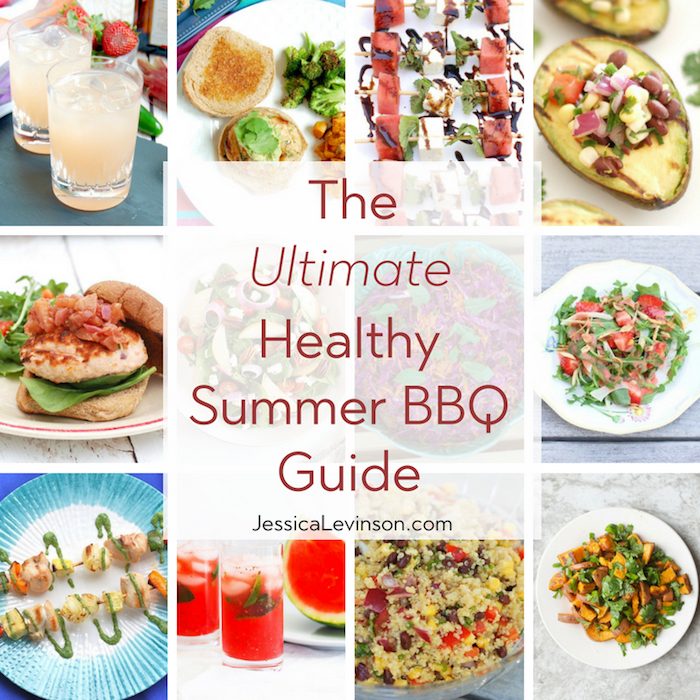 Memorial Day has passed, school's out for some and almost done for others, and soon enough summer will be in full swing, which means it's time for fun with family and friends at backyard barbecues! I don't know about you, but I love summer cookouts – what's better than enjoying nice weather while relaxing with friends?! And of course all those delicious summertime eats and drinks we look forward to all winter long.
But beware – all that deliciousness also comes with a lot of added calories and less than healthy eating behaviors as we munch mindlessly poolside and eat more fatty meats – and more overall – than usual. No need to worry though – I've got you covered. Before you head out to barbecue after barbecue, check out this ultimate healthy summer barbecue guide so you can enjoy all the summer cookouts without sacrificing fun or flavor!
Fresh Start Appetizers
First up, appetizers. No cookout is complete without something yummy to munch on before the main course. But snack foods like chips and cheesy or creamy dips are typically pretty high in fat and calories. Instead of filling up on chips and queso, start with a glass of water, focus on socializing with friends instead of the food, and follow these tips to make it to dinner without consuming half a day's worth of calories.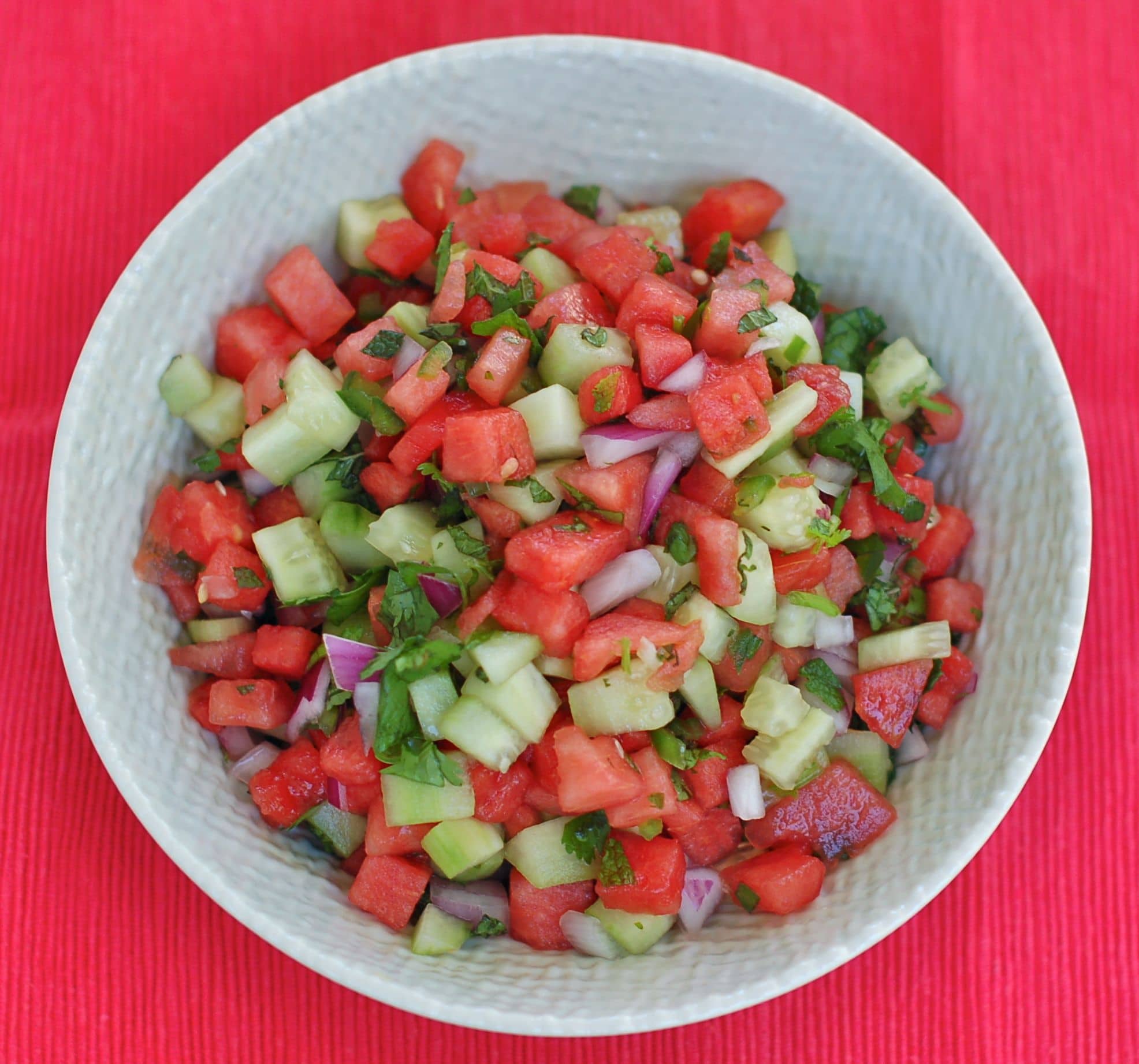 Dip wisely: Dip raw veggies (instead of chips) in hummus or salsa (try the watermelon salsa pictured above). Veggies add filling fiber with little fat to keep. Guacamole is also a healthy option, but can be high in calories if you eat too much. Which brings us to…
Watch your portions: A serving of chips is about 15 chips, and keep your dip to about 1/4 cup to keep calories in check. Grab a small plate and sit down at a table instead of grazing at the buffet to help you keep track of how much you're eating. Besides, you don't want to spoil your dinner!
Recipes to Try
Watermelon, Feta & Mint Skewers
Strawberry Arugula Salad with Fennel, Toasted Almonds, and Strawberry Champagne Vinaigrette
Lightened Up Esquites (Mexican Corn Salad)
Watermelon & Lemon Mint Ricotta Stacks
Main Course Meats
Next, let's talk main dishes, which usually consist of a variety of grilled meats. Lean meats are a great source of protein and are extra delicious on the grill, just be sure to use these tips to navigate main dish choices wisely.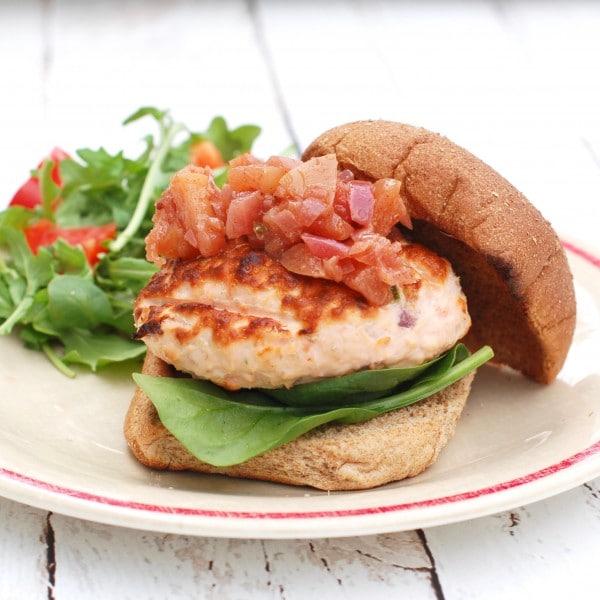 Keep 'em lean. Grill up skinless chicken breasts (either on the bone or cutlets), London broil, beef tenderloin, extra-lean ground beef patties, lean turkey burgers, salmon, or tuna.
Watch those dogs. Regular hot dogs may not be super high in calories (~180 per hot dog), but they are full of sodium and saturated fat (~7 g saturated fat and 550 mg sodium per dog). It's not the worst thing to enjoy an occasional hot dog, but you don't want those dogs to be your main protein source at every barbecue of the summer. When you do indulge in a hot dog, look for ones with less than 100 calories, 6 g total fat (and less than 2 g saturated fat), and 300-400 mg sodium per dog. As for nitrates and nitrites, that's a whole topic in itself, but I wouldn't base your hot dog purchasing decisions on them. (Read this article for more about that.)
Make your own marinade. Many barbecue sauces and marinades are filled with added sugar and additives you don't need. Keep it healthy by using just a little bit of the packaged stuff, or better yet, make your own marinade or sauce with olive oil, citrus juice, herbs and spices, or low-sodium soy sauce, honey, maple syrup, or whatever else you fancy.
Skip the white bun: White bread can cause a spike in blood sugar that leaves you feeling hungry and cranky later. Opt for a whole-grain version for more nutrients and fiber, or skip the bun altogether and get your healthy carbs elsewhere, like some grilled corn on the cob!
Recipes to Try
Summer Chicken Kebabs with Herb Sauce
Steak Tacos with Nectarine Corn Salsa
Simple Sides & Toppings
BBQ side dishes can be delicious, nutrition-packed accompaniments for your grilled protein of choice, but they can also quickly become a nutrition nightmare. Keep it healthy with these simple rules of thumb.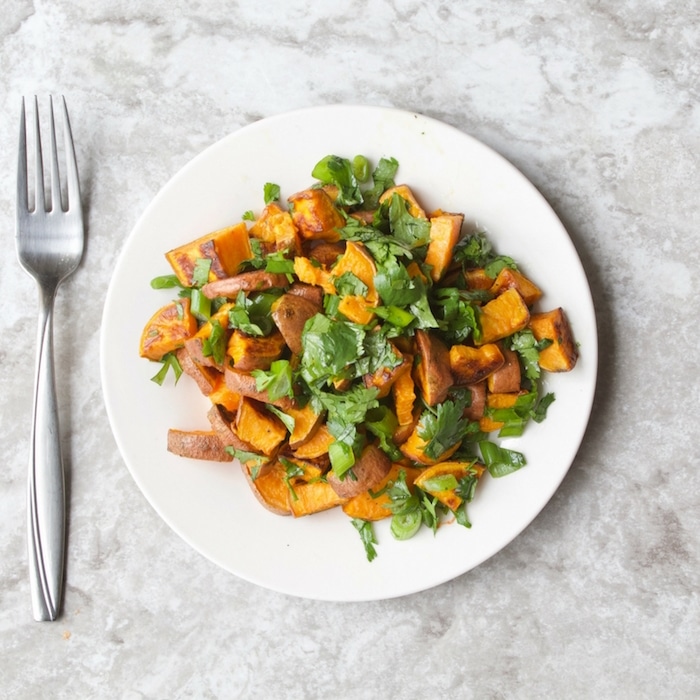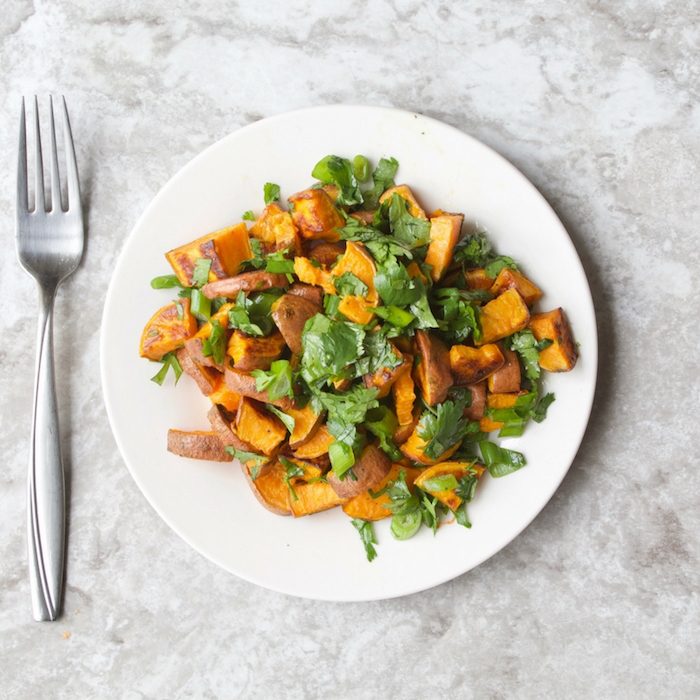 Load up on veggies: Fill half of your plate with veggies such as a green salad or grilled veggies like summer squash and portobello mushrooms!
Ditch the mayo: Many prepared side salads like potato salad, macaroni salad, and coleslaw are made with tons of mayonnaise, meaning they can pack up to 22 grams of fat (usually saturated) per cup! Make your own version and swap nonfat plain Greek yogurt for mayo, or try a mustard- or vinegar-based dressing.
Pay attention to toppings: Toppings can quickly take a burger from a sensible meal to a calorie and fat bomb, so top wisely. Fresh veggies, mustard, pickles, salsa, and avocado are all tasty and healthy choices.
Recipes to Try
Grilled Avocados Stuffed with Corn and Black Bean Salsa
Corn and Black Bean Quinoa Salad
Roasted Sweet Potato Salad with Honey Lime Vinaigrette
The Sweet Stuff
Every great cookout comes with dessert! Don't feel like you have to deprive yourself of something sweet, just steer clear of the heavy treats and follow these tips instead.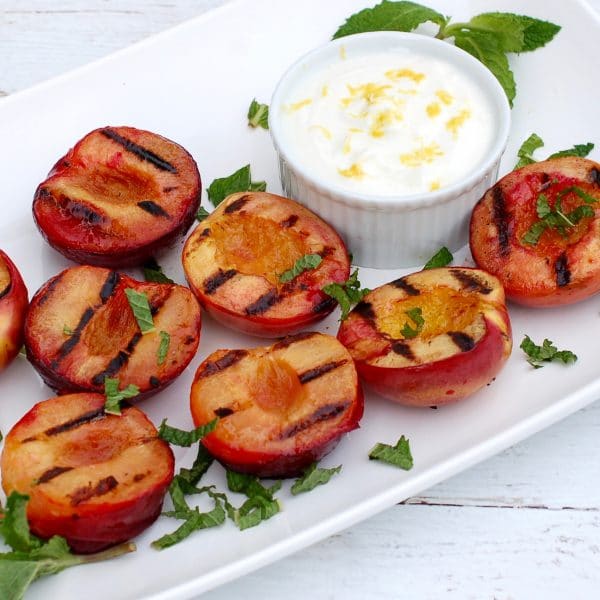 Go for fruit: Grilled fruit is one of the best ways to enjoy the natural sweetness of summer! Or enjoy a fruit salad with fresh mint for a light and refreshing dessert.
Try a frozen treat: Ice pops made with fresh or frozen fruit and frozen yogurt are both delicious ways to cool down after dinner on a hot summer evening without racking up the calories.
Recipes to Try
Grilled Stone Fruit with Honey Lemon Yogurt Sauce
Lemon Poppy Seed Thumbprint Cookies
Drink Wisely
No healthy summer barbecue guide is complete without the drinks! It's perfectly fine to unwind with a beverage or two at a weekend cookout. These tips can help you sip smartly.
Hydrate first: Make sure you stay hydrated with calorie-free water or unsweetened iced tea. Sparkling water with lime is a refreshing way to increase your fluid intake too. And always alternate alcoholic beverages with water.
Avoid sugary mixed drinks: Frozen drinks and sugary cocktails add up fast! Just one frozen margarita can have up to 500 calories! Calories from sugary mixers like soda and even fruit juice also add up quickly. Stick with water or add club soda and lime to your spirit of choice, or choose light beer or wine. And don't forget to keep it to a healthy serving (that's one drink for women and two for men).
Recipes to Try
No Sugar Added Watermelon Mojitos
Spicy Strawberry Rhubarb Margaritas
That's not too painful, right? You definitely don't have to give up your weekend cookouts to stay healthy this summer, just choose wisely and you'll stay on track and have fun! Happy Grilling!
Want even more recipes for your healthier summer BBQ? Check out our roundup of 70+ Healthy & Delicious Backyard BBQ Recipes or this Memorial Day Roundup for more inspiration!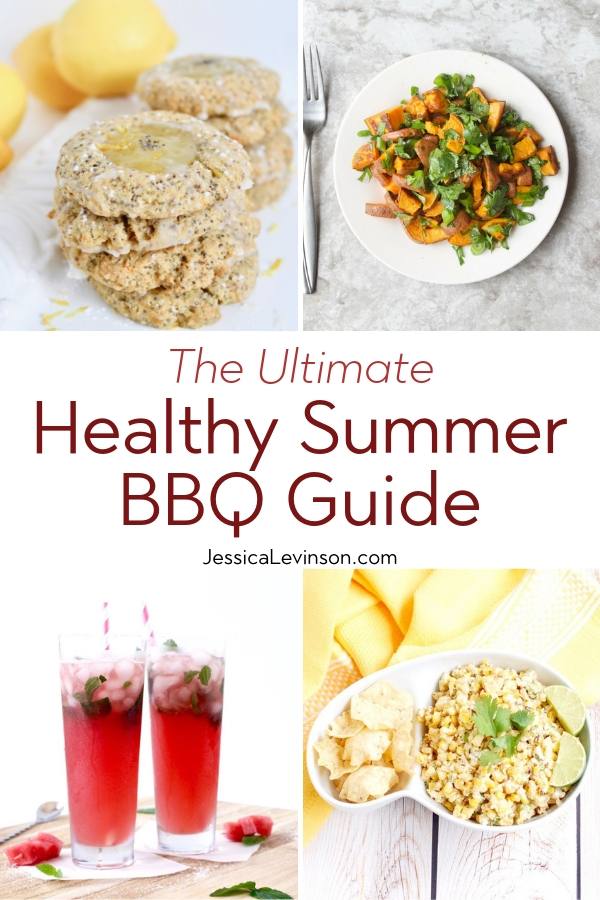 Do you have a tip to add to this healthy summer barbecue guide?
Share with me in the comments below!