Watermelon & Lemon Mint Ricotta Stacks
July 21, 2016
Creamy and zesty lemon mint ricotta is sandwiched between stacks of watermelon flowers for a festive, nutritious and delicious summer appetizer or hors d'oeuvres.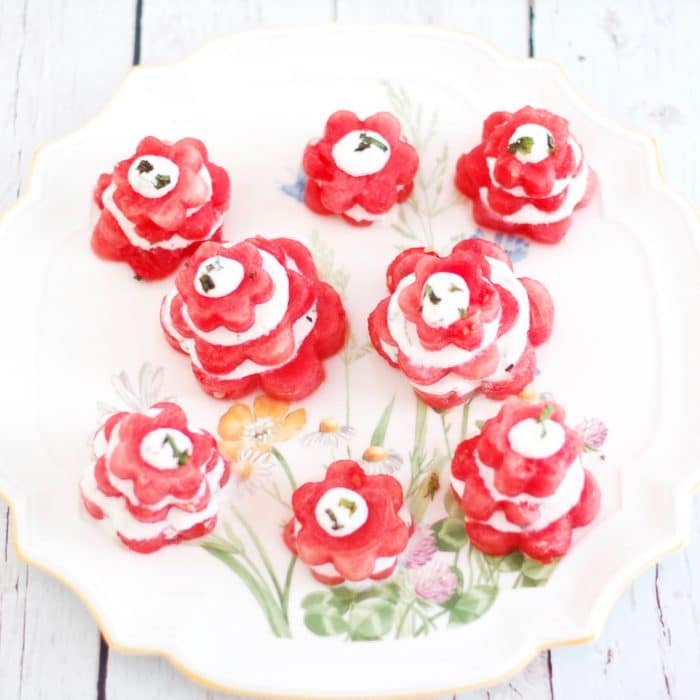 It's time for July's Recipe ReDux! This month's theme was a fun one and made me get more artistic in the kitchen than I'm used to. The challenge:
Get Your Fruits and Veggies in Shape!
With produce galore, now's a great time to enjoy lots of fruits and vegetables. Show us how you're serving the bounty of gardens and orchards in creative cuts and shapes like ribbons, noodles, cut-outs, etc.
Since I still don't have a spiralizer (I know, I know!), I knew I couldn't go that route – remember the last time I tried using my hand-held spiralizer?! And anyhow, I knew you'd get lots of veggie noodles from my fellow ReDuxers, and they did not disappoint – just scroll down to the end of my post to check out their recipes.
There's been no shortage of summer fruit and veggie recipes here at Small Bites by Jessica in the past few months. Remember my Grilled Stone Fruit with Honey Lemon Yogurt? And what about my Strawberry Arugula Salad with Fennel, Toasted Almonds, and Strawberry Champagne Vinaigrette? Don't forget my Peach Panzanella Salad and Peaches and Cream Overnight Oats. Oh, of course lots of watermelon. Watermelon Mojitos, Watermelon, Feta and Mint Skewers, and now these Watermelon Ricotta Stacks.
I'll be honest – these watermelon stacks are not all that different in flavor profile from the watermelon skewers I shared for May's Recipe ReDux. But what can I say? I love watermelon! And we have a lot of it in our house this time of year, so finding new ways to use it is required.
I do of course make my Watermelon Salsa (I just made it last weekend for a barbecue we hosted), and my Watermelon Tomato Gazpacho is another favorite, especially once the crop of local tomatoes comes in August, but there's no harm in another watermelon recipe. I am sure you will agree, especially after you check this one out and taste it for yourself.
This recipe is super easy, nutrient-rich, hydrating for the hot summer days, comes together in no time, and looks fancier than it is. Plus, it's gluten-free and vegetarian – so many reasons that make it a great option for serving company at your next backyard barbecue!
Another thing that's great about these watermelon ricotta stacks is that you can modify them based on your preferences. You can use any cookie cutter you want to make the watermelon shapes or even just cut them into squares. I chose flowers because they're pretty and I knew my kids would like them. You can serve the stacks with different cheeses – goat cheese or even grilled halloumi would be delicious.
The lemon mint ricotta spread is basically the same as the filling I used for my Lemon Ricotta Ravioli with Balsamic Roasted Strawberries. The ingredient amounts in the recipe are basically the minimum amount of spread I could make and unless you're making a lot of watermelon stacks, you won't use it all. So save the rest to spread on toast or crackers, serve with grilled fruit, toss with pasta, or make a batch of ravioli. I'm sure you'll find plenty of ways to use it up – I certainly had no trouble!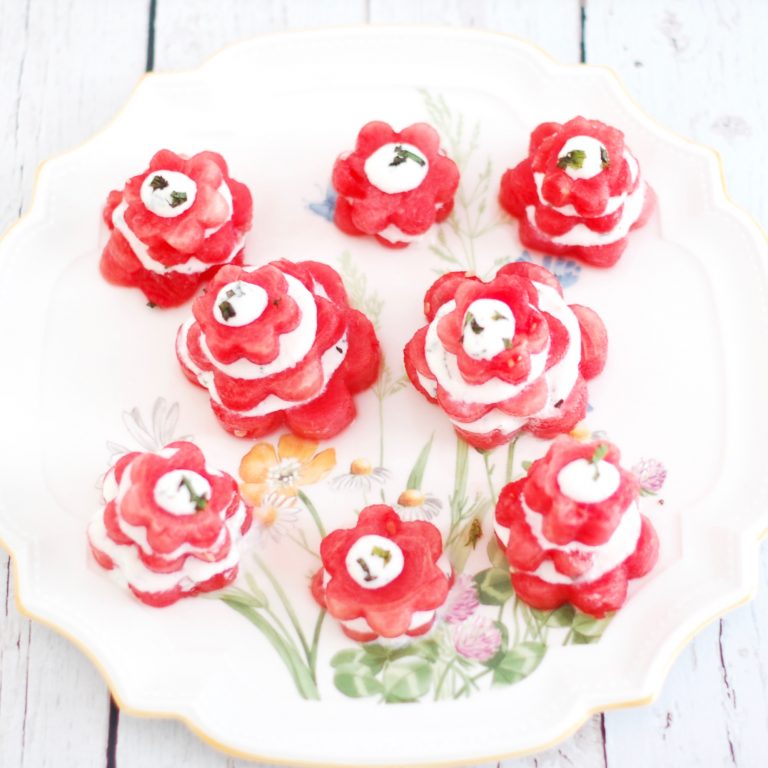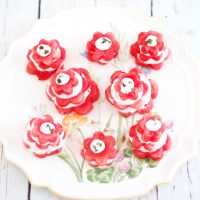 Watermelon & Lemon Mint Ricotta Stacks
Creamy and zesty lemon mint ricotta is sandwiched between stacks of watermelon flowers for a festive, nutritious and delicious summer appetizer or hors d'oeuvres.
Ingredients
Watermelon,

cut into 1-inch thick slabs

1/2

cup

part-skim ricotta cheese

1/2

teaspoon

lemon zest

1

tablespoon

lemon juice

2

teaspoons

chopped mint,

plus more for garnish

1/8

teaspoon

Kosher salt

Freshly ground pepper,

to taste
Instructions
Using flower cookie cutters of three different sizes, cut watermelon into flowers. Towel dry watermelon pieces to eliminate excess moisture.

In a small bowl, mix ricotta, lemon zest and juice, mint, salt, and pepper, to taste.

Spoon a dollop of the lemon mint ricotta on the largest size watermelon flower. Top with next largest watermelon flower. Add another dollop of ricotta mixture and top with smallest watermelon flower. Top with a final dollop of ricotta mixture.

Repeat with remaining watermelon flowers. Arrange watermelon stacks on a serving platter and sprinkle with chopped mint.

Do you get artistic in the kitchen?
What's your favorite summer fruit or vegetable to play with in the kitchen?
Share with me in the comments below!