DIY Sausage & Hot Dog Slider Bar
June 25, 2019
Have a little DIY fun at your next backyard barbecue by adding a sausage and hot dog slider bar with all the fixings!
This post was written in partnership with The North American Meat Institute (NAMI) a contractor of the Beef Checkoff. As always, I only work with brands and organizations that I believe in and all opinions are my own.
Summer barbecue season is here, and that means burgers and hot dogs may be on your menu a little more frequently than the rest of the year. Am I right?!
A few weeks ago my family hosted our first barbecue of the season. Our backyard was filled with kids running around, blowing bubbles, and playing cornhole, while the adults sat on the patio talking and relaxing with Spicy Strawberry Rhubarb Margaritas in hand.
Of course there was lots of food to go around. The main course included burgers and grilled chicken, strawberry arugula salad, roasted cherry farro, and roasted crispy potatoes. But before we could even get to that, we had the usual bowls of chips and guacamole, a vegetable graze board served with hummus and garlic dip, and a new addition to this year's BBQ: a sausage and hot dog slider bar.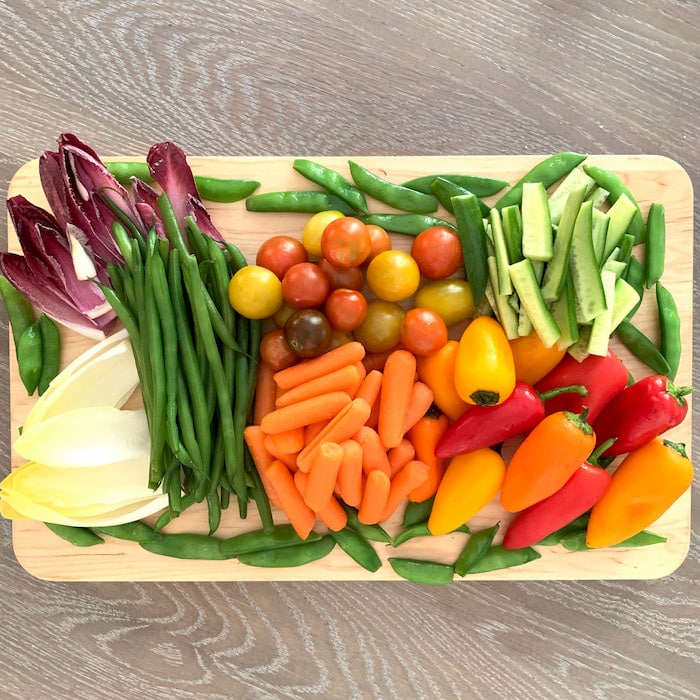 Hot Dog Myths
In my family growing up, Memorial Day Weekend marked the inaugural grilled hot dog of the season. I recall my mother's excitement to bite into her first hot dog with all the fixings. Unlike grilled chicken or hamburgers, hot dogs weren't on the menu on a regular basis – after all they're not the healthiest choice, right?!
If you follow me on Facebook, you may have seen my recent post asking for your opinions on hot dogs. Of the people who commented, it was a pretty even split between "yay" and "nay" for eating hot dogs. For those who said "nay," I received a variety of responses about why not, including:
"They're full of unknown animal parts"
"I don't feel they're a very healthy option"
"Too many nitrates and fat"
"They're too processed"
I'll be honest with you – I haven't always been the biggest proponent of hot dogs, and I rarely served them to my daughters. But after years of hearing from food and nutrition experts and reading the research, I have learned that a lot of people's concerns about hot dogs are actually just myths. So just in time for barbecue season, I want to set the record straight and share some facts about hot dogs and processed meats.
5 Facts About Processed Meats
There's a lot to talk about on the topic of beef, processed meats, and health, but in my opinion these five facts are the most important to know.
1. "Processed" means prepared.
Canned beans, shredded carrots, and pre-spiralized zoodles are all staples in my kitchen. They are also just a few examples of healthy, processed food. Prepared meats are another.
All meat must be prepared, aka "processed," before it is eaten. A raw, uncooked steak is minimally processed, whereas beef jerky, deli meats, and hot dogs are further processed through salting, curing, smoking, or cooking. This processing may be done in a plant, but it's no different than what you would do to make the same end product at home.
2. All ingredients must be listed on the package.
The USDA requires hot dog manufacturers to declare the ingredients on the package. If organ meats or other meats are included, there must be a statement that says "with variety meats" or "with meat by-products." The manufacturer must then specify which variety meat is included. Just as with any other packaged (aka processed) food you buy, it's important to read the ingredients and not solely rely on front of package labeling. Take a look at this video from the National Hot Dog & Sausage Council to see firsthand how hot dogs are made. And if you're not sure what some of the common hot dog ingredients are used for, check out this guide.
3. Nitrates are naturally occurring.
Approximately 80-85% of nitrates come from raw vegetables; other dietary sources come from fruits, cereal, water, cured meats, and therapeutic treatments. (source) The reason nitrates are added? They're used in the process of curing beef and also act as a preservative, slowing bacterial growth and reducing food spoilage. In order to ease consumer fears, many meat manufacturers make claims that their products are "nitrate and nitrite free" and "uncured." However, if you take a close look at the ingredients list you will very often see the addition of celery salt, which is naturally high in nitrate.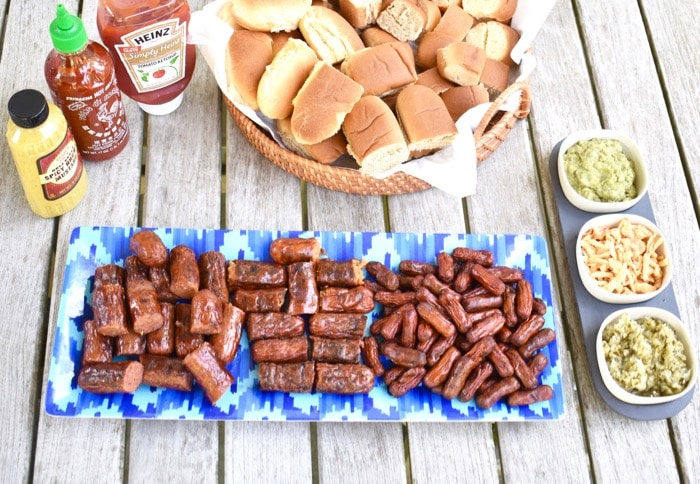 4. There's something for everyone.
It is now relatively easy to find reduced fat, low-sodium, kosher, and organic hot dogs and other prepared meats. The American Heart Association even certifies prepared meats! Personally I buy kosher, reduced-sodium and fat all beef hot dogs, but you can search the NAMI's online product center to find the best products for your family.
5. Processed meats can be part of a healthy, balanced diet.
You may be surprised by this fact, but according to studies evaluated by the 2015 Dietary Guidelines Advisory Committee, followers of the highly regarded Mediterranean diet (the best overall diet according to U.S. News & World Report) eat two times as much red and processed meat than followers of USDA Food Patterns. (source) The key is eating processed meats in moderation and in combination with a variety of fruits and vegetables.
Making a Hot Dog Slider Bar
The sausage and hot dog slider bar was a great way to encourage enjoyment of these processed meats in moderation. Plus it was a lot of fun!
Besides hot dogs and sausages, I wanted to have various toppings so everyone could make his or her own slider. You can easily change up this list by what you like on your hot dogs – I'm thinking of adding pineapple salsa to the next one. This time around the slider bar had:
Reduced fat and sodium mini beef hot dogs (which are the perfect size for sliders)
Beef, chicken, and lamb sausages sliced into slider-size pieces
Whole wheat hot dog buns cut into slider-size pieces
Homemade pickle relish (pickles chopped in my food processor)
Crispy fried onions
Guacamole
Sriracha
Ketchup and mustard
With the addition of my veggie graze board, salads, and plant-based dips, everyone was able to enjoy the start of the summer hot dog season with a balanced plate in hand.
Are hot dogs a summer barbecue staple in your house?
What would you include on your hot dog slider bar?
Share with me in the comments below!