Caramel Corn Frozen Yogurt
September 13, 2017
Enjoy what's left of summer sweet corn with a scoop of this Caramel Corn Frozen Yogurt (a great example of how sweet doesn't have to mean a lot of calories from added sugar)!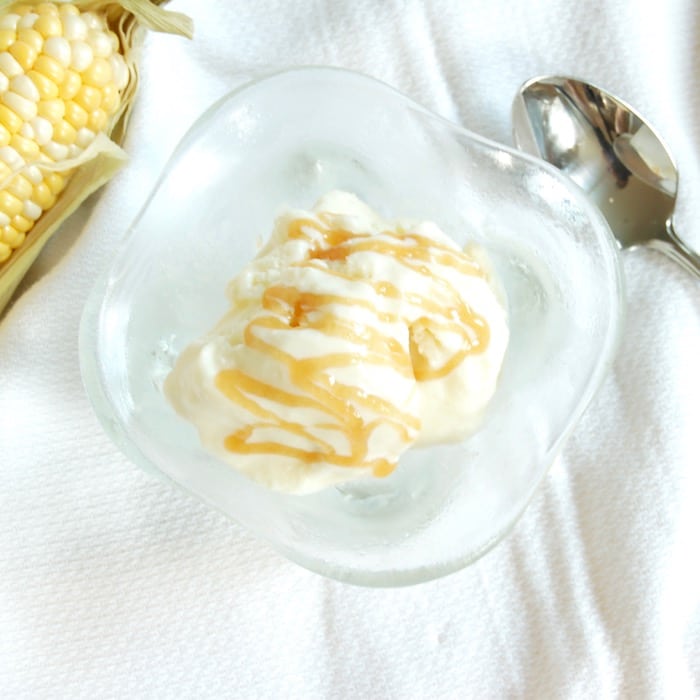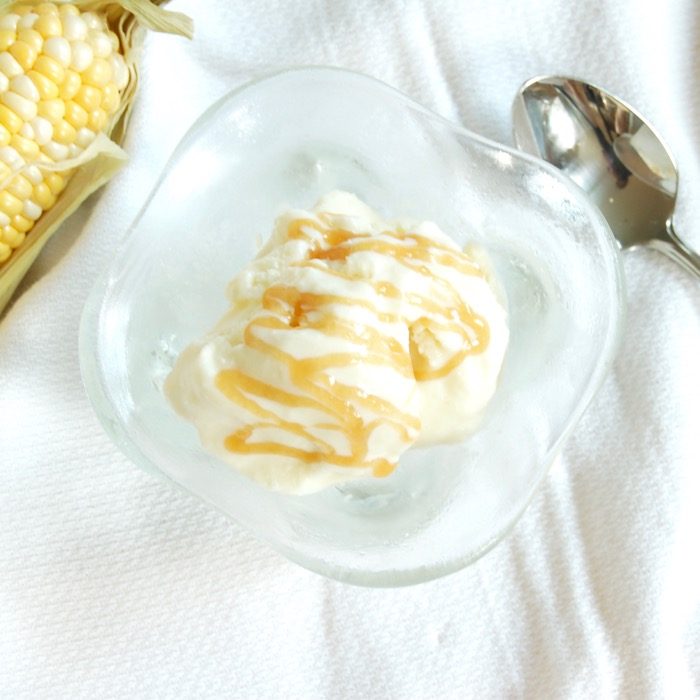 This post was sponsored by SPLENDA® Brand as part of an ongoing partnership. I only work with brands and organizations that I believe in and as always all opinions are my own.
The unofficial end of summer may have passed with Labor Day weekend, but that doesn't mean we won't be enjoying the fruits and vegetables of the season for a little while longer. That's especially true now that I have some of this Caramel Corn Frozen Yogurt in my freezer!
While frozen corn is a staple in my freezer all year long, nothing beats the fresh sweet corn we enjoy during the summer, especially late July through early September, which is the height of the corn season. There's no shortage of corn recipes made in my kitchen (Corn & Basil Cakes, Mexican Street Corn Salad, and Steak Tacos with Nectarine Corn Salsa are just a few). So as I was looking at a bunch of corn cobs sitting in my produce drawer, I started thinking about what else I could make with this delicious sweet corn before summer ends. The idea of caramel corn frozen yogurt came into my head and I set out to make it happen.
I don't have an ice cream maker, but I have seen plenty of ice cream recipes made in loaf pans and after a few tries I got the result I wanted – a light dessert that satisfied my sweet tooth while highlighting the flavors of the season. And even better, I discovered a way to enjoy one of my favorite treats, caramel popcorn, with less sugar! #Winning
Ingredients & Preparation
The two stars of this Caramel Corn Frozen Yogurt are caramel and corn. I for one love caramel – it's delicious on pretty much anything – but classic caramel made with heavy cream, butter, and sugar is high in calories, fat, and added sugar.
I've tried making caramel with sugar substitutes before, but they just didn't caramelize in the same way granulated sugar does. Until now.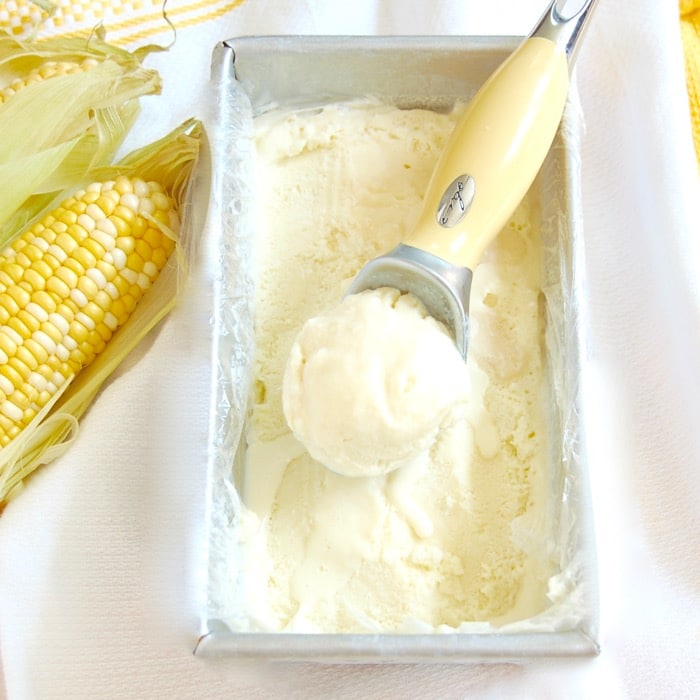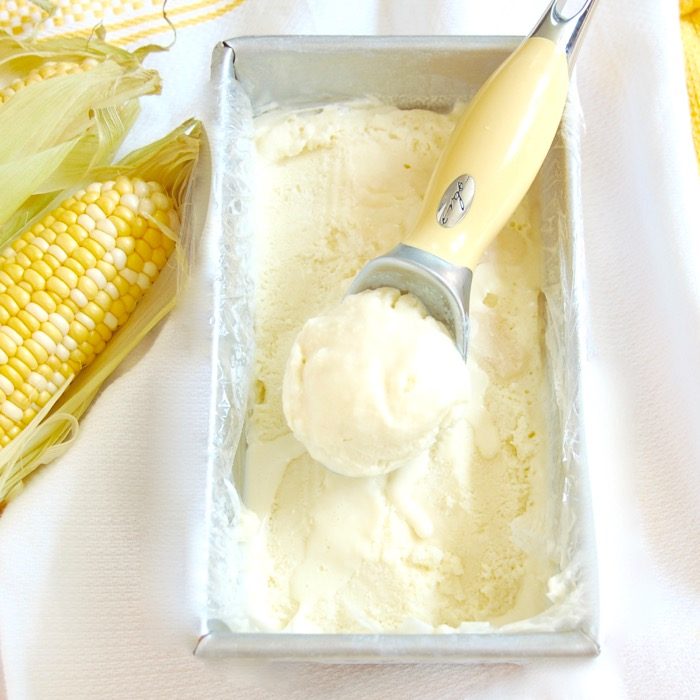 The latest addition to SPLENDA® Brand's Sweetener Products is the SPLENDA® Naturals Sugar & Stevia Blend – a blend of pure cane sugar and stevia leaf extract, with no bitter aftertaste.
There are a few reasons I love this SPLENDA® Naturals Sugar & Stevia Blend product, starting with the fact that it looks and acts like sugar, which is why I was able to make this smooth, sticky, and creamy caramel sauce with a perfectly golden brown color.
I also love that you can use half as much of the blend as you would use of sugar and still get the same sweetness for only half the calories and carbohydrate per serving. So if you normally add half a cup of sugar to your dessert recipe, you can replace it with 1/4-cup of the SPLENDA® Naturals Sugar & Stevia Blend and get the same amount of sweetness. For someone like me who has a major sweet tooth, this is a great way to reduce the amount of added sugar in your diet.
To reduce the calories of my caramel sauce some more, I replaced heavy cream with canned evaporated skim milk, which is creamier and denser than regular milk, and also adds to the caramelized color and flavor of the sauce.
The key to making caramel sauce is to have all your ingredients ready at your fingertips, keep your eye on the pot, and work quickly. If you take those three factors into account, you'll see just how easy it is to make your own caramel sauce at home.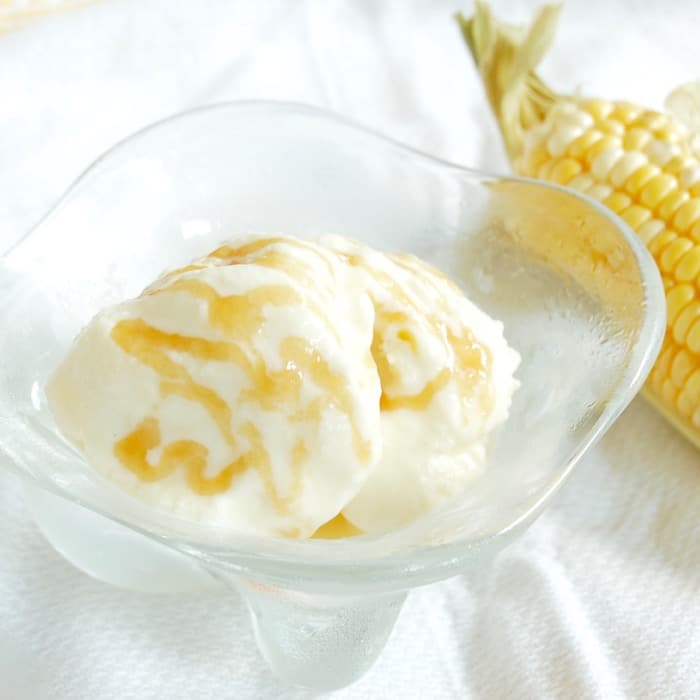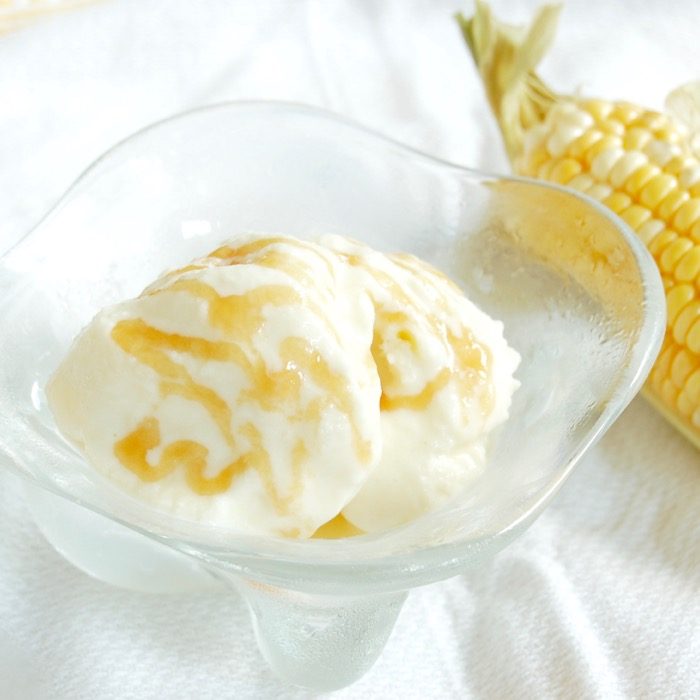 Now for the second star of this Caramel Corn Frozen Yogurt: the corn. I don't think anyone would say that caramel popcorn tastes like fresh corn, but I wanted this recipe to be a fun play on the overly sweet candied popcorn that I can never seem to put down if placed in front of me.
To keep the true corn flavor, I simmered and steeped fresh corn kernels and the cobs in whole milk before pureeing and straining the mixture. What's left is a sweet corn-infused milk that gets blended with thick and tangy nonfat Greek yogurt, a bit of creamy lite coconut milk, vanilla extract, SPLENDA® Naturals Stevia Sweetener (jar canister), and some kosher salt to balance out the sweet and tart flavors.
I used a combination of whole and nonfat milk products to keep the fat content down, while preventing the frozen yogurt from getting too icy. I used SPLENDA® Naturals Stevia Sweetener, Table Top Jar, which has no calories and no bitter aftertaste.
The role of sugar in the frozen yogurt is to sweeten, so I didn't need a sweetener that has other functional properties. That made SPLENDA® Naturals Stevia Sweetener, Table Top Jar, a perfect sugar substitute to reduce the amount of added sugar in my frozen yogurt.
The trick to ending up with a creamy, rather than icy, frozen yogurt, is to occasionally stir the frozen yogurt mixture for the first couple of hours of freezing. When the frozen yogurt can still be mixed but is getting a little firmer, you want to swirl in about a tablespoon of your cooled caramel sauce and then let the frozen yogurt finish freezing completely.
When it's time to serve this sweet and creamy Caramel Corn Frozen Yogurt, be sure to take it out of the freezer about 15 minutes in advance. This will give it time to soften before you scoop it into bowls or a crunchy cone.
And don't forget about that extra little drizzle of caramel sauce on top!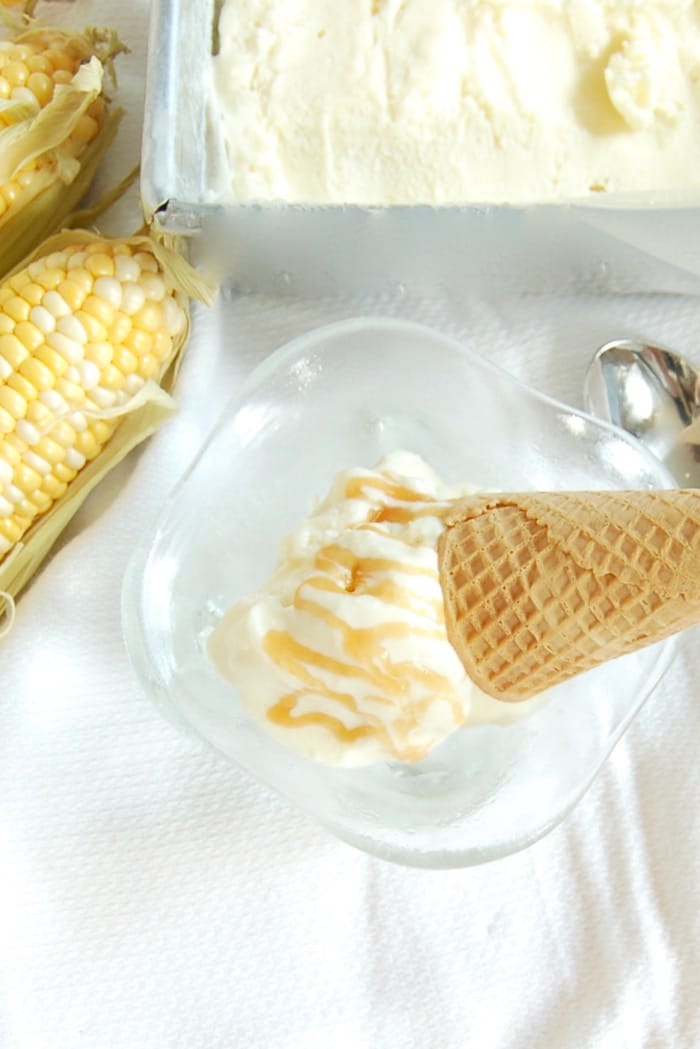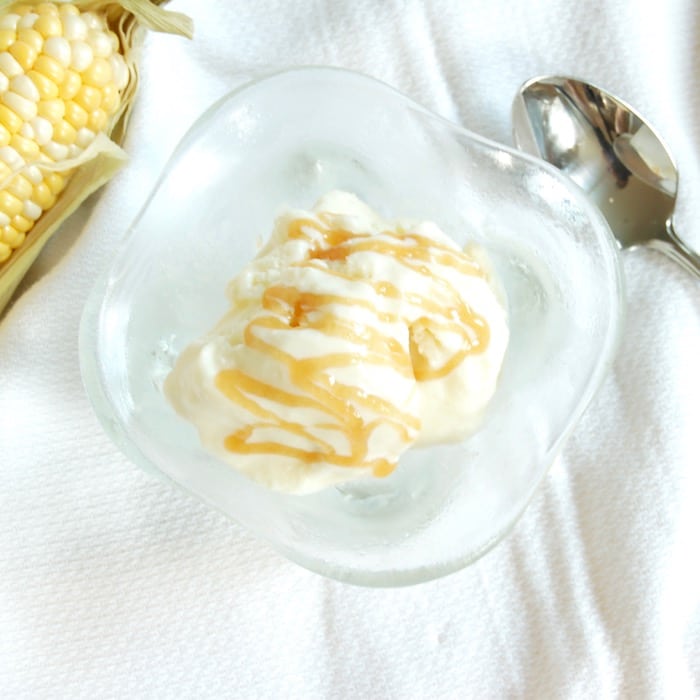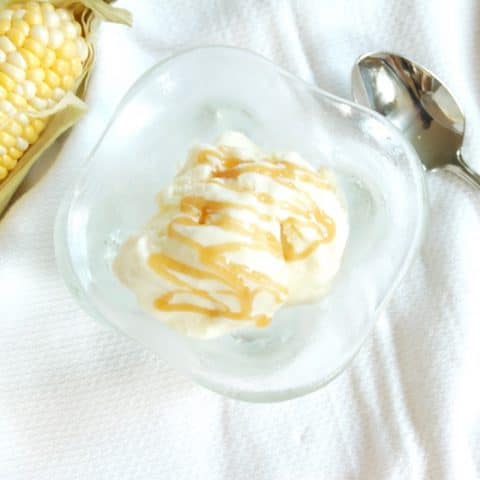 Caramel Corn Frozen Yogurt
This caramel corn frozen yogurt is a delicious way to enjoy the flavor of sweet summer corn throughout the year.
Ingredients
For the caramel sauce: (makes 1/4 cup)
1/4 cup SPLENDA® Naturals Sugar & Stevia Sweetener Blend
1 tablespoon water
1/4 cup evaporated skim milk
1 tablespoon butter , (or butter substitute)
For the frozen yogurt:
1 cup fresh corn and reserved cob , (~ 1 large ear)
2 cups whole milk
1 cup plain, nonfat Greek yogurt
1/4 cup lite coconut milk
1/3 cup SPLENDA® Naturals Stevia Sweetener, Table Top Jar
2 teaspoons Kosher salt
1 teaspoon pure vanilla extract
1 teaspoon Caramel Sauce , (recipe above)
Caramel Sauce for serving, (optional)
Instructions
To make the caramel sauce:
In a small saucepan, combine SPLENDA® Naturals Sugar & Stevia Sweetener Blend and water over medium-high heat. Stir with a fork or small whisk until mixture comes to a boil, about 1 minute.
Reduce heat to low and simmer syrup for 3 minutes, swirling the pot occasionally to ensure even caramelization. Mixture will be very foamy, sticky, and white. Remove from heat.
Slowly add evaporated milk to the pot and whisk immediately.* Return pot to medium-low heat. Whisk in the butter and simmer for about 10 to 15 minutes, stirring occasionally until thickened.** Transfer caramel sauce to a glass bowl or mason jar to cool.
To make the frozen yogurt:
Line a one pound loaf pan with plastic wrap and place in the refrigerator to chill.
Combine corn kernels, corn cob, and milk in a medium saucepan over medium heat. When liquid starts to bubble around the edges reduce heat and simmer for 8 to 10 minutes. Remove from heat, cover, and steep for 30 minutes.
Transfer milk and corn to large, high-powered blender. Scrape cobs over blender to release remaining pulp and liquid from kernels. Discard cobs and puree milk and corn until smooth.
Strain corn puree over a bowl, pressing down to release as much liquid as possible. Discard solids and transfer liquid back to blender or food processor.
Add yogurt, coconut milk, 1/3 cup of SPLENDA® Naturals Stevia Sweetener, Table Top Jar, salt, and vanilla to blender and puree.
Pour yogurt mixture into chilled loaf pan and freeze, stirring every 20 minutes for 90 minutes to 2 hours.
Drizzle about 1 tablespoon of prepared caramel sauce over yogurt and use a butter knife to swirl it into the frozen yogurt. Freeze again for another 2 to 3 hours, until firm.
Remove frozen yogurt from the freezer to thaw for 10 to 15 minutes before scooping. Serve drizzled with caramel sauce.
Notes
Freeze time: 4 to 5 hours
*The addition of milk will make the syrup bubble up, so be sure to use caution when adding the milk.
** Caramel will continue to thicken once it's removed from the heat, so be sure not to overcook.
Caramel sauce can be made in advance and stored in the refrigerator for up to two months.Bring to room temperature before stirring into frozen yogurt.
NUTRITION INFO PER SERVING (1/2 cup frozen yogurt with ~1 teaspoon caramel sauce):
120 Calories, 4.5 g Total Fat, 2.5 g Saturated Fat, 0 g Trans Fat, 10 mg Cholesterol, 530 mg Sodium, 20 g Total Carbohydrate, 0 g Dietary Fiber, 12 g Sugar, 6 g Protein, 4% Vitamin A, 2% Vitamin C, 10% Calcium, 0% Iron
Nutrition Information:
Yield:

8
Serving Size:

8 Servings
Amount Per Serving:
Calories:

120
Have you ever had corn frozen yogurt or ice cream?
Is this a flavor you would try?
Share with me in the comments below!