Strawberry Rhubarb Crisp + Tips for Managing Added Sugar
May 9, 2018
Get tips for managing added sugar this summer and enjoy a lower-sugar version of one of summer's quintessential desserts, Strawberry Rhubarb Crisp.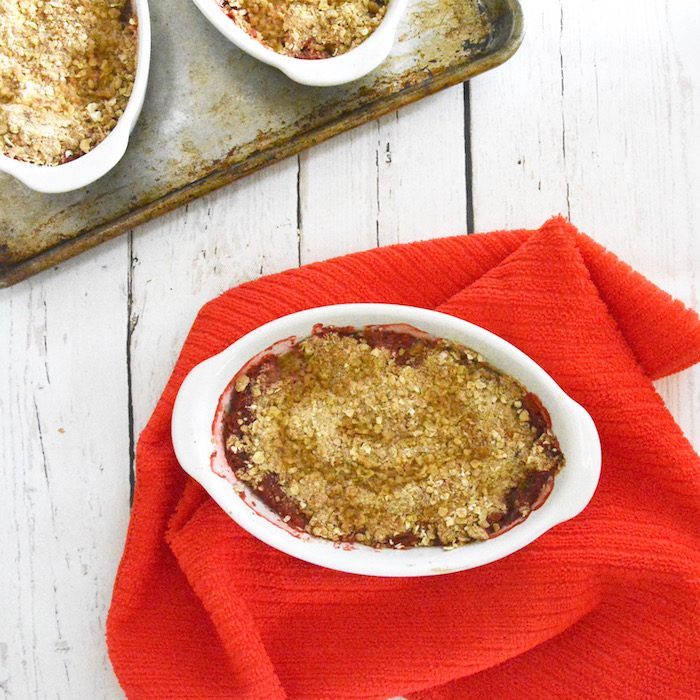 This post was sponsored by SPLENDA® Brand as part of an ongoing partnership. I only work with brands and organizations that I believe in and as always all opinions are my own. This page also contains affiliate links. See below for full disclosure statement.
With Memorial Day Weekend just a few weeks away and the start of summer closely behind it, the season of backyard barbecues and jingling ice cream trucks is almost here.
I know for my family – and many others – that means the kids will be eating lots of ice pops and ice cream cones and my hubby and I will be drinking more refreshing cocktails. It's all good when we consume it in moderation, but a concern with all these extra treats is the added sugar we'll be taking in at the same time.
Before I get to the delicious Strawberry Rhubarb Crisp you're eyeing, which happens to be lower in added sugar, I wanted to give a little nutrition info about sugar.
Different Types of Sugar
The topic of sugar is a confusing one for many people and it's often the subject of media headlines about food and nutrition these days. According to the International Food Information Council (IFIC) 2017 Food & Health Survey, 11 percent of people said they were trying to limit the amount of sugar in their diet, and 65 percent said they were trying to eliminate sugar completely.
While it may seem like a noble goal to completely eradicate sugar from our diets, the reality is that few can achieve it, nor is it necessary.
Before you get too confused, let me explain the difference between naturally occurring sugar and added sugar:
Naturally occurring sugars are found in fruit, vegetables, and dairy products like plain yogurt and milk. Clearly these are healthy foods that provide a variety of other nutrients and should not be eliminated from the diet.
Added sugars are the ones added to foods during cooking and processing. For example, the honey you drizzle on top of your morning oatmeal and the cane sugar in your favorite bakery cookie are both forms of added sugar. While a little bit of these added sugars adds sweetness to recipes and can even help people enjoy healthy foods they may not otherwise consume, too much added sugar is a problem.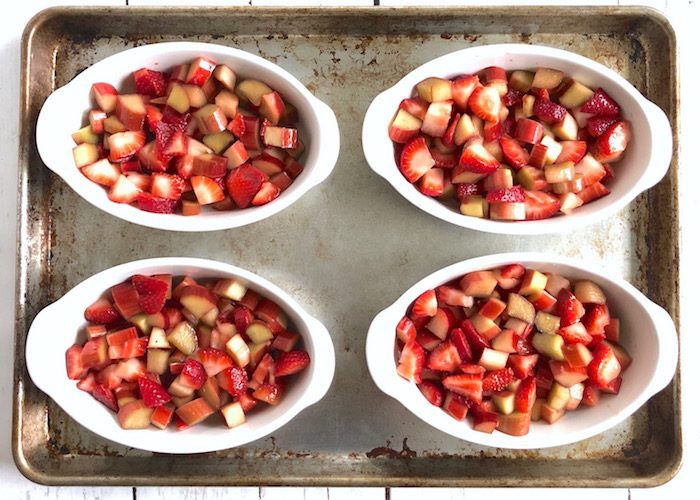 Currently when you look at the Nutrition Facts Panel on packaged food there's no way to know how much of the total sugar listed under carbohydrates is natural or added. Thankfully that will soon be changing once the panel is updated (likely in 2020) and "added sugars" will be included. You may already see some brands with those labels, but in the meantime, there are ways you can determine where you're getting your added sugars and learn to manage them better.
Managing Added Sugars
When it comes to finding sources of added sugar, I recommend the following:
Read the ingredients list. Look out for sources of added sugar, such as honey, brown rice syrup, agave, evaporated cane juice, fruit juice concentrate, and corn syrup.
Do not rely solely on claims. With the popularity of keto and paleo diets some packaged foods and recipes are inaccurately making claims of "no refined sugar," "no-added sugar," and "sugar free." Coconut sugar, honey, and maple syrup may seem like more "natural" sources of sugar, but they are still added sugars. And as far as your body is concerned, sugar is sugar is sugar.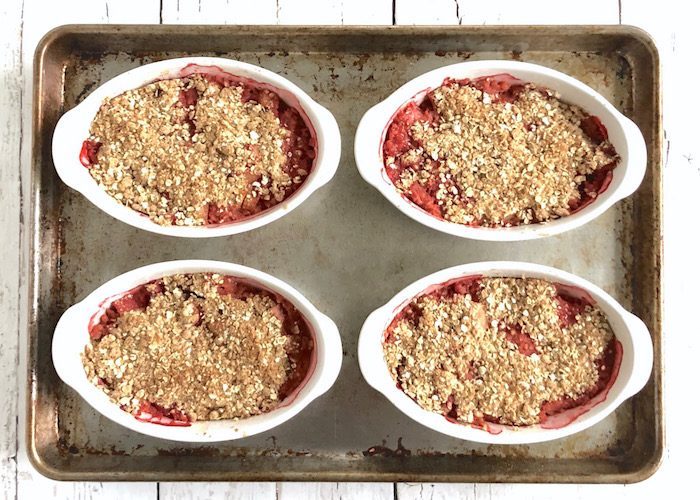 As for managing added sugars, here are a few of my top tips:
Rely on in-season fruit as a natural source of sweetness. For example, strawberries in the spring and summer are a lot sweeter and more flavorful than the ones you'll find in the winter.
Bring out flavor and sweetness by roasting fruits and vegetables. Roasting at a high temperature brings out the natural sugars in vegetables, which is what causes that caramelization you enjoy so much. While most in-season fruit doesn't need help in the sweetness department, if it does, or if you are using frozen fruit, roasting like I do in my Roasted Cherry Farro Salad is a great way to boost the flavor.
Add flavor to your drinks with fruit, veggies, and fresh herbs. A couple of slices of cucumber, a wedge of lemon, or a few sprigs of mint can do a lot to boost the flavor of water without added calories or sugar. This is especially important for juice and soda fanatics, including kids. Get some more tips for cutting back on sugary drinks here.
Cook and bake with natural sweeteners like stevia. Over the past year, I have been using SPLENDA® Naturals Stevia Sweeteners in my cooking and baking to add sweetness without all the added sugar and without the bitter aftertaste found in other stevia sweeteners. SPLENDA® Naturals Stevia Sweetener can be used just about anywhere you would use sugar, making it a great sweetening option for a variety of desserts and baked goods. A half cup of SPLENDA® Naturals Stevia Sweetener, Jar replaces a full cup of sugar.
Pay attention to portion size and enjoy all foods in moderation. When it comes to foods with added sugar, stick to one serving or share with a friend.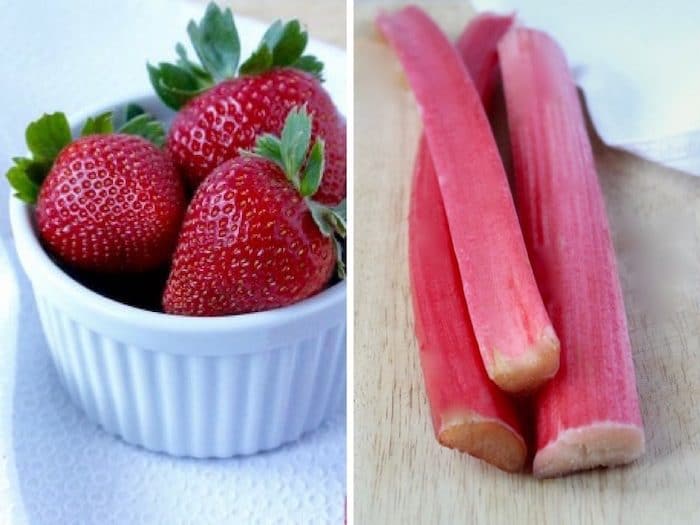 Strawberry Rhubarb Crisp for Two
The last two tips for managing added sugars bring us to this delicious strawberry rhubarb crisp you've been drooling over. Strawberries and rhubarb are two of my favorite foods in the spring, and they're often found together because rhubarb is a naturally tart vegetable (yes, it's a veggie, not a fruit) that needs the boost of sweeter strawberries to appeal to most palates.
In addition to naturally sweet strawberries, most strawberry rhubarb recipes call for sugar (case in point with these Spicy Strawberry Rhubarb Margaritas). To make the Strawberry Rhubarb Crisp lower in sugar I used SPLENDA® Naturals Stevia Sweetener in both the berry/rhubarb mixture and the crisp topping.
Rather than making one big crisp that could lead to larger than desired portions, I make these crisps in au-gratin or crème brûlée dishes, which are the perfect size for serving two people. You can easily make this recipe in individual ramekins as well, but it's so much more fun sharing dessert with someone else, isn't it?!
Traditionally crisps are served with a scoop of vanilla ice cream, but keep in mind that will increase your added sugar intake. It may be worth the splurge, but I'll leave that decision to you!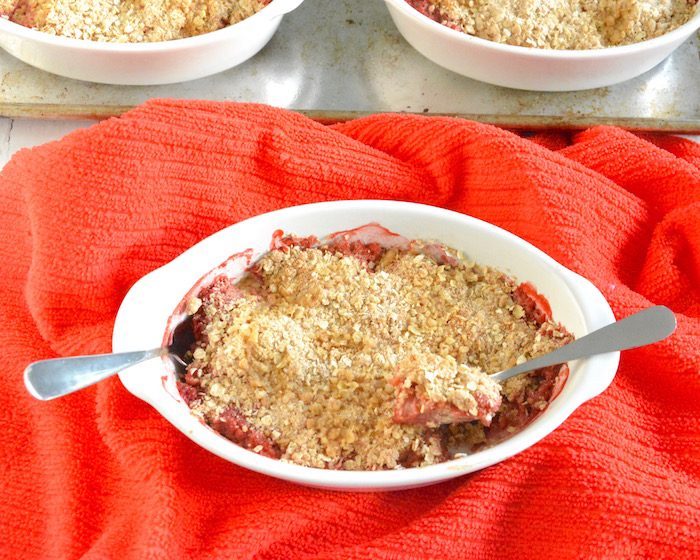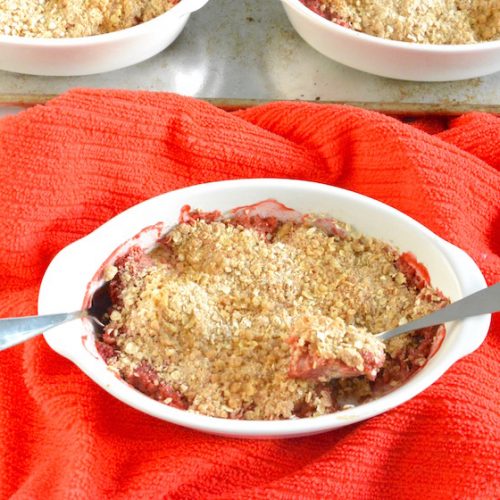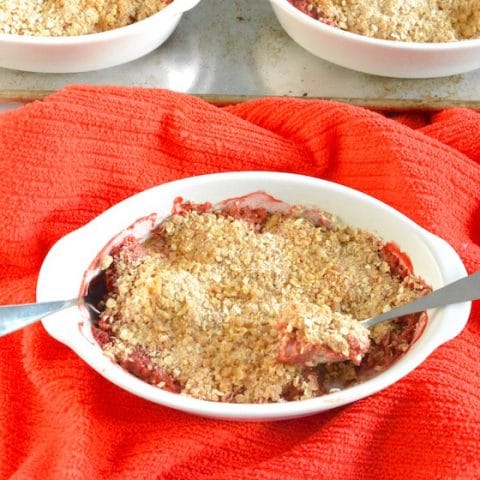 Strawberry Rhubarb Crisp
Strawberry rhubarb crisp is a quintessential summer dessert. Enjoy a healthier, lower-sugar version made with whole grains and Stevia sweetener in place of added sugar.
Ingredients
1 pound strawberries, chopped, (~3-4 cups)
1 pound rhubarb stalks, chopped, (~3-4 cups)
2 tablespoons SPLENDA® Naturals Stevia Sweetener, Jar
1 tablespoon lemon juice
1 teaspoon pure vanilla extract
Topping:
1 cup quick cooking rolled oats
1/2 cup white whole wheat flour
1/4 cup SPLENDA® Naturals Stevia Sweetener, Jar
1 teaspoon ground cinnamon
1/2 teaspoon ground ginger
1/4 teaspoon Kosher salt
1/4 cup vegan butter or buttery spread
Instructions
Preheat oven to 375° F. Coat four 8-ounce au-gratin or crème brûlée dishes with cooking spray and set aside. (Alternatively, you can use eight 4-ounce individual ramekins.)
In a medium bowl, toss chopped strawberries and rhubarb with SPLENDA® Naturals Stevia Sweetener, lemon juice, and vanilla. Let stand for 10 to 15 minutes, stirring occasionally.
To make the crisp topping, in a medium bowl, combine the oats, flour, SPLENDA® Naturals Stevia Sweetener, cinnamon, ginger, and salt. Add the vegan butter or vegan buttery spread and mix together, using a pastry cutter or your hands, until mixture resembles a crumb topping.
Evenly distribute the strawberry rhubarb mixture into the prepared ramekins and evenly sprinkle the crisp topping over the fruit.
Place the filled dishes on a baking sheet and bake in the preheated oven for 30 to 35 minutes until the berries are bubbly and the crisp topping is lightly browned. Let sit for 5 to 10 minutes before serving.
Notes
Nutrition Info Per Serving (each ramekin serves 2 people):
150 calories, 7 g total fat, 2 g saturated fat, 0 g trans fat, 0 mg cholesterol, 125 mg sodium, 27 g total carbohydrates, 4 g dietary fiber, 4 g sugar, 3 g protein, 6% vitamin A, 60% vitamin C, 6% calcium, 8% iron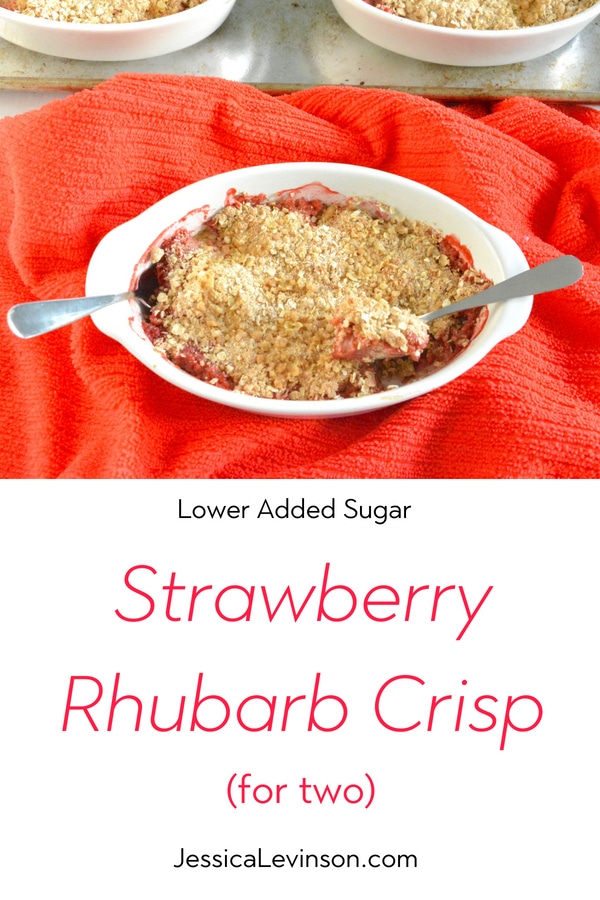 Do you have a sweet tooth?
How will you manage added sugar this summer?
Share with me in the comments below!
Disclosure: This page contains affiliate links. If you purchase products through these links, your cost will be the same but I will receive a small commission to help with operating costs of this blog. As always, all thoughts and opinions are my own and I only recommend products I truly believe in.