Soy-Marinated Steak Tacos with Nectarine Corn Salsa
August 6, 2015
Enjoy the nutrition and health benefits of lean beef with these juicy soy-marinated steak tacos topped with a colorful and nutritious nectarine corn salsa brimming with the flavors of summer.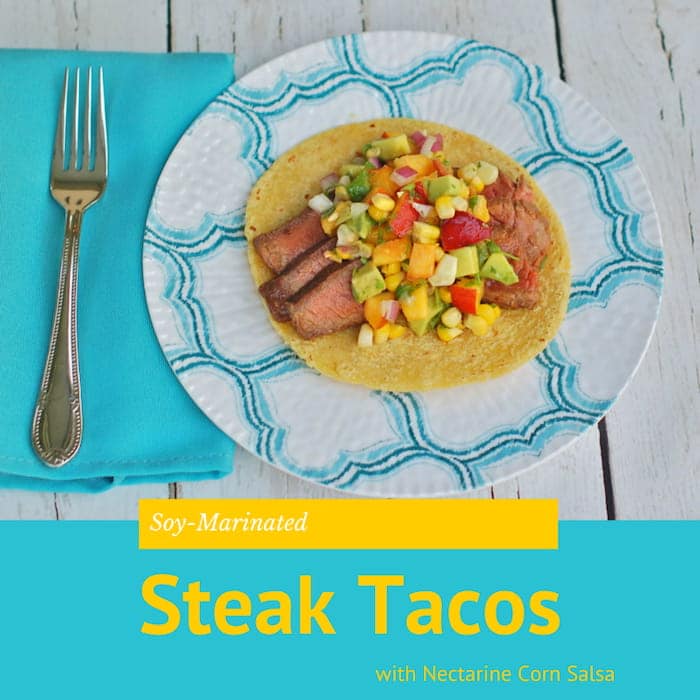 By posting this recipe I am entering a recipe contest sponsored by The Beef Checkoff and am eligible to win prizes associated with the contest. I was not compensated for my time.
If you follow my weekly menu plans you'll see we have beef for dinner at least once every week or two. A beef-eating registered dietitian nutritionist may seem contrary to everything you have thought about nutrition, but that's where you'd be wrong. And that's why I share my menu plans, my recipes, and the science of nutrition – to show and inspire everyday people who are working hard to make healthy choices that all foods can fit into a balanced, nutritious diet. And let's not forget the delicious part too.
This month The Recipe ReDux teamed up with the Beef Checkoff for a sponsored recipe contest to highlight all the nutritious and delicious ways lean beef can be part of a healthy diet and to share some of the latest research about the benefits of beef. Just a few months ago in honor of National Heart Health Month I shared my recipe for Hearty Beef & Vegetable Stew and included some of this research. You can head on over to that post to refresh your memory, and here are some additional tidbits for you:
A 3-ounce serving of lean beef provides 25 grams of protein and 10 essential nutrients, including iron, vitamin B12, and zinc.
Research shows that consumption of high-quality protein (like beef) within calorie goals supports a healthy metabolism and assists with weight loss and maintenance of a healthy weight.
Benefits of eating protein include feeling satisfied after a protein-packed meal (which helps reduce mindless eating), building muscle and reducing body fat.
Emerging research indicates that evenly distributing daily protein intake at meals and snacks throughout the day (~20 to 30g/eating occasion) may potentially contribute to benefits for body weight management and appetite control.
You can see there are many great reasons to enjoy lean beef, and today I have another one: these juicy steak tacos made with flank steak (also sold as london broil) and topped with a nectarine corn salsa that is bursting with flavor, color, and all the goodness of summer!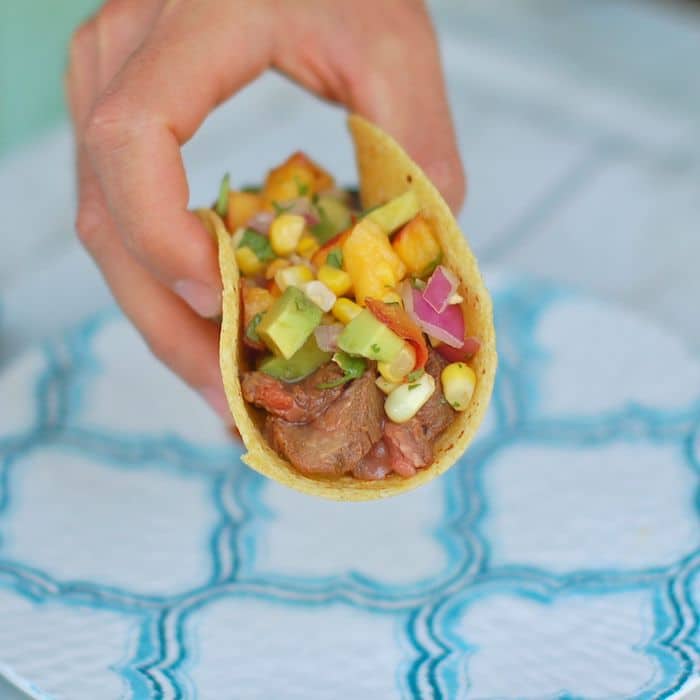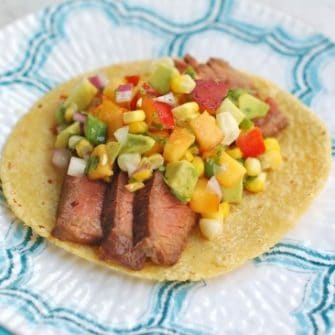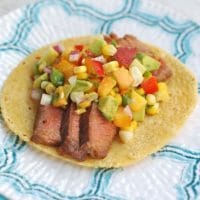 Soy-Marinated Steak Tacos with Nectarine Corn Salsa
Enjoy the nutrition and health benefits of lean beef with this juicy soy-marinated steak taco topped with a colorful and nutritious nectarine corn salsa brimming with the flavors of summer.
Ingredients
Soy-Marinated Steak:
1/2 cup reduced-sodium soy sauce, or Tamari to make it gluten free
2 tablespoons packed brown sugar
1 1/2 tablespoons cider vinegar
1 teaspoon Worcestershire sauce
1 teaspoon Dijon mustard
1 1/2 teaspoons unseasoned rice vinegar
1 1/2 teaspoons mirin
1 clove garlic, minced
1 pound flank steak
Nectarine Corn Salsa:
3 nectarines, diced (~1 1/2 cups)
1 cup par-boiled corn, fresh off the cob or frozen
1/2 cup chopped red onion
1/2 cup diced avocado
2 tablespoons lime juice
1/3 cup chopped cilantro
1/4 teaspoon kosher salt
4 soft corn tortillas, 6-inch diameter
Instructions
In a measuring cup or medium bowl, whisk together all the marinade ingredients (soy sauce through garlic). Place steak in a resealable plastic bag and pour marinade over it. Refrigerate for at least 30 minutes and no longer than 24 hours.
Heat grill to about 500 degrees. Remove steak from bag and grill for about 6 minutes on each side for medium rare. Let rest about 5 minutes before slicing. (If you want additional sauce for the steak, pour marinade in a sauce pan, bring to a boil, reduce to simmer and set aside.)
In a medium bowl, toss all salsa ingredients together. Cover and refrigerate for about 30 minutes so flavors meld.
To serve tacos, lay about 3 slices of steak in the middle of a corn tortilla. Spoon salsa over steak, fold over and enjoy!
I served these steak tacos with my
Red Cabbage, Snap Pea, & Blueberry Salad
. What a meal it was!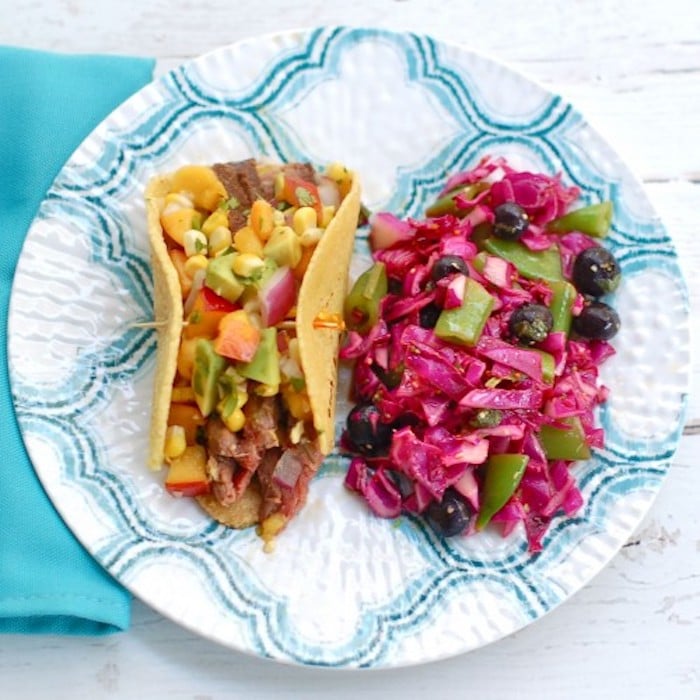 What's your favorite cut of beef?
Do you have a go-to beef recipe?
Share with me in the comments!