Lemon Poppy Seed Thumbprint Cookies
April 13, 2017
Welcome spring with this sweet and tangy Lemon Poppy Seed Thumbprint Cookie recipe bursting with bright flavor!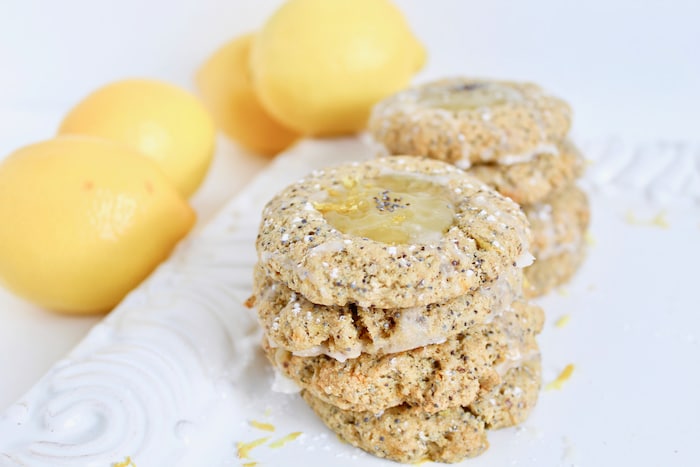 Today's post is written by Emily Cooper, a self-proclaimed "running, peanut butter lovin' registered dietitian in Portland, Maine" and blogger at Sinful Nutrition. I'm so excited to have her share her Lemon Poppy Seed Thumbprint Cookie recipe and a fun story about the inspiration behind it. Take it away Emily…
---
I don't know about you, but around here spring hasn't exactly sprung quite yet. Unless somehow snow showers bring May flowers nowadays, but as far as I'm concerned I am ready for some sunshine.
If the weather can't deliver yet, at least these lemon poppy seed cookies can. I grew up looking forward to slices of my nana's lemon poppy seed pound cake every year around this time, and biting into one of these thumbprint jewels brought me right back to the muddy sneakers and pastel dresses of my spring youth. The sneakers and the dress may or may not have been worn at the same time. This is what growing up with two older brothers does to you 🙂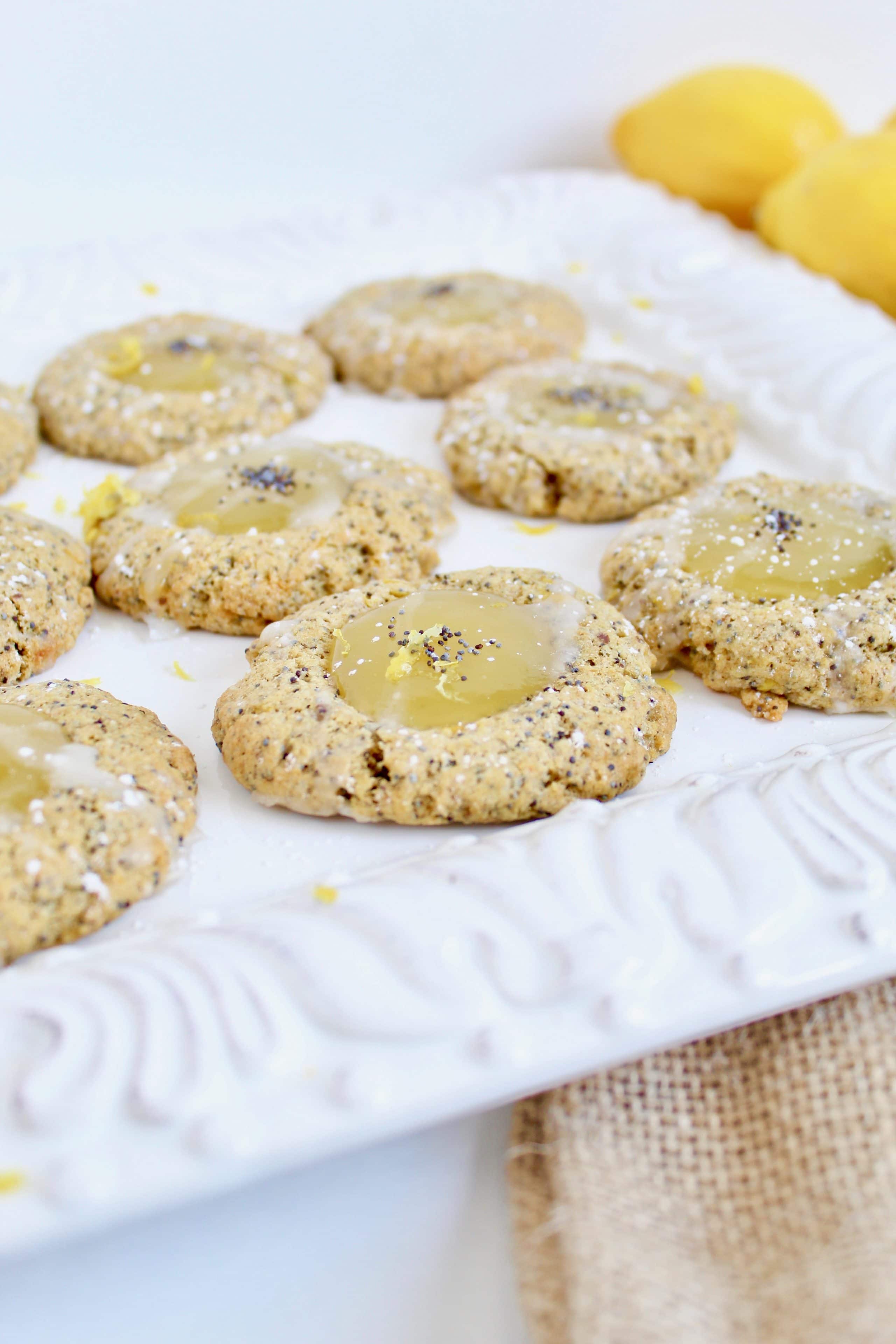 Ingredients & Preparation
Lemon to me just screams spring, and these cookies have plenty of that going on. Lemon juice, lemon zest, and the sweet and creamy tang of lemon curd. If you could capture spring sunshine in a jar, it would in fact be lemon curd.
If you've never had lemon curd before, it's almost like a lemon jam or jelly, but a lot creamier thanks to the fact that butter and eggs are added during the cooking process. You can find it at most grocery stores with all the other preserves, or if you're feeling adventurous and live where lemons are aplenty, you can make your own.
We can't forget the other half of this dynamic flavor duo, the poppy seeds! In addition to adding that tiny bit of crunch in every bite, poppy seeds are a great source of the minerals calcium, phosphorus, and zinc, which are great for building bone health and immunity. Who knew these tiny little seeds could pack so much nutrition in such a small package!
These thumbprint cookies are made a little healthier too since I used less sugar and butter, and whole grain white whole wheat flour instead of all purpose white flour for a little added boost of fiber. I'm pretty sure nana never used whole wheat flour in her pound cake.
If you're in need of a little brightness and sunshine this season, these cookies will certainly deliver!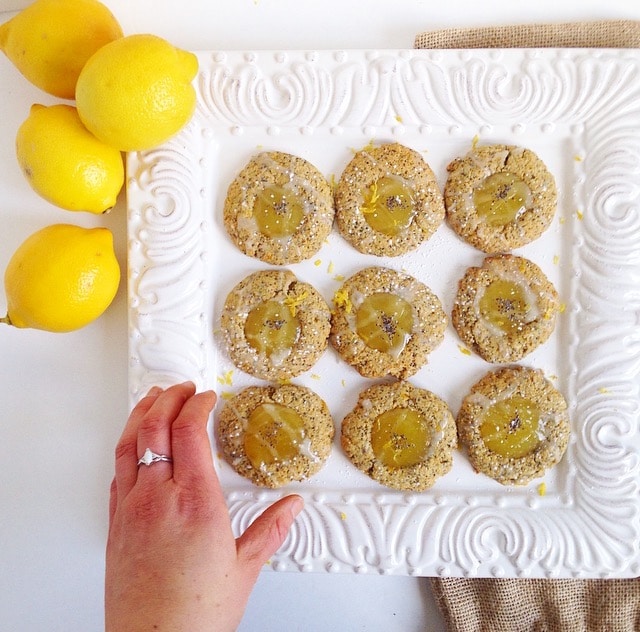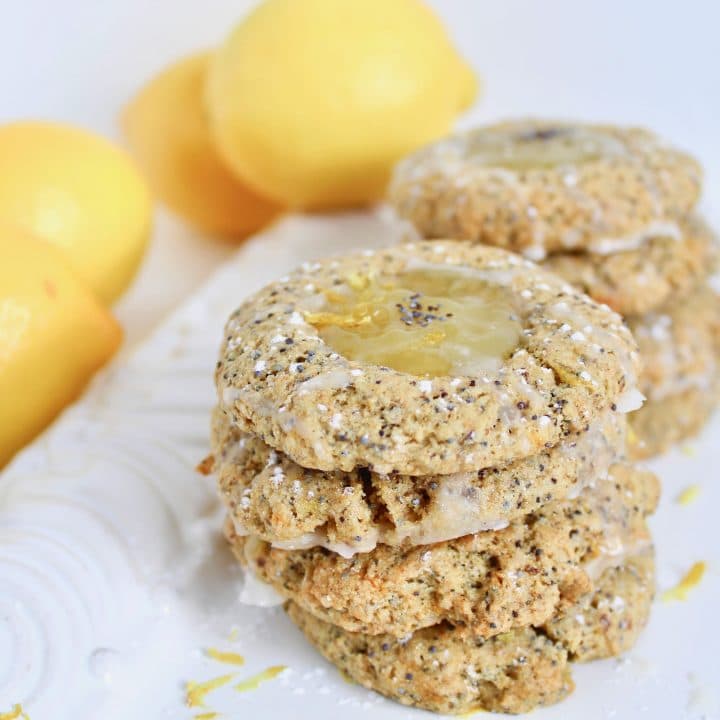 Lemon Poppy Seed Thumbprint Cookies
Welcome spring with these sweet and tangy Lemon Poppy Seed Thumbprint Cookies! Soft and chewy lemon poppy seed cookies are dolloped with zesty lemon curd and a simple glaze for the perfect springtime treat.
Vegetarian, Nut-Free, Kosher
Ingredients
For the Cookies:
1 cup white whole wheat flour
⅓ cup sugar
½ teaspoon baking soda
¼ teaspoon salt
2 tablespoons unsalted butter, softened
1 large egg
1 teaspoon vanilla extract
1 tablespoon fresh lemon juice
2 tablespoons low-fat milk
Zest from one lemon
1 1/2 tablespoons poppy seeds
For the Filling:
1/4 cup lemon curd
1 tablespoon lemon juice
For the Glaze:
1/4 cup powdered sugar
1 tablespoon lemon juice
Instructions
Preheat oven to 350°F. Line a baking sheet with parchment paper, or spray with non-stick cooking spray and set aside.
In a large bowl, mix together flour, sugar, baking soda, and salt.
Add softened butter, egg, vanilla, lemon juice, milk, lemon zest, and poppy seeds to flour. Stir to combine until dough forms.
Roll dough into 12 balls, and place each two inches apart on prepared baking sheet.
Gently flatten each cookie with fingers, and bake them in the oven for 7 to 8 minutes, or until slightly golden but still soft.
Remove cookies from oven and use a tablespoon to make an indentation in the middle of each cookie. Let cool for 5 minutes.
In a microwave-safe bowl, combine lemon curd and lemon juice. Microwave on high for 30 seconds, stir, and fill each cookie with 1 teaspoon of lemon curd.
In a separate bowl, whisk together powdered sugar and lemon juice. Add additional lemon juice if glaze is too thick. Drizzle glaze over cookies, and let dry on wire cooling rack for 10 minutes.
Store in an airtight container for up to 3 days.
Recommended Products
As an Amazon Associate and member of other affiliate programs, I earn from qualifying purchases.
What's your favorite springtime treat?
Do you have a favorite way to cook or bake with lemon?
Share with me in the comments section below!