Roasted Sweet Potato Salad with Honey-Lime Vinaigrette
April 21, 2018
Lighten up classic potato salad with roasted sweet potato salad tossed with cilantro, scallions, and a honey-lime vinaigrette.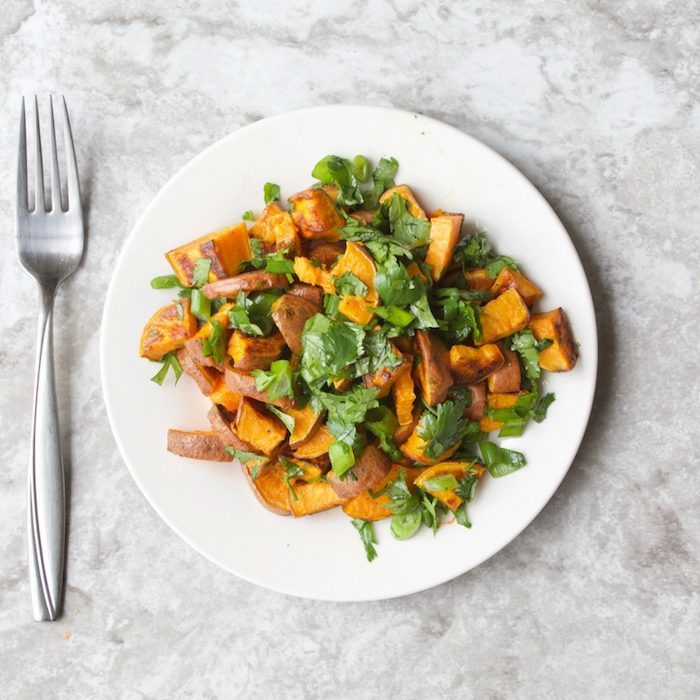 Roasted Sweet Potato Salad has been making an appearance on my menu plans for over five years, but it was high time I gave it a makeover here on the blog. Chances are you didn't even know this recipe existed since it's original posting dates back to 2013. So just in time for barbecue season, during which potato salad is a classic side dish to accompany hot dogs and burgers, here's the new and improved recipe.
Although we're still a couple months away from the summer barbecue season, this sweet potato salad is the perfect dish to bring on a spring picnic. It's delicious straight from the oven, but equally as good room temperature.
Sweet Potatoes All Year Round
It may seem a little peculiar to share a sweet potato recipe for the spring and summer months, seeing as root vegetables are at their prime during the fall and winter. But the thing is, sweet potatoes (or yams, as they are commonly labeled in supermarkets) are available all year long. And in my house, they are a side dish that gets asked for and eaten all year long.
At the moment, one of my daughters is going through some selective eating and roasted sweet potatoes are one of the view veggies she will happily consume, so I would be at a complete loss if I didn't make them all twelve months of the year!
Making Sweet Potato Salad
Making the salad is quite simple (did you see the video above?). You cube and roast the sweet potatoes (your choice whether you or not you peel them) and then toss them with chopped scallions, cilantro, and a light honey-lime vinaigrette. If the kids at your table aren't a fan of the garnishes, separate the roasted sweet potatoes into two bowls and toss one with only the vinaigrette or simply season the sweet potatoes with salt. More of the composed salad for you!
Personally I like to serve the dish as it is intended so that the kids are exposed to all the flavors – even if they pick the garnishes out and just eat the sweet potatoes. Exposure to new foods is a large part of how kids learn to broaden their palates, but I know cilantro can be a very divisive herb, so I'll grant you permission to withhold it if you must!
Serving Suggestions
I originally developed this recipe as a healthier alternative to the classic mayo-laden potato salad commonly served at my family's summer barbecues. Now this sweet potato salad plays a much larger role in my house than barbecue season. I often serve it warm from the oven as a side dish with my Miso-Glazed Chicken or Cilantro Lime Steak, but it is just as delicious added cold to a salad, grain bowl, or simply eaten on its own. (If I do the latter, I like to add a salty cheese like feta.)
Whether at your next picnic or summer barbecue, I hope you give this roasted sweet potato salad a try. And if you do, be sure to let me know how you like it in the comments below!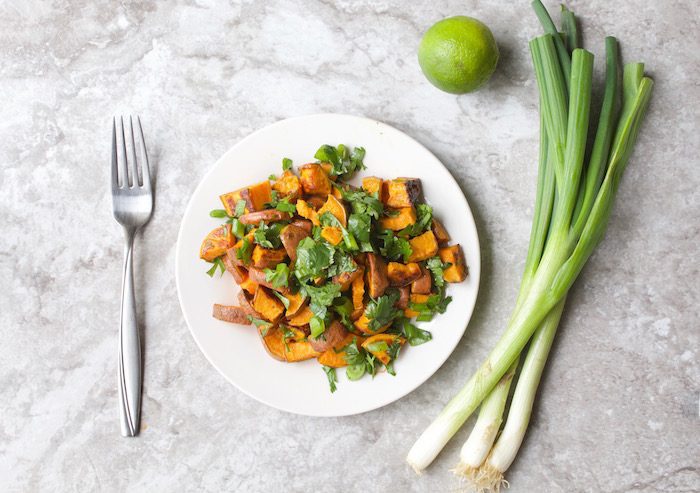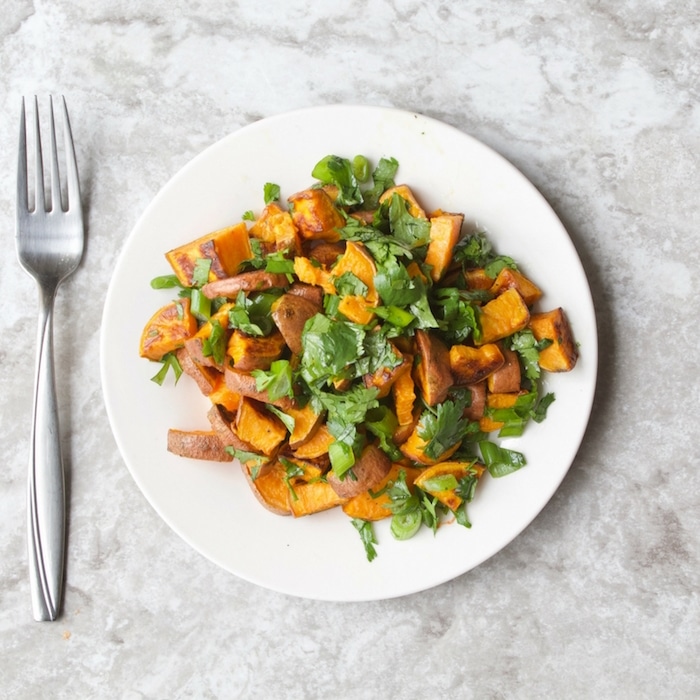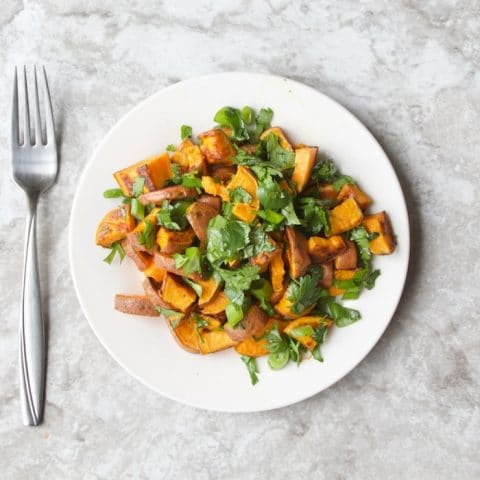 Roasted Sweet Potato Salad with Honey-Lime Vinaigrette
Lighten up classic potato salad with roasted sweet potato salad tossed with cilantro, scallions, and a honey lime vinaigrette.
Ingredients
3 1/2 pounds (~5 large) sweet potatoes,, peeled and cubed
4 tablespoons olive oil,, divided
2 tablespoons lime juice, (~ 1 lime)
1 teaspoon honey, (add more to taste, up to 2 teaspoons)
1/4 teaspoon Kosher salt
Freshly ground pepper,, to taste
1 cup chopped scallions
1 cup chopped cilantro
Instructions
Preheat oven to 400 degrees F. Line two large baking sheets with aluminum foil. Toss cubed sweet potatoes with 2 tablespoons olive oil and roast for 30 minutes, shaking the pans and turning the sweet potatoes every so often until they are evenly cooked and lightly crisp. Remove from oven and let cool about 5 to 10 minutes.
In a measuring cup or small bowl, whisk together the remaining 2 tablespoons olive oil, lime juice, honey, and salt and pepper to taste.
Transfer the cooled sweet potatoes to a large bowl, add the scallions, and coat with vinaigrette. Add the chopped cilantro and gently toss everything together, being sure the potatoes don't get mushy in the process. Serve warm or room temperature.
Notes
If preferred, do not peel the sweet potatoes.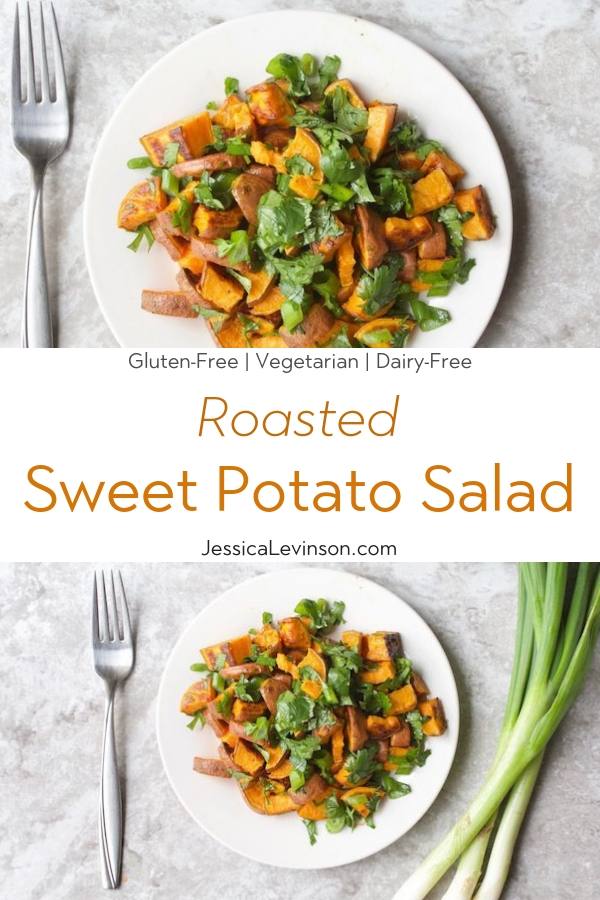 Which would you choose: classic potato salad or this sweet potato salad?
Share with me in the comments below!