Spicy Strawberry Rhubarb Margaritas
May 21, 2017
Spicy Strawberry Rhubarb Margaritas are the perfect complement for Taco Tuesdays or any Mexican-themed party during the spring and summer!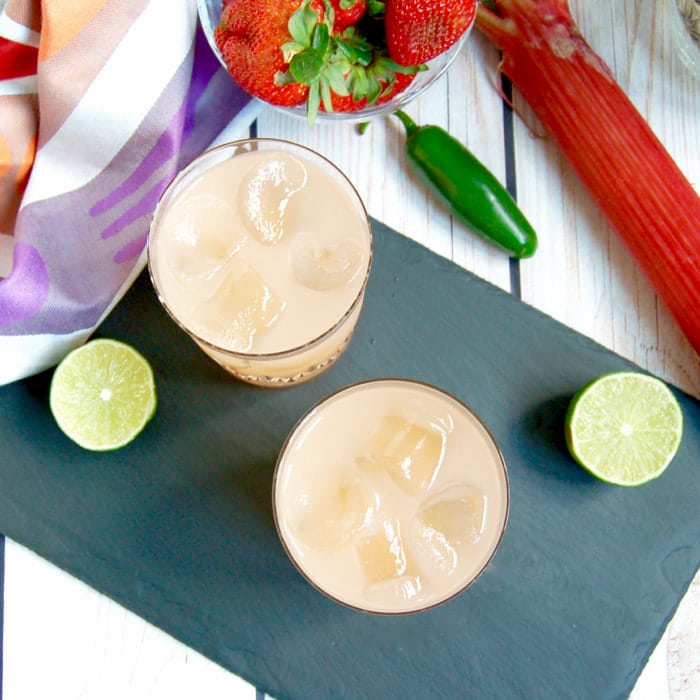 One of my favorite things about the change of seasons is the change in seasonal produce that comes along with it. I try to focus on cooking with seasonal fruits and vegetables as much as possible since it's more cost effective and fresh produce tastes the best when it's in season and doesn't have to travel as far to get to where we live.
During the spring, one of my favorite fruits is strawberries and I also love rhubarb, a vegetable most often paired with fruit due to its tart flavor. I've had fun experimenting with rhubarb in the kitchen in the past, but this spring I have definitely been testing it out more than before. You may recall my Rhubarb Ginger Lemon Muffins I made a few weeks ago, and this past weekend I made Cotter Crunch's Crispy Rhubarb Lemon Chicken Bake, the first time I made rhubarb at home in a more savory preparation.
A few weeks ago the day after Cinco de Mayo, I hosted a dinner party and decided to make some Mexican-themed dishes in honor of the previous day's celebrations. When I was deciding on the signature cocktail of the evening, I immediately knew I wanted to do a variation of my Strawberry Rhubarb Mimosa, and decided to make it in margarita form.
The drink was a huge hit at our party and a couple of friends who were there asked if I would be sharing it on my website. How could I say no with a request like that?! It happens that these Spicy Strawberry Rhubarb Margaritas are a perfect fit for this month's Recipe ReDux theme!
Mocktails and Cocktails for May Celebrations
Showers and celebrations abound this time of year. Show us your colorful drink concoctions for festivities with friends.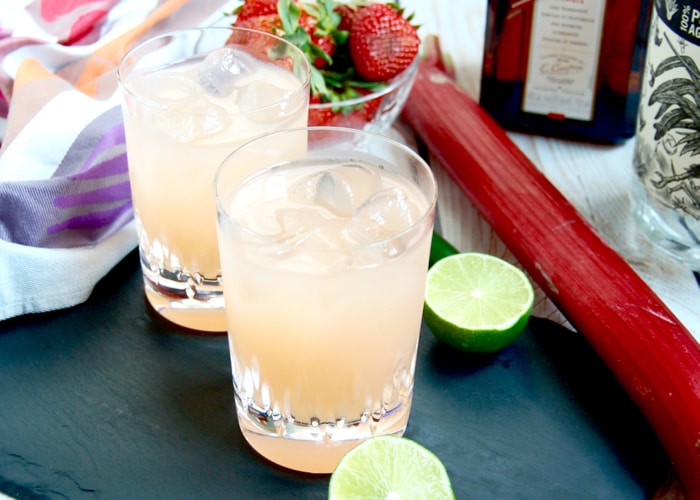 Spring Margaritas
I haven't always been a fan of margaritas – I used to find them either too strong or, if fruit-flavored/frozen, too sweet. But over the past few years, my tolerance has increased for cocktails with higher alcohol content (I'll blame it on having two pre-school age children 😆 ) and I have a newly acquired taste for lots of different cocktails including classic margaritas.
Since I wanted to add the seasonal element for this cocktail, and I hadn't yet made my Strawberry Rhubarb Mimosas for the season, I decided to go with that combination. The base of these two recipes is pretty much the same, except for three main differences.
Making Strawberry Rhubarb Simple Syrup
For the mimosas, I make a puree of the strawberry rhubarb mixture, which is thicker than a traditional simple syrup. This time around, my husband – the resident cocktail maker – asked me to make a strawberry rhubarb syrup rather than puree. To do so, I don't cook the simple syrup ingredients for as long as I do when I make the mimosas, and instead of pureeing the mixture, I strained it so I was left with a more translucent, yet flavor-infused simple syrup. (See below for what I ended up doing with the pulp that was left behind.)
The strawberry rhubarb puree used in the mimosas has lime juice already added to the mixture. For the strawberry rhubarb margaritas, I left out lime juice from the simple syrup since it's a key ingredient in margaritas and I wanted to be able to add a specific amount for each drink.
The last difference between the bases of these two drinks is the spicy element. I've been seeing more spicy cocktails on restaurant and bar menus recently, and since I had a bunch of jalapeño peppers on hand for my Mexican-inspired cooking, I decided at the last minute to throw some into the simple syrup mixture. I discarded the seeds and ribs because I didn't want to make it too spicy, and only used about half a jalapeño, but feel free to increase the heat for yourself.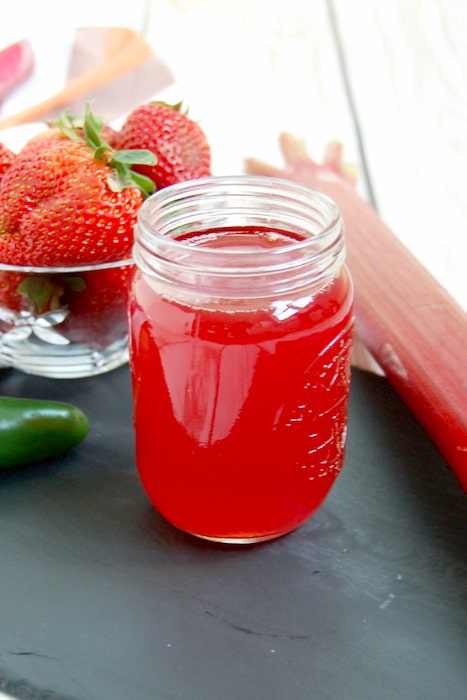 These Spicy Strawberry Rhubarb Margaritas are really easy to make once you have the strawberry rhubarb simple syrup ready, and even that doesn't take too much time. Simply combine the simple syrup ingredients in a sauce pan, simmer for about 10 to 15 minutes, and strain.
I personally hated the idea of throwing out the delicious pulp that was left behind, so I pureed that mixture and was amazed by how much flavor it still contained. It made for a great spread that I later served with cheese and crackers at dessert! I ended up using leftovers of it to make grilled cheese and mix into oatmeal and overnight oats. I may just have to do another post for that recipe 😉 Keep in mind that the puree is spicy, so if you're making it for the kids, leave out the jalapeño.
Making the Margaritas
The simple syrup recipe makes about one cup, but I only used one to two tablespoons (1/2 to 1 ounce) per drink since I don't like very sweet drinks (hence the lighter color of the margarita), so you will likely have leftovers, which you can use for any other cocktails (including the strawberry rhubarb mimosa) or add to seltzer for a mocktail (we did this for my girls the day after our party since they felt they missed out). You can also add that simple syrup to ice cream or reduce it into a thicker syrup to serve over pancakes or waffles.
These Spicy Strawberry Rhubarb Margaritas are the perfect complement for your spring and summer Taco Tuesdays and pretty much any warm night you're in need of a refreshing cocktail!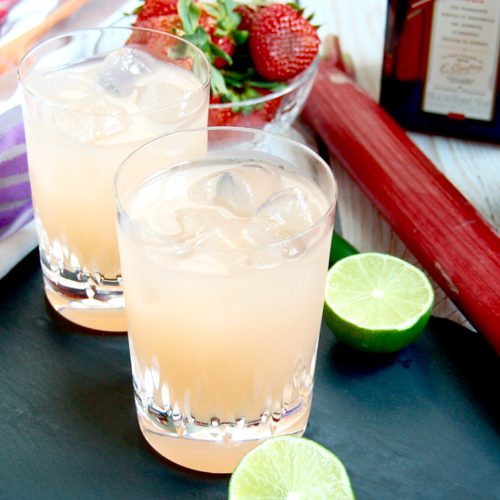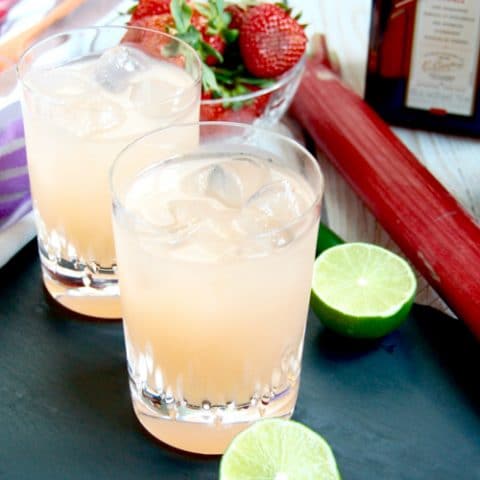 Spicy Strawberry Rhubarb Margaritas
Spicy Strawberry Rhubarb Margaritas are the perfect complement for Taco Tuesdays or any Mexican-themed party during the spring and summer! The simple syrup recipe makes about one cup, but the recipe only calls for 1 ounce simple syrup per two margaritas. Feel free to increase the simple syrup for a sweeter drink.
Ingredients
For the Spicy Strawberry Rhubarb Simple Syrup:
1 1/2 cups chopped rhubarb, (~2 stalks)
1 1/2 cups chopped strawberries
2 tablespoons chopped fresh ginger
1/2 jalapeño pepper, seeds & ribs removed, (use seeds or more for spicier syrup)
1 cup sugar
1 cup water
For Two Margaritas:
Ice
3 ounces tequila
1 1/2 ounces lime juice
1 1/2 ounces triple sec
1 ounce Spicy Strawberry Rhubarb Simple Syrup, (or more to taste)
Instructions
To Make the Spicy Strawberry Rhubarb Simple Syrup:
Combine all the simple syrup ingredients (rhubarb through water) in a saucepan and bring to a boil. Reduce heat and simmer for 8 to 10 minutes. Remove from the heat and set aside for 20 to 30 minutes to cool.
Strain liquid into a measuring cup or mason jar and discard solids (or use for other purposes). Cover and chill simple syrup in refrigerator for at least one hour.
To Make Two Margaritas:
Combine ice, tequila, lime juice, triple sec, strawberry rhubarb simple syrup, and in a cocktail shaker. Shake vigorously.
Fill two cocktail glasses with ice and strain margarita equally over both glasses.
Notes
This recipe calls for 1/2 ounce simple syrup per drink. Most flavored margaritas use more, so feel free to increase if you prefer a sweeter cocktail.
Dip rims of glasses in Kosher salt or sugar if desired. 
What's your favorite spring and summer cocktail?
Share with me in the comments below.