50+ Nutritious & Delicious Pulse Recipes {Recipe Roundup}
February 11, 2016
Reap the health benefits of pulses while enjoying delicious food with this roundup of 50+ recipes filled with beans, lentils, and dry peas!   
Did you take the Pulse Pledge yet? If you have no idea what I'm talking about, you must have missed yesterday's post, Why You Should Love Pulses and Take the Pulse Pledge. Go take a few minutes to read that and then come right back here because I have a recipe roundup you don't want to miss.
To help you stick with the Pulse Pledge and meet the commitment of eating pulses at least once a week for 10 weeks, I'm sharing over 50 recipes (!!) that contain beans, dry peas, lentils, and chickpeas – namely, #AllThePulses.
Even if you haven't taken the pledge, these recipes are nutritious and delicious, and many of them are perfect for vegetarians, vegans, and anyone trying to follow a more plant-based diet. You'll also find many gluten free recipes, if that's something you look for. From breakfast and lunch to dinner and snacks, I've got you covered!
Breakfast
Tex-Mex Migas @ The Lean Green Bean
Gluten Free San Antonio Breakfast Skillet @ Shaw's Simple Swaps
Canandian Prairie Lentil Granola @ Smart Nutrition
Red Lentil Muesli Bars @ Run to the Finish
Hearty Lentil and Veggie-Packed Omelette @ Eat Spin Run Repeat
Butternut Squash & Fajita Veggie Frittata @ The Nutrition Adventure
Lentil Banana Muffins @ The Lean Green Bean
Salads, Sandwiches & Bowls
Smashed Chickpea, Avocado, and Pesto Salad Sandwich @ Two Peas & Their Pod
Quinoa and Lentil Power Bowl @ C It Nutritionally
Roasted Radish and White Bean Salad @ Craving Something Healthy
Lentil Flatbread Sandwiches @ Delish Knowledge
Black Eyed Pea Salad @ My Menu Pal
Mediterranean Hummus Flatbread @ Nutritioulicious
Garlic Lime Chickpea Salad @ Lean, Clean, & Brie
Corn & Black Bean Quinoa Salad @ Nutritioulicious
Warm French Lentil Salad @ Sinful Nutrition
Crispy Chipotle Tofu and Black Bean Burritos @ The Foodie Physician
Curried Chickpea Salad @ Hummusapien
Arugula Salad with Lentils, Garlic & Goat Cheese @ Eating With a Purpose
Chickpea Salad with Tahini Dressing @ The Cookin' RD
Lemony Lentil and Chickpea Salad with Radish and Herbs @ Cookie + Kate
Soups & Stews
Hearty Vegetable Lentil Chili @ Nutritioulicious
Chicken and Chickpea Soup @ Food, Pleasure, & Health
Red Lentil Sweet Potato Soup @ Green Healthy Cooking
 Three Bean Vegetarian Chili @ Nutritioulicious
Lentil and Sweet Potato Stew @ Eat Yourself Skinny
Easy Moroccan Split Pea Soup @ Dishing Out Health
Salsa Lentil Soup @ Living Well Kitchen
Chocolate Chipotle Vegetarian Chili @ Abbey's Kitchen
Corn Tortilla Soup with Black Beans @ Nutritioulicious
Entrees & Side Dishes
Mediterranean Socca Pizza @ The Foodie Physician
Baked Curry Lentil Cakes with Roasted Red Pepper Sauce @ Cookin' Canuck
Sweetpotato Black Bean Quesadillas @ Nutritioulicious
Easy Mediterranean Chickpea Bake @ My Menu Pal
Seared Salmon & Veggieful Lentils @ Nutrition Adventures
Ultimate Garden Chili Nachos @ My Cape Cod Kitchen
Vegan Shepherd's Pie with Mashed Cauliflower @ The Foodie Dietitian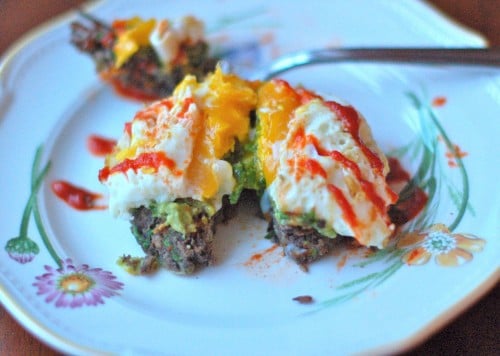 Sriracha Black Bean Burgers @ Nutritioulicious
Crunchy Lentil Tacos with Avocado Feta Guacamole @ The Spicy RD
Sweet Cranberry & Apple Lentils @ Amy Gorin Nutrition
Roasted Carrots with Lentils @ Around the Plate
Vegetarian Lentil Bolognese Over Polenta Cakes @ Nutritioulicious
Gujarati-Style Kidney Beans In Spiced Tomato Gravy @ Gowin Nutrition
Black Bean Pasta with Peas @ Food Confidence
Snacks
 Sriracha Hummus @ Hungry Hobby
Veggie & Bean Quinoa Bites @ Nutritioulicious
Perfectly Roasted Chickpeas @ The Lean Green Bean
Lemon Hummus Endive Boats with Pomegranate Seeds @ Nutritioulicious
Lentil Green Smoothie @ The Grateful Grazer
Rosemary Beet Hummus and Creme Fraiche Crostini @ The Gluten Free RD
Chocolate Chip Cookie Dough Dip @ Living Well Kitchen
Dessert
 Salted Caramel Black Bean Brownies @ Smart Nutrition
Cinnamon Heart Doughnuts @ Chronicles of Passion
Healthy Cookie Dough Bites @ RDelicious Kitchen
Gluten Free Nutella Blondies @ Avocado A Day Nutrition
No-Bake Chocolate Peanut Butter Lentil Cookies @ The Recipe Rebel
Chocolate Bean Valentine Brownies @ Meal Makeover Moms
No-Bake Chocolate Peanut Butter Fudge @ Bite of Health
Cookie Butter Spread @ No Nonsense Nutritionist
What's your favorite way to eat pulses?
Head on over to my Year of Pulses Pinterest board for more recipes and to add your own!
I am partnering with USA Pulses & Pulse Canada to spread the word about the International Year of Pulses and the Pulse Pledge. I was not compensated for this recipe roundup post, however my previous post was sponsored by them. As always all opinions are my own.