Hearty Vegetable Lentil Chili
December 4, 2015
Warm up this winter with a bowl of hearty vegetable lentil chili that's brimming with flavor and nutrition.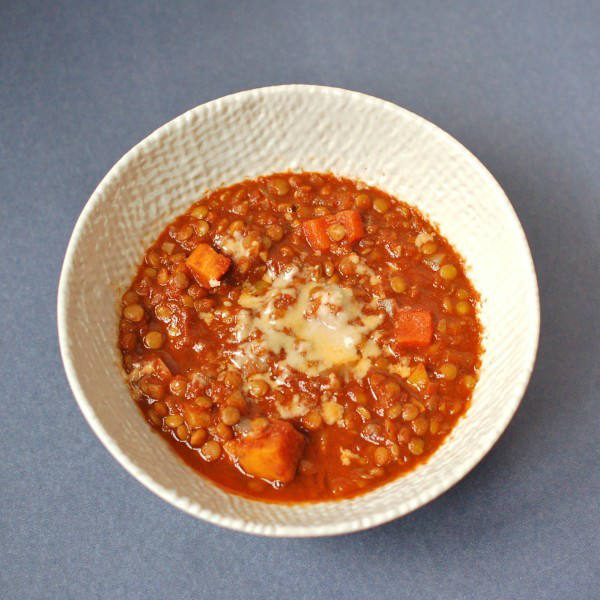 I was compensated for writing the original article and developing the recipe found in the November 2015 issue of Today's Dietitian. I was not compensated for sharing the column or magazine with readers on my blog. All opinions are my own.
Chili is one of my favorite one pot meals in the winter months. It's warm and filling, and full of nutrition. I usually make vegetarian chili like this Heart Vegetable Lentil Chili since we keep a kosher home, which means we don't combine meat and dairy at the same meal, and I for one love cheese on my chili!
Another reason I love veggie chili is because it's usually filled with beans, which are rich in protein, complex carbohydrates, and fiber. While I love beans and lentils, I usually save lentils for lentil soup, but this time I decided to change up my chili and make it with lentils instead. Beans and lentils are pulses, which are part of the legume family, and as you may have heard, 2016 is the International Year of Pulses! (Scroll down in this post and you'll see that I took the Pulse Pledge!)
You can read more about the health benefits of legumes in my November Culinary Corner column in Today's Dietitian Magazine, where you'll also find the nutritious and delicious recipe you see below.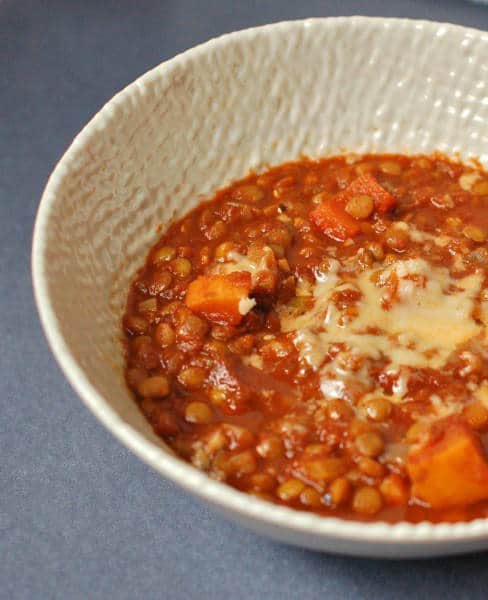 This hearty vegetable lentil chili is vegan, gluten-free, and full of rich, umami flavor from the lentils, tomatoes, and spices. It's also packed with veggies including tomatoes, peppers, onions, and sweet potatoes!
Nutritionally, it's an excellent source of fiber and protein, rich in vitamins A and C, and low in sodium and fat. It's also super freezer-friendly, which means you don't have to worry about having leftovers since they'll make for a perfect meal on another busy weeknight!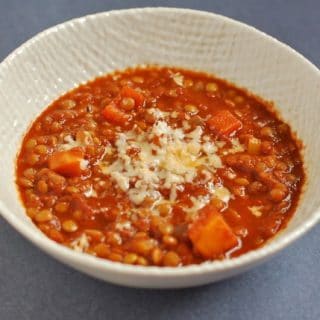 Hearty Vegetable Lentil Chili
Warm up with a bowl of hearty vegetable lentil chili that's brimming with flavor and nutrition. Enjoy topped with shredded cheese or mashed avocado.
Vegan, Gluten-Free, Kosher
Ingredients
1 tablespoon olive oil
2 cups chopped onion
2 cups chopped red, yellow, and orange bell peppers
1 jalapeno pepper, seeded and diced
1 tablespoon minced garlic
1 tablespoon ground cumin
2 tablespoon chili powder
1 teaspoon sweet paprika
1 teaspoon ground cinnamon
1 28- oz can or box crushed tomatoes (preferably no added salt)
2 cups low-sodium vegetable broth
3 cups water
1 16- oz package dried green lentils
2 cups cubed sweet potatoes
1 teaspoon Kosher salt
Freshly ground pepper
Instructions
Heat oil in a Dutch oven or soup pot over medium-high heat. Sauté onions and peppers for 5 minutes, until onions are translucent and peppers have started to soften.
Add garlic, cumin, chili powder, paprika, and cinnamon; stir until vegetables are well coated and spices are fragrant, about 1 minute.
Add crushed tomatoes, broth, water, lentils, and sweet potatoes to pot. Stir everything together and bring to a boil.
Reduce heat to simmer, cover, and cook for 30 minutes until the lentils and sweet potatoes are soft but not mushy. Season with salt and pepper.
Recommended Products
As an Amazon Associate and member of other affiliate programs, I earn from qualifying purchases.
Nutrition Information:
Yield:

8
Amount Per Serving:
Calories:

300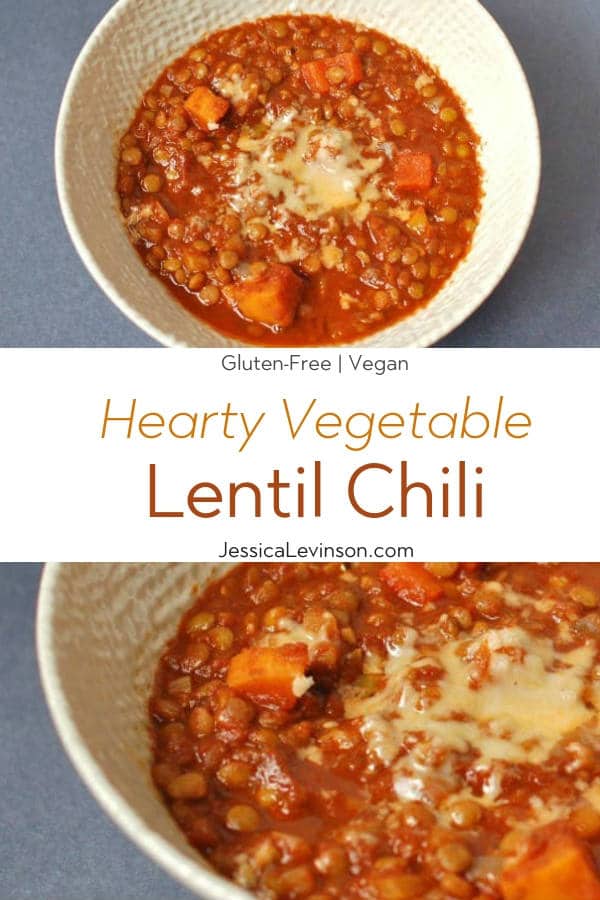 Do you like chili?
Which do you prefer: Meat or Veggie?