Mayo-Free Tuna Hummus Sandwich
October 5, 2016
The classic tuna sandwich gets an upgrade with this mayo-free tuna hummus salad sandwich, perfect for the kids' lunchbox or anyone's mid-day meal!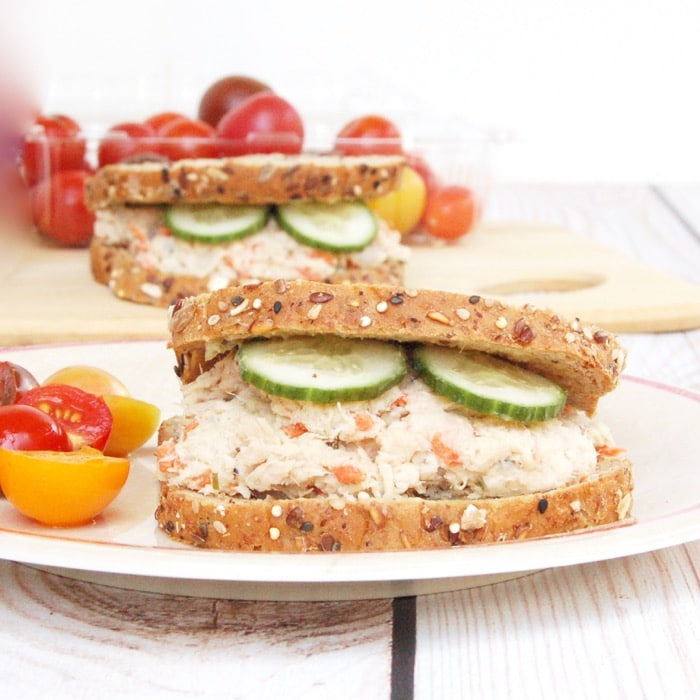 Tuna salad and sandwiches have been a staple of my diet since I was a child, and they now make a regular appearance at lunchtime for my girls too. Most tuna salads are swimming in mayonnaise, which is not my cup-of-tea, so over the years I have experimented with various ways to make tuna salad more nutritious while maintaining its deliciousness.
Personally I love my Apple Cranberry Tuna Salad, which uses light mayonnaise, but my husband complains it's too dry for him, so my search for the best lighter tuna salad has continued. After all, I don't believe in being a short order cook and making two batches of tuna salad for one family!
I have of course used plain Greek yogurt as the tuna binder, but when I want a dairy-free, mayo-free tuna salad, the best condiment to date has been hummus.
This is one of the easiest lunch recipes and definitely a kid-favorite – you should have seen how excited my girls were to dig into their lunch! (You can also check out my Instagram feed to see how I packed these sandwiches into their lunchboxes this week.) And by the way, with the cucumber slices, don't these sandwiches look like little monsters or Ernie & Bert? So much fun for the kids!
Ingredients & Preparation
I used the roasted garlic hummus in this recipe, but you can mix it up and use any flavor variety of your choice. You can also chop in your veggies of choice or put the veggies on the side if you prefer a smoother tuna salad. Sometimes I like to eat this tuna hummus salad with whole grain crackers or just put it on top of a bed of lettuce drizzled with some olive oil and vinegar for my own lunch.
However you choose to eat this Mayo-Free Tuna Hummus Salad, I am certain you will enjoy it. And in case your husband is like mine, you won't need to worry about complaints of dry tuna salad here!
As a side note, in case you're wondering about mercury levels in albacore tuna, the FDA has advised eating up to 6 ounces of albacore tuna per week. One can of tuna drained is about four ounces and makes two sandwiches, which comes to two ounces per person, leaving room for a couple more tuna sandwiches during the week if desired. To prevent overdoing it, I also use canned salmon, which can be prepared with this same recipe.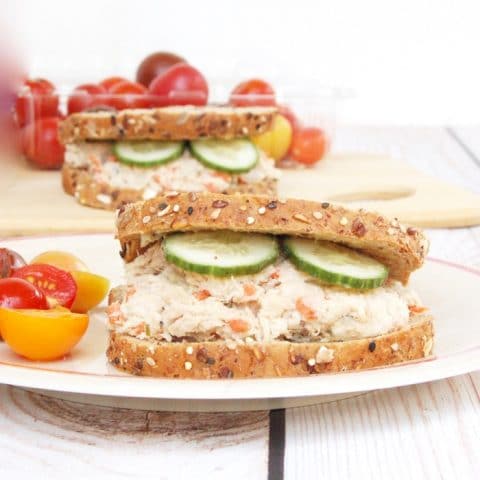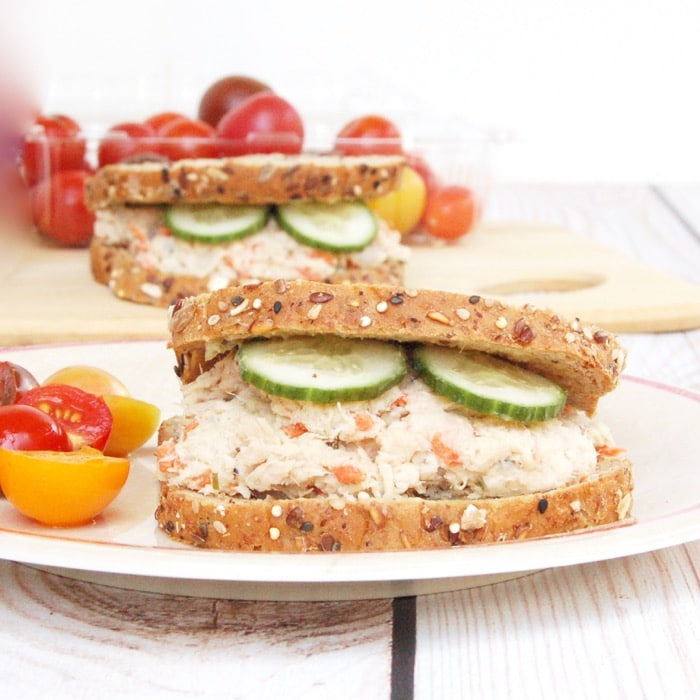 Mayo-Free Tuna Hummus Salad Sandwich
The classic tuna sandwich gets an upgrade with this mayo-free tuna hummus salad sandwich, perfect for the kids' lunchbox or anyone's mid-day meal!
Ingredients
1 5- ounce can albacore tuna,, in water, drained and flaked
2 tablespoons + 4 teaspoons roasted garlic hummus (or other variety),, divided
2 teaspoons lemon juice
2 tablespoons shredded and chopped carrots
1 tablespoon diced red onion
4 slices whole grain bread
Thinly sliced cucumber rounds
Instructions
In a medium mixing bowl, mash tuna with 2 tablespoons hummus and lemon juice. Fold in carrots and red onion.
If desired, toast bread and spread each slice with one teaspoon hummus. Divide tuna salad between two slices of bread and top with sliced cucumber. Cover each sandwich with the remaining two slices of bread.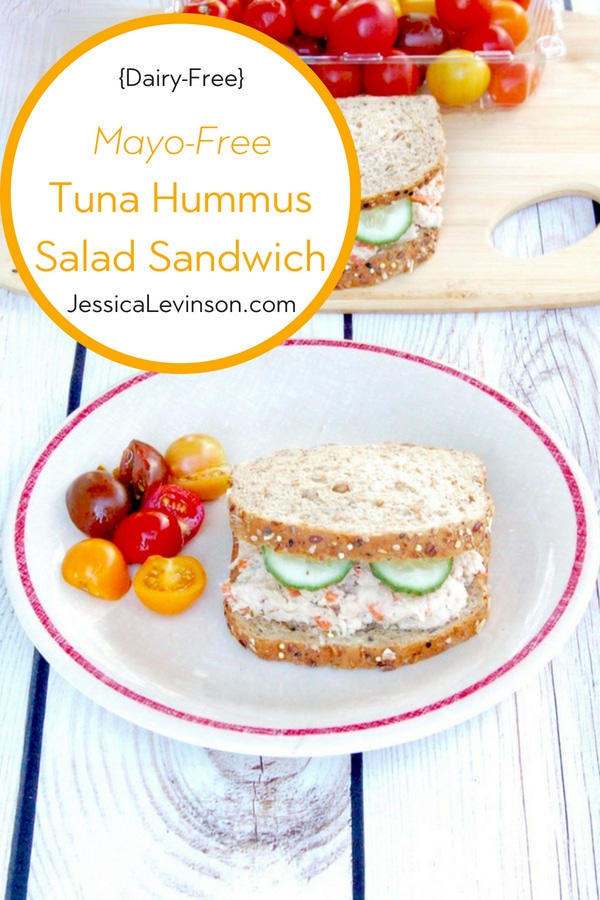 Do you love tuna salad but hate the mayo?
What's your favorite tuna salad binder?
Share with me in the comments below!