Lentil Chickpea Vegetable Salad with Feta
March 10, 2017
Make packing school lunch easy and serve your kids something delicious with this vegetarian, nut-free, and gluten-free Lentil Chickpea Vegetable Salad.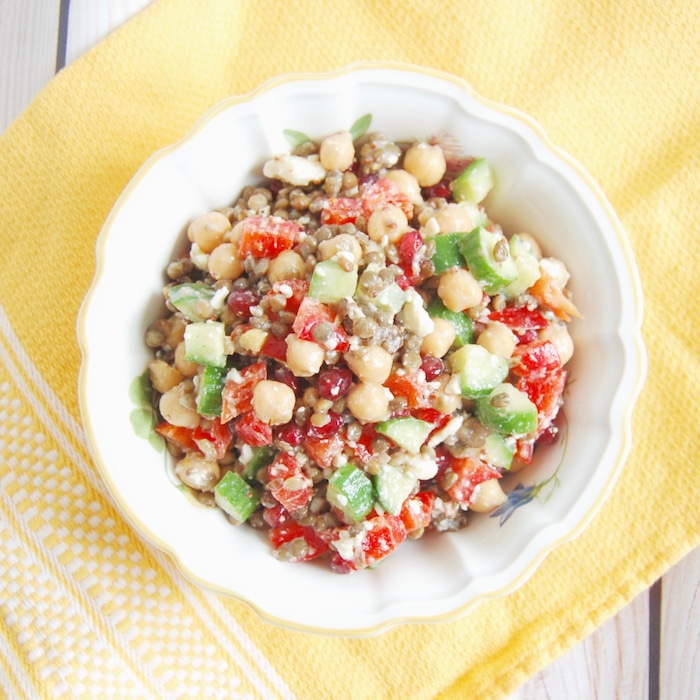 Packing lunch for the kids every single day is not easy. I think most parents would agree it's a chore they can't wait to stop doing once their children are old enough to make their own lunch or buy it at school. I'm not going to sit here and tell you that packing my girls' lunch is my favorite part of being a mom, but I also don't mind it as much as many of my friends.
You see, packing their mid-day meal gives me the insurance that they are eating a healthy and delicious lunch, allows me to show them how much I love them by making one of their favorite recipes or adding a note to their lunchbox, and provides me with an opportunity to be creative in the kitchen as I seek to keep their lunch interesting and avoid their boredom from the same lunch meals week after week.
One of the challenges I am faced with when packing my girls' lunchboxes is that they go to a Jewish and kosher pre-school, and as such they can only bring vegetarian or fish-based meals – no meat allowed. On top of that restriction, their school is a nut-free establishment. There are so many days I wish I could send leftover chicken from last night's dinner or peanut soba noodles, which they love. But alas, I can't, and so I head to the kitchen with my thinking cap on to keep things interesting for them at lunchtime.
Some of their favorite lunchboxes consist of these Quick, Easy, & Healthy School Lunch Ideas, like Easy Veggie Egg Muffins, Veggie & Bean Quinoa Bites, soynut butter and fruit sandwich kebabs, cucumber and cheese "sandwiches," smoked salmon and cucumber roll-ups (one of their all-time faves), and this Lentil Chickpea Vegetable Salad.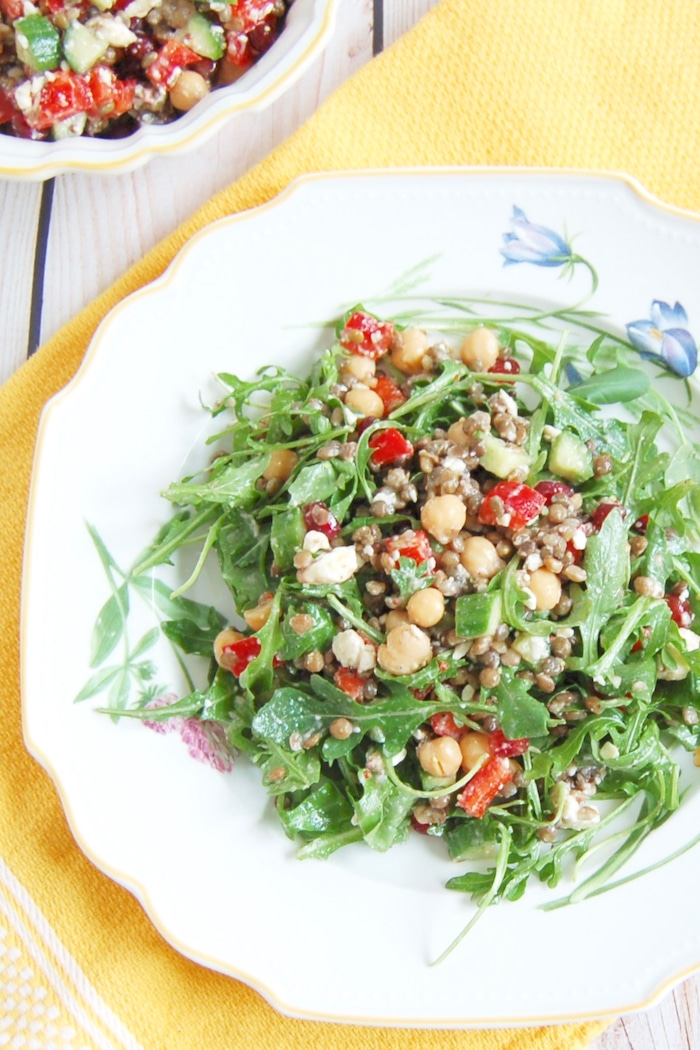 Ingredients & Preparation
This salad came about the way many of the lunchboxes I put together do – from ingredients I have on hand. I always have a package of Trader Joe's steamed ready-to-eat lentils in my freezer, and one night after making my Vegetarian Lentil Bolognese I had about a cup of lentils left over and decided I would use them for the next day's lunch. I peeked into my fridge to see what else I could add and found some staples – colorful bell peppers, Persian cucumbers, and feta cheese. I also had pomegranates, which my girls absolutely love, so I decided to throw them into the salad too.
The next morning when I posted their lunchbox on my Instagram account, I had such an overwhelming response from people who loved the look of the lentil salad and asked for the recipe. Then the girls came home with empty lunchboxes and I knew I had a winner and had to make it again.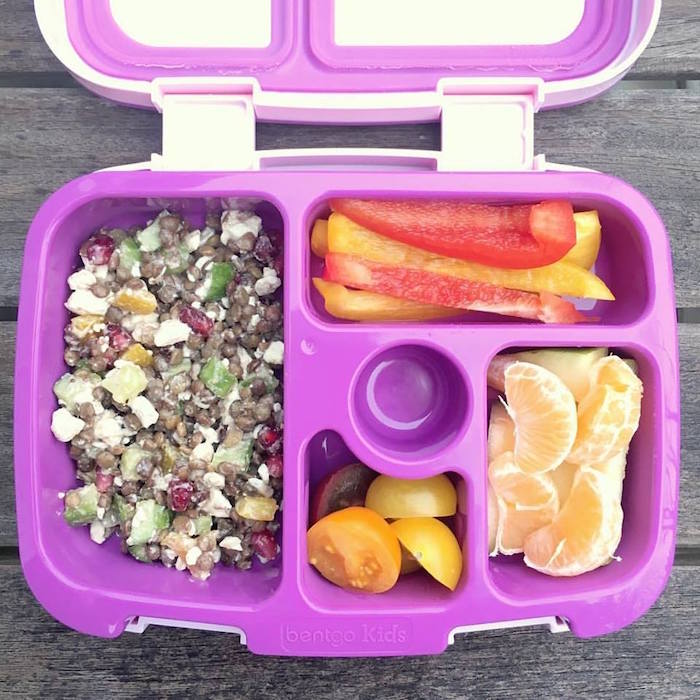 The next time around I had half a can of chickpeas in my fridge, so I decided to add those in for the added protein and fiber boost. The salad is topped with a lemony mustard maple dressing that's bright, fresh, and subtly sweet. I always make enough of it to have some for my lunch too and I throw it over a bed of arugula or mixed greens to bulk it up and make it a more filling meal.
This Lentil Chickpea Vegetable Salad with Feta fits the bill perfectly for my girls' school – it's vegetarian (vegan if you don't add the cheese) and nut-free. It's also gluten-free and egg-free for those who are looking for that in their lunch recipes. I would even recommend it as a side dish next to a piece of chicken or fish at dinner.
As always, you can change up the recipe to make it your own – add different veggies, make it without cheese or choose a different cheese, and when pomegranates aren't in season (like now!), add diced strawberries, halved blueberries, or even chopped apples. So many possibilities and so so easy!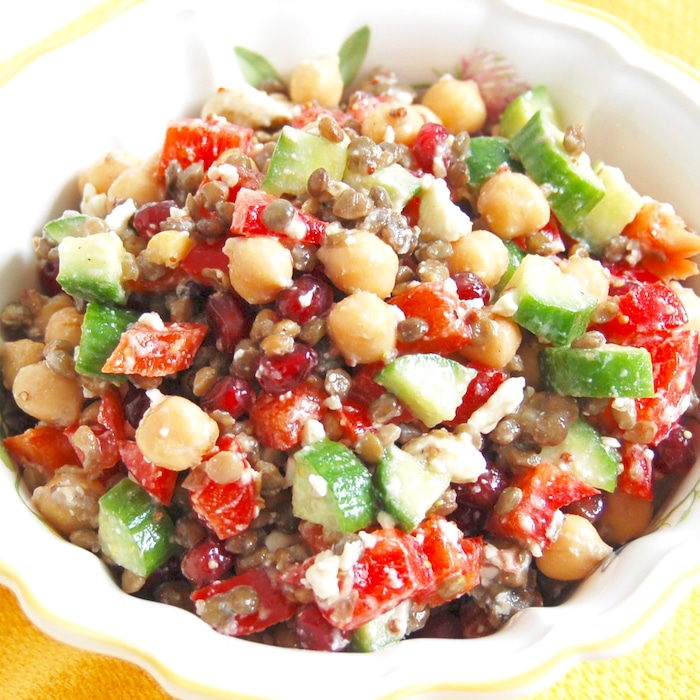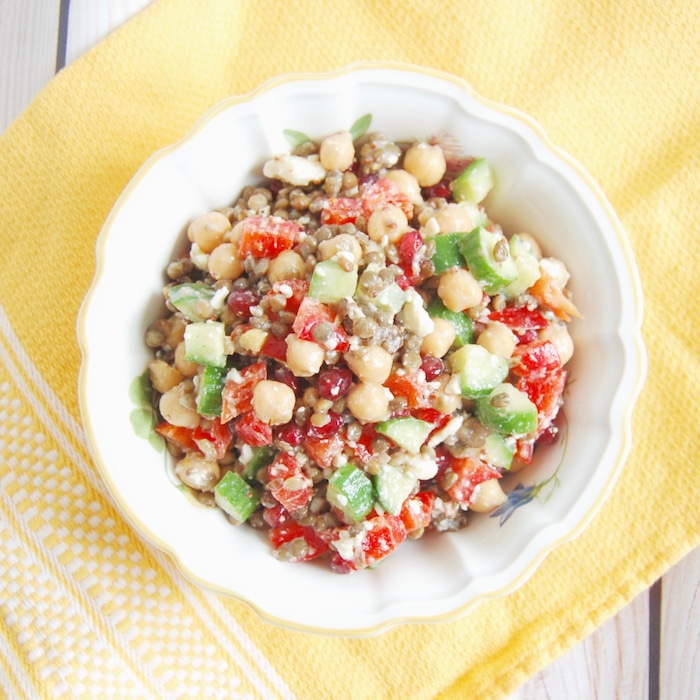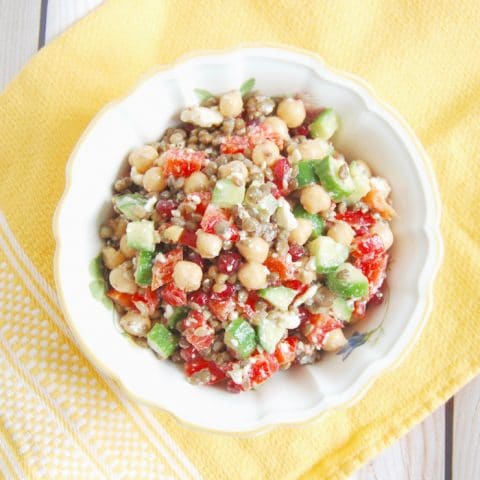 Lentil Chickpea Vegetable Salad with Feta
Yield:
8 (serving size: 1/2-cup)
Protein- and fiber-rich lentils and chickpeas, crunchy bell peppers and Persian cucumbers, sweet pomegranate seeds, and salty feta cheese are tossed together in a lemony maple-mustard vinaigrette for a kid-friendly and adult approved lunchbox salad. Add some arugula or mixed greens for a more filling meal.
Vegetarian, Vegan-friendly, Nut-Free, Gluten-Free, Kosher
Ingredients
For the Salad:
1 1/2 cups cooked lentils (I use Trader Joe's steamed, ready-to-eat lentils)
1 cup drained and rinsed no-salt-added canned chickpeas
1/2 cup diced bell peppers
1/2 cup diced Persian or English cucumbers (I keep skin on, but peel if desired)
1/2 cup feta cheese (leave out for dairy-free)
1/4 cup pomegranate seeds (sub other fruit of choice at other seasons)
Arugula or mixed greens (optional)
For the Dressing:
3 tablespoons lemon juice
4 teaspoons olive oil
1 1/2 teaspoons whole grain Dijon mustard
1 1/2 teaspoons maple syrup
1/4 teaspoon Kosher salt
Freshly ground pepper, to taste
Instructions
In a large bowl, combine lentils, chickpeas, peppers, cucumbers, feta, and pomegranate seeds.
In a small bowl or mason jar, whisk together lemon juice, olive oil, mustard, syrup, salt, and pepper, to taste.
Pour dressing over lentil chickpea vegetable salad and toss to combine.
Serve over a bed of arugula or mixed greens if desired.
Recommended Products
As an Amazon Associate and member of other affiliate programs, I earn from qualifying purchases.
Nutrition Information:
Yield:

8
Serving Size:

1/2-cup
Amount Per Serving:
Calories:

221
Total Fat:

5g
Saturated Fat:

2g
Trans Fat:

0g
Unsaturated Fat:

3g
Cholesterol:

8mg
Sodium:

206mg
Carbohydrates:

31g
Fiber:

13g
Sugar:

4g
Protein:

13g
Nutrition information was calculated by Nutritionix. It may not be 100% accurate.
Do you pack lunch for your kids?
If so, do you enjoy it or find it a chore?
Share with me in the comments section below!