Lemon Hummus Endive Boats with Pomegranate Seeds
October 11, 2018
Wow your guests with zesty, creamy lemon hummus endive boats topped with sweet and juicy pomegranate seeds. A pretty, flavorful, nutritious and delicious appetizer perfect for a crowd.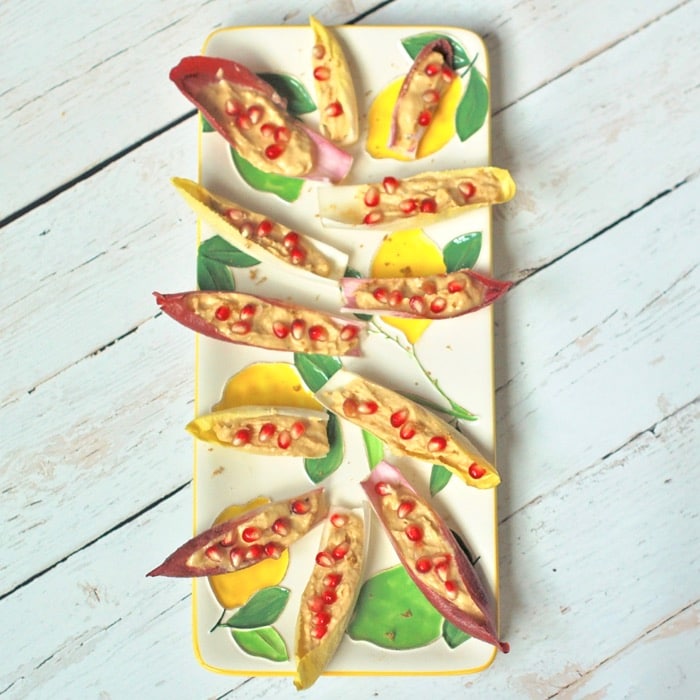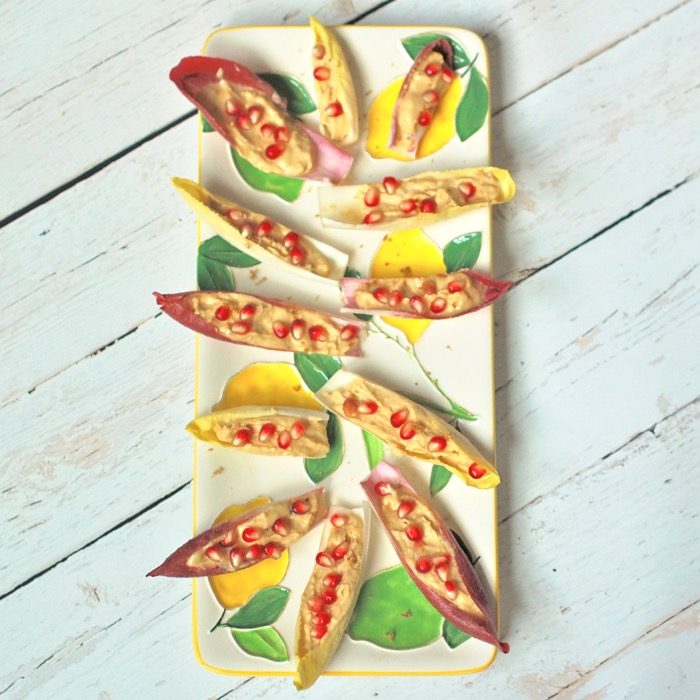 This recipe was originally posted as part of a sponsored a recipe contest with Sabra Dipping Co. LLC and The Recipe ReDux. I received coupons for free product used in testing this recipe, but was not compensated for my time.
Everyone knows the most common way to eat hummus is as a dip, typically paired with pita bread or pita chips and a classic crudité platter of baby carrots, bell peppers, cucumbers, and maybe some broccoli and snap peas. With my Mediterranean Hummus Flatbread I've already shown you how you can take hummus to the next level by using it as a base for a pizza. So today I want to take the hummus as a dip one step further: hummus stuffed endive boats (aka endive spears).
You could easily keep the hummus of your choice in its container and add endive spears to your crudité platter on the side, or you can take the guesswork out of it for your guests and have the endive spears pre-stuffed and ready for consumption. In my stereotypical type-A fashion, I prefer to do the latter – once I have an idea about how something should be eaten, it's hard for me to just wait and see what people will do. So if you come to my house for a tailgate party (or more likely some other type of cocktail party), you'll find these endive boats already made.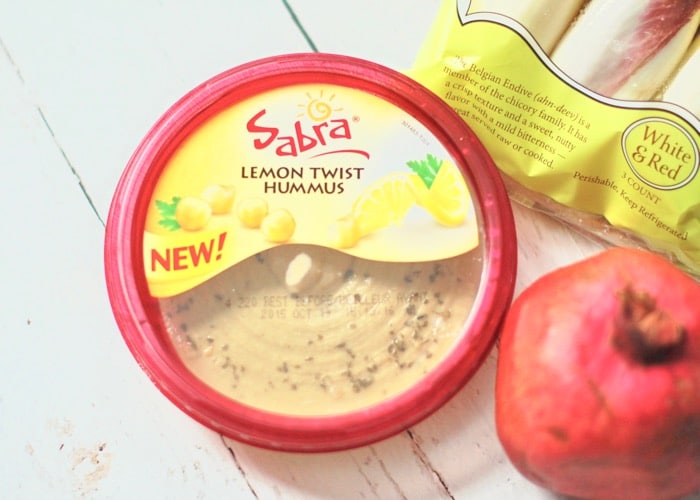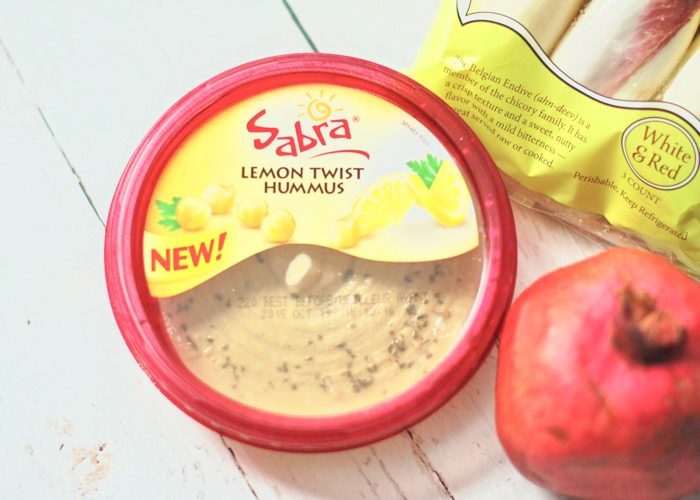 Ingredients & Preparation
Now a word about the hummus I chose for this recipe. My go-to Sabra Hummus has always been their Roasted Pine Nut Hummus topped with lightly roasted pine nuts and whole chickpeas. But after seeing all the new flavors Sabra has, I had to try something else for these stuffed endive spears.
The Lemon Twist Hummus caught my attention and I just knew it would be the perfect match for the delicate endive. To add a pop of color and an extra burst of flavor, pomegranate seeds stud the tops of the hummus endive boats as does a sprinkle of fresh lemon zest. And there you have it – a quick and easy, nutritious and delicious appetizer that will keep bellies full and happy during the game.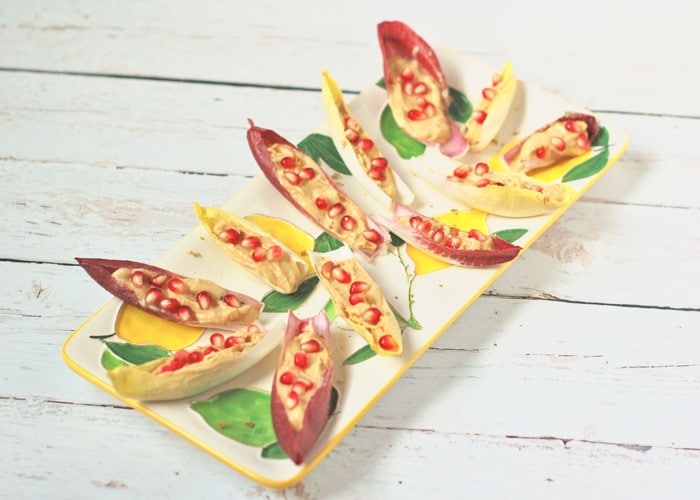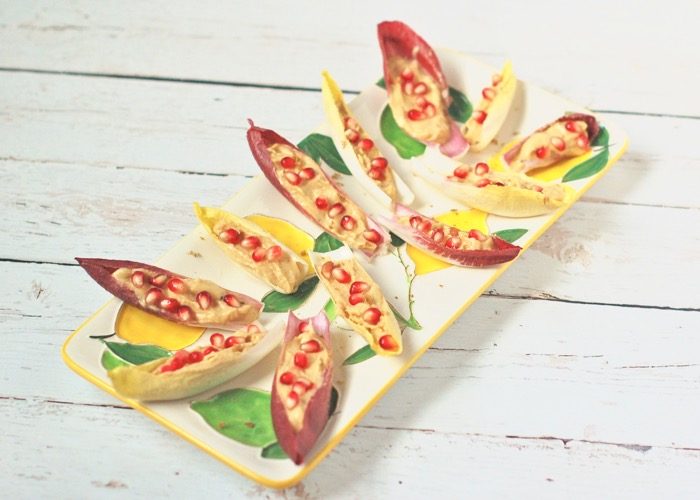 Two Spoons of Hummus
Before we get to the recipe, I must remind you why Sabra hummus is such a great fit for a healthy lifestyle. You may not know, but beans count as a protein and a vegetable and hummus is made out of one of my favorite beans – chickpeas!
Research shows that diets with increased bean consumption are associated with reduced risk of chronic diseases like heart disease, diabetes, and obesity. Luckily for those of us who can't live without hummus, just two heaping spoonfuls of hummus a day will fulfill your bean recommendation for the week! If that news wasn't exciting enough, Sabra hummus is also gluten-free, vegetarian, and helps boost intake of fiber, protein, and healthy fats.
Clearly if you're not already spooning into a container of hummus, it's time you do so. And if I were you, I'd start with these Lemon Hummus Endive Boats with Pomegranate Seeds!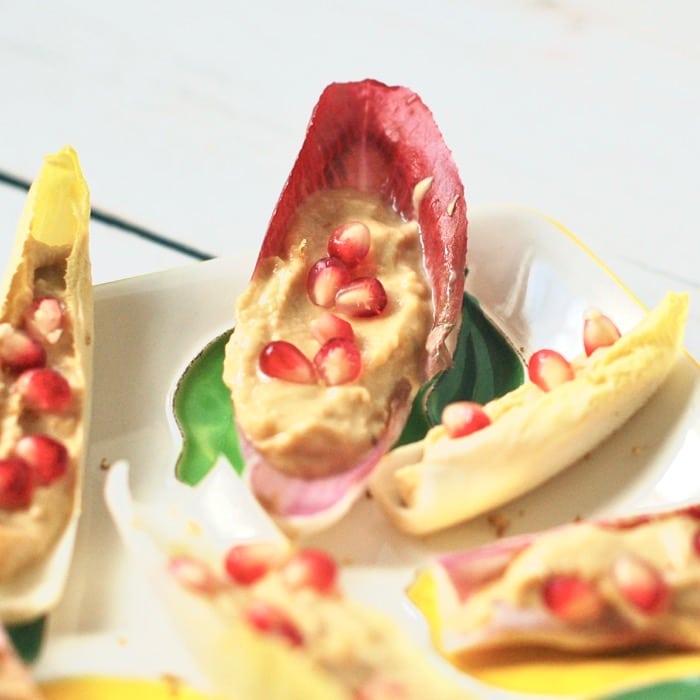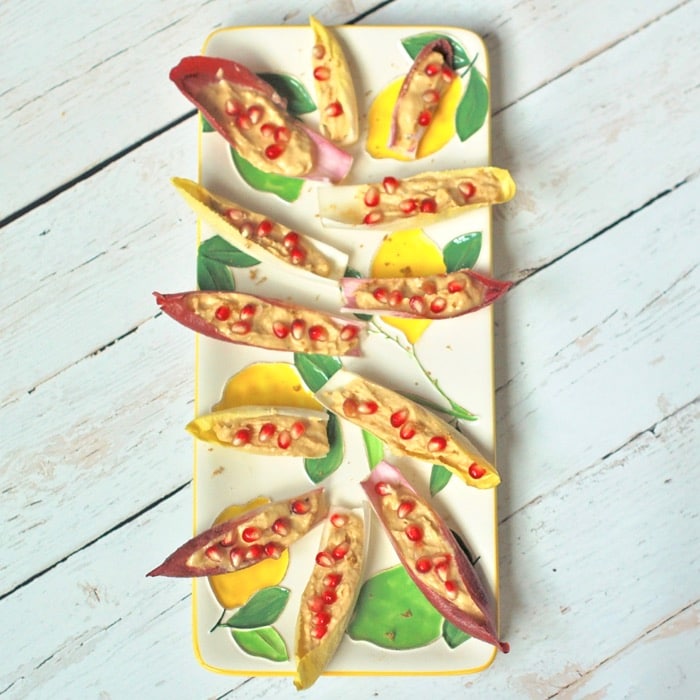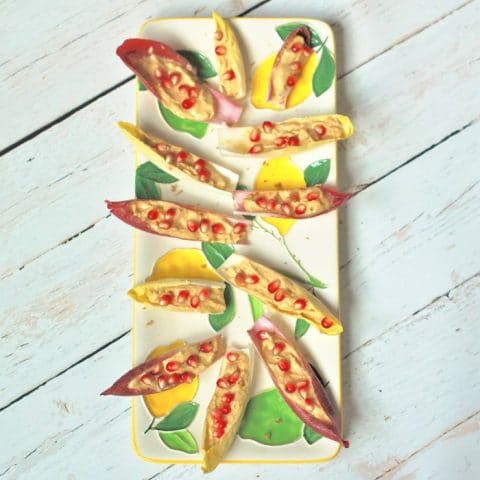 Lemon Hummus Endive Boats with Pomegranate Seeds
Wow your guests with this elegant, yet easy appetizer that pairs slightly bitter endive with zesty lemon hummus and sweet pomegranate seeds. Pretty, flavorful, nutritious and delicious.
Ingredients
2 small endive heads,, separated into spears (~16 spears)
1 cup Sabra Lemon Twist Hummus
2 tablespoons pomegranate seeds
Lemon zest,, for garnish (optional)
Instructions
Fill each endive spear with about 1 tablespoon Sabra Lemon Twist Hummus. Top hummus with pomegranate seeds. If using, sprinkle lemon zest on over stuffed endive spears. Serve cold.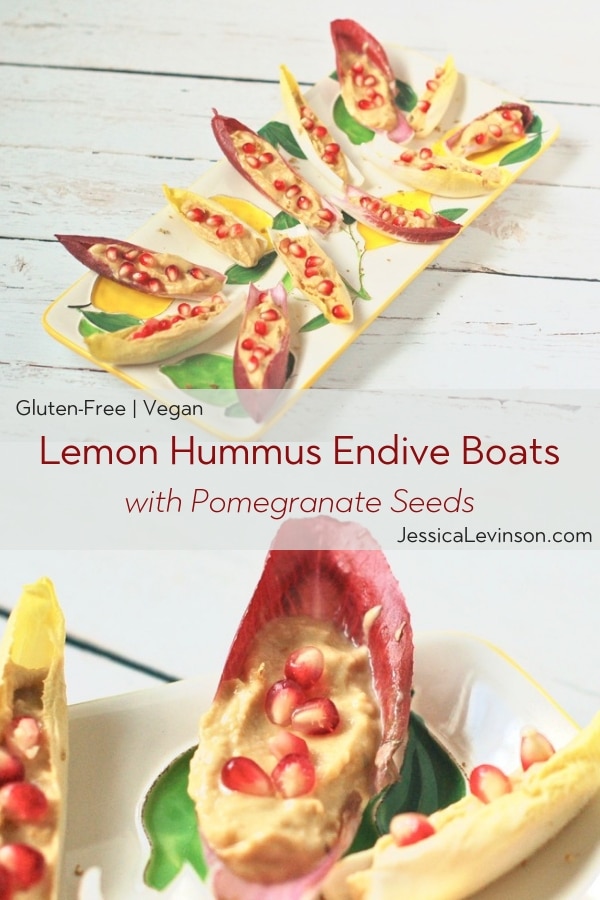 Have you ever made stuffed endive boats?
Share with me in the comments below!