Vegetarian Lentil Bolognese Over Polenta Cakes
June 3, 2015
Umami-rich, vegetarian lentil bolognese served over polenta cakes or your favorite pasta is a filling and flavorful dinner.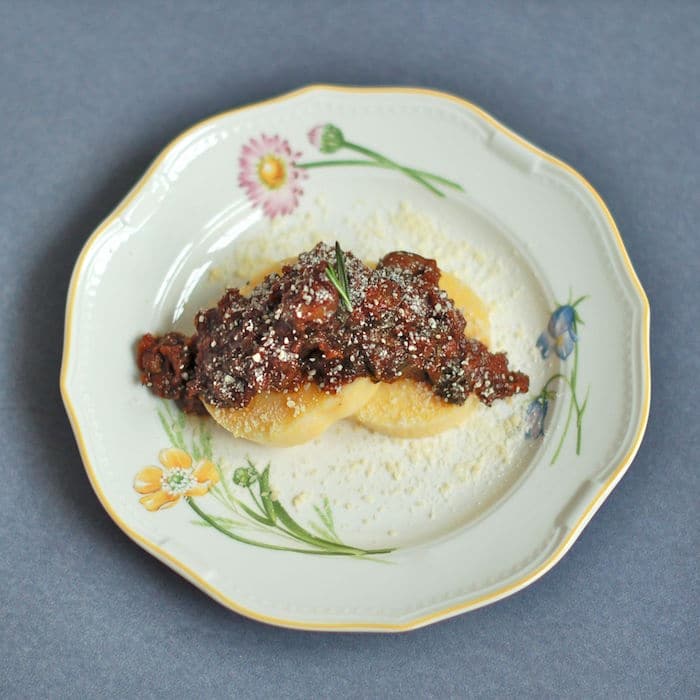 One of my favorite pasta dishes is among the simplest – pasta bolognese. This is a dish that you really don't need to go to a restaurant to enjoy since it's so easy to make at home. Traditionally I make my bolognese sauce with ground turkey breast, ground beef, or a mixture of the two. But keeping a Kosher home means I can't sprinkle cheese on top of my pasta with meat bolognese, and if you've been around my blog you surely know I love my cheese! So it was about time I made a vegetarian bolognese that could be topped with cheese.
Sure, I could add cheese to any of the other non-meat sauces I make, but I wanted that rich, umami flavor that you find in traditional bolognese sauces. And boy did I achieve this goal.
I took my already umami-rich tomato sauce with mushrooms and added lentils, which amplified the meatiness of the sauce to the point that my lentil-averse husband had no idea this was a meatless dish. (Apparently he didn't pay attention to the cheese on top of the bolognese. He didn't grow up Kosher, so I'll cut him some slack!) I also added spinach for some added nutrients and flavor (and as a good way to get my kids to eat spinach!).
Nutrition Tip: Did you know the iron in spinach is more bioavailable when combined with vitamin C? And guess what – tomato sauce is an excellent source of vitamin C, so it's the perfect place to add spinach!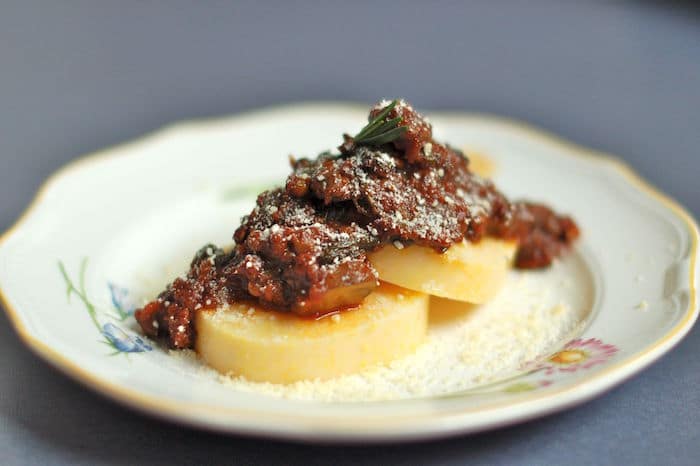 Serving Vegetarian Lentil Bolognese
Normally I serve bolognese over whole wheat pasta, but in the spirit of mixing things up I decided to put it over polenta cakes. I'm not so into mushy, porridge-like polenta, but polenta fries and polenta cakes are delish! I recently saw a fellow Recipe ReDux participant use Trader Joe's packaged polenta roll as a base for huevos rancheros and since then I've been curious to try it out. Now was the perfect opportunity.
Lightly pan-fried or oven-broiled polenta cakes covered in meaty, umami-rich, vegetarian lentil bolognese, sprinkled with grated Parmesan (or nutritional yeast for a completely vegan meal!). Now that's a meal worth repeating! Try it for your next Meatless Monday meal!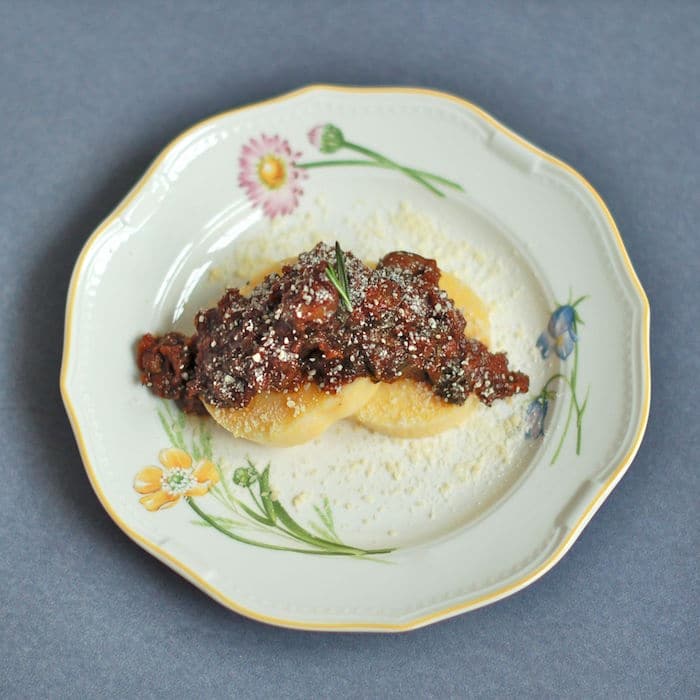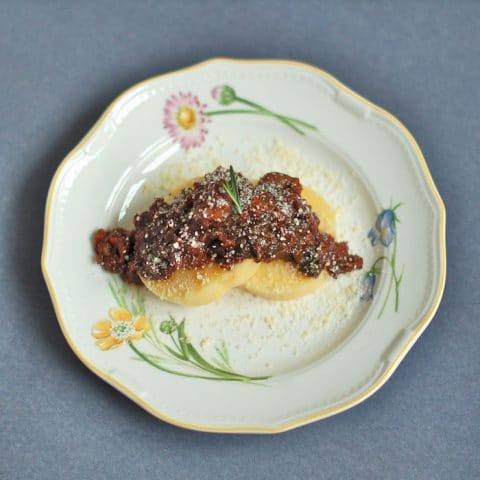 Vegetarian Lentil Bolognese over Polenta Cakes
Vegetarian lentil bolognese served over polenta cakes and sprinkled with grated Parmesan is a filling, flavorful, and low-calorie meal.
Ingredients
For the Sauce:
2 tablespoons olive oil
1 cup chopped yellow onion
1 tablespoon minced garlic
3 cups sliced baby bella (crimini) mushrooms, (~8 ounces)
2 teaspoons chopped fresh rosemary, (or 1 teaspoon dried)
2 teaspoons fresh thyme, (or 1 teaspoon dried)
1 teaspoon dried oregano
2 tablespoons tomato paste
2 tablespoons balsamic vinegar
26-28 ounces canned or boxed crushed/finely chopped tomatoes, (preferably no-salt added)
1/2 cup water
1 bay leaf
1 teaspoon Kosher salt
Freshly ground pepper,, to taste
2 cups baby spinach, (~1 1/2 ounces)
1 cup cooked lentils*
For the Polenta Cakes:
Cooking spray or oil
1 package pre-cooked polenta,, cut into 10 slices
For Serving (optional):
Grated Parmesan,, for serving (or Nutritional yeast for vegan)
Instructions
For the Sauce:
Heat oil in a medium-large pot over medium high.
Add onions and sauté, stirring occasionally until translucent and starting to soften, 2 to 3 minutes. Add garlic and stir 30 seconds to 1 minute until fragrant. Add mushrooms and stir occasionally until water from the mushrooms has released and begins to evaporate, about 5 minutes.
Add rosemary, thyme, oregano, and tomato paste to mushroom onion mixture and stir to combine for 30 seconds. Add balsamic vinegar and stir, scraping up any brown bits stuck to the bottom of the pot.
Add crushed/finely chopped tomatoes, water, bay leaf, salt, and pepper. Lower heat to low and simmer 20 minutes.
Stir in baby spinach and lentils, cover, and simmer 10 minutes more.
For the Polenta Cakes:
Set oven to broil at level 1 (about 500 degrees). Line a baking sheet with foil and coat with cooking spray.
Spread polenta slices on prepared baking sheet and coat tops with cooking spray or drizzle with oil. Broil for 5 to 7 minutes, flip and broil another 5 minutes until starting to brown on outside.
Serve polenta cakes with vegetarian bolognese on top and sprinkle with Parmesan (or nutritional yeast, if vegan).
Notes
The longer you simmer the sauce, the deeper and richer the flavor becomes.
*You can use freshly prepared lentils, canned lentils, or packaged steamed lentils, which can be found in the produce aisle of some supermarkets. 
Nutrition Information:
Yield:

5
Serving Size:

5 Servings
Amount Per Serving:
Calories:

203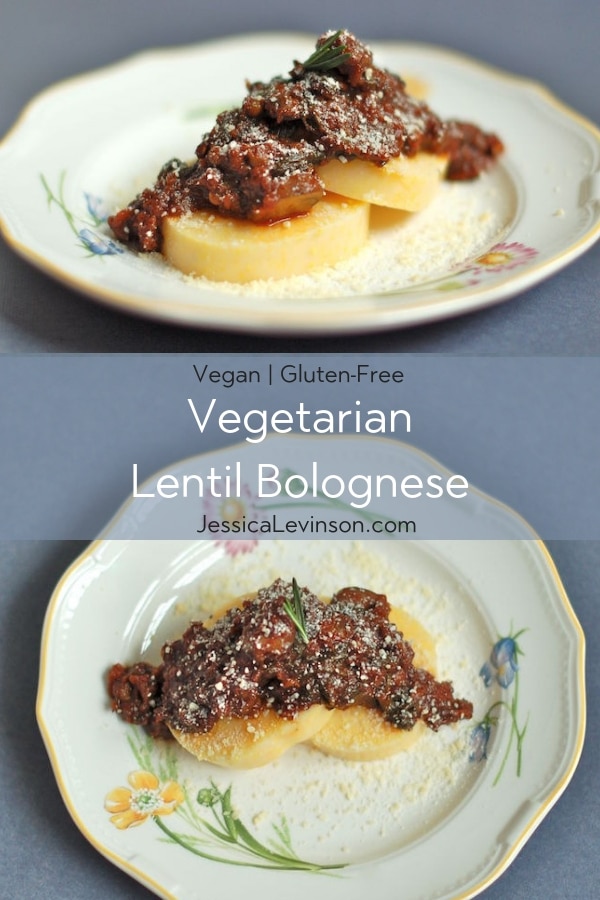 What's your favorite pasta sauce?
Have you ever made polenta cakes?
Share with me in the comments below!