Vegan Corn Tortilla Soup with Black Beans
November 22, 2014
Warm up on cold nights this winter with a bowl (or two) of Vegan Corn Tortilla Soup – a quick, flavorful, and filling one pot meal!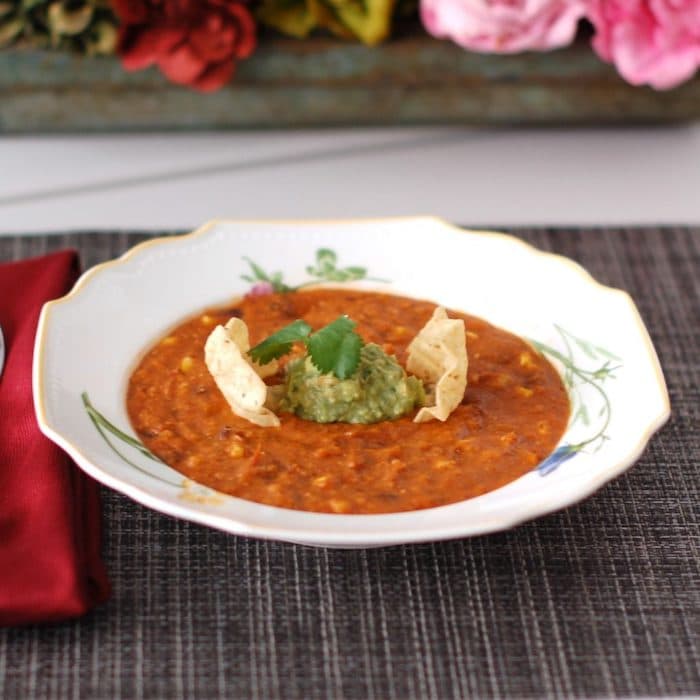 This page contains affiliate links. See below for full disclosure statement.
I have many food memories from my childhood – Wacky Mac (for those of you who don't know, this is the Kosher Kraft Mac 'n Cheese), Entenmann's cupcakes, donuts, loaf cakes, crumb cakes (you get the idea!), pizza bagels with cole slaw for dinner Saturday night when my parents went out with friends. All this is not to say that we didn't have some more well-rounded meals – have you ever been to someone's home for a Jewish holiday? There is always a ton of food, including some of my faves like stuffed cabbage, noodle kugel, and tzimmis (sweet carrots).
But one of my fondest memories of meals as a kid/teenager is the occasional dinner with my mother at California Pizza Kitchen when I was in high school. By then, I was the only one left at home (I'm the youngest of three), and that meant more special time alone with my mom. Whether it was singing oldies in the kitchen while cleaning up from dinner or sharing a veggie pizza on honey whole wheat at CPK, the time with my mother was something I cherished and didn't take for granted, knowing that my older siblings didn't get the same.
Restaurant Recipe Makeover
One of my favorite menu items at CPK back then was their Sedona Tortilla Soup, a thick tomato and corn-based tortilla soup topped with crispy tortilla strips. There was something so comforting about that soup, but as I became more nutritionally aware, I was certain it wasn't the healthiest appetizer I could order. And in fact, it wasn't, especially when you take into consideration that it was just an appetizer. So I set out to recreate it with a healthier twist as this Vegan Corn Tortilla Soup with Black Beans. I hope you enjoy the recipe below and it brings you fond memories in the kitchen and with your family!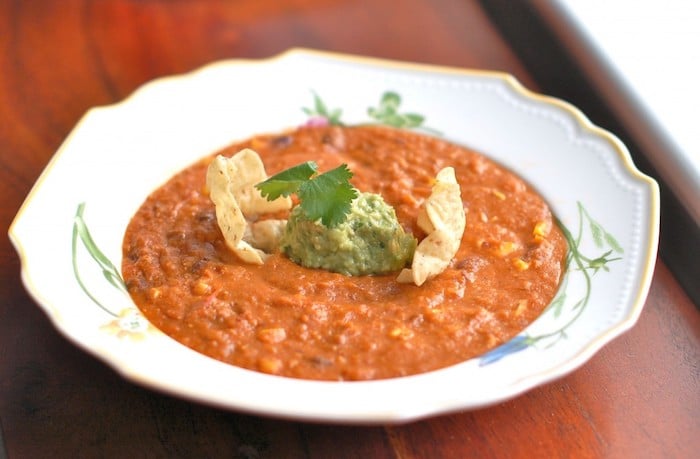 Corn Tortilla Soup with Black Beans
Black beans, corn, and crunchy tortilla strips give this Corn Tortilla Soup a variety of flavors and textures, not to mention the addition of fiber and protein.
Vegan, Gluten-Free, Nut-Free, Kosher
Ingredients
1 tablespoon olive oil
1 small onion, diced
4 garlic cloves, minced
1 teaspoon chili powder
2 1/2 teaspoons ground cumin
26 ounces diced tomatoes (I use Pomi boxed tomatoes; if you use a can it will be 28 ounces)
2 tablespoons tomato paste
One 15-ounce can no-salt added black beans, rinsed and drained, divided
2 cups reduced-sodium vegetable broth
One 16-ounce package frozen corn kernels
1/2 teaspoon Kosher salt
Freshly ground pepper
1 cup crushed tortilla chips, plus more for serving
2 tablespoons fresh lime juice
Cilantro (optional for serving)
Guacamole (optional for serving)
Instructions
Heat olive oil in a medium to large soup pot over medium-high. Add onions and saute until softened, about 2 minutes. Add garlic, chili powder, and cumin, and saute another 1 minute until fragrant.
Add diced tomato, tomato paste, all but one cup of black beans, half the bag of corn (8 ounces), vegetable broth, and 1 cup of water to the pot. Bring to a boil. Reduce to a simmer and cook for 5 minutes.
Add crushed tortilla chips; cook until softened, about 2 minutes. Turn off heat.
Using an immersion blender, puree soup until mostly smooth with some chunkiness.
Add the reserved 1 cup of black beans, remaining corn, salt, pepper, and lime juice to soup and stir. Return to heat on simmer for 5 minutes.
Serve soup garnished with tortilla chips, cilantro, and a dollop of guacamole if desired.
Notes
This recipe was adapted from Martha Stewart's Tortilla Soup with Black Beans
For point of comparison, according to CPK's nutrition facts, 1 bowl of their Sedona Tortilla Soup has 480 calories, 6 g protein, 44 g carbohydrates, 6 g fiber, 7 g sugar, 32 g total fat, 19 g saturated fat, 100 mg cholesterol, 1330 mg sodium
Recommended Products
As an Amazon Associate and member of other affiliate programs, I earn from qualifying purchases.
Nutrition Information:
Yield:

6
Serving Size:

1 1/2 cup
Amount Per Serving:
Calories:

261
Total Fat:

6g
Saturated Fat:

1g
Trans Fat:

0g
Unsaturated Fat:

5g
Cholesterol:

0mg
Sodium:

428mg
Carbohydrates:

47g
Fiber:

12g
Sugar:

9g
Protein:

11g
Nutrition information was calculated by Nutritionix. It may not be 100% accurate.
What's your favorite food memory?
Share with me in the comments!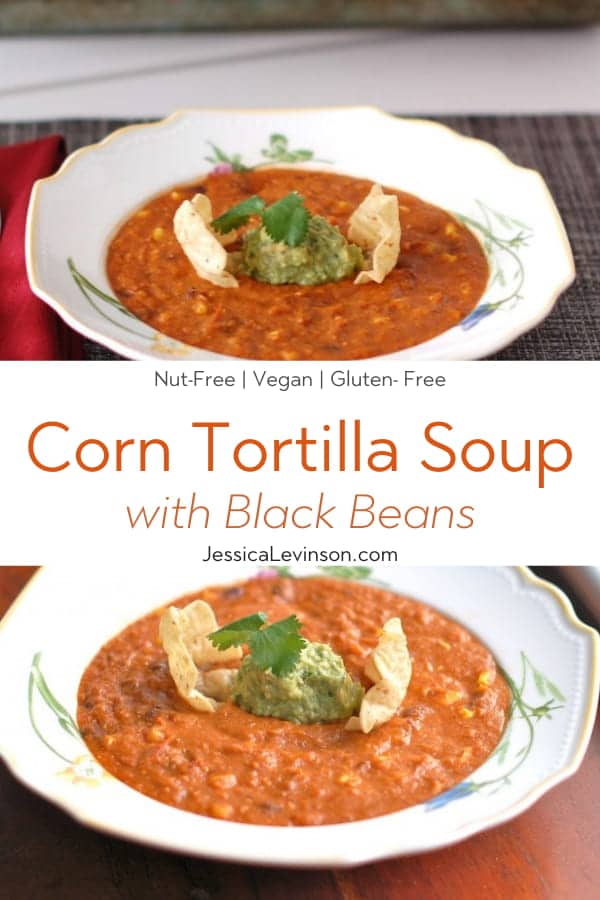 Disclosure: This page contains Amazon Affiliate links. If you purchase products through these link, your cost will be the same but I will receive a small commission to help with operating costs of this blog. As always, all thoughts and opinions are my own and I only recommend products I truly believe in. Thanks for your support!