Vegetarian Greek Lentil Stuffed Zucchini Boats
September 6, 2018
Vegetarian Greek Lentil Stuffed Zucchini Boats are the ultimate meatless dinner idea to use up that end of summer produce.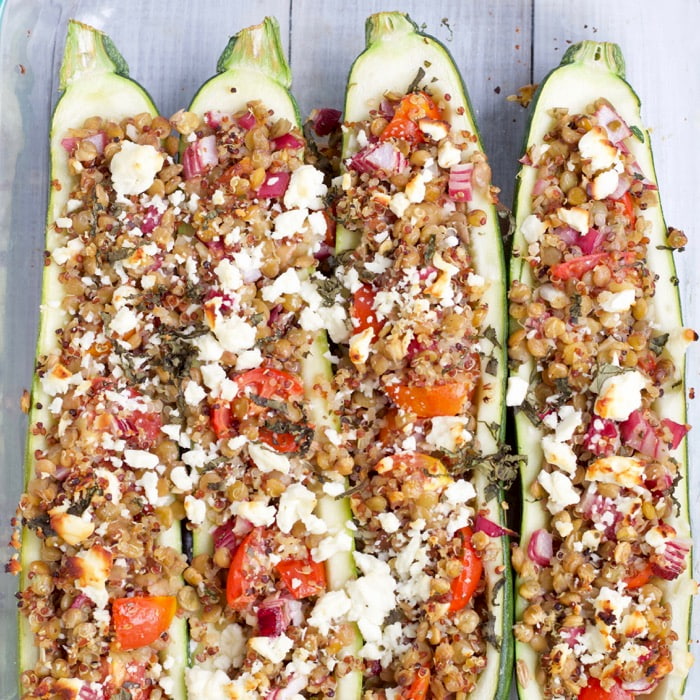 This page contains affiliate links. See below for full disclosure statement.
I'm so excited to have my assistant and fellow registered dietitian nutritionist Emily Cooper here today to share this end of summer recipe with you all. For more of Emily's recipes and writing, check out her blog Sinful Nutrition.
---
By Emily Cooper, RDN
I don't know about you, but I am SO not ready to give up summer yet. This is coming from the girl who lives and breathes fall, and I'm still not ready. So instead of accepting the fact that it's just around the corner whether I like it or not, I am making and eat all the summer foods and recipes I can handle.
And you can't really mention summer without mentioning zucchini. Oh, zucchini. Everyone loves it, until there's infant-sized squashes taking over your garden. Just when you think you've had enough zucchini, there are seven more ready to be picked. So as far as I'm concerned, you can never have too many zucchini recipes.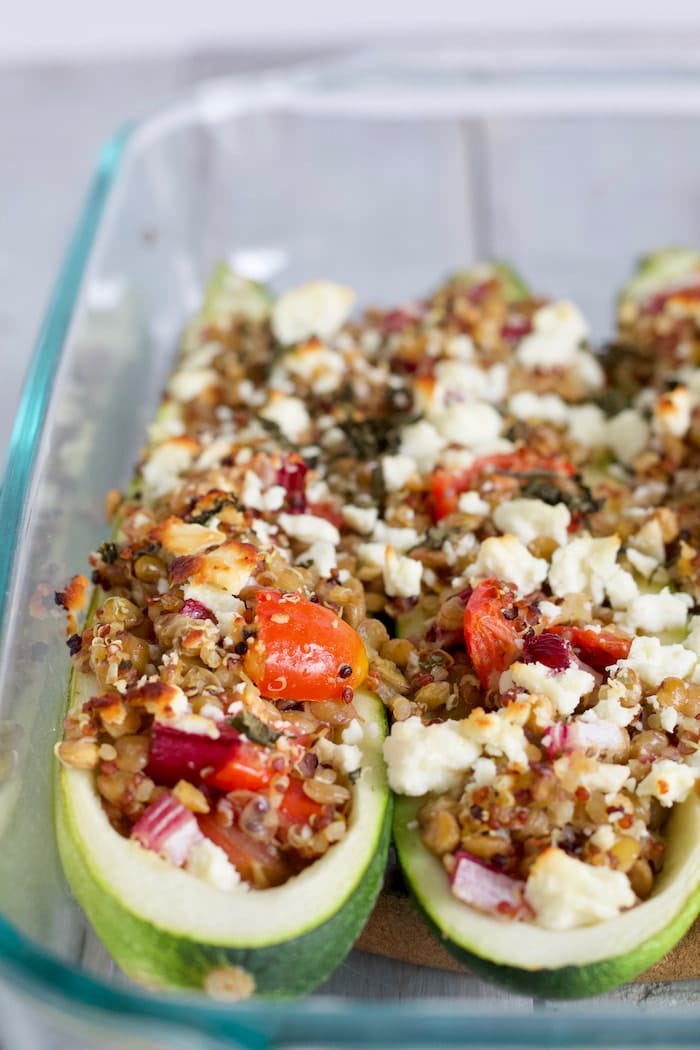 Ways to Use Summer Zucchini
Although zoodles are all the rage, it's nice to change it up once in a while. Some fun ways to use all those zukes: turn them into chips and fries, make pancakes with them, add them to sheet pan meals, or try Jessica's Greek Zucchini Pie – it's delish! Another way to put them to use is to turn them into boats and stuff them with awesome mixtures of ingredients.
There's just something about a recipe with the word stuffed in it that automatically tells you it's going to be amazing, am I right? Right. Grilled Avocados Stuffed with Corn. Caprese Stuffed Tomatoes. And (you guessed it) Stuffed Zucchini Boats. My mouth is watering already.
Vegetarian Stuffed Zucchini Boats
I like these because they come together quickly, especially if you already have cooked lentils and quinoa on hand. I always have canned lentils in my pantry or packages of steamed, ready to eat lentils in the fridge (you can find them with refrigerated veggies at Trader Joe's and some other supermarkets). They're perfect for dishes like this and they make meals even faster. I like faster.
Oh, and one more thing. Stuffed zucchini boats are a great meal prep dish. I've been loving using Jessica's 52-Week Meal Planner workbook to ensure I have healthy meals like this one on the table all week long. Did you get your copy yet?!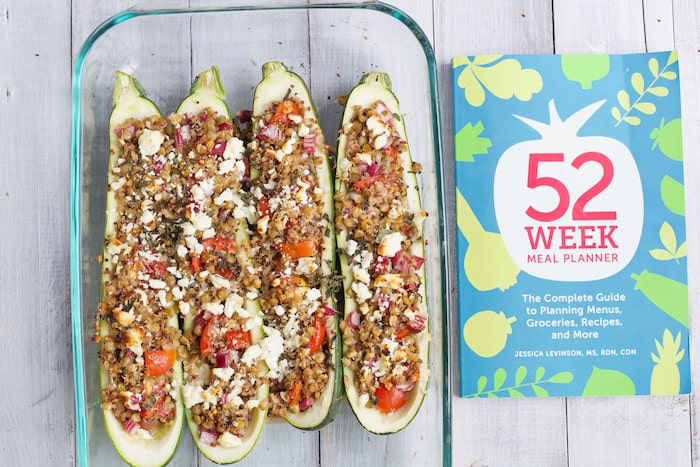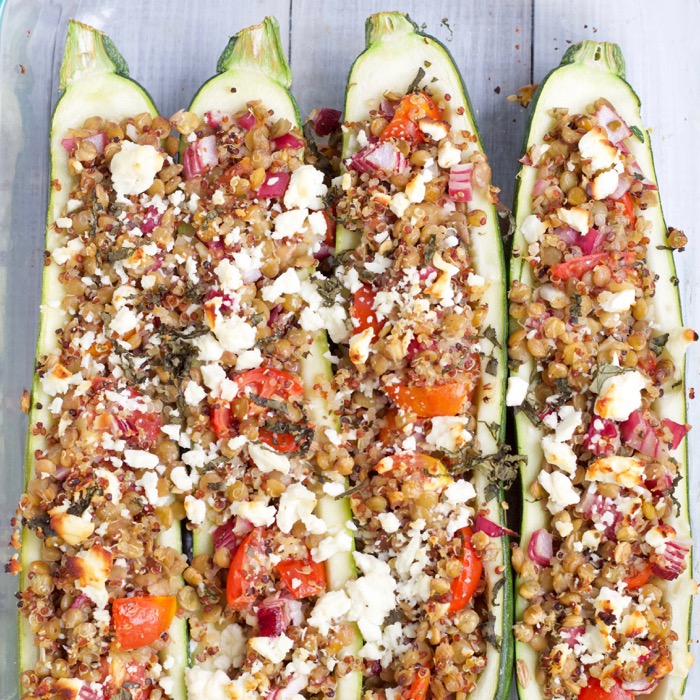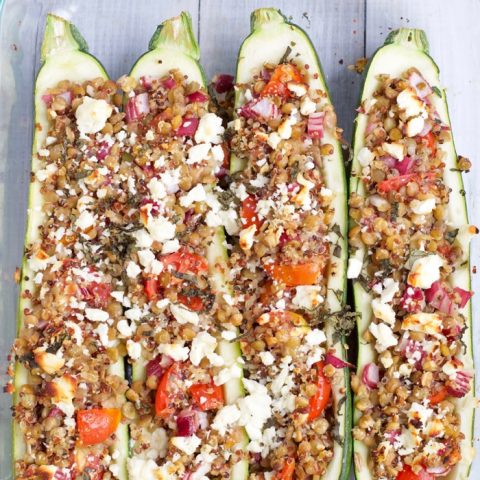 Vegetarian Greek Lentil Stuffed Zucchini Boats
These Vegetarian Greek Lentil Stuffed Zucchini Boats are the ultimate meatless dinner idea to use up that end of summer produce.
Vegetarian, Gluten-Free, Nut-Free, Kosher
Ingredients
3 large zucchini, halved lengthwise
1 cup cooked quinoa
1 cup cooked brown lentils
1/2 cup cherry tomatoes, halved
1/2 small red onion, chopped
3 tablespoons red wine vinegar
2 tablespoons olive oil
1 tablespoon lemon juice
1 teaspoon dried oregano
2 cloves garlic, minced
1 teaspoon Dijon mustard
1/4 teaspoon black pepper
1/4 teaspoon Kosher salt
1/2 cup crumbled feta cheese, divided
2 tablespoons chopped parsley
Instructions
Preheat oven to 400 degrees.
Scoop out center of zucchini halves to create a shell, and place in a 9x13 glass baking dish. (Discard zucchini flesh, which is mostly seeds)
In a large bowl, combine all ingredients except for feta cheese and parsley. Add half of the feta cheese to the quinoa lentil mixture and stir to combine.
Evenly scoop lentil mixture into zucchini halves and top with remaining cheese.
Bake uncovered in preheated oven for 20 to 25 minutes, or until zucchini is tender. Remove from oven, and top with chopped parsley before serving.
Recommended Products
As an Amazon Associate and member of other affiliate programs, I earn from qualifying purchases.
Nutrition Information:
Yield:

6
Amount Per Serving:
Calories:

167
Total Fat:

8g
Saturated Fat:

3g
Trans Fat:

0g
Unsaturated Fat:

5g
Cholesterol:

11mg
Sodium:

233mg
Carbohydrates:

17g
Fiber:

5g
Sugar:

3g
Protein:

7g
Nutrition information was calculated by Nutritionix. It may not be 100% accurate.
What's your favorite way to use up zucchini?
Share with me in the comments below!
Disclosure: This page contains affiliate links. If you purchase products through these links, your cost will be the same but I will receive a small commission to help with operating costs of this blog.