Farinata with Tomato, Mozzarella, and Pesto Drizzle
August 21, 2016
Be transported to Italy with this easy, gluten-free, and vegetarian Farinata with Tomato, Mozzarella, and Pesto.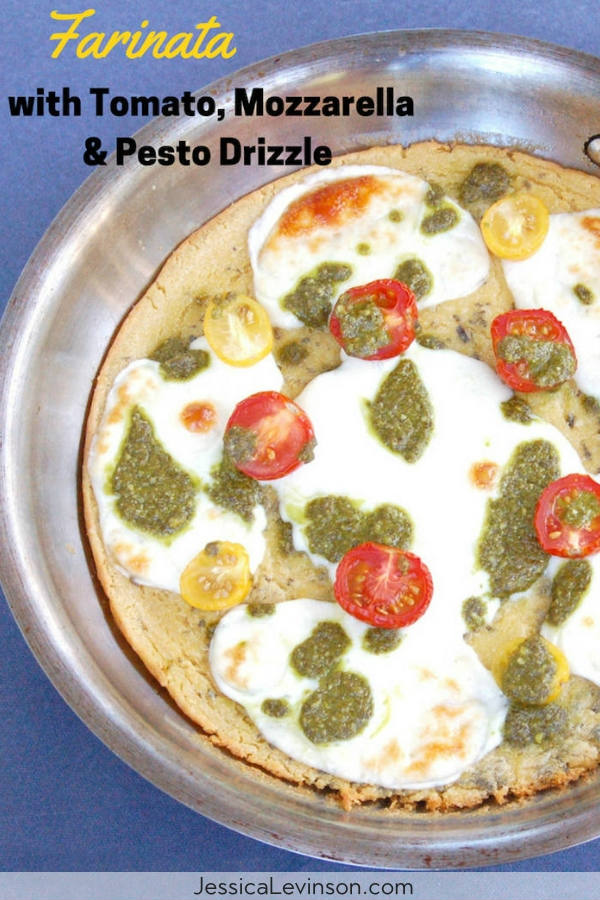 It's Recipe ReDux time and I'm loving this month's theme!
A Vacation-Inspired Recipe
Start unpacking your favorite vacation memories. Think about a trip you took state-side or internationally and create a healthy recipe from an unforgettable meal you enjoyed. Or, create a recipe from a native ingredient you saw or tasted on your travels.
As soon as I saw this month's theme I knew what I was going to make: Farinata with tomato, mozzarella, and pesto! Never heard of Farinata? Well, maybe you've heard of Socca, which is Farinata's French cousin. I had farinata for the first time last September when hubby and I were in Genoa, Italy for my friend's wedding, and I have been promising Mr. Nutritioulicious that I would make it since we got back. A year later and thanks to The Recipe ReDux I finally fulfilled my promise!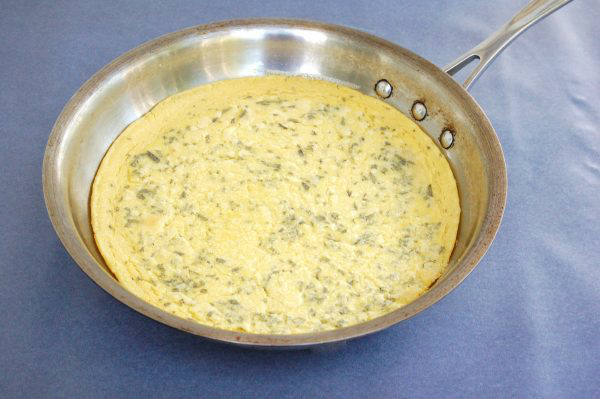 Farinata, which literally means "made from flour" is a thin unleavened pancake made of chickpea flour mixed with water and olive oil. In its simplest form – which is how it was served in Genoa – it's seasoned with rosemary and topped with salt and pepper. That's it!
It's delicious as is, but I loved the idea of using farinata as a flatbread or crust and a vehicle for other nutritious and delicious toppings. It's really easy to make, perfect for anyone on a gluten-free, egg-free, dairy-free, and/or nut-free diet, and the dietitian in me loves that it's higher in protein than traditional flatbreads thanks to the chickpeas. And what better time to celebrate chickpea flour than the International Year of Pulses!
In the spirit of summer and prime tomato season, I made a farinata with tomato and mozzarella and instead of using fresh basil I made a quick pesto to drizzle on top. Deeeelicious! And nutritious of course. 😉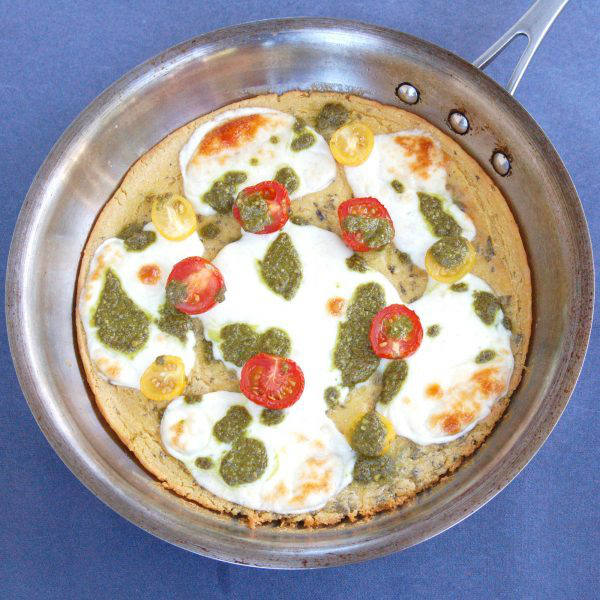 A couple of things to note when making farinata:
Be careful not to overdo it on the toppings, otherwise it may collapse when you take it out of the pan. The "crust" is not as firm as a traditional pizza crust.
Traditionally, farinata is made in a copper pan, but home cooks often use a cast-iron skillet. I have neither, so I made one in a glass pie dish and another in my regular skillet. Both came out delicious, but the one in the pie dish was hard to remove without it falling apart. For best results use a shallow pan.
I'm looking forward to making the farinata more often with a variety of toppings or even in the traditional way to serve on the side of bowls of soup as the weather gets cooler!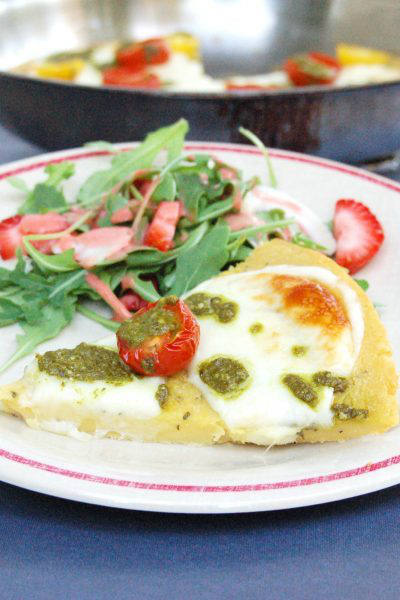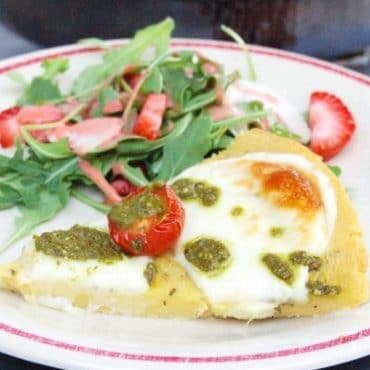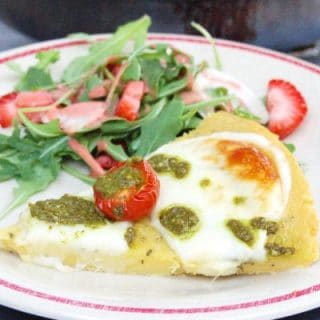 Farinata with Tomato, Mozzarella, and Pesto Drizzle
A chickpea flour crust is topped with tomatoes, mozzarella, and basil pesto in this easy, gluten-free, and vegetarian twist on the traditional Italian farinata.
Ingredients
For the Farinata Crust:
2 cups chickpea flour
1 tablespoon minced rosemary, or 1 teaspoon dried
1 teaspoon Kosher salt
Freshly ground pepper, to taste
2 1/2 cups lukewarm water
4 tablespoons olive oil, divided
For the Pesto Drizzle:
1 cup packed fresh basil
1 clove garlic
2 tablespoons olive oil
1 tablespoon lemon juice
1 tablespoon grated Parmesan cheese
1/4 teaspoon Kosher salt
For the Toppings:
6 ounces part-skim mozzarella cheese, sliced into rounds (from a log or ball)
6-8 ounces sliced tomatoes, I used a combo of beefsteak and cherry tomatoes; learn more about tomato varieties here
Instructions
In a large bowl, whisk together the chickpea flour, rosemary, salt, and pepper. Slowly whisk in the warm water until smooth and lump-free. Whisk in 2 tablespoons of olive oil and let batter stand for at least 30 minutes.
While the chickpea mixture is resting, preheat the oven to 450 degrees F and make the pesto.
In a small food processor, combine all the pesto ingredients and puree until smooth. Transfer to a small dish, cover, and refrigerate until ready to use.
When oven is preheated, coat 10-inch oven-safe skillet (or cast-iron if you have) with 1 tablespoon of the remaining olive oil and place in oven to heat for a few minutes.
Carefully remove the skillet from the oven and ladle in half of the batter, tilting the skillet as necessary to ensure the batter is evenly spread. Return the skillet to the oven and bake 10 to 13 minutes until the farinata is set and the edges begin to brown.
Remove skillet from the oven and top with half of the sliced tomatoes and mozzarella. Drizzle reserved pesto on top and return to oven for another 10 to 13 minutes until cheese is melted and starts to bubble.
Repeat steps 4 through 6 with remaining tablespoon of oil, tomatoes, mozzarella, and pesto, to taste.
Have you ever been culinarily inspired by a recipe you had on vacation?
What would you top your farinata with?
Share with me in the comments!