Low-Sugar Apple Chutney
October 9, 2018
Add a layer of flavor to your chicken, fish, and meat with this homemade, sweet and spicy, low-sugar apple chutney.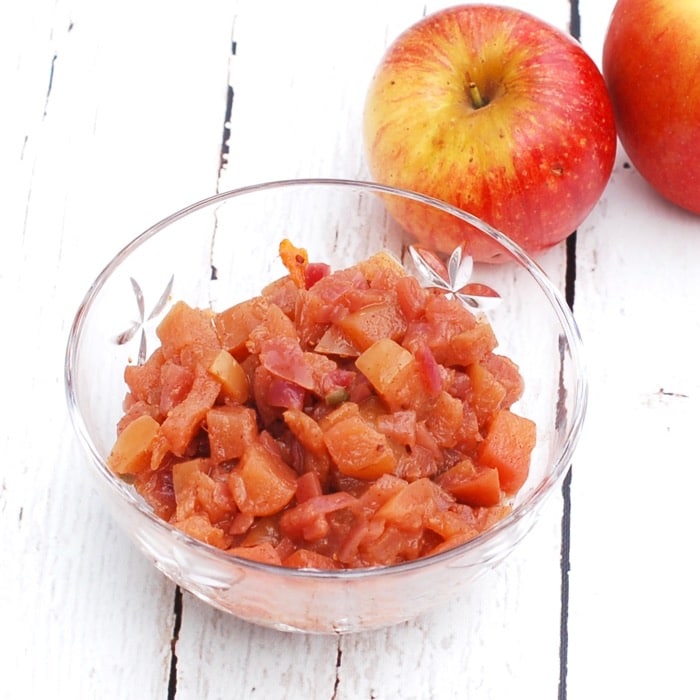 When I was little, ketchup was my condiment of choice. I used it on everything from French fries and chicken nuggets to scrambled eggs. These days, ketchup rarely makes its way out of the fridge door. When my girls were really little I didn't even keep ketchup in the house and the only time my girls had it was when we were out at restaurants. I'm not so much opposed to the popular condiment as much as I feel like there are more interesting dips and spreads to accompany food that are also healthier for us.
A Far Cry From Ketchup
Take my tomato jam for example. It's made with sugar (a whole cup in fact), but lime juice, ginger, cumin, and cinnamon add a depth of flavor that you don't get from the classic, All-American tomato condiment. Some may say that my tomato jam with all those flavors plus some spice from jalapeño isn't kid-friendly (the girls' grandparents will be the first to give that opinion), but I disagree. It's all what you expose your kids to and how it's presented. When I top a turkey burger or beef burger with this jam, my kids are biting into it with gusto – no requests for ketchup passing from their lips.
In a similar fashion, my Spicy Cherry Chutney is a crowd pleaser, delicious on top of grilled chicken, fish, and these Moroccan-Spiced Lamb Burgers. And everyone talks about cranberry sauce around Thanksgiving, but I'll make it year round for the same purpose as these other jams and chutneys. I guess you can say homemade condiments are one of my favorite types of recipes to make, which brings me to this low-sugar apple chutney.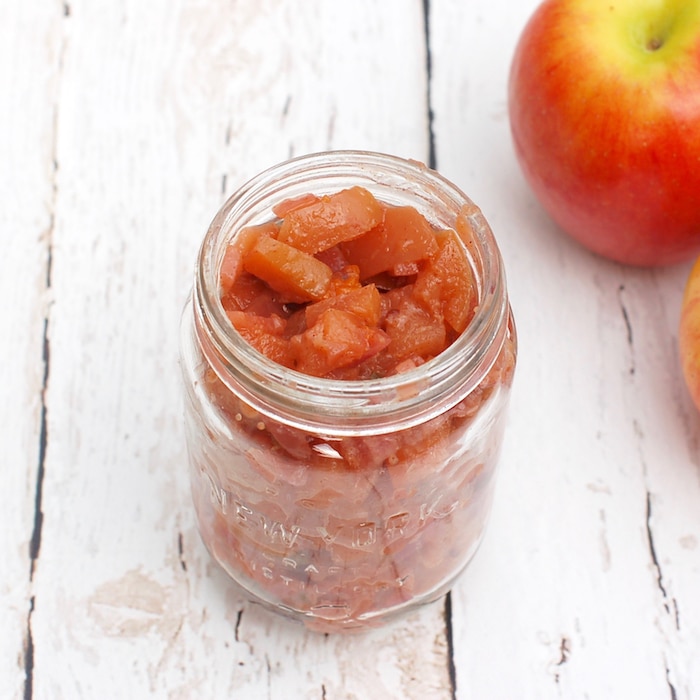 Apple Chutney All Year Round
Everyone associates apples with the fall, but they're one fruit I have in my house all year round. They're the most convenient fruit to pack for a snack and they tend to be a favorite of most kids. Not to mention all the ways you can use them in the kitchen!
And now this Low-Sugar Apple Chutney. I've served this chutney on top of chicken burgers and salmon burgers and it has received rave reviews from the family (the kids each gave two thumbs up and hubby gave his seal of approval!).
In addition to chicken and salmon, this apple chutney would go great with turkey burgers, chicken breasts, a nice fillet of white fish like cod or tilapia, and I imagine it would be a superb fit with pork too (since we keep Kosher, I wouldn't know about that, but I'm assuming!). It would also be a fab addition to a cheese plate. Mmmm…the possibilities are endless!
Unlike many jams and chutneys, this apple chutney is pretty low in sugar with only two tablespoons in the entire recipe. For point of reference, typical apple chutneys have 25 to 30 calories and 5 to 6 g sugar per 1 tablespoon serving. This chutney has 13 calories and 2 g sugar per 1 tablespoon, which is great since you definitely won't want to stop at that small amount!
No matter what time of year it is, give my low-sugar apple chutney a try. It's quick and easy to make and will keep in the fridge for a few weeks (although I'd be surprised if it lasts that long!).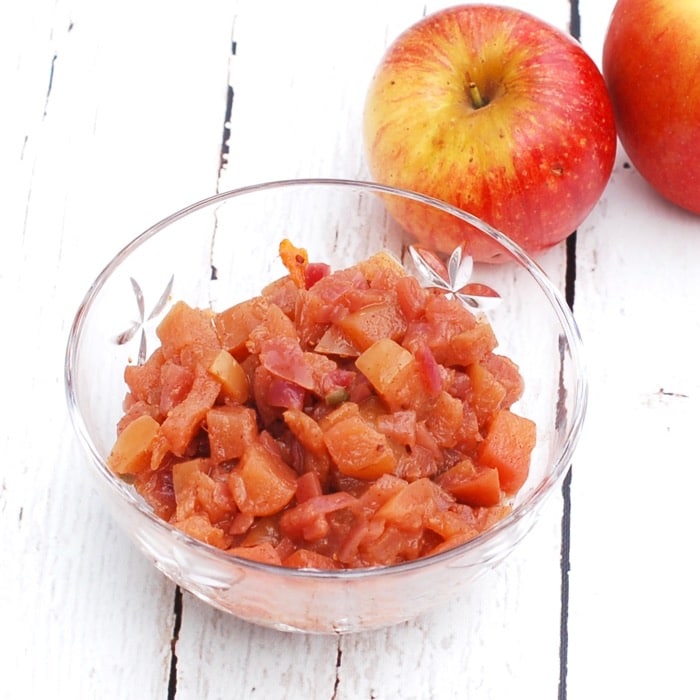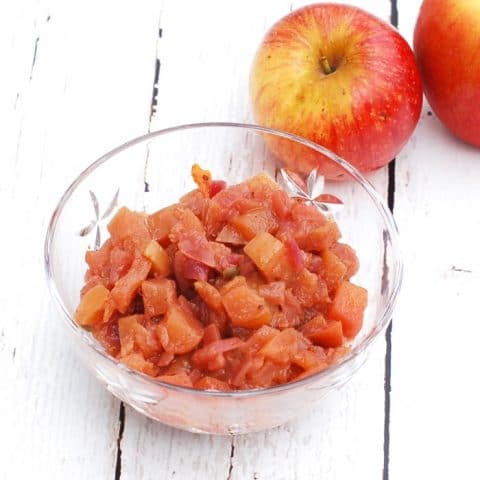 Low-Sugar Apple Chutney
This sweet and spicy, low-sugar apple chutney is full of flavor and a delicious homemade condiment to serve with chicken, fish, and meat. It's also a great addition to a cheese plate.
Ingredients
2 teaspoons olive oil
1 cup chopped red onion
1 jalapeño pepper,, minced (discard ribs and seeds unless you want it spicy)
2 teaspoons grated ginger
4 cups diced apples
1/2 cup apple cider vinegar
1 tablespoon lemon juice
2 tablespoons sugar
1/2 teaspoon cinnamon
1/4 teaspoon whole-grain Dijon mustard
1/4 teaspoon Kosher salt
Instructions
Heat oil in a medium sauce pot. Add red onion and sauté about 3 minutes until translucent. Add jalapeño and ginger and sauté 1 minute.
Add remaining ingredients (apples through salt) and bring to a boil. Lower heat and simmer 20 minutes, stirring occasionally, until most of the liquid has evaporated and the chutney has thickened. Remove from heat and let cool.
Store in a glass mason jar or airtight container in the refrigerator up to 3 weeks.
Notes
Chutney can be served at room temperature or chilled straight from the refrigerator.
Nutrition Information:
Yield:

20
Serving Size:

20 Servings
Amount Per Serving:
Calories:

26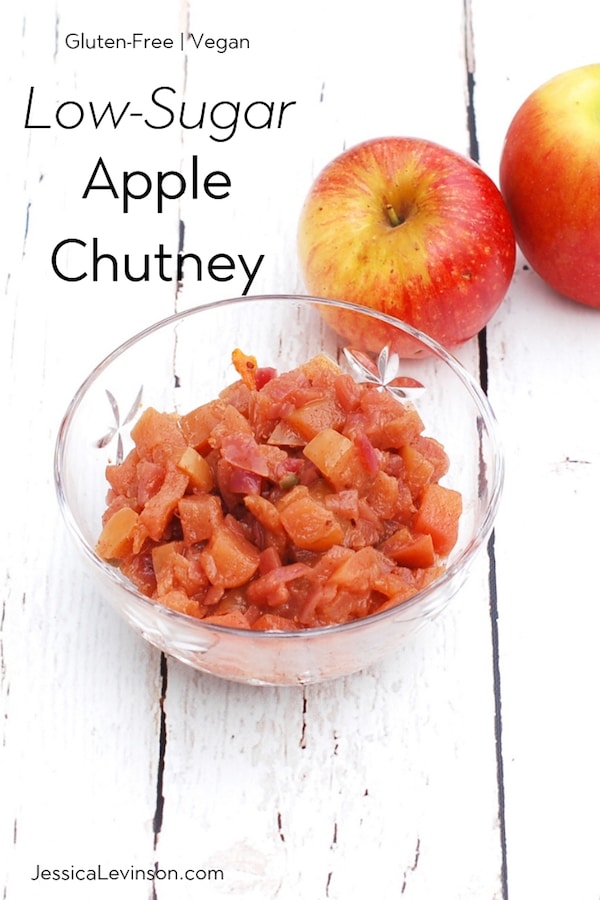 Have you ever made your own chutney or jam?
Is your family into condiments?
Share with me in the comments below!