Spicy Cherry Chutney
August 1, 2018
This Spicy Cherry Chutney is sweet and sour with a bit of a kick. The perfect condiment to serve at your summer barbecue!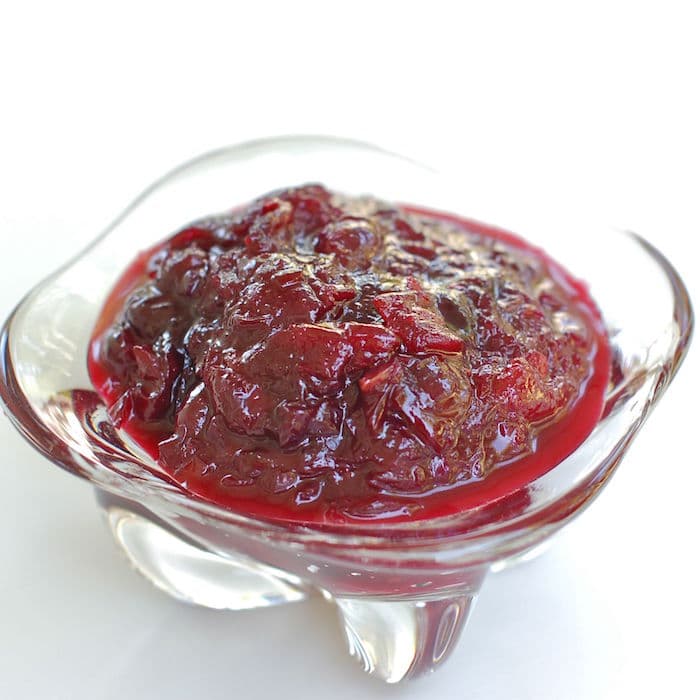 This page contains affiliate links. See below for full disclosure statement.
Cherries are in season and boy does that make me happy! I love sitting on my back patio on warm summer nights, post-BBQ, munching on cherries. I love watching my three year old girls nibble on cherries only to have a clown face when they're done. And, believe it or not, I love using my cherry pitter (affiliate link) to pop the pits out of those sweet, slightly sour and tart cherries when I make my homemade spicy cherry chutney.
This recipe came about over four years ago, when I made my grilled salmon burgers. The burgers were delicious on their own, but what's a burger without a condiment?! Ketchup didn't seem appealing on salmon and mustard seemed too plain Jane. I don't quite remember how I landed on the idea to make a cherry chutney, but I did and it was a perfect fit.
I've made these burgers many times since I posted the recipe, but I've only made the chutney one or two times since. I sort of just forgot about it. Until I stumbled upon the old recipe post and decided it was high time I remade the chutney and rephotographed it. So for a recent barbecue, I remade the chutney with a few modifications and served it with grilled chicken and my grilled Moroccan-Spiced Lamb Burgers. This time I made sure to photograph it properly! It was a hit for adults and kids alike, although I will say you'll want to be careful with the kids depending on how much heat you add!
In addition to serving as a condiment for burgers and grilled chicken, this chutney would be delicious paired with cheese and crackers at a cocktail party!
Without further ado, here's my updated, better than ever Spicy Cherry Chutney! I hope you'll give it a try at your next BBQ, maybe even your July 4th celebration!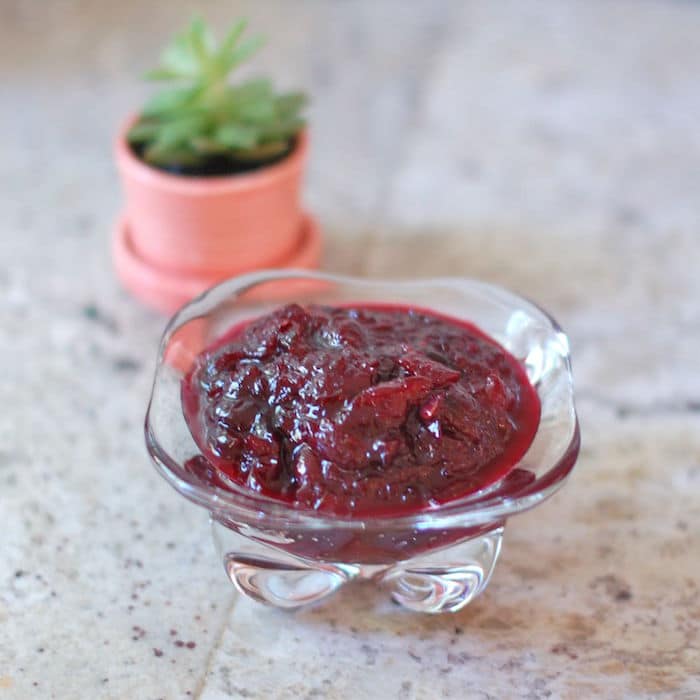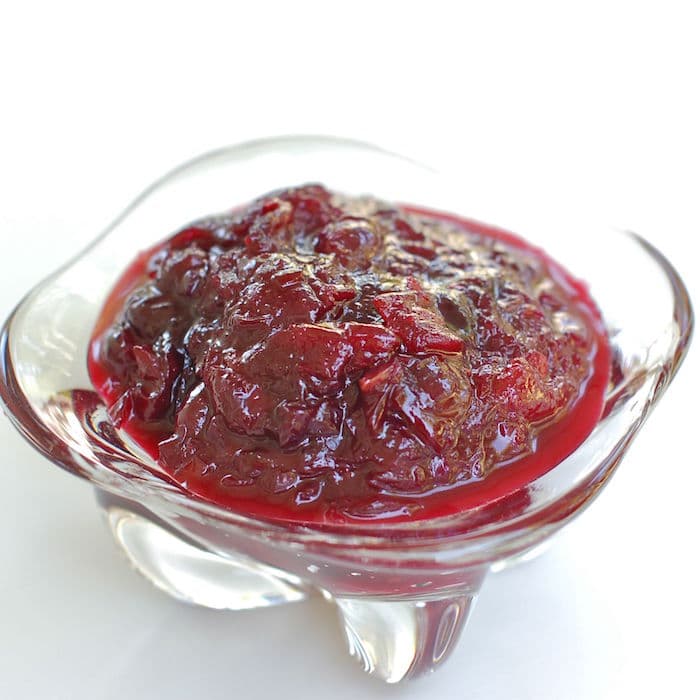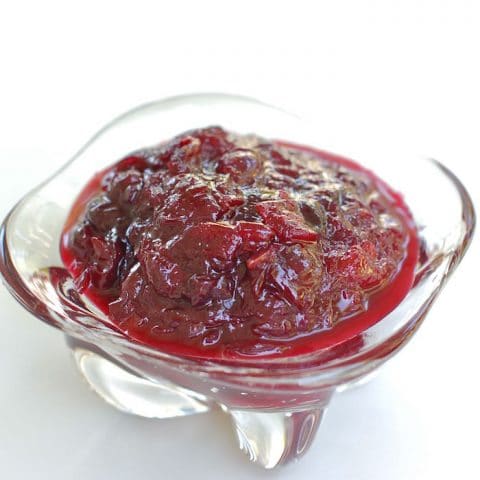 Spicy Cherry Chutney
This Spicy Cherry Chutney is sweet and sour with a bit of a kick. The perfect condiment to serve at your summer barbecue!
Ingredients
1 teaspoon olive oil
1 cup chopped red onion
2 tablespoons minced habanero or jalapeno pepper, (use as few or many seeds as you'd like depending on your preferred spice level)
1 teaspoon freshly grated ginger
2 cups pitted, halved cherries, (can use frozen cherries out of season)
1/4 cup sugar
3 tablespoons cider vinegar
1 tablespoon lemon juice
1/4 teaspoon Kosher salt
Instructions
In a medium sauce pan, heat olive oil over medium-high heat. Saute onion and pepper until onion is translucent, about 5 minutes. Stir in ginger and saute until fragrant, about 1 minute.
Add cherries, sugar, cider vinegar, lemon juice, and salt. Bring to a boil; lower heat to a rapid simmer and cook until sauce thickens, about 40 to 45 minutes.
Transfer to a bowl or serving dish and set aside to cool. Chutney will continue to gel and thicken as it cools. Serve room temperature or store in fridge and serve cold.
Notes
Nutrition Facts (per 2 Tablespoons): 60 calories, 1 g total fat, 78 mg sodium, 14 g carbohydrate, 1.5 g fiber, 10.5 g sugars, 1 g protein
Nutrition Information:
Yield:

8
Serving Size:

8 servings
Amount Per Serving:
Calories:

60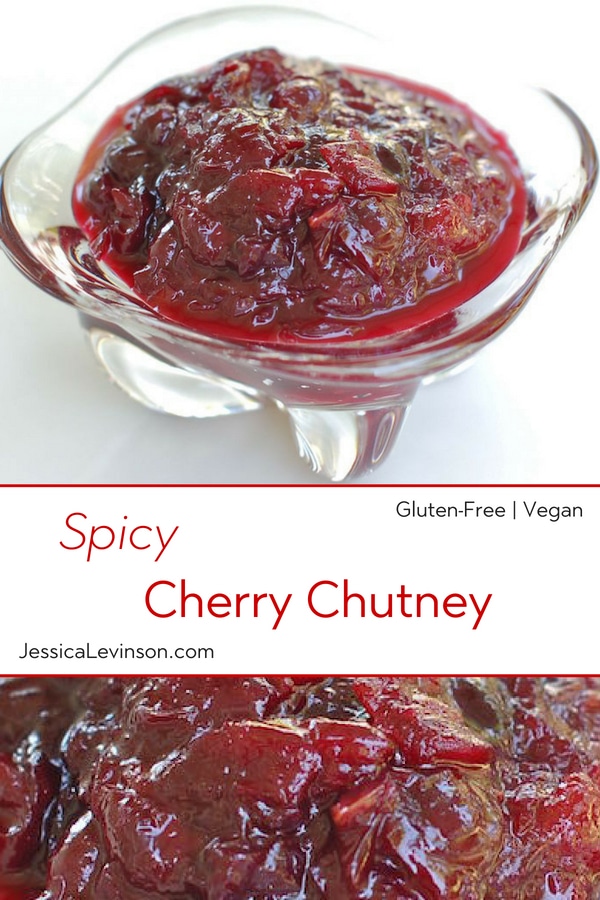 Do you love cherries?
What's your favorite way to enjoy them?
Share with me in the comments below!
Disclosure: This page contains affiliate links. If you purchase products through these links, your cost will be the same but I will receive a small commission to help with operating costs of this blog.