Apple Peanut Butter Pancakes with Sautéed Cinnamon Apples
October 22, 2015
Take your favorite snack duo to breakfast or brunch with these egg-free apple peanut butter pancakes. Your weekends have never been better!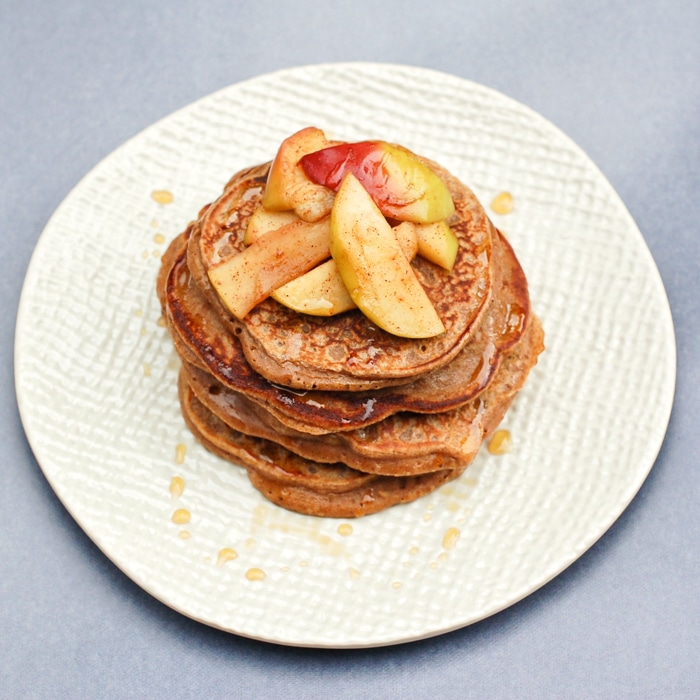 Did you know that October 22nd is National Nut Day? Well I didn't until I saw the theme for this month's Recipe ReDux theme!
A Nutty Nut Day
While technically not a nut (DYK peanuts are actually legumes?), peanut butter is by far my favorite nut butter and one of my favorite ways to eat it (besides straight from a spoon), is with an apple. So a couple of weekends ago when we went apple picking and came home with dozens of apples, I knew I'd be eating my fave snack for a while. Little did I know I'd make something new out of apples and peanut butter.
Ingredients & Preparation
The morning after we brought home our apples, my girls asked for pancakes for Sunday breakfast. I had recently seen my fellow RDN friend Julie's Apple Walnut Buckwheat Pancakes recipe and thought it would be fun to make the girls pancakes with apples. But of course I had to use peanut butter.
Without an exact recipe in hand, I set out to make apple peanut butter pancakes. My husband insisted we use our KitchenAid mixer, which we rarely use, and as the batter was coming together, it was so thick that we almost shifted gears to make it an apple peanut butter cake.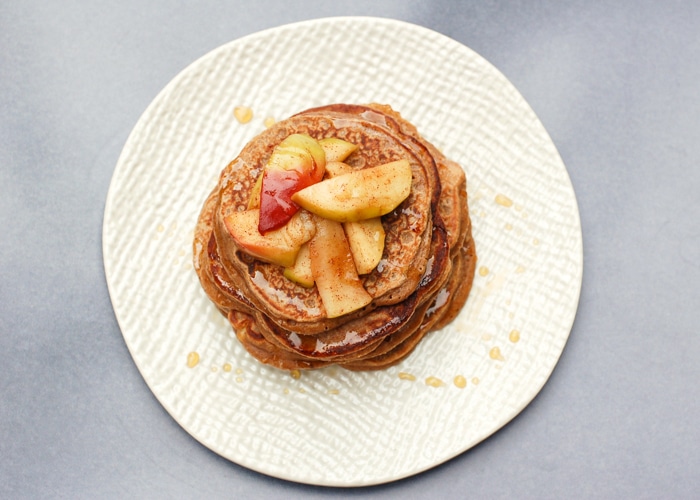 I'm sure my girls would have loved eating cake for breakfast, but I was set on making them pancakes. We thinned out the batter a bit and got cooking. The end result was delicious, albeit a little dense and somewhat raw on the inside. I'm a fan of cookie dough and cake batter, so the rawness didn't bother me, but it wasn't up to snuff for posting here.
When I saw this month's ReDux theme, I knew it was the perfect time to try making these apple peanut butter pancakes again. This time, I used a hand whisk, which left the batter a little less cake-like and a little thinner, and I changed the amounts of certain ingredients. Believe it or not, I didn't even use any eggs, making this an egg-free pancake recipe!
I was also a little more strategic in cooking the pancakes – I used a heat-proof silicone spatula to flatten out the batter on the griddle, which helped keep the pancakes from being too thick.
End result: Same delicious taste, fully cooked inside, and a fun new way to enjoy my favorite snack combination!
Since we had so many apples, I sliced up a couple extra and sautéed them in butter with some cinnamon for a delicious warm apple topping. The sautéed cinnamon apples add a nice sweetness, so if you're not someone who likes overly sweet breakfasts you probably won't even need any maple syrup on top!
While I normally serve pancakes with yogurt to add some protein and prevent a carb-overload slump after breakfast or brunch, I didn't feel the need to up the protein with these pancakes thanks to the peanut butter. If you're someone who does need a high-protein breakfast though, I would suggest adding some breakfast meat or yogurt to your plate!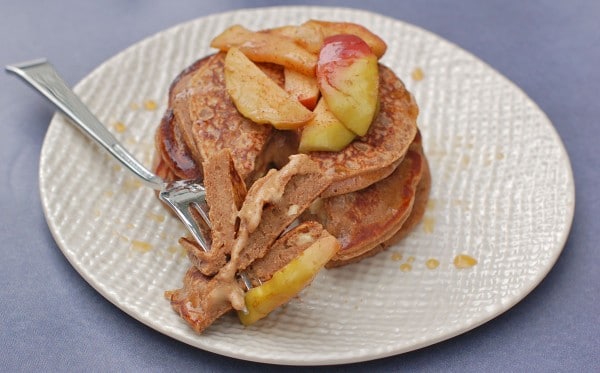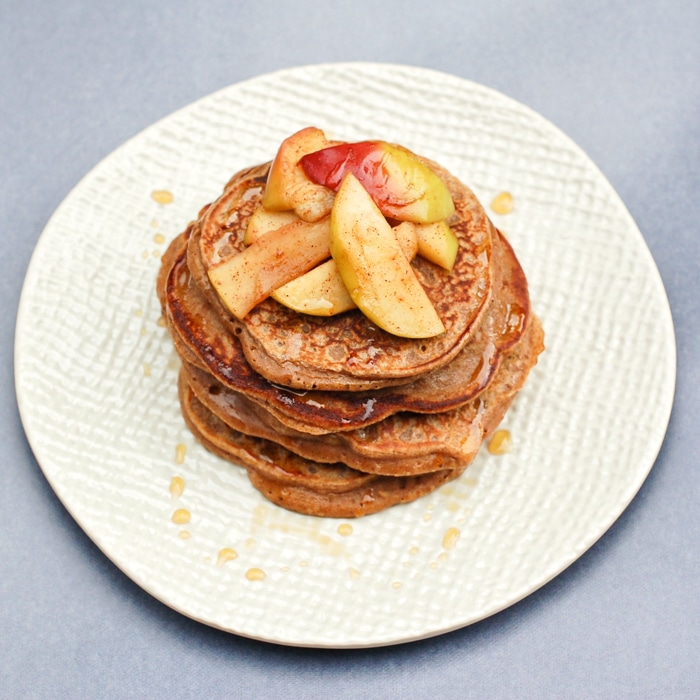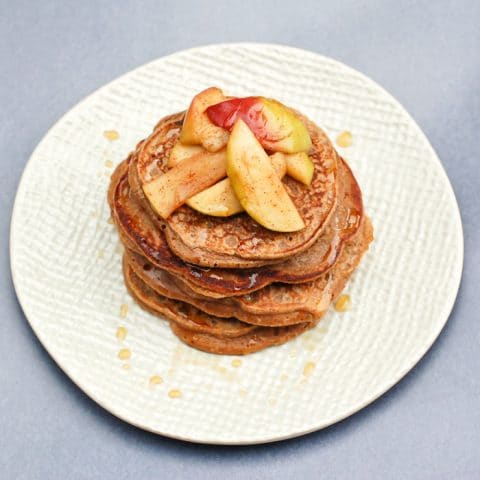 Apple Peanut Butter Pancakes with Sautéed Cinnamon Apples
Total Time:
1 hour
15 minutes
Take your favorite snack duo to breakfast or brunch with these apple peanut butter pancakes. Serve with sautéed cinnamon apples on top.
Ingredients
For pancakes:
3/4 cup whole wheat flour
3/4 cup all purpose flour
1/4 cup sugar
1 teaspoon baking powder
1 tablespoon ground cinnamon
1 1/2 cups nonfat milk
1/2 cup unsweetened applesauce
1/2 cup peanut butter, (I used creamy, natural, unsalted PB)
1 cup diced apples, (I left peel on)
2-3 teaspoons unsalted butter
For sautéed cinnamon apples (optional):
1 teaspoon unsalted butter
1-2 sliced apples
Cinnamon
Water
Maple syrup,, for serving (optional)
Instructions
To make pancakes:
In a large mixing bowl, whisk together both flours, sugar, baking powder, and cinnamon.
In a small mixing bowl, whisk together milk, applesauce, and peanut butter.
Whisk the wet ingredients into the dry ingredients, making sure to incorporate everything well, but be careful not to overmix. Fold diced apples into the batter.
Over medium-low heat, melt butter on griddle - use just enough to coat the griddle (you don't want to use all the butter at once). Using a 1/4 cup measuring cup, drop the batter onto the griddle and smooth with the spatula. Cook until the edges are set and the batter begins to bubble in the middle, about 4 to 5 minutes. Flip and cook on other side for another 4 minutes or so.
Repeat with remaining batter, adding butter to griddle as needed. Keep pancakes warm in a toaster oven. (Note: I make two pancakes at a time on my griddle.)
To make sautéed cinnamon apples:
Melt 1 teaspoon butter in a sauté pan. Add sliced apples, cinnamon, and a few teaspoons of water. Cover and stir occasionally until apples are soft and somewhat caramelized.
Serve pancakes with sautéed cinnamon apples and maple syrup, if desired.
Notes
* You can use 1 1/2 cups white whole wheat flour in place of combining the two flours listed.
Recipe inspired by Apple Walnut Buckwheat Pancakes at RDelicious Kitchen.
Nutrition Information:
Yield:

8
Serving Size:

8 Servings
Amount Per Serving:
Calories:

245

Do you have a favorite nut?
What's your favorite nut recipe?
Share with me in the comments below!