Orange-Ginger Cranberry Sauce
November 13, 2012
Add some zest and spice to a Thanksgiving classic with this lower-sugar, vegan, and gluten-free Orange-Ginger Cranberry Sauce.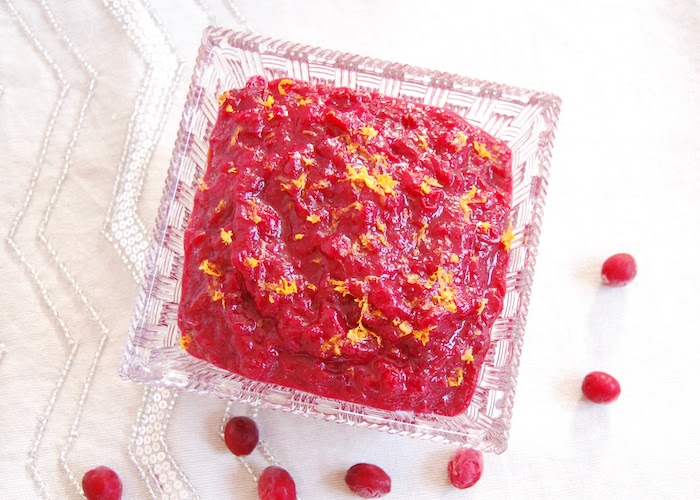 Cranberry sauce is a staple on most Thanksgiving tables, and it certainly was in my house growing up – who else has memories of jellied canned cranberry sauce jiggling around on a plate in a perfectly uniform shape? As I got older, my mother started making her own cranberry sauce with canned mandarin oranges and I presume a lot of sugar (everything had a lot of sugar in it when I was growing up!). I'm not at all opposed to canned foods, but a homemade version like this Orange-Ginger Cranberry Sauce is surely a step up!
I have always loved all the traditional Thanksgiving foods and look forward to all my mother's usual dishes, including her cranberry sauce. But when we moved into our house it was my turn to host Turkey Day and I decided it was about time I make my own version of cranberry sauce.
Friends of mine who have never made cranberry sauce thought I was crazy for adding one more dish to make myself, but they don't realize how easy it actually is. If you Google cranberry sauce you'll get millions of results (over 3.5 million to be precise) and every bag of fresh cranberries I've ever bought has a cranberry sauce recipe on the back. The simplest recipe is to simmer cranberries, sugar, and water until the cranberries have popped and you have a thickened sauce. That's it! See, I told you it was easy.
But wait – if you're like me, you probably want to add a little more depth of flavor and you probably don't want to use as much sugar as most of the recipes call for. When I decided to make my own cranberry sauce, I knew I wanted to incorporate oranges in some way so I could have a connection to my mother's recipe. But as usual (like with my version of my mom's noodle kugel recipe), I had to take it a step further. That's how this Orange-Ginger Cranberry Sauce was born.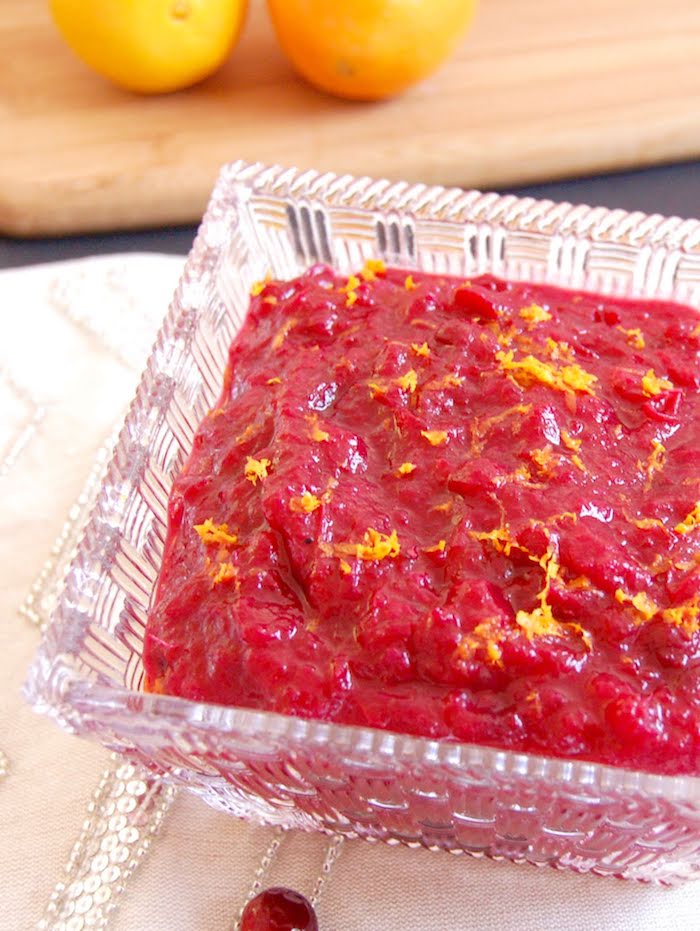 Ingredients & Preparation
To get this Orange-Ginger Cranberry Sauce started, I sauté diced shallots, because what awesome sauce doesn't start with fragrant and delicious sautéed aromatics?! Next, rather than incorporating actual orange pieces like my mother did, I add the zest and juice of fresh oranges, with the latter adding additional natural sweetness that allowed me to reduce the added sugar even more. I then took it another step and added freshly grated ginger for a little spice and a lot of flavor.
As for the sugar, I used 1/2 cup in the whole recipe – that's 1/4 cup per 12-ounce bag of cranberries. Compare that to the one cup of sugar per 12 ounces of cranberries that most recipes call for. Amazing, isn't it?! To finish off the sauce, I whisk in red wine vinegar and freshly squeezed orange juice, which adds a little more natural sweetness and enhances the orange flavor.
Orange-Ginger Cranberry Sauce Uses
The recipe calls for 24 ounces of fresh cranberries, which means you end up with quite a lot of sauce – more than you may eat on Thanksgiving day unless you're hosting an army! But don't worry – in addition to enjoying the sauce with your leftover turkey, here are some additional delicious ides:
Spread it on my Spiced Pumpkin Bread
Add a dollop on top of ricotta crostini
Mix it into oatmeal, yogurt, or cottage cheese
Use it in place of mustard, hummus, or mayonnaise on a sandwich
Add it to a grilled cheese sandwich
Use it as the "jelly" in your next PB&J
Make some cranberry avocado toast for lunch
I am sure you can come up with many more ways to enjoy this Orange-Ginger Cranberry Sauce ( in fact, let me know if you do in the comments. I think I have another blog post in mind!).
Homemade cranberry sauce can be kept in the refrigerator for up to a week, but if you do run out of ideas or if you know you won't be able to eat it all before it would go bad, freeze it! I actually did some research on freezing cranberry sauce and the consensus was it works. If you do freeze it and it's a little watery upon defrosting, I recommend bringing it to a boil to recongeal it.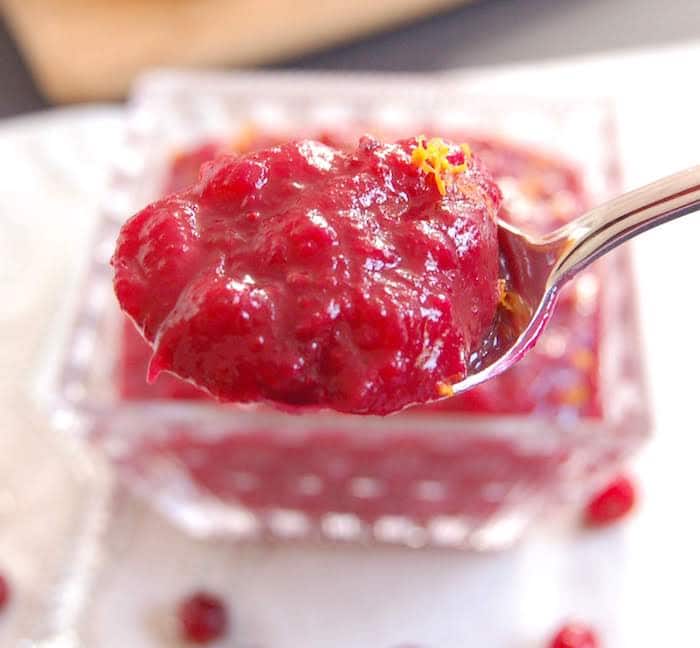 I hope you enjoy my take on classic cranberry sauce. If you're looking for some other healthier versions of Thanksgiving classics, be sure to check out my Sweet Potato Carrot Casserole with Maple Pecans and my Roasted Butternut Squash and Sweet Potato Soup.
Orange-Ginger Cranberry Sauce
Add some zest and spice to a Thanksgiving classic with this lower-sugar, vegan, and gluten-free Orange-Ginger Cranberry Sauce.
Ingredients
2

teaspoons

olive oil

1/2

cup

finely diced shallot

Two 12-ounce bags fresh cranberries

1/2

cup

sugar

2

tablespoons

grated fresh ginger

2

tablespoons

grated orange zest

1/2

cup

water

2

tablespoons

red wine vinegar

2/3

cup

freshly squeezed orange juice

1/2

teaspoon

Kosher salt

Freshly ground pepper,

to taste
Instructions
In a medium saucepan, heat oil over medium-high heat. Add shallots and stir frequently until translucent and softened, about 3 minutes.

Add the cranberries, sugar, ginger, orange zest, and water to the pot and bring to a boil. Reduce to a simmer and cook for 15-20 minutes, stirring occasionally, until most of the cranberries have popped and the sauce has thickened.

Stir in red wine vinegar, orange juice, salt and pepper, to taste. Simmer 5 more minutes, then remove cranberry sauce from heat and cool completely at room temperature.
Recipe Notes
To help expedite the popping of the cranberries, you can use the back of a spoon to press the cranberries against the side of the pot.
If making ahead, transfer cooled cranberry sauce to a container and refrigerate for up to one week. Cranberry sauce can also be frozen. When defrosted, bring to a boil to recongeal.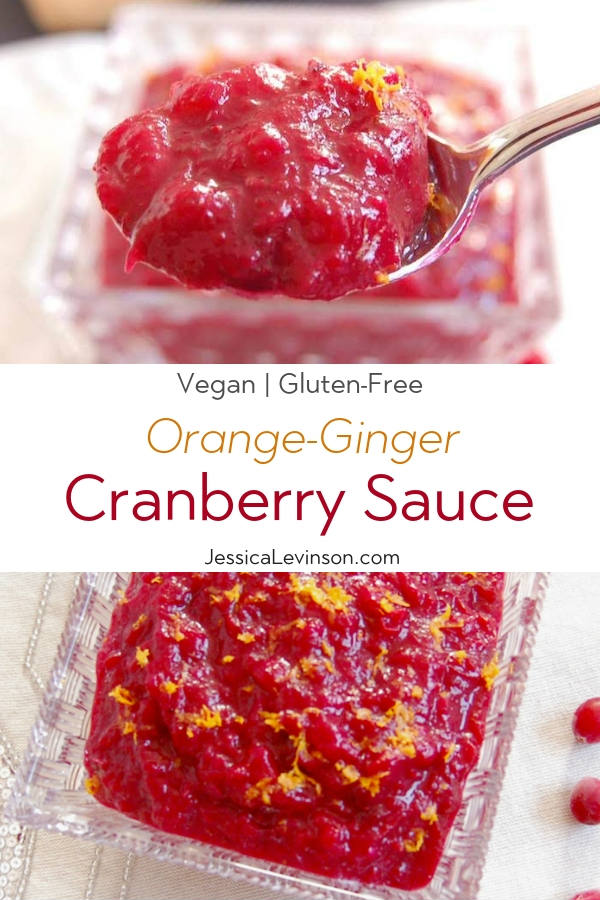 Do you have a favorite cranberry sauce recipe?
Share it with me in the comments below!
Worried about overdoing it this Thanksgiving? Before you gobble, gobble, check out my Thanksgiving Survival Guide for some holiday nutrition tips!