Roasted Delicata Squash Apple Salad with Apple Cider Vinaigrette
October 21, 2017
Enjoy the flavors of fall with this pretty and delicious Roasted Delicata Squash Apple Salad. A perfect side dish or starter salad, especially for the holidays.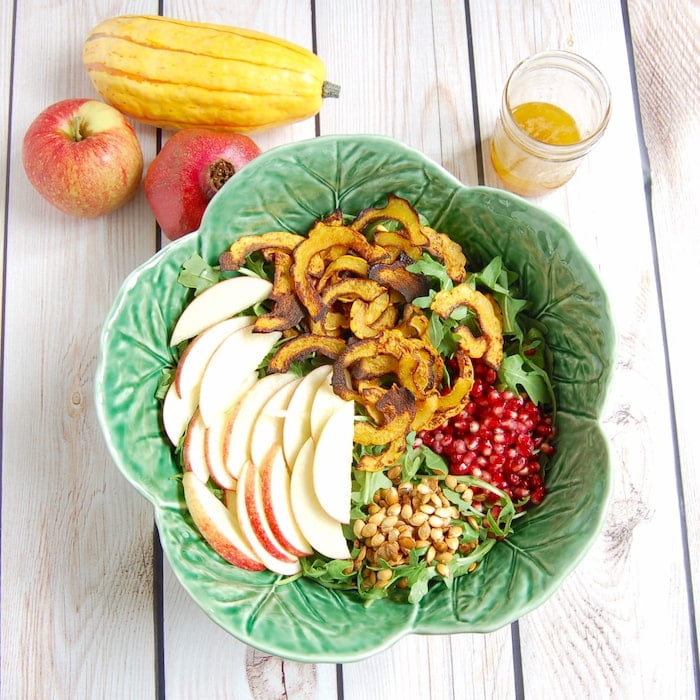 It's not news that gut health is a hot topic in the nutrition world and beyond these days, but what you may not know is that your immune system relies on good gut health to stay strong. This is especially important as we head into cold and flu season, which is what led to this month's topic for The Recipe ReDux.
Good Gut Health
With cold and flu season upon us, the best defense may be good gut health. Since much of our immune health begins in the gut, show us your healthy, delicious recipe to bolster gut health.
When we talk about gut health, we most often discuss foods rich in prebiotics and probiotics like asparagus and onions (prebiotics) and kefir and miso (probiotics). But there are other foods that also boost our gut health and are in season this time of year.
Fiber-Packed Ingredients
The stars of this Roasted Delicata Squash Apple Salad are both excellent sources of dietary fiber, a nutrient we know is important for a variety of reasons, including blood sugar stabilization, keeping us full, and gut health
While more research is needed, there are some studies showing that apples have a positive effect on gut health, mostly due to the soluble fiber pectin, which acts as a prebiotic in the gut. (1, 2) Given the old adage, "an apple a day will keep the doctor away," it's no surprise that there are more good reasons to bite into this popular fruit.
In addition to fiber, delicata squash and other winter squash are excellent sources of vitamin A and C, both of which support our immune system.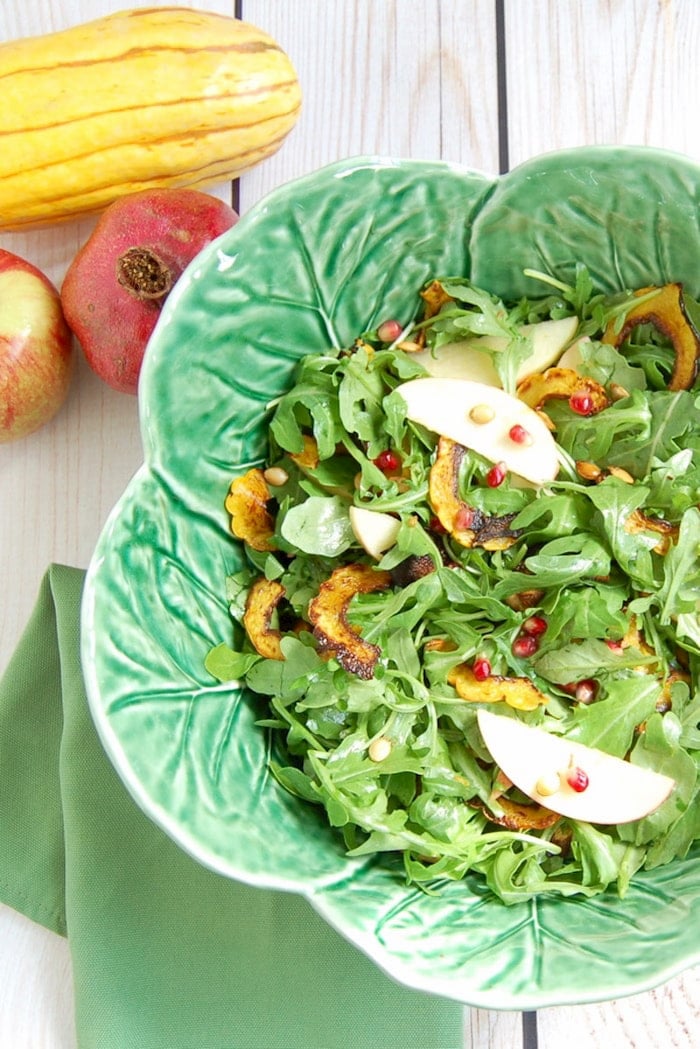 What Is Delicata Squash?
If you're not familiar with delicata squash, it's an oblong yellow squash with green stripes. Most winter squash are super hard to cut into, but delicata is a little softer and the skin is edible, so there's a lot less work involved in preparing it, which is why it's one of my favorite winter squash!
In addition to eating the skin of delicata squash, you can also eat the seeds – hooray for ending food waste! All you have to do is scoop out the seeds, rinse them off, toss with olive oil, and roast for 5 to 8 minutes. They add a great crunch to this Roasted Delicata Squash Apple Salad.
Fall Flavors Unite
Pomegranates are another of my favorite fall fruits. Not only do they make any dish pretty thanks to their ruby red color, but they are also rich in immune-boosting antioxidants.
No salad is complete without a fabulous dressing to bring it all together. To go along with the fall flavors, I made a dressing using apple cider vinegar and maple syrup. Apple cider vinegar gets touted for a lot of health benefits, including acting as a probiotic (assuming it has the "mother" in it); however, there isn't any research to back up that claim. If you're curious to learn the truth about apple cider vinegar, check out this article by fellow RD Ellie Krieger.
This Roasted Delicata Squash Apple Salad is perfect for starting a holiday meal or serving as a side to a weeknight dinner. Just see for yourself how easy it is to make in the video above!
Do Your Kids Eat Salad?
Kid Tip: This salad tends to go over well with kids because they like the roasted squash and fruit is always a winner. Even if they start by picking out the parts of the salad they like and leave over the greens, that's a great introduction to making salad part of their diets.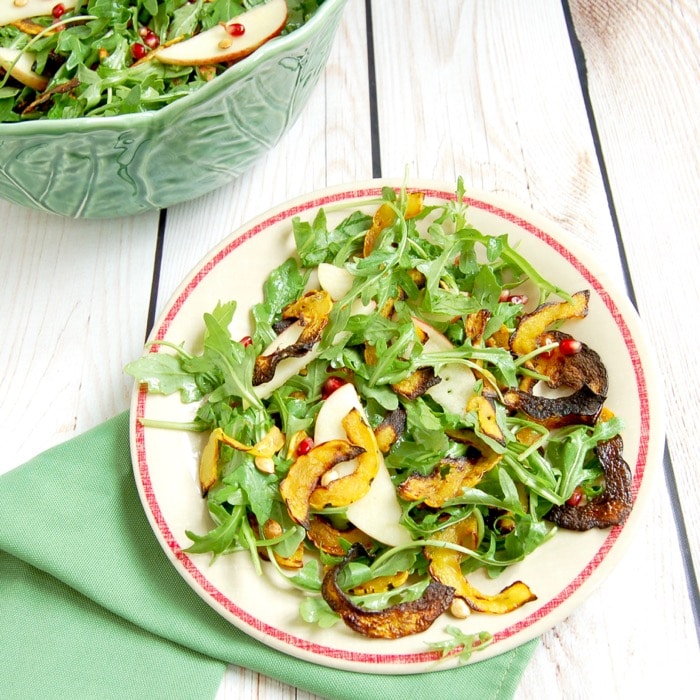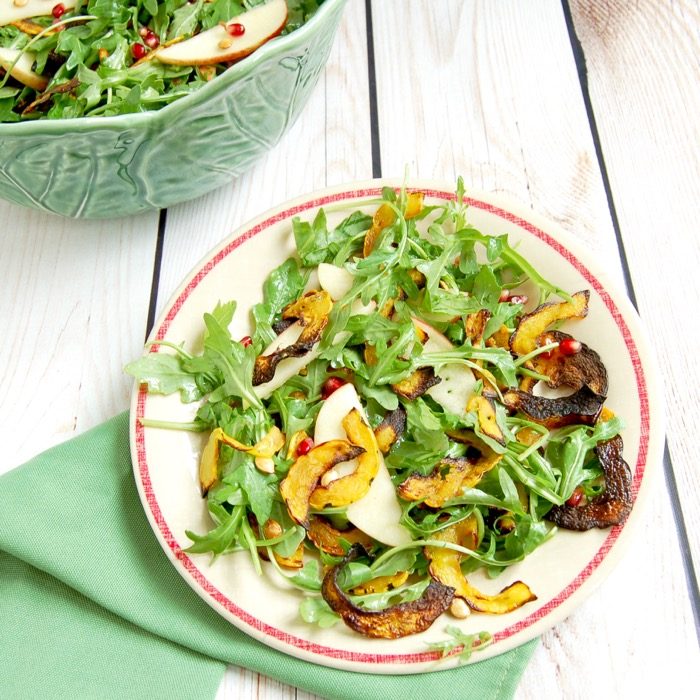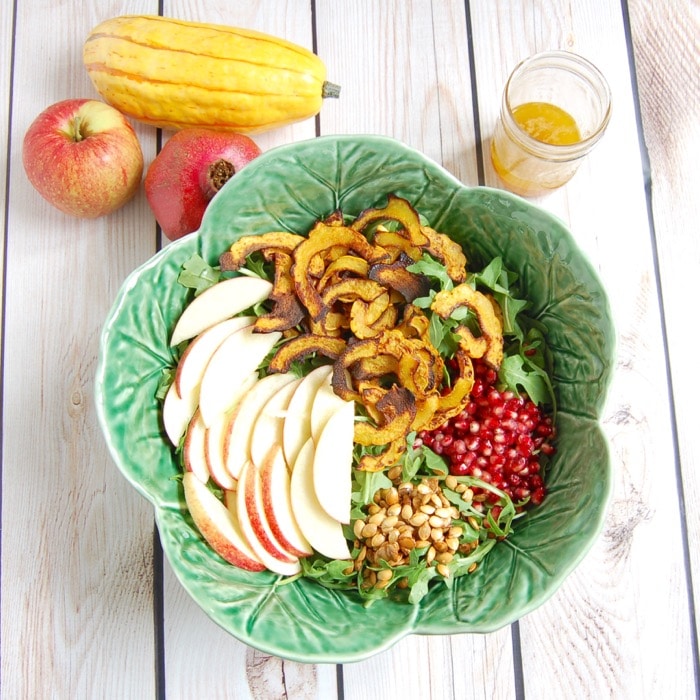 Roasted Delicata Squash Apple Salad with Apple Cider Vinaigrette
This pretty and delicious salad is full of the flavors of fall. Arugula is topped with apples, pomegranate arils, roasted delicata squash and seeds, then tossed in an apple cider vinaigrette sweetened with pure maple syrup. Serve as a side dish or starter salad.
Ingredients
Cooking spray
1 Delicata squash, (~3/4 lb)
1 tablespoon + 1 teaspoon olive oil,, divided
5 ounces arugula
1 large or 2 medium crunchy apples,, sliced thin
1/2 cup pomegranate arils
For the Apple Cider Vinaigrette:
4 tablespoons olive oil
2 tablespoons apple cider vinegar
1 teaspoon pure maple syrup
1/4 teaspoon kosher salt
Freshly ground black pepper, , to taste
Instructions
Preheat oven to 425 degrees F. Line two large sheet pans and one small sheet pan with foil and coat with cooking spray.
Cut delicata squash in half lengthwise, scoop out seeds, reserving them for later, and cut crosswise into 1/8-inch thick half moons. (If using a mandoline, use #2 setting.)
In a large bowl, toss squash with 1 tablespoon olive oil. Spread squash on prepared large sheet pans, making sure not to overcrowd the pans. Toss reserved squash seeds with remaining 1 teaspoon olive oil and spread on the prepared small sheet pan.
Roast squash seeds for about 6 minutes, stirring once while cooking, until crispy. Roast squash for 10 to 12 minutes, flipping squash and rotating the pans halfway through, until squash is caramelized and slightly crisp. Remove from the oven and let cool for 5 minutes.
While the squash is cooking, make the dressing. In a small bowl or mason jar, whisk together the olive oil, apple cider vinegar, maple syrup, salt, and pepper, to taste.
In a large serving bowl, combine the arugula, sliced apples, roasted squash and seeds, and pomegranate arils. Toss with dressing and serve immediately.
Have you tried delicata squash?
Share with me in the comments below!