Baked Tilapia with Fennel & Dried Plums
January 18, 2017
Herb and spice-rubbed baked tilapia is served over a bed of caramelized  fennel, onions, and dried plums for a quick and easy weeknight dinner and delicious way to boost your seafood intake.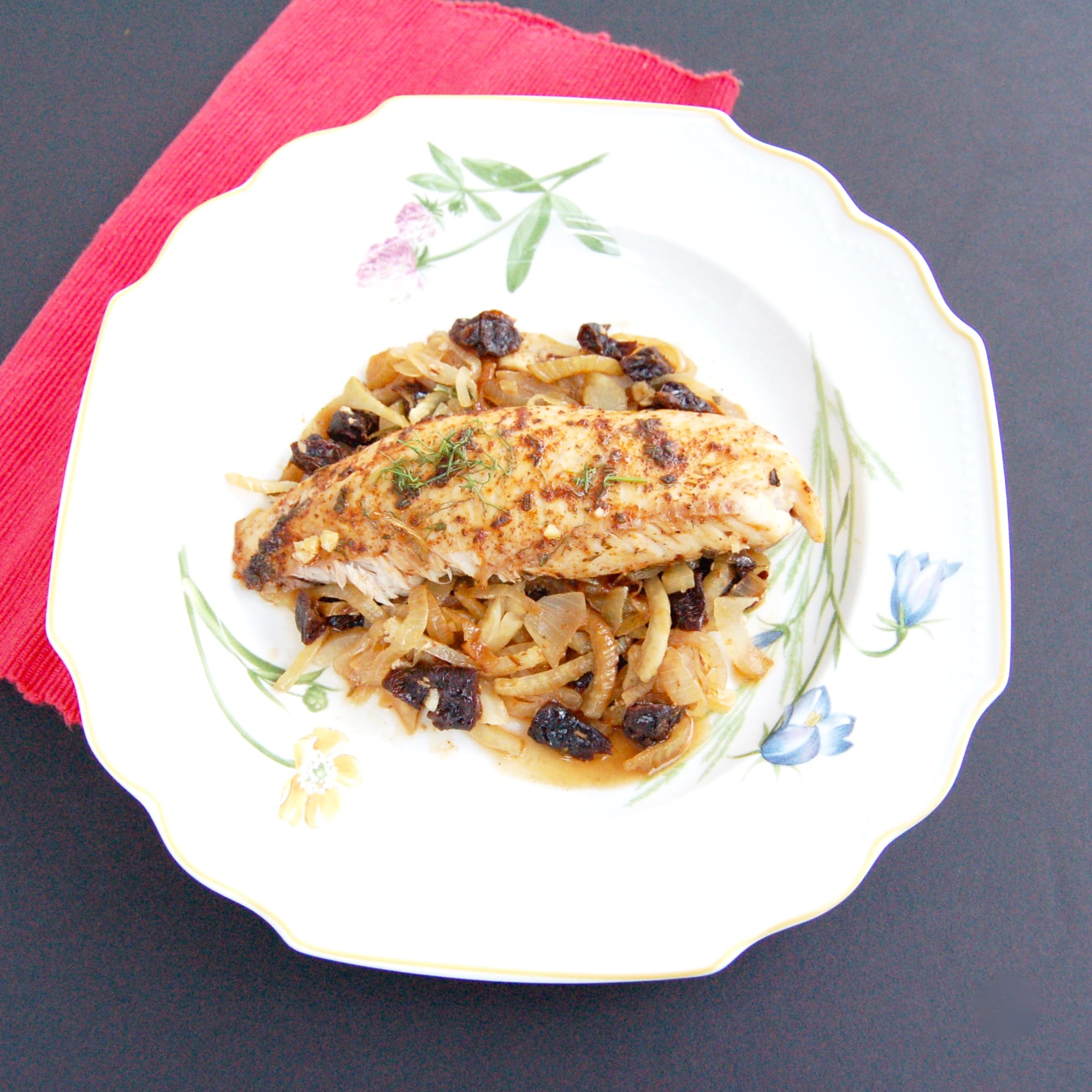 This recipe originally appeared in the January 2017 issue of Today's Dietitian Magazine. I was compensated for writing the original article, "Tender Tilapia," and developing the recipe, but I was not compensated for sharing the column or magazine with readers on my blog. All opinions are my own.
Do you get enough seafood in your diet? I ask because most people don't. According to the 2015-2020 Dietary Guidelines for Americans, while average intake of total protein is close to recommendations, average intake of seafood is below recommendations for both sexes in all age groups.
The current recommendation is for people to consume at least 8 ounces of seafood per week, which doesn't seem like it would be too difficult if you have some tuna salad for lunch one day and a piece of fish for dinner another. So why are people struggling to get in the recommended amounts?
According to recent research, many people don't eat enough seafood because they aren't aware of the recommendation, think they already consume the right amount, or are concerned about the cost and safety of fish.
Fish is an important part of our diets thanks to being packed with protein, B vitamins, and omega-3s, and its association with reduced risk of cardiovascular disease, Alzheimer's disease, and even obesity. Fish has also been shown to help with infant brain development, which makes it an especially important component of the diet for pregnant women and children.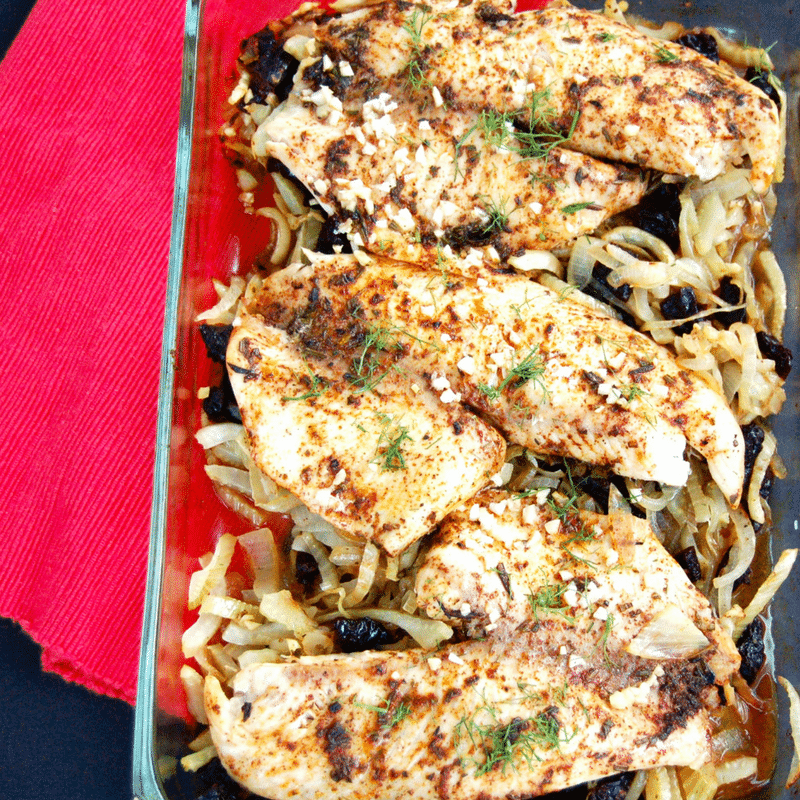 Growing up, my family didn't eat a lot of fish at home because my mother always thought it was too smelly, which I presume is one reason some people may abstain from cooking it themselves. Some people have told me they don't cook fish because their kids won't eat it or they don't know how to prepare it. If you have been holding back from making fish at home for any of these reasons, this baked tilapia is the perfect recipe to change your mind.
The Ingredients & Preparation
Tilapia is one of the least expensive, easiest to prepare, and mild tasting fish that's readily available. This Baked Tilapia with Fennel and Dried Plums was inspired by my recipe for Roasted Chicken with Fennel, Carrots, & Dried Plums, which is one of my family's favorite chicken dinners, but usually reserved for the weekends when I have more time to cook.
I knew that the caramelized fennel, onions, and sweet dried plums would pair just as well with the mild tilapia as it did with chicken, and since fish cooks so much more quickly it would be a great weeknight meal.
The tilapia itself is coated with a paste made by mixing olive oil with dried rosemary, marjoram, and chili powder. Fennel and onions are simply tossed with olive oil and roasted before sweet and chewy dried plums are mixed in and the whole mixture is topped with the herb- and spice-rubbed fish, some lemon juice, garlic, and salt and pepper.
The fish is then cooked for about 15 minutes and dinner is done! Serve the Baked Tilapia with Fennel and Dried Plums on top of simply made quinoa or brown rice and dinner will be done in under an hour!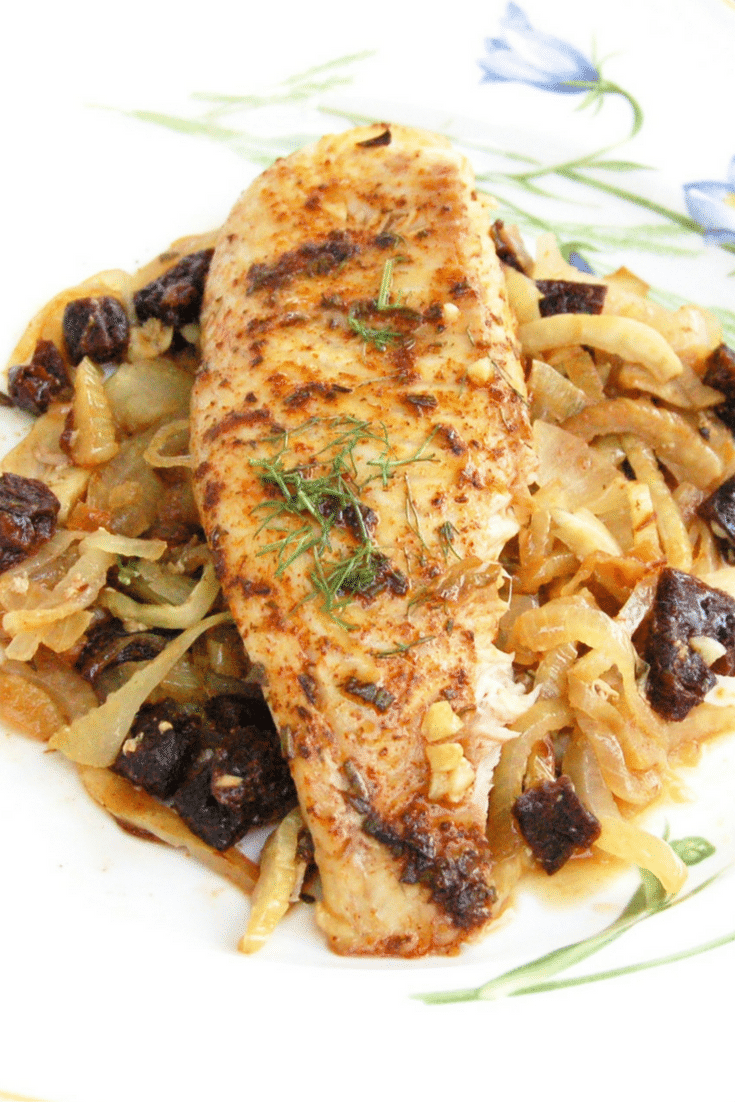 I introduced fish to my girls very early on, so they have always loved it, especially tuna, salmon, and flaky white fish like tilapia. If your kids are new to fish, you may want to pair the baked tilapia with their favorite side dishes or flake the fish and wrap it in a tortilla for fish tacos, which tend to be a favorite with most kids. But if your kids are a little more adventurous, I would make this recipe just as described below.
Want to know more about how to get your kids to eat seafood? Check out my interview at Dish on Fish!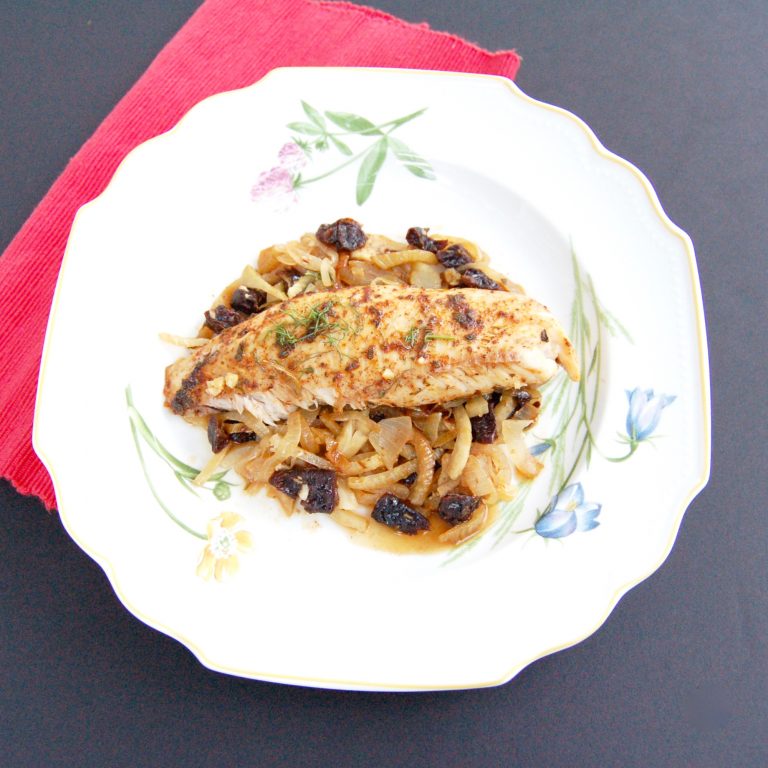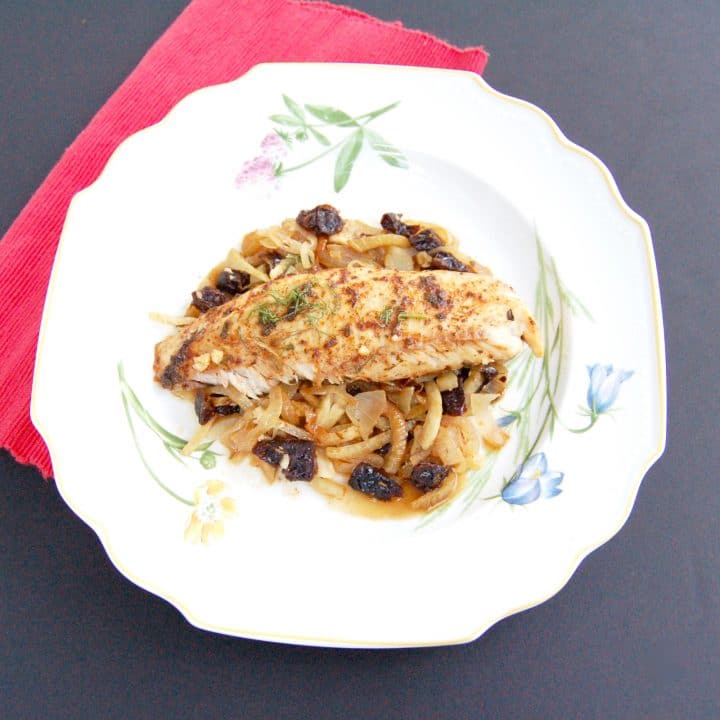 Baked Tilapia with Fennel & Dried Plums
Herb and spice-rubbed baked tilapia is served over a bed of caramelized fennel, onions, and dried plums for a quick and easy weeknight dinner and delicious way to boost your seafood intake. Ready in under an hour, this recipe is gluten-free, dairy-free, egg-free, and nut-free.
Ingredients
Cooking spray
3 tablespoons olive oil, divided
1 tablespoon chopped fresh rosemary, or 1 teaspoon dried
1 teaspoon dried marjoram
1 teaspoon chili powder
1 1/2 pounds tilapia fillet
1 pound fennel bulb, quartered, cored, and sliced crosswise into thin pieces (about 3 cups)
2 medium onions, peeled, halved, and sliced crosswise into thin pieces (about 2 1/2 cups)
1 cup chopped dried plums, prunes
1 tablespoon lemon juice
2 garlic cloves, minced (about 2 teaspoons)
1/4 teaspoon kosher salt
Freshly ground pepper, to taste
Instructions
Preheat oven to 400° F. Coat a large baking dish with cooking spray.
In a small bowl, whisk 2 tablespoons olive oil with rosemary, marjoram, and chili powder to form a paste. Spread on tilapia fillets and set aside.
In prepared baking dish, toss fennel and onions with remaining tablespoon olive oil. Bake in the oven for 30 minutes, stirring halfway through.
Stir chopped dried plums into fennel and onion mixture and place tilapia fillets on top. Drizzle with lemon juice and sprinkle with minced garlic, salt, and pepper, to taste.
Cover baking dish with foil and return to oven. Bake 15 minutes, until fish is cooked through. To check whether fish is done, cut into it in the middle with a fork. If it's still tough, cover and return to the oven for 2 to 5 more minutes.
To serve, make a bed of fennel, onion, and dried plum mixture on a plate and top with fish fillet.
Nutrition Information:
Yield:

4
Serving Size:

4 Servings
Amount Per Serving:
Calories:

430
Saturated Fat:

2.5g
Cholesterol:

85mg
Sodium:

290mg
Carbohydrates:

44g
Fiber:

8g
Sugar:

15g
Protein:

38g
Do you eat the recommended amount of seafood?
What's your favorite way to prepare fish?
Share with me in the comments below!