Apple Cranberry Tuna Salad
April 6, 2016
Crunchy apples add texture and dried cranberries add a touch of sweetness to this Apple Cranberry Tuna Salad, a high-protein, omega-3-rich upgrade to a classic lunch dish.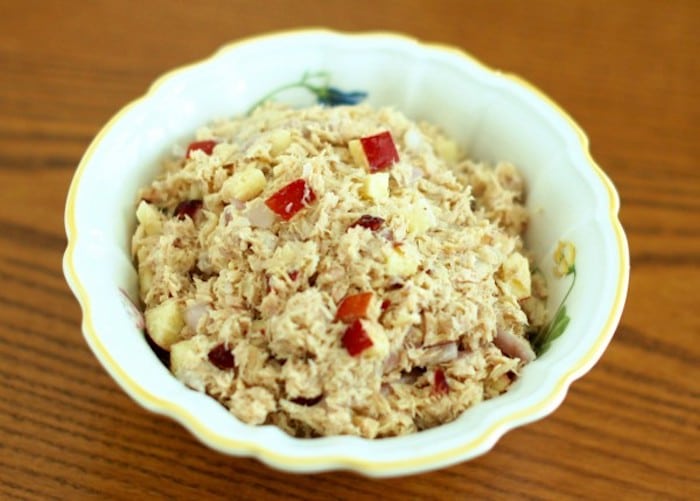 As a member of the Cranberry Bog Bloggers I receive the latest news and studies about cranberries as well as some fun Bog Blogger swag from the Cranberry Institute. I was not compensated for this post and as always all opinions are my own.
I have a really quick and easy recipe to share with you all today. Back in 2011 this Apple Cranberry Tuna Salad was included in my cookbook We Can Cook: Introduce Your Child to the Joy of Cooking with 75 Simple Recipes and Activities and to this day it's a recipe I make on a regular basis for lunch for the kids and myself and for weekend bagel brunches. The cookbook is now out of print (whomp whomp), so I thought it was time to share the recipe here.
In addition to being quick and easy, this Apple Cranberry Tuna Salad is nutritious and delicious, plus the kids can help you make it. Serve the tuna salad between two slices of whole grain bread, scoop it up with crackers, or top a mixed green salad with it like I do for a weekday lunch. No matter how you eat it, you'll enjoy all the flavors and textures from every bite – crunch from the apple, sweetness from dried cranberries, and a little tang from the lemon. Plus, you'll get a dose of heart-healthy omega-3 fatty acids from the tuna.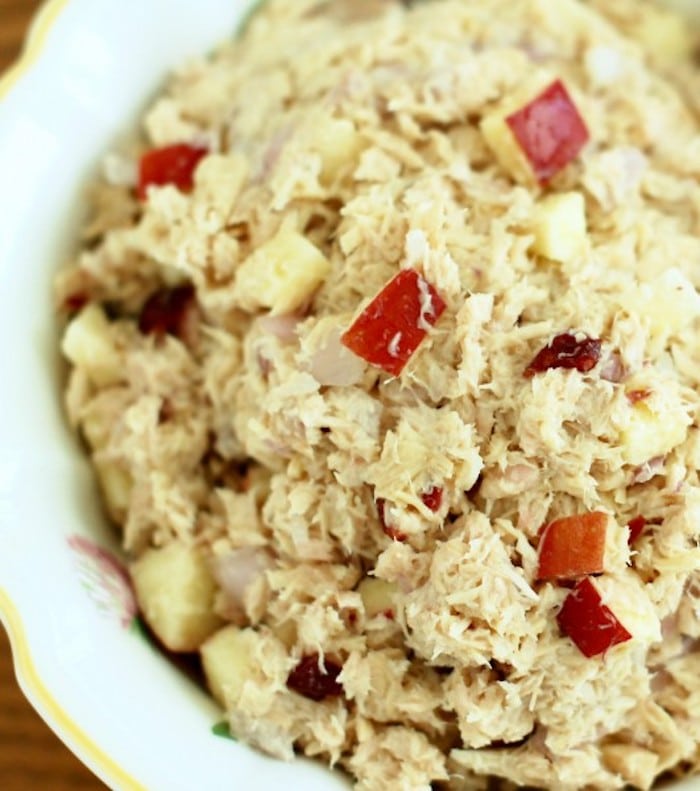 I wanted to add a special note about the addition of dried cranberries here, as I'm sure some of you may be wondering about the added sugar from these little guys. You've heard the news about the updated 2015-2020 Dietary Guidelines, right?! One of the key changes in the new guidelines is the recommendation to limit added sugars to less than 10 percent of calories per day. Well, within the section on added sugars, the Dietary Guidelines make a special call out for cranberries (and rhubarb, one of my favorite spring ingredients!):
There is room for Americans to include limited amounts of added sugars in their eating patterns, including to improve the palatability of some nutrient-dense foods, such as fruits and vegetables that are naturally tart (e.g., cranberries and rhubarb). Healthy eating patterns can accommodate other nutrient-dense foods with small amounts of added sugars, such as whole-grain breakfast cereals or fat-free yogurt, as long as calories from added sugars do not exceed 10 percent per day, total carbohydrate intake remains within the AMDR (Acceptable Macronutrient Distribution Ranges ), and total calorie intake remains within limits.
This exception for cranberries is due to the tart little berry's nutrient density and numerous health benefits, including reduction of urinary tract infections, heart health benefits, and gut health promotion. You can learn more about the health benefits of cranberries and get the latest research from the Cranberry Institute. But before you do, take a break from the computer and head to the kitchen to whip up a bowl of this Apple Cranberry Tuna Salad for lunch!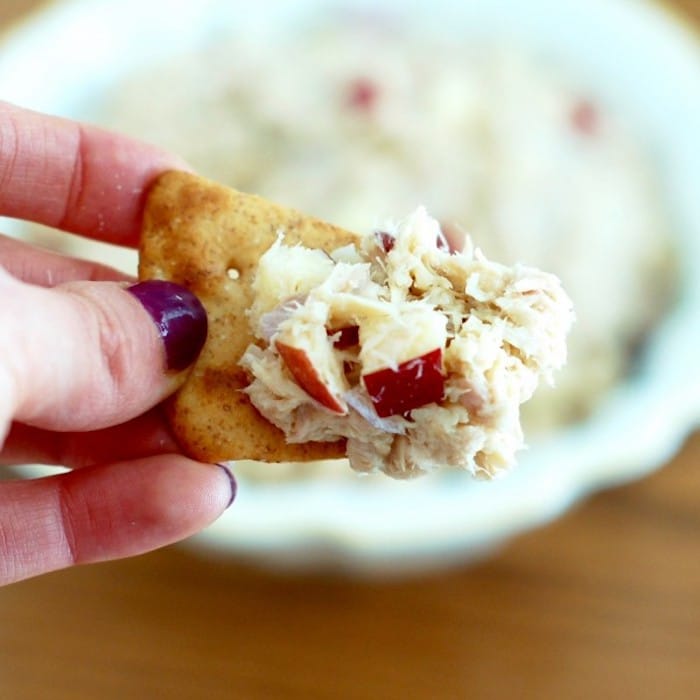 The Apple Cranberry Tuna Salad Recipe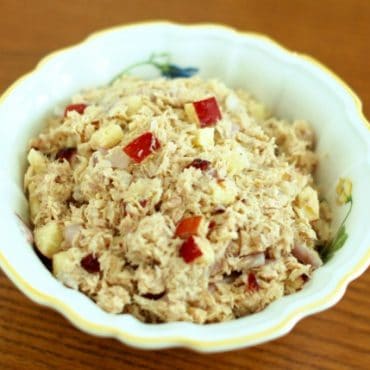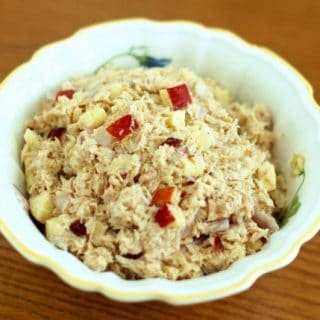 Apple Cranberry Tuna Salad
Upgrade your classic tuna salad with crunchy apples and a touch of sweetness from dried cranberries for a high-protein, omega-3-rich lunch.
Ingredients
Two 5-ounce cans solid white tuna packed in water, drained
2 tablespoons light mayonnaise
1 shallot, finely diced
1/2 crunchy apple, diced (I like Gala, Braeburn, or Jazz apples)
1/4 cup dried cranberries
2 to 3 tablespoons lemon juice
Freshly ground black pepper, to taste
Instructions
In a small mixing bowl, mash the tuna and mayonnaise together. Stir in shallots, apples, and dried cranberries. Add lemon juice and pepper to taste.
Serve on whole grain bread, with whole grain crackers, or on top of a salad.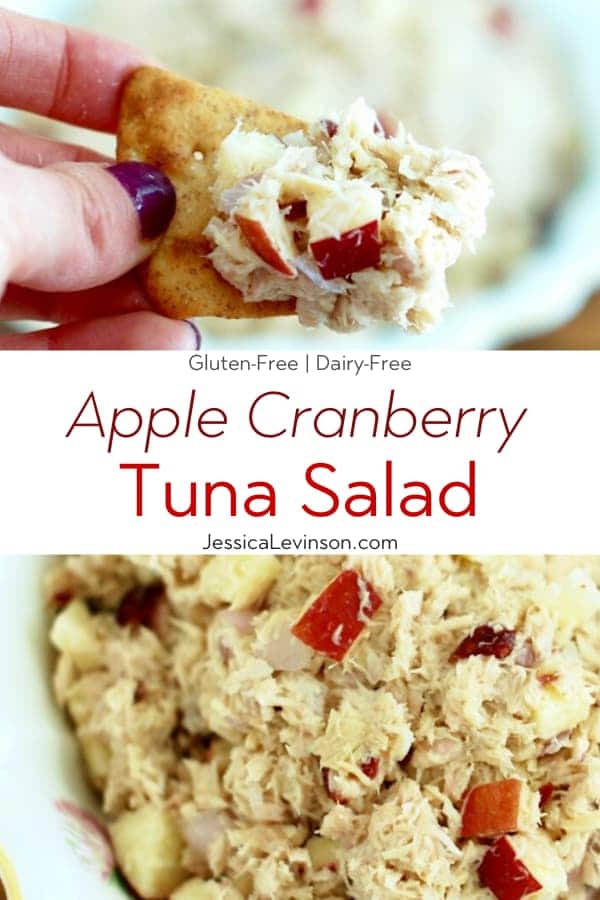 Do you have an easy, go-to lunch recipe?
Share it with me in the comments below!