Baked Apple French Toast
October 13, 2016
Enjoy the fruits of your apple-picking labor with this Baked Apple French Toast – a delicious weekend breakfast the whole family will enjoy!
I was compensated for writing the original article, "Apples," and developing the recipe found in the October 2016 issue of Today's Dietitian. I was not compensated for sharing the column or magazine with readers on my blog. All opinions are my own.
I've been so excited to share this Baked Apple French Toast recipe with all of you since I made it a few months ago! By now many of you have probably gone apple picking, made a batch or two of applesauce, roasted or braised some apples for a side dish or two, and maybe you even added them to some pancakes. But if you're like me you probably still have some apples left to use up and have just been waiting for the perfect apple recipe to come along. Well, this is it folks!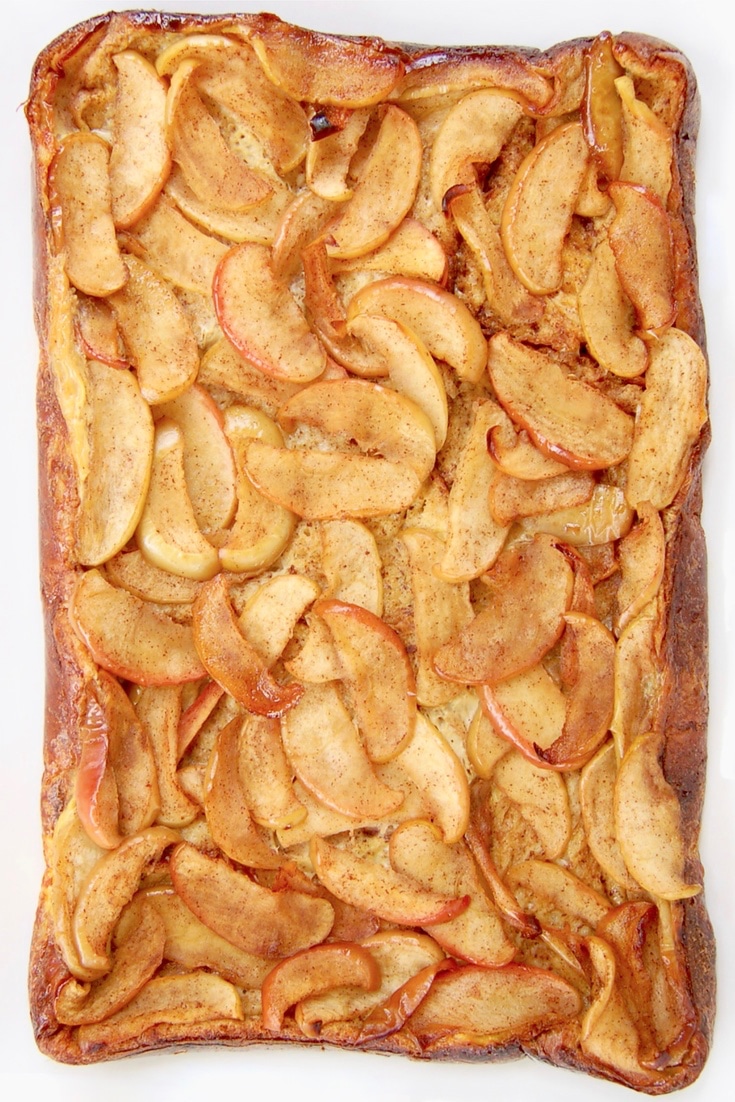 The Easiest French Toast
Get ready to satisfy your family's breakfast and brunch cravings with this Baked Apple French Toast! Whole wheat challah bread is soaked in a cinnamon- and nutmeg-spiced egg mixture and topped with caramelized apples. You're mouth is watering already, I know it! Now add that dollop of yogurt and a drizzle of warm maple syrup and you're ready to devour all this deliciousness!
This recipe is also a great one to make with the kids – there's a lot they can do to help, from arranging the slices of bread in the pan to whisking the ingredients, to spreading the apples on top before baking.
Let me add that one of the best things about this recipe is that you can prepare it the night before, so all you have to do is pop it in the oven in the morning and then sit back, relax and sip some coffee while you wait for it to bake. Can't get easier than that!
What are you waiting for?! Get cooking!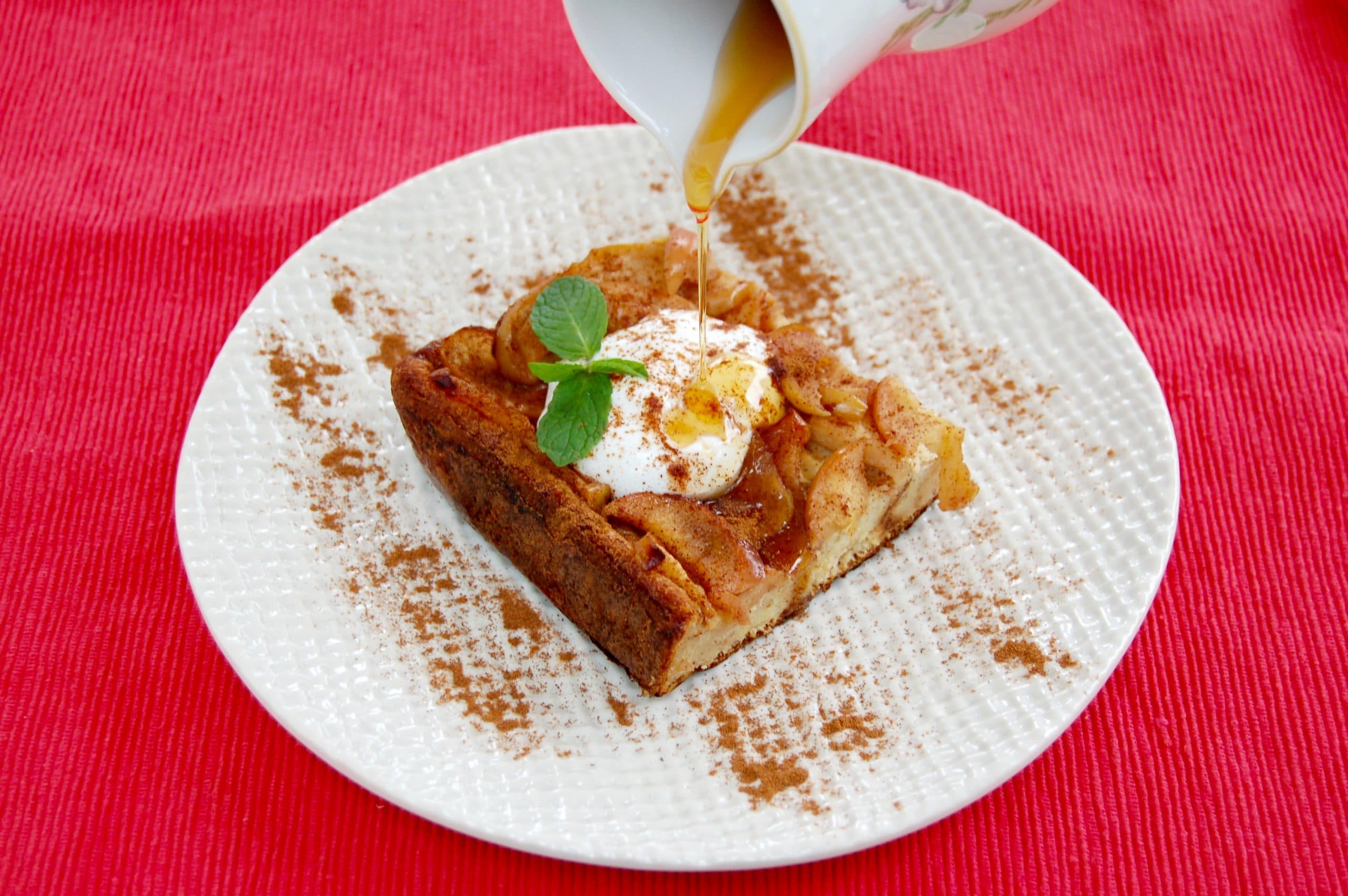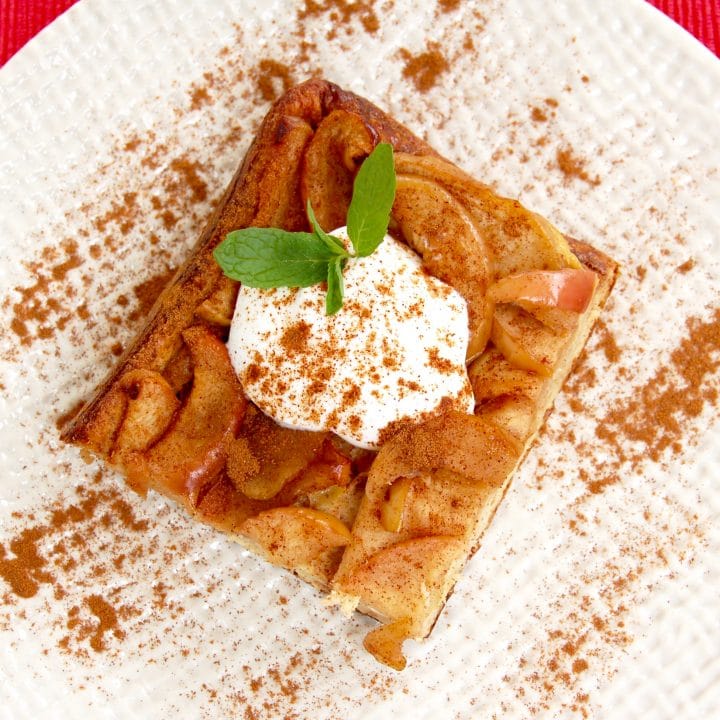 Baked Apple French Toast
Caramelized apples top whole grain challah bread soaked in a cinnamon- and nutmeg- spiced egg wash and baked in the oven for a delicious weekend breakfast the whole family will enjoy. Serve with pure maple syrup and low-fat plain yogurt for a protein boost.
Ingredients
Cooking spray
8 1- inch slices whole -wheat challah, or brioche bread
6 large eggs
1 1/2 cups nonfat milk, (or non-dairy milk of choice)
3/4 teaspoon ground cinnamon,, divided
1/4 teaspoon ground nutmeg
1 tablespoon unsalted butter, (or vegan butter substitute)
3 apples,, cored and sliced thin
2 tablespoons water
3 tablespoons packed dark brown sugar,, divided
Low-fat plain or plain Greek yogurt,, for serving (optional)
Maple syrup,, for serving (optional)
Instructions
Preheat oven to bake at 375° F.
Coat a 9x13 baking pan with cooking spray and arrange challah slices as tightly as possible in a single layer in the pan. It's okay if they overlap a little.
In a medium mixing bowl, whisk together eggs, milk, 1/2 teaspoon cinnamon, and nutmeg. Pour over bread and use a spatula to push the bread down to soak up the liquid. Set aside.
In a large skillet with a cover, melt butter (or butter substitute) over medium heat. Add sliced apples, remaining 1/4 teaspoon cinnamon, and water, stir together to coat, and cover skillet.
Cook covered, stirring occasionally, about 5 minutes, until the apples are tender and starting to caramelize. Remove cover and continue cooking about 3 to 4 minutes more until apples are fully caramelized and soft, but not mushy. Remove from heat.
While the apples are cooking, check the bread and push down to ensure all pieces are wet. Sprinkle with 1 tablespoon brown sugar.
Spread cooked apples over the bread and sprinkle with remaining 2 tablespoons brown sugar.
Bake for 40 minutes until golden brown on top and egg mixture is fully cooked. Cut into 8 slices and serve hot. Enjoy!
Notes
Make Ahead: Follow steps 2-7, cover with aluminum foil and store in refrigerator overnight. In the morning follow steps 1 and 8 in the instructions.
Nutrition Information:
Yield:

8
Serving Size:

8 Servings
Amount Per Serving:
Calories:

233
What have you been cooking or baking with apples this fall?
Share with me in the comments below!