Spiced Quinoa with Roasted Apples & Root Vegetables
November 12, 2015
This nutritious and delicious spiced quinoa is packed with fall produce, is vegan and gluten-free, and can be made in less than 30 minutes!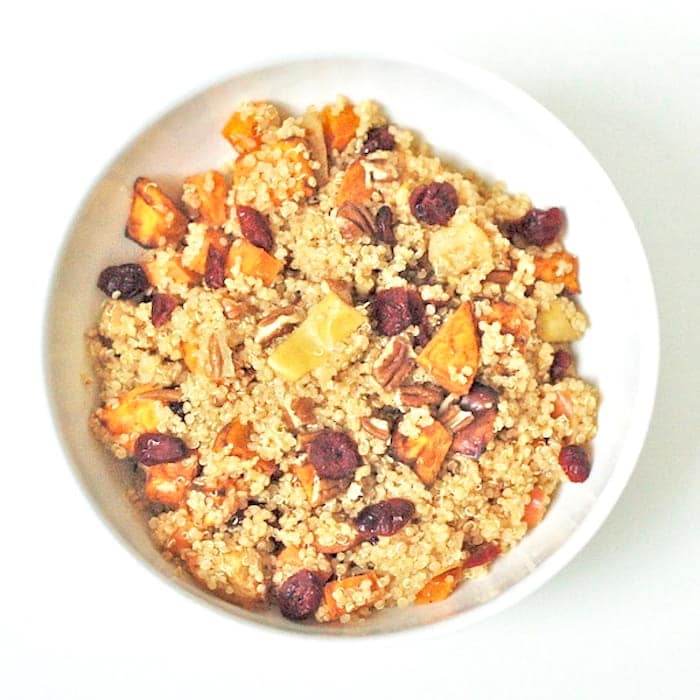 It's quinoa week here! Earlier this week, we explored the versatility of quinoa with 40 healthy ways to cook quinoa including innovative breakfast bars, classic grain salads, unique burgers, and enticing desserts. Today, I have one more quinoa dish to add to the list with this Spiced Quinoa!
A few weeks ago, when my produce drawer was filled with apples after we went apple picking, I decided to add roasted apples to the quinoa I was serving with roasted chicken. (This was after making Apple Peanut Butter Pancakes and Baked Apple French Toast, adding apples to our morning oatmeal, and eating apples for every afternoon snack for a week. We had a lot of apples!)
I threw in some carrots and zucchini that were also hanging out in the produce drawer. It was easy, flavorful, and of course nutritious and delicious.
Root Vegetable Season
Now that we're in the thick of root vegetable season, I changed up the recipe just a bit to make use of what's currently hanging around my produce drawer and kitchen counter.
This time I coated rainbow carrots (purple, white, and yellow in color), sweet potatoes, and apples with cinnamon, coriander, and ground ginger, roasted them and tossed them all with the cooked spiced quinoa. Same idea, just slightly different ingredients.
And that's honestly what I love the most about quinoa – it's a nutrient-rich, blank canvas on which you can add whatever flavors you're in the mood for. Plus it's the perfect whole grain for people following a gluten-free diet.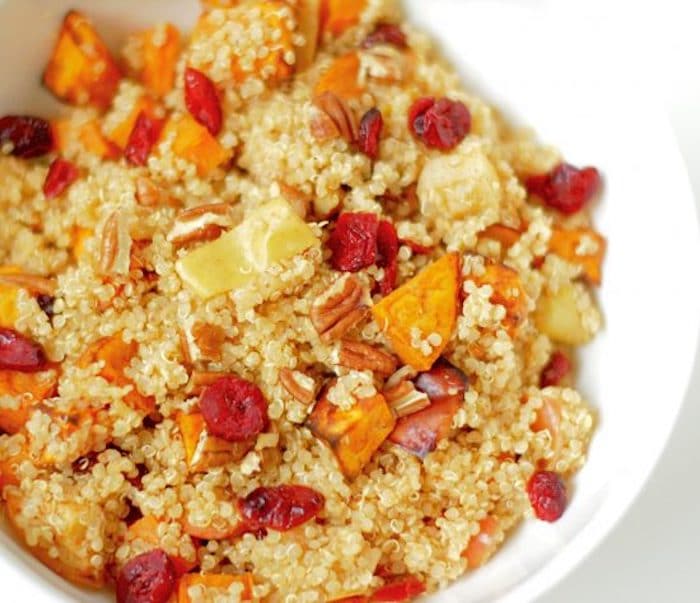 Make it Your Own
You can easily change up this recipe by adding your favorite cheese or nuts or dried fruit – or go crazy and add all three! This time around I added dried cranberries for some added sweetness and toasted chopped pecans for some crunch. Play around with herbs and spices that your palate favors, or add a protein like chicken or beans to make it an entree. Whatever ingredients you use, serve it as a side dish or an easy weekday lunch or dinner – you won't be sorry!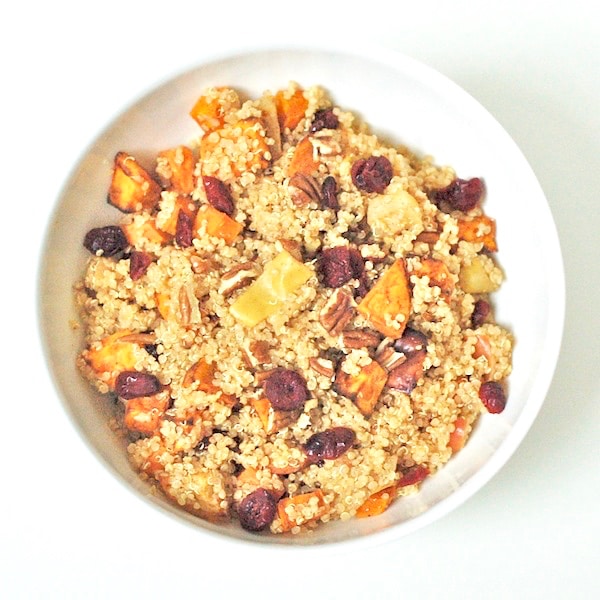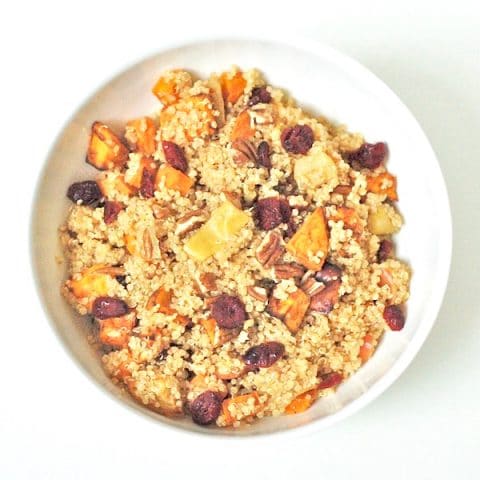 Spiced Quinoa with Roasted Apples & Root Vegetables
This quick cooking quinoa is infused with warm spices like cinnamon, coriander, and ginger, and full of nutrients from apples, carrots, and sweet potatoes. Enjoy as a side dish or make it your main meal with cheese, chicken, or nuts mixed in.
Gluten-Free, Vegan, Kosher
Ingredients
2 carrots, peeled and cubed
1 large sweet potato, peeled and cubed
2 apples, cubed (I left the peel on, but you can remove)
1 1/2 tablespoons olive oil
3/4 teaspoon cinnamon, divided
3/4 teaspoon coriander, divided
1/2 teaspoon ground ginger, divided
1/2 teaspoon Kosher salt, divided
1 cup dry quinoa
2 cups low-sodium vegetable broth or water, I used 1 cup of each
1 tablespoon lemon juice
Dried cranberries (optional)
Toasted pecans (optional)
Instructions
Preheat oven to 400 degrees F. Line a large baking sheet with foil or parchment paper.
In a large bowl, toss carrots, sweet potatoes, and apples with olive oil, 1/2 teaspoon cinnamon, 1/2 teaspoon coriander, 1/4 teaspoon ground ginger, and 1/4 teaspoon salt. Spread in a single layer on baking sheet and roast about 20 minutes, stirring once or twice, until vegetables are caramelized and tender. Let cool about 5 to 10 minutes.
While vegetables are roasting, combine quinoa and 2 cups preferred liquid in a medium pot. Bring to a boil; cover, lower to simmer for 15 minutes, until water is absorbed.
Transfer quinoa to large bowl and let cool slightly. Add lemon juice and remaining 1/4 teaspoon cinnamon, 1/4 teaspoon coriander, 1/4 teaspoon ginger, 1/4 teaspoon salt to the bowl and toss to combine. Transfer roasted apples and vegetables from baking sheet to the quinoa, add dried cranberries and/or pecans if using, and toss again.
Recommended Products
As an Amazon Associate and member of other affiliate programs, I earn from qualifying purchases.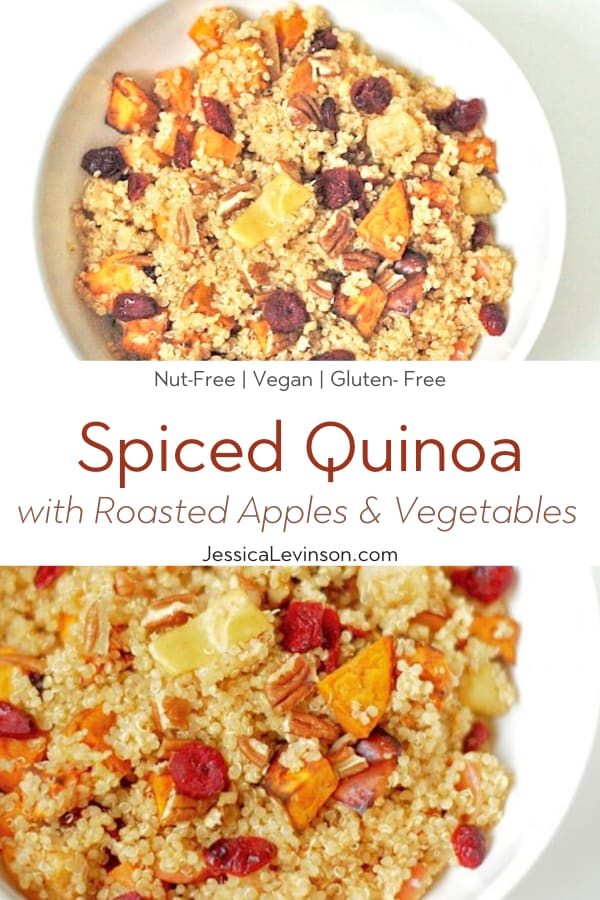 What ingredients would you add to this spiced quinoa?
Share with me in the comments!