Southwestern Cauliflower Rice Casserole
April 21, 2017
Feed your hungry family in an hour with this one-dish, grain-free Southwestern Cauliflower Rice Casserole packed with veggies, protein, and flavor!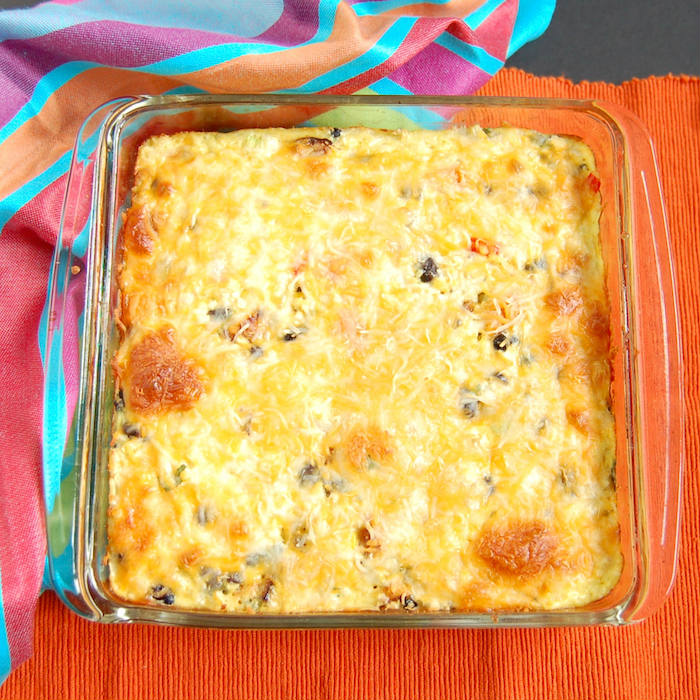 A few weeks ago, I went into my fridge to drain a package of tofu in preparation of that night's dinner. I often forget to do this in advance, which leads to a mad rush come dinner time, but that day I remembered. What I didn't remember, is that I had no tofu on hand. 😯 After cursing myself for not doing a better job with my grocery list when I made that week's menu plan, I got to thinking about what I was going to make for our Meatless Monday dinner. After all, I have hungry growing girls on my hand! That's how this Southwestern Cauliflower Rice Casserole recipe came about. And it just so happens to be a perfect fit for this month's Recipe ReDux theme:
Easy Ways to Reduce Food Waste
In honor of Earth day (April 22nd), we're challenging ReDux members to show how they reduce food waste. Whatever you would normally toss, use it up. Share tips for reducing food waste in meal planning, prep, or using up scraps.
Using Ingredients On Hand
My plan for that night's dinner was to serve the tofu over a bed of cauliflower rice. (If you haven't tried it, that's a pairing you want to make – you can test it out with my Veggie Cauliflower Fried Rice with Crispy Tofu.) If you've ever bought a bag of fresh cauliflower rice, you know that it doesn't have the longest shelf life, and I wasn't about to let it go to waste. So I got to thinking what I could do with it.
I had some sweet potatoes in my veggie basket on the kitchen counter, bell peppers, cilantro, cottage cheese, and shredded cheese in the fridge, corn in the freezer, and black beans in the pantry. Many of these ingredients are staples in my kitchen, but when I put them all together I knew I had the makings of a Southwestern/Tex-Mex inspired dish.
I remembered a quinoa casserole I once made from a recipe another blogger adapted from Eating Well, and thought why not use the cauliflower rice as the base of the casserole.
(By the way, this is just one example of how my recipes get developed – there's really nothing new under the sun, although a lot of people are intrigued lately by my creativity in making these Strawberry Rhubarb Mimosas, which I am sure I'm not alone in making. Anyway, the point is, this recipe is an adaptation of someone else's adaptation of a recipe that for all we know was adapted from someone else!)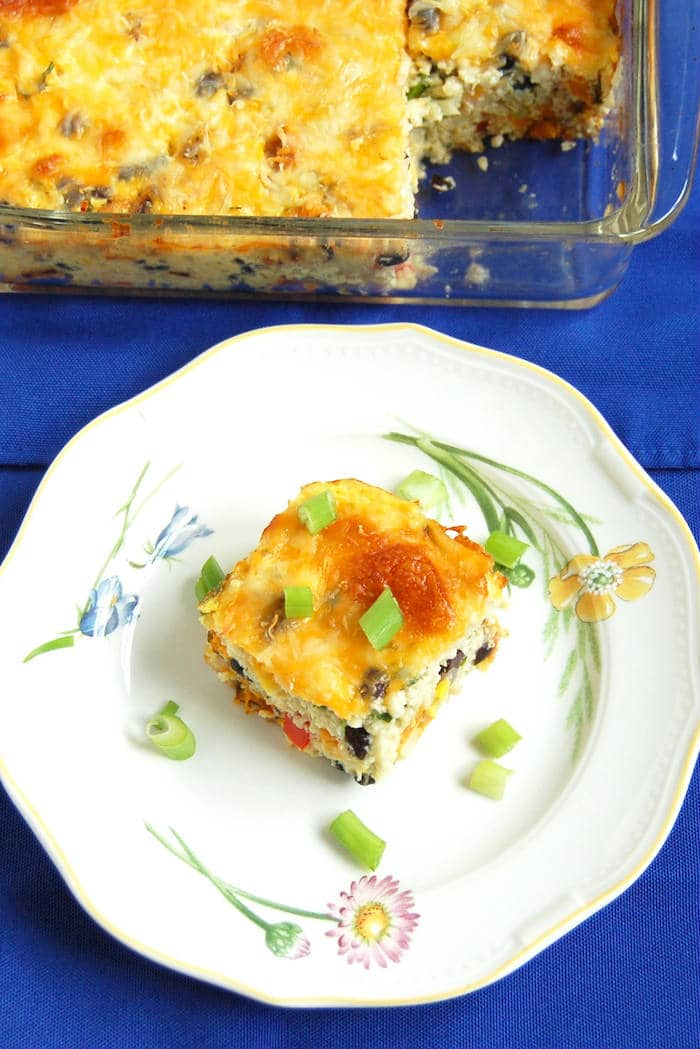 Easy, Make-Ahead Meal
This isn't the quickest recipe, but it still clocks in at just about an hour, which is pretty good for a weeknight. Even better though, is that this is a meal that can be prepped in advance so that all you have to do is cook it at dinnertime. You can even cook it the day before and reheat it the next night. It also makes for great leftovers to pack in the kids' lunchbox, especially if they go to a nut-free, meat-free school like my kids do.
You can also shave off about 20 minutes from prep and cook time if you leave out the sweet potatoes. Personally I love the combo of sweet potatoes and black beans (remember my Sweetpotato Black Bean Quesadillas?!), but you won't miss them too much if you'd rather have dinner on the table more quickly.
About the Ingredients
A couple of ingredient notes when making this cauliflower rice casserole:
The cottage cheese in this recipe gets blended until smooth, to the consistency of ricotta cheese. I always have reduced-fat cottage cheese in the refrigerator (it's a breakfast staple), which is why I used it, but feel free to use part-skim ricotta in its place. (If you're wondering, nutritionally, ricotta is higher in calories and fat, lower in sodium, and equivalent in protein compared to cottage cheese.)
I used frozen corn here, but when fresh corn is in season I intend to cut it off the cob instead. Nutritionally, there's no difference between the two, so use what's easier and what you have on hand.
If you do include the sweet potatoes, be sure to account for the time you need to roast them before you put everything else together. Or better yet, roast them a day or two before so you can just throw them into the mixture.
Although not shown in the pictures here, this Southwestern Cauliflower Rice Casserole is even better with a dollop of guacamole and salsa on top. Trust me! Or do what my husband does and add Sriracha!
As with many of my recipes (like egg muffins and frittatas, Buddha bowls, baked oatmeal, etc), you can change up the casserole based on your family's food preferences, what's in season, and of course what you have in the fridge. Make it mediterranean with olives, sun-dried tomatoes, and feta. Go Asian with tofu, edamame, broccoli, and water chestnuts. I can keep going if you need ideas!
Ok, are you ready to get to the recipe?! I bet you are. Let me know if you have any questions in the comments section below. And most importantly, enjoy!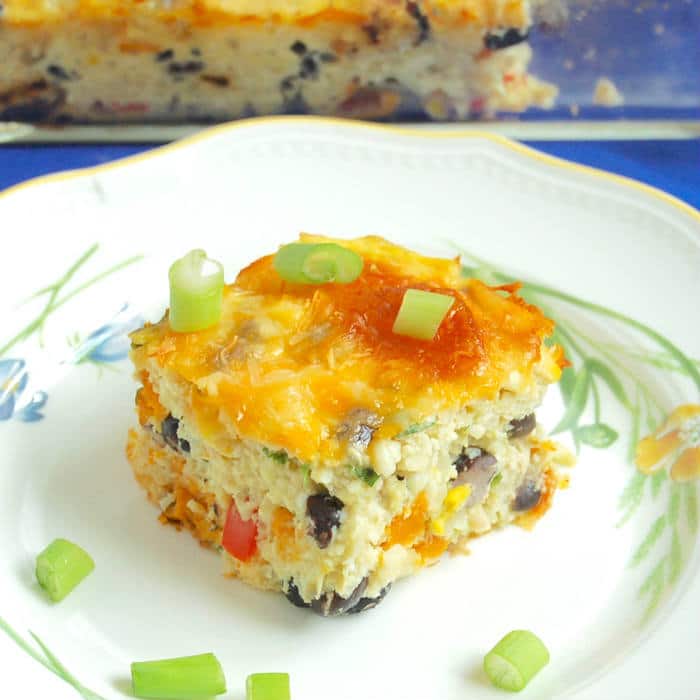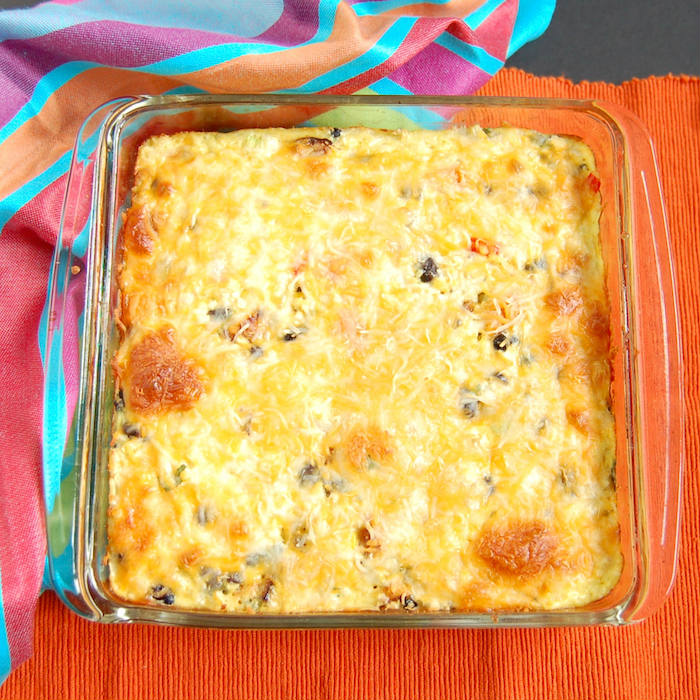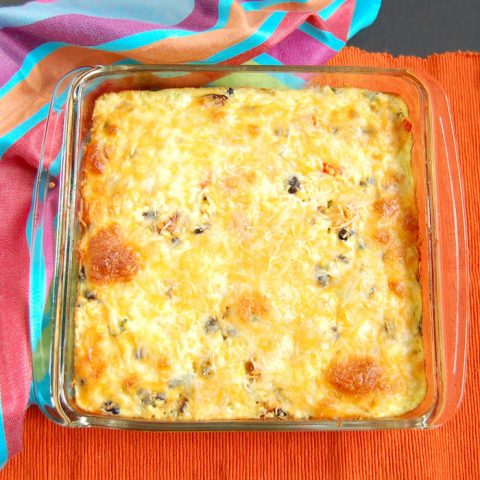 Southwestern Cauliflower Rice Casserole
Total Time:
1 hour
5 minutes
Feed your hungry family in an hour with this one-dish Southwestern Cauliflower Rice Casserole packed with veggies, protein, and flavor! This recipe can easily be modified based on your family's taste preferences and what you have on hand in the kitchen. Easy to make in advance and reheat during the week or send leftovers for school lunch.
Gluten-Free, Grain-Free, Vegetarian, Nut-Free, Kosher
Ingredients
Cooking spray
1 cup peeled and diced sweet potatoes (~7 ounces or 2 small)
1 teaspoon olive oil
3 cups (one 16-ounce package) cauliflower rice (fresh or frozen)
4 large eggs, whisked
3/4 cup low-fat cottage cheese, blended until smooth (or part-skim ricotta)
1 cup drained and rinsed no-salt added black beans
1/2 cup diced red peppers
1/2 cup corn (fresh or frozen)
1/3 cup chopped scallions
2 tablespoons chopped cilantro
1 teaspoon baking powder
1 teaspoon kosher salt (or more to taste)
Freshly ground black pepper, to taste
1 cup shredded low-fat Cheddar cheese (I use Trader Joe's light shredded 3-cheese blend)
Optional Toppings:
Guacamole, Salsa, Sriracha
Instructions
Preheat oven to 425°F. Coat an 8x8" oven-safe casserole dish with cooking spray and set aside.
Line a baking sheet with foil and coat with cooking spray. Toss sweet potatoes with olive oil, spread on baking sheet, and roast for 15 to 20 minutes, until browned on outside and tender on inside. Set aside to cool and reduce oven temperature to 375°F.
In a large bowl, mix together the cauliflower rice, whisked eggs, and blended cottage cheese. To the rice/cottage cheese mixture, add roasted sweet potatoes, beans, peppers, corn, scallions, cilantro, baking powder, salt, and black pepper, to taste. Fold in all ingredients until well dispersed.
Transfer cauliflower rice veggie mixture to prepared casserole dish and spread with a spatula so it's even on top.
Sprinkle with cheese and bake for 25-30 minutes until golden brown on top. The center of the casserole should be solid and not feel jiggly. You can turn on the broiler for 2 to 3 minutes at the end if the cheese isn't browned enough.
Remove from the oven and let rest for 5 minutes before serving. Top with guacamole, salsa, and/or sriracha if desired.
Notes
This casserole serves 6-9 people depending on whether you're serving kids or adults and how big their appetites. For point of reference, I cut the casserole into 9 pieces and my husband and I ate 2 pieces each, whereas my girls ate 1 to 1 1/2 pieces each.
Recommended Products
As an Amazon Associate and member of other affiliate programs, I earn from qualifying purchases.
Nutrition Information:
Yield:

9
Serving Size:

1/9th casserole
Amount Per Serving:
Calories:

208
Total Fat:

5g
Saturated Fat:

2g
Trans Fat:

0g
Unsaturated Fat:

3g
Cholesterol:

86mg
Sodium:

584mg
Carbohydrates:

29g
Fiber:

3g
Sugar:

3g
Protein:

13g
Nutrition information was calculated by Nutritionix. It may not be 100% accurate.
What do you do when you forget to buy a key dinner ingredient?
What cauliflower rice casserole variation would you make?
Share with me in the comments below.