Asian-Style Farro Buddha Bowl with Crispy Baked Tofu
January 21, 2017
Stick to your healthy eating goals with this vegetarian and vegan-friendly Farro Buddha Bowl packed with veggies and protein, and full of Asian inspired flavor.
Buddha bowls are a big deal in the foodie world these days – according to Pinterest they're predicted to be among the top 10 food trends of 2017.
You've probably seen your fair share of them across social media and for good reason – they're easy to put together, comforting yet healthy, full of flavor, and generally speaking they're budget friendly. That's why it was about time I shared one of my favorite Buddha bowl combos, which also happens to be a perfect fit for this month's Recipe ReDux theme!
Budget-Friendly Dinner
Budget Eats
How low can you go? Can you make a meal for less than $3 per serving? Whatever your budget, show us your healthy entree recipe to help keep food spending in check in 2017.
As I mentioned, Buddha bowls are great when you're trying to eat healthy on a budget and this Asian-Style Farro Buddha Bowl is no exception. I did a rough calculation of what this recipe costs and it comes to about $2.13 to $3.20 per serving – pretty awesome, huh?!
The low price point is thanks to in-season veggies and plant-based protein, which is less expensive than seafood, poultry, and meat. And spending less does not mean you're sacrificing on nutrition or taste – this farro buddha bowl is packed with nutrients from whole grains, lean protein, and colorful vegetables.
It's incredibly flavorful and delicious, which makes you want to dive in over and over again, which is perfect since you're bound to have leftovers – another money saving perk. Cook once and eat twice or even three times – can't get more budget friendly than that!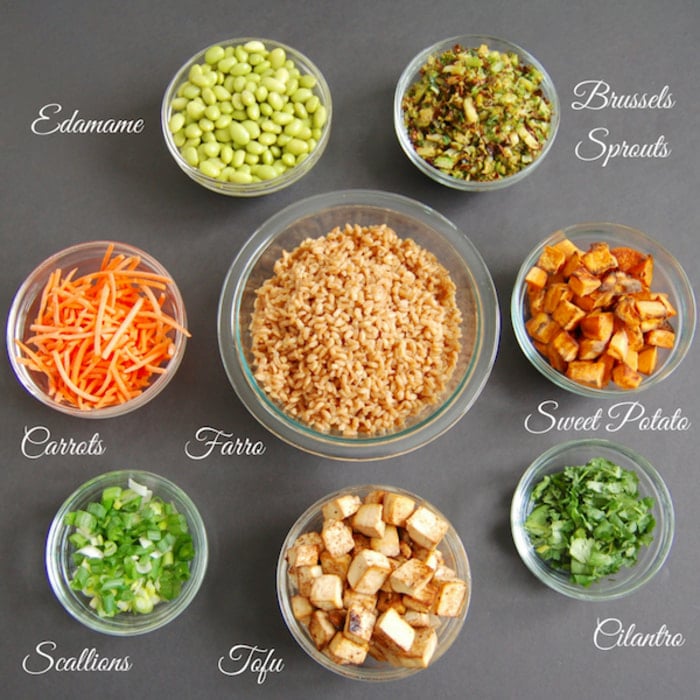 Farro Buddha Bowl Ingredients
The stars of this farro Buddha bowl are the whole grain farro base and all the flavor-packed toppings: oven-baked crispy tofu (which you may recognize from my Veggie Cauliflower Fried Rice and Peanut Soba Noodles), roasted Brussels sprouts and sweet potatoes, shredded carrots, edamame, scallions, cilantro, and a miso-lime dressing.
One of the ways I keep the cost down while still saving time in the kitchen is by shopping at Trader Joe's. If you don't have a TJ's near you, you may have an ALDI, which I have heard is similar in having high-quality products for less money than traditional supermarkets.
For this recipe, I used TJ's shredded Brussels sprouts, shredded carrots, cooked and shelled edamame soybeans, and cilantro. Trader Joe's also sells pre-cubed sweet potatoes, but they didn't have them the day I was there. The other fresh ingredients and tofu I got on sale at my regular supermarket and the tofu marinade and dressing ingredients are staples I always have on hand. I love Asian flavors so rice vinegar, miso paste, sesame oil, and soy sauce are always in my house!
The crispy baked tofu is one of my favorite recipes, as you can see from how often I add it to recipes. If you're not a tofu fan or are in the mood for a different protein, chicken and thinly sliced steak made in the same marinade as the tofu would definitely go well with this bowl. Just keep in mind it will add to the cost of the recipe!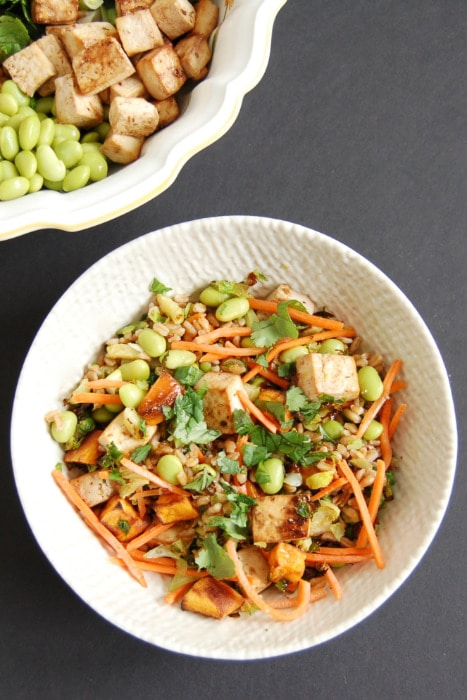 Preparing Farro Buddha Bowls
While the tofu is baking and the Brussels sprouts and sweet potatoes are roasting, go ahead and make your farro, a nutty whole grain that stands up to all the other flavors in this bowl. Again, here is a place you can modify the recipe to your liking. If you need a gluten-free bowl, make quinoa or sorghum instead. If you have other grains on hand or your family (especially the kids) prefers something else, swap it out. Pretty much any grain will work here, just aim to keep it whole grain!
These Buddha bowls are vegetarian and vegan-friendly – no dairy or eggs are used, but there is honey in the dressing, which can easily be swapped out for brown sugar or maple syrup if you're looking for a vegan substitute. They are also nut-free, although if you'd like to add some crunch, toasted cashews would go beautifully on top!
This recipe does require prep time for all the different parts of the dish, but buying the pre-shredded and pre-cut veggies does save time. And if you're someone who does weekend meal prep, this is a great recipe to include so all you have to do come dinner time is compile the bowls.
Another great thing about this recipe is that you can set up a bowl bar and every family member can choose his or her toppings. Don't you just love when you can customize a dish to your liking?!
So are you ready to get the recipe for this nutritious and delicious, budget-friendly Asian-Style Farro Buddha Bowl with Crispy Baked Tofu? I thought so!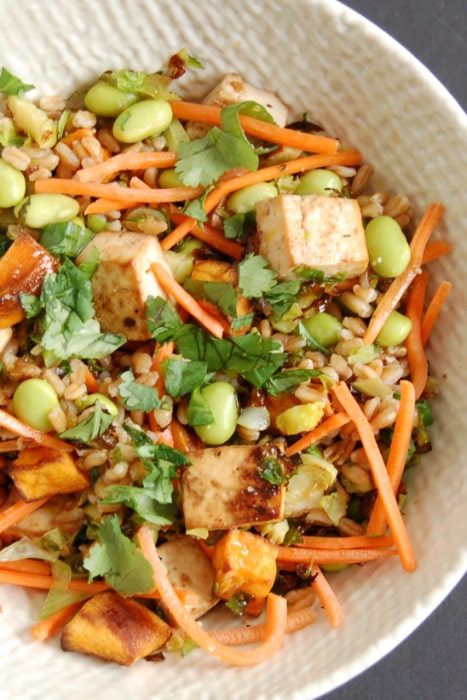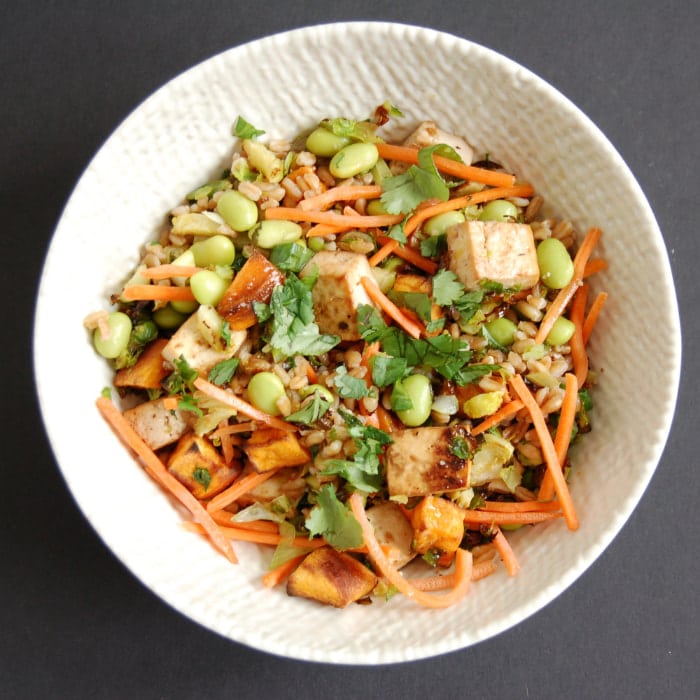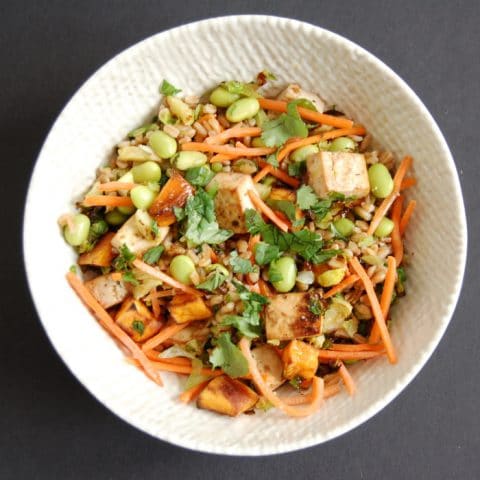 Asian-Style Farro Buddha Bowl with Crispy Baked Tofu
Whole grain farro is topped with shredded carrots, edamame, roasted Brussels sprouts and sweet potatoes, and crispy baked tofu and then tossed with a miso lime dressing for a vegetarian meal the whole family will love. Can easily be made vegan and gluten-free.
Vegetarian, Vegan-Friendly, Dairy-Free, Nut-Free, Kosher
Ingredients
For the tofu:
1 tablespoon sesame oil
1 tablespoon lime juice
1 tablespoon unseasoned rice vinegar
1 1/2 tablespoons low-sodium soy sauce (or gluten-free soy sauce)
One 16-ounce package extra firm tofu, drained, pressed*, and cubed small, (or two 8-ounce packages cubed super firm tofu)
For the Buddha bowl:
Cooking spray
1 1/2 cups uncooked pearled farro (or other grain of choice - quinoa or rice for gluten-free)
10 ounces shredded Brussels sprouts, (look for a bag of pre-shredded)
2 cups diced sweet potatoes (~10 ounces)
2 tablespoons sesame oil, divided
1 1/2 cups shelled edamame (pre-cooked or cooked from frozen, 9 ounces)
1 cup shredded carrots
1/2 cup chopped scallions
1/2 cup roughly chopped cilantro
Toasted cashews or chopped peanuts (optional)
For the dressing:
2 tablespoons lime juice
2 tablespoons unseasoned rice vinegar
2 tablespoons sesame oil
1 tablespoon soy sauce
2 teaspoons honey (if vegan, use maple syrup)
2 teaspoons miso paste (double check gluten-free if necessary)
Instructions
To make the tofu:
Combine sesame oil, lime juice, rice vinegar, and soy sauce in a small bowl and whisk until emulsified.
Pour marinade over cubed tofu in a medium mixing bowl and marinate for at least 30 minutes, tossing occasionally.
Preheat oven to bake at 425 degrees. Spread marinated tofu in one layer on a foil-lined baking sheet. Bake in the top shelf for 20 minutes; turn tofu and bake another 10 minutes until crispy.
To make Buddha bowl:
Preheat oven to 400 degrees F. Line two small baking sheets with foil, coat with cooking spray, and set aside.
Place farro in a medium saucepan and add just enough water to cover the grain (~1 1/2 cups water). Bring to a boil; reduce heat to medium-low, cover, and simmer 15 to 20 minutes until the water is mostly absorbed and the farro is tender but not mushy. Cover and remove from heat for five minutes. Transfer to a bowl to cool.
While the farro is cooking, toss Brussels sprouts with 1 tablespoon oil and spread on one baking sheet and toss sweet potatoes with remaining tablespoon oil and spread on second baking sheet. Roast Brussels sprouts for about 8 minutes until tender with some crunchy pieces. Roast sweet potatoes for 15 to 20 minutes until tender and lightly browned.
Divide the cooled farro among bowls. Add the roasted Brussels sprouts and sweet potatoes, edamame, carrots, scallions, cilantro, and baked tofu.
To make the dressing, whisk together all dressing ingredients. Add to the Buddha bowl and toss to combine. Serve with toasted cashews if desired.
Notes
Directions to drain and press tofu:
If you have a tofu press, place block of tofu in the press and refrigerate for 15 to 20 minutes.
If you do not have a press, press the tofu as follows: Place the block of tofu between multiple layers of paper towel or a couple of clean kitchen towels. Place the wrapped up tofu on a cutting board or plate and top with another cutting board or heavy pan. Set aside for about 30 minutes until most of the liquid is pressed out of the tofu.
Note: I usually drain the tofu overnight and marinate it in the morning.
Recommended Products
As an Amazon Associate and member of other affiliate programs, I earn from qualifying purchases.
Nutrition Information:
Yield:

6
Amount Per Serving:
Calories:

371
Total Fat:

17g
Saturated Fat:

3g
Trans Fat:

0g
Unsaturated Fat:

13g
Cholesterol:

0mg
Sodium:

404mg
Carbohydrates:

43g
Fiber:

9g
Sugar:

11g
Protein:

17g
Nutrition information was calculated by Nutritionix. It may not be 100% accurate.
Have you made a Buddha bowl yet?
If so, what's your favorite combo of ingredients?
Share with me in the comments below!